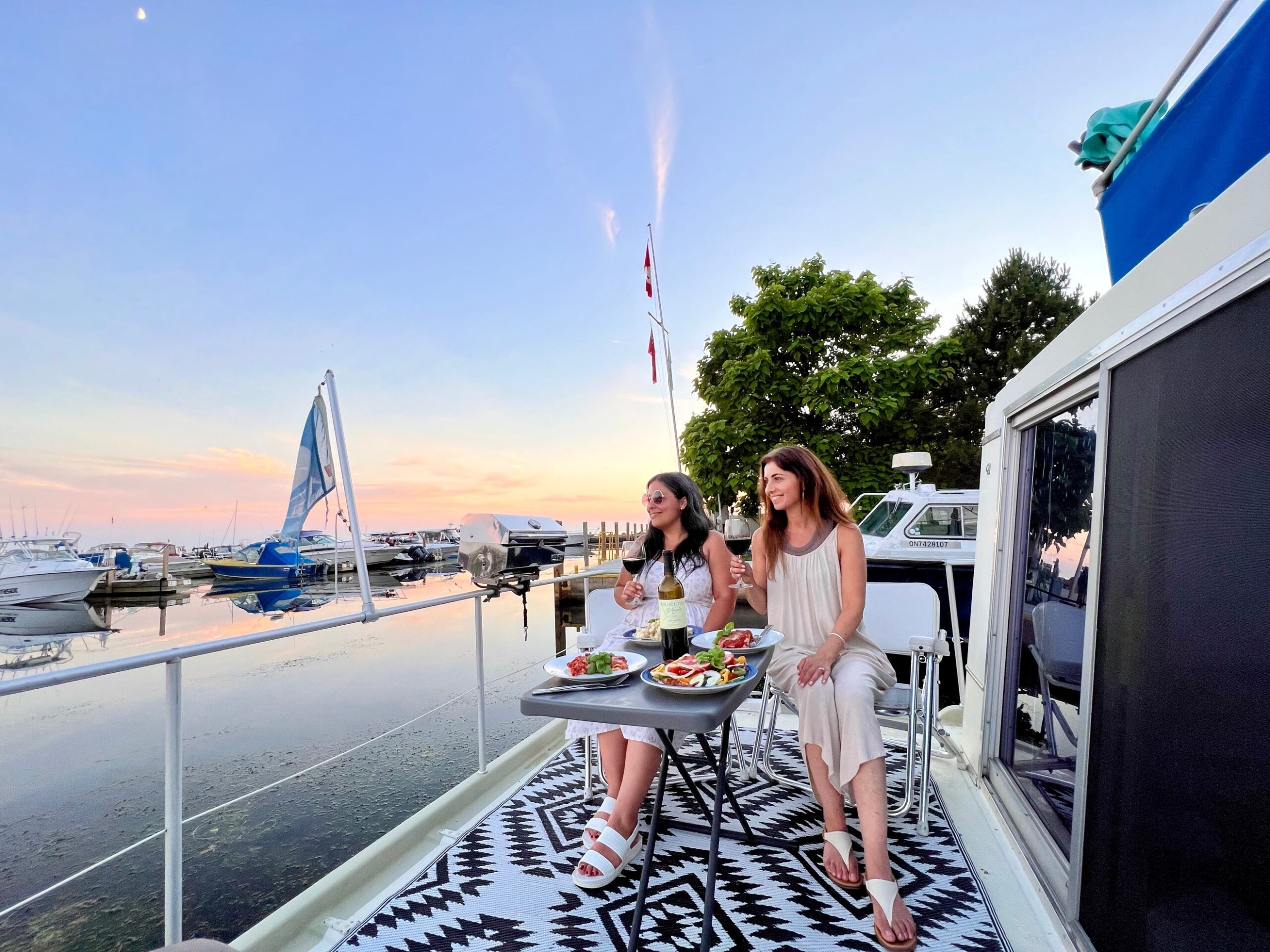 Monday July 25, 2022
Thirteen Wineries & Flavourful Food: A Girls' Getaway To EPIC Wine Country
By: Solmaz aka The Curious Creature
A summer girls' trip to Windsor Essex has become an annual tradition for us. A much-needed escape from the hustle and bustle of city life, we always return home feeling re-energized and inspired. The best part? Every trip unveils more hidden gems and reasons to return. Here's a peek at our itinerary this time around:
Where We Stayed
Have you ever stayed on a houseboat? We hadn't until our night onboard The Vintage Grape. The three houseboats are docked at Colchester Harbour Marina and come equipped with everything you'll need for a comfortable stay (kitchen, washroom, BBQ, entertaining area etc.) The unique accommodation certainly left us with some forever memories. Our favourite one: enjoying a locally-sourced dinner with the best sunset seats around.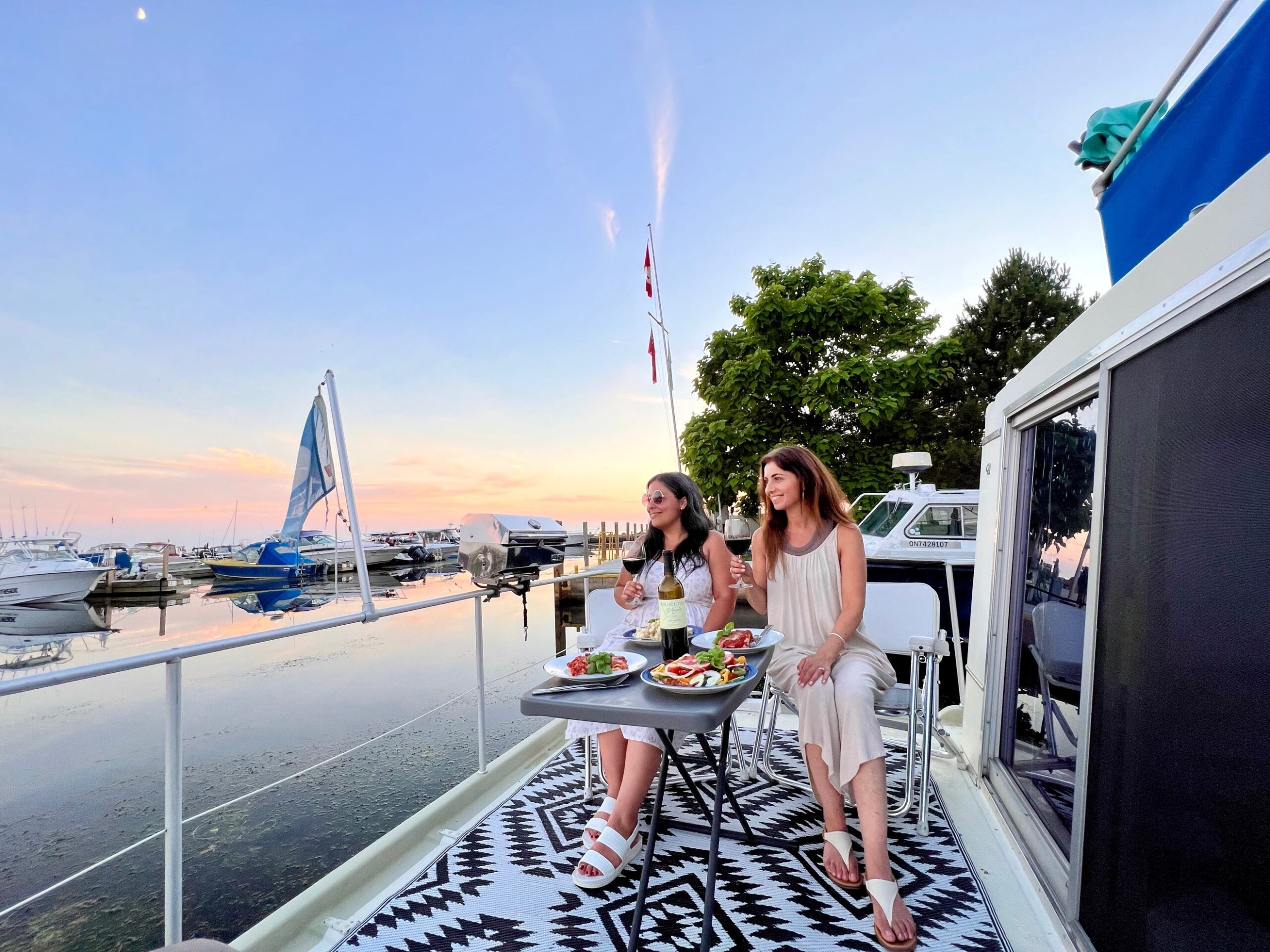 This was our third time staying at this beautiful property and certainly won't be our last. Hugged by wineries and minutes from the beach, the location truly can't be beat! But don't just drop your bags and go off exploring, this is a spot you'll want to linger at. The hosts are incredibly warm and generous so make sure to carve out time for a leisurely breakfast, mid-afternoon wine on the porch or an evening campfire. This property is meant to be savoured.
What We Ate And Drank
Located in a historic building built in 1911 by Colonel William Gregory, this brewery uses high-quality ingredients to make craft beers which are best enjoyed on their sun-soaked patio. You'll want to order a meal here because their dishes are delicious and made with local ingredients, including meat from their own butcher shop across the street.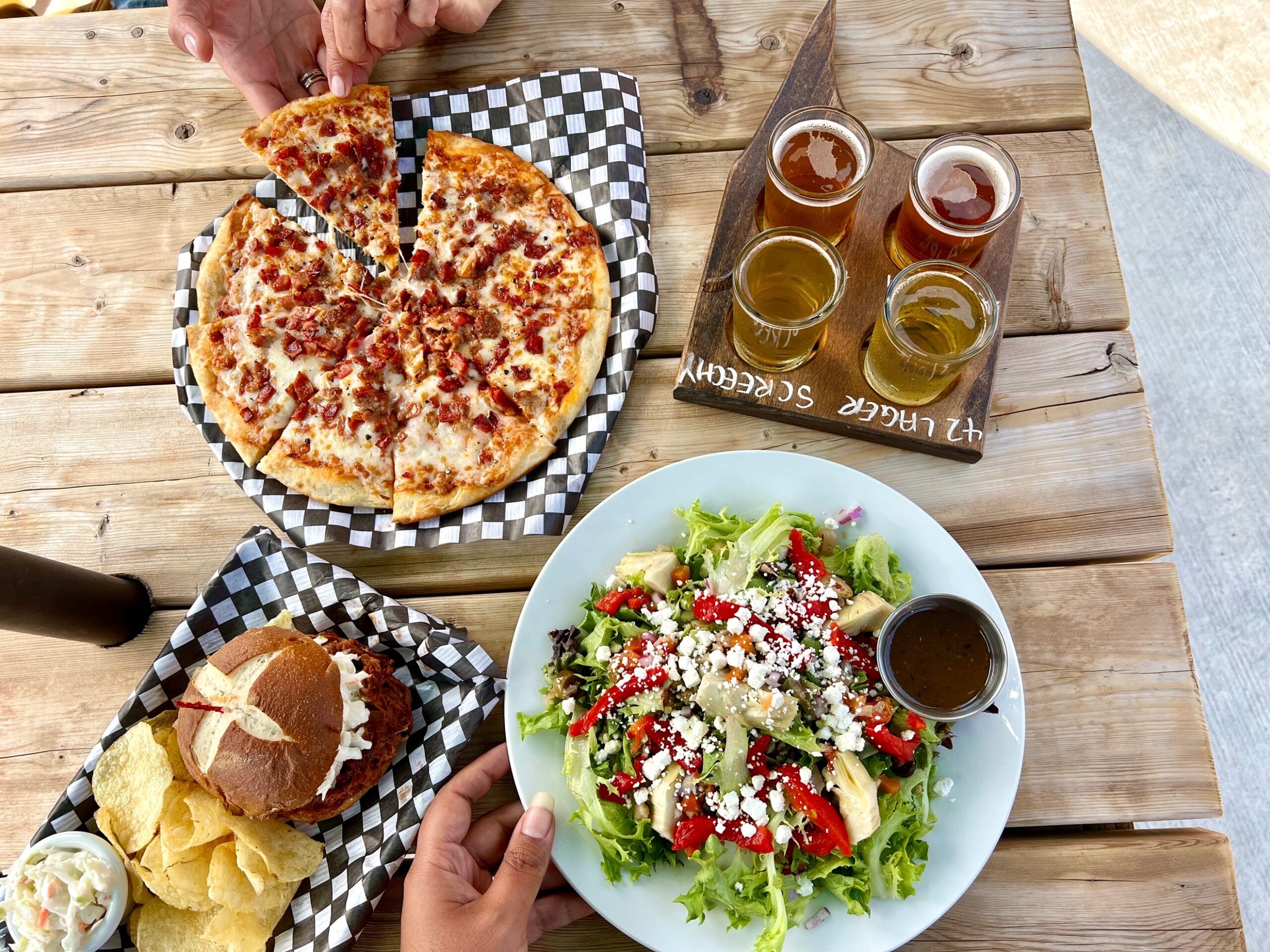 There's a reason this bakery has such a loyal following — it's incredible! Pop by to pick up fresh bread and pastries for breakfast, lunch or a picnic. We loved their sourdough multigrain bread, flaky croissants and Montreal-style sesame bagels.
The stunning property and beautifully-crafted wines make this winery a must-stop whenever we visit the region. This time around their lavender fields were in full bloom so it truly felt like we stepped into a painting! Order the seasonal quiche, salad drizzled with homemade blueberry lavender dressing and a glass of their 2021 Gewürztraminer. You won't regret it.
Much-loved by locals, this restaurant in Historic Downtown Amherstburg has a cozy patio where you can enjoy drinks or a meal with friends. We recommend ordering the Lobster Pappardelle because it's made in-house and has a nice kick!
Located 15 minutes from Windsor and 1 km off the Greenway Trail, this new addition to the Windsor Essex wine region is (and will be) making waves for years to come. It's innovative, trendy and energized. The property is home to Wedding in the Woods, has a patio where you can enjoy VIN wines or BREW beer and has forested trails you can explore.
You really can't beat the views at Viewpointe Estate Winery so make sure to pop by for a tasting or lunch (or both)! The fish tacos, pulled pork nachos and 2012 Cabernet Franc VQA are my picks at this popular stop.
There's a new craft cidery in the region and it's definitely worth a visit! Headed up by a passionate local who uses Ontario dessert and heritage apples from her family farm, these ciders are made with love and pride. I highly recommend trying The Harrow Blue which has a delicious and distinct blueberry flavour.
The wine terrace at Cooper's Hawk is such a gem! Lined with Muskoka chairs and picnic tables, it's the kind of place you'll want to grab a bottle (I recommend the Heritage) and stay for a while. We didn't want to leave!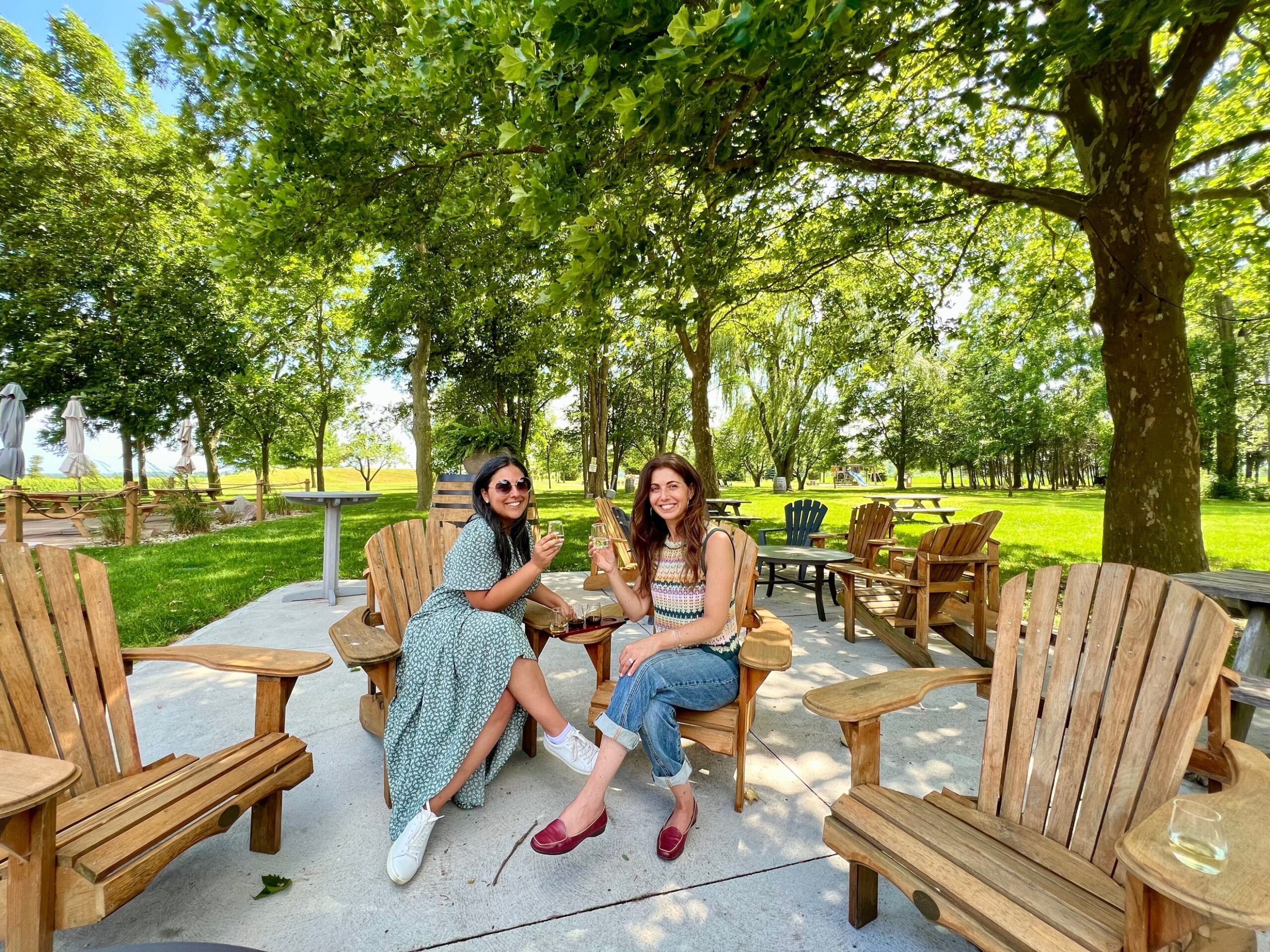 The female winemaker here oozes passion and produces some incredible, award-winning wines. Her Lily Sparkling and 2020 Barrel Fermented Chardonnay are my personal favourites, but you'll want to sip your way through a flight to find yours!
At Dancing Swallows you'll be welcomed by 5th generation family members and can enjoy a relaxing tasting in their backyard. They make a limited quantity of wines which aren't available at the LCBO so you'll have to visit them to get a taste.
Located in Amherstburg, the tasting room at Vivace is a breath of fresh air. The bright and airy space is a beautiful, modern backdrop for a wine tasting with friends.
You'll feel like you're a part of the family as soon as you arrive at Muscedere. A typical visit includes mom's freshly-made pizza from the wood burning oven, a tasting led by her charismatic daughter and a brief interaction with dad as he gathers the farm animals or tends to the vineyard. It's an experience you won't forget!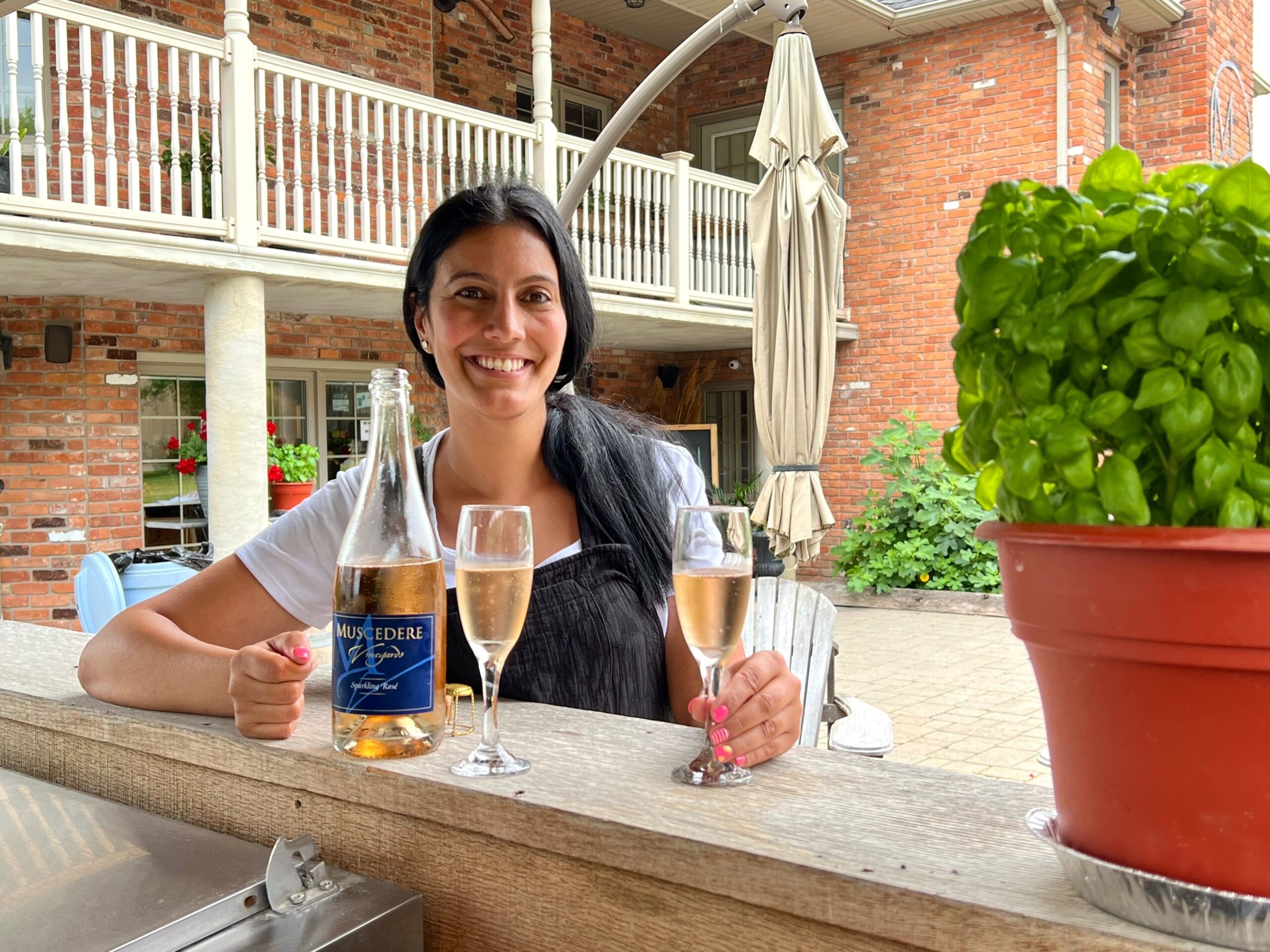 Grab a picnic blanket (or buy one onsite) and enjoy a picnic at Ontario's only beachfront winery. Start your visit in the tasting room where you can order a grazing lunch and pick out a wine (we chose their Beach Glass Riesling Pinot Grigio blend). Then, head straight to the beach and take in the beautiful views!
No girls' trip to the region is complete without a visit to Oxley. A local favourite, this winery has plenty of outdoor seating (both in sunny and shaded areas) where you can enjoy tasty bites paired with some amazing wines.
Where We Shopped
The Farmhouse Market
Everything at this market has been hand-selected by the young and passionate owner. Located on her family's farm, Elisa is hyper-focused on showcasing produce and products made right here in Ontario. We tasted our way through her store and can guarantee your taste buds will be happy you shopped here.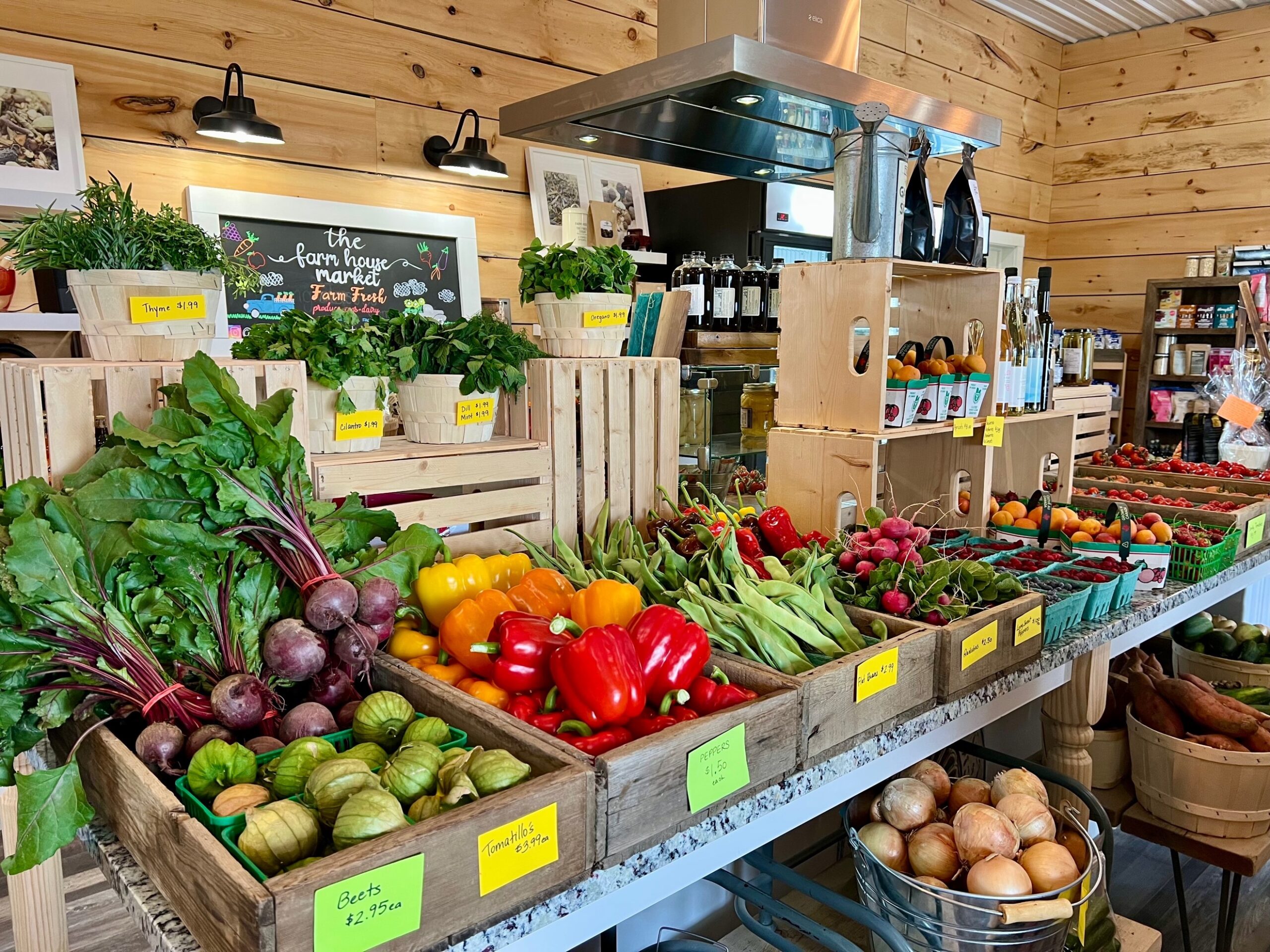 Fresh produce and great conversations await at The Fruit Wagon. Farmer Doug is a true gem and has a wealth of knowledge about apples so make sure to chat with him when you visit. We learned about his Geneva Red apples this time around!
This local family business has been feeding the community for three generations. They have orchards, a greenhouse and gardens so you'll have plenty of options when you swing by to shop here. Their cauliflower and cherries are reasons alone to visit!
If you're staying at an accommodation with a kitchen/BBQ when you visit Windsor Essex, you'll want to pop by Bradt's to grab some local meats before you fire up the grill. This family-owned butcher shop has an excellent reputation and also supplies their brewery across the street. We had a chance to try their house-made pulled pork which was fabulous.
This fourth-generation fruit farm specializes in tree-ripened peaches, plums, nectarines and apricots. Pop by to grab some fresh fruit or homemade preserves and jams.
Don't let the name fool you, you can do a full shop at this family-run produce stand. They even have a cute bakery in the back that serves up mouthwatering treats (with gluten-free and vegan options too). What a hidden gem!
What Activities We Tried
This was our first time hopping on electric bikes and we were immediately hooked! You can rent them out for 3 hours or the full day ($55 or $75 respectively) to do a winery hop or to explore the 50 km Greenway Trail! We went the winery route, but will be back to explore more.
A guided tour of this homestead is a must. The original house, farm and buildings from 1842 are fascinating and the property is also a conservation area so it's a great spot for a picnic. The attention to detail and special programming make this experience truly memorable. We loved trying traditional recipes and weaving baskets during our visit!