Monday September 26, 2022
County Sights & City Lights: Windsor Essex Family Road Trip
The family that travels together, stays together! And we did just that by capping off our summer with a family road trip out to Windsor Essex County. A three-and-a-half-hour drive west on the 401 from Toronto takes you straight into the downtown core of Windsor. The city and its surrounding areas have so much to offer.
WHERE WE STAYED
The team at Tourism Windsor Essex Pelee Island (TWEPI) set up our home base for the week at the DoubleTree at Hilton Windsor Hotel & Suites. We were impressed with everything from ease of parking and check-in to our spacious suite with a panoramic view of the Detroit skyline and the riverfront steps away from the hotel. As Hilton members, we are familiar with DoubleTree where you can eat like a king and queen for breakfast at the Hash (River Room), then return after a day of exploring ordering room service.
WINDSOR – DOWNTOWN CORE
The beauty of our home base was having activities for the fam and the good eats within walking distance.
Windsor Riverfront Trail
Just steps away from the hotel, the riverfront is perfect for a stroll, a bike ride or run. There is also the option of renting scooters at various locations by the waterfront and within the city. The Windsor Sculpture Park has an outdoor gallery with 30+ installations and The Ambassador Bridge (longest suspension bridge in the world connecting Windsor, Ontario to Detroit, Michigan) was the perfect backdrop as we watched locals fishing. Along the waterfront there were also several playgrounds.
Adventure Bay Family Water Park
Adventure Bay Family Water Park is an all year-round 35,000 square foot indoor water park for kids of all ages offering five waterslides, a FlowRider surf simulator, wave pool, lazy river and splash zone. Our plan was to stay for 2 hours max, but we shut the place down. The park is one block over from our hotel which allowed us to pack light. I even went back to our room for snacks and the best part was the whole fam was able to towel dry off and walk back to the hotel to shower. My one recommendation is to bring a lock so you can store your items.
GOOD EATS
A family friendly restaurant offering upscale breakfasts and lunches that are locally sourced and chef inspired. There are gluten-free, vegetarian, and vegan options. Hubby ordered the Thymeless classic and I ordered the smoked salmon bagel which came with two sides. They recommended their house salad and potato hash and we would go back just to order their sides! Note: they do not have a kids menu offering, but the meals were quite generous that a parent can share or order a few add on's.
We had a memorable lunch on the patio people watching and chatting up with staff and if you love wings, this is where it's at. With 40+ options of wing sauce/dry rub (we went with lemon pepper and cajun), you can't go wrong. The boys inhaled their cheese quesadillas off the kids menu and a last minute decision which I'm so glad I made was getting the French onion soup. It hit the spot!
Get ready to feast on some southern cuisine. I was a little weary at first of having a family dinner at a saloon with a mechanical bull, but we came for an early dinner and the boys were so happy to play on the patio with the jumbo connect four game. We recommend the brisket mac and cheese wrap and the chicken dinner slowly smoked with mesquite wood. It was comfort food at its finest.
I love checking out local businesses and had a chance to meet the owners Katie and Allie who curate products solely made in Canada for their store. A very inviting and bright space with so many unique gifts and souvenirs from apparel to books, baby and kids, bath and body, jewelry, house and home, food, art with an emphasis on local artists from Windsor. We stocked up on fancy condiments, chocolates and candies.
WINDSOR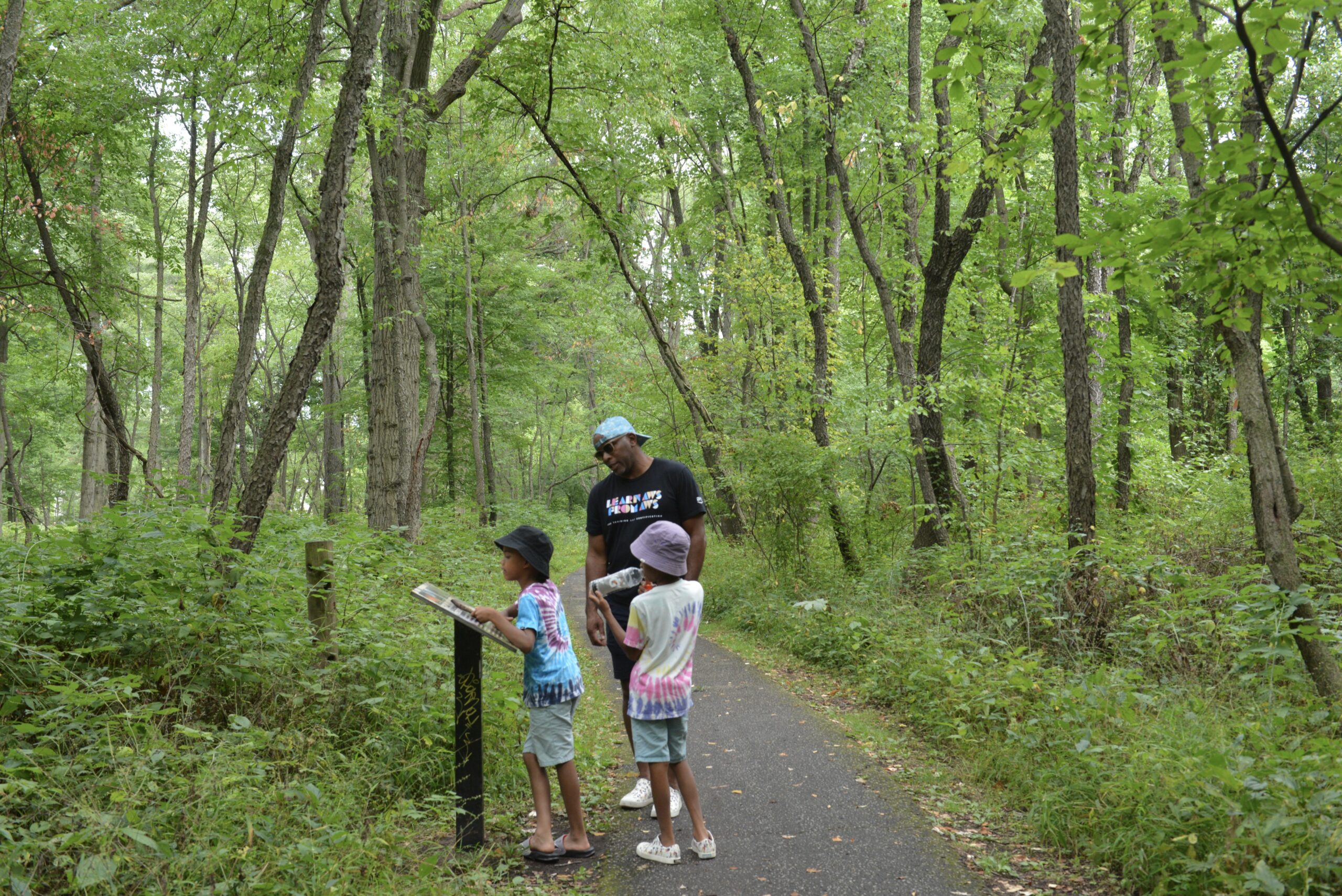 Sharing spots we explored and small businesses we checked out by car approximately 20 minutes away from the hotel.
Park is open daily and the Nature Centre is open Wednesday through Saturday. With over 140 species living in its natural habitat, the complex includes the Ojibway Park, Tallgrass Prairie Heritage Park, Black Oak Heritage Park, and the Spring Garden Natural Area. The trails are beautiful and paved for accessibility with picnic tables available for use. We went for a nature walk with the hopes of spotting some turtles, but turned out to be a hot day and we came across some dragon flies.
We showed up for family kayaking to watch the sunset and to discover Lake St. Claire with clear skies and sun blazing, only to be met 15 minutes later with wind, dark clouds, rain and hail. It was crazy! We did however get to paint pottery pieces at Sketch Clay and Pottery in their greenhouse during the rain, which was quite relaxing after a full day of exploring. One thing to note is that pottery pieces are put through a kiln weekly to get that glossy finish. I would recommend pottery painting at the beginning of the trip so that there is time for them to finish off your piece. They also will make arrangements to have it shipped out to your address.
A quaint ma and pa diner with retro vibes and a no fuss menu. The boys ordered french toast and pancakes, hubby ordered corn beef hash and I ordered the mushroom swiss omelette. Perfect meals to fuel you up for the day. We also grabbed a box of butter tarts on our way out and within minutes they were gone. I looked them up online afterwards and then realized that their tarts were a hot commodity.
Offering breakfast, lunch and dinner, this full service vegetarian restaurant and bakery is a great casual eatery with lots of locals coming through. A creative menu with dishes, baked goods and smoothies made with high quality ingredients. I had the avo sandwich with the zucchini soup and hubby had the roasted beet salad and smoothie. To cap off a great meal, we shared the chocolate and raspberry white chocolate donuts. Such a great spot with a community vibe going on.
A casual sports bar with a gastro pub menu. We ate lunch indoors and we were impressed with the modern take on sports memorabilia décor, lots of natural light and their selection of beer and cocktails. For both hubby and I to be swooning over a sports bar, it really means something. While the boys loaded up on carbs ordering pasta off the kids menu, hubby and I opted to keep it light with the Poke and Mediterranean bowls.
A family run business of 30+ years with an impressive selection of cakes, cookies, bread, pies and their infamous donuts. So much buzz in the bakery, they not only sell to local customers, but they supply their goodies across Windsor, Essex County, Detroit and surrounding areas. I couldn't resist their wall-to-wall selection of donuts and felt like a kid walking back to the car with the classics – Boston crème, apple fritter, maple and chocolate dip.
AMHERSTBURG
We covered a lot in this pretty little town and its surrounding areas. Approximately a 40-minute drive from the hotel, I would recommend splitting up your activities over two days.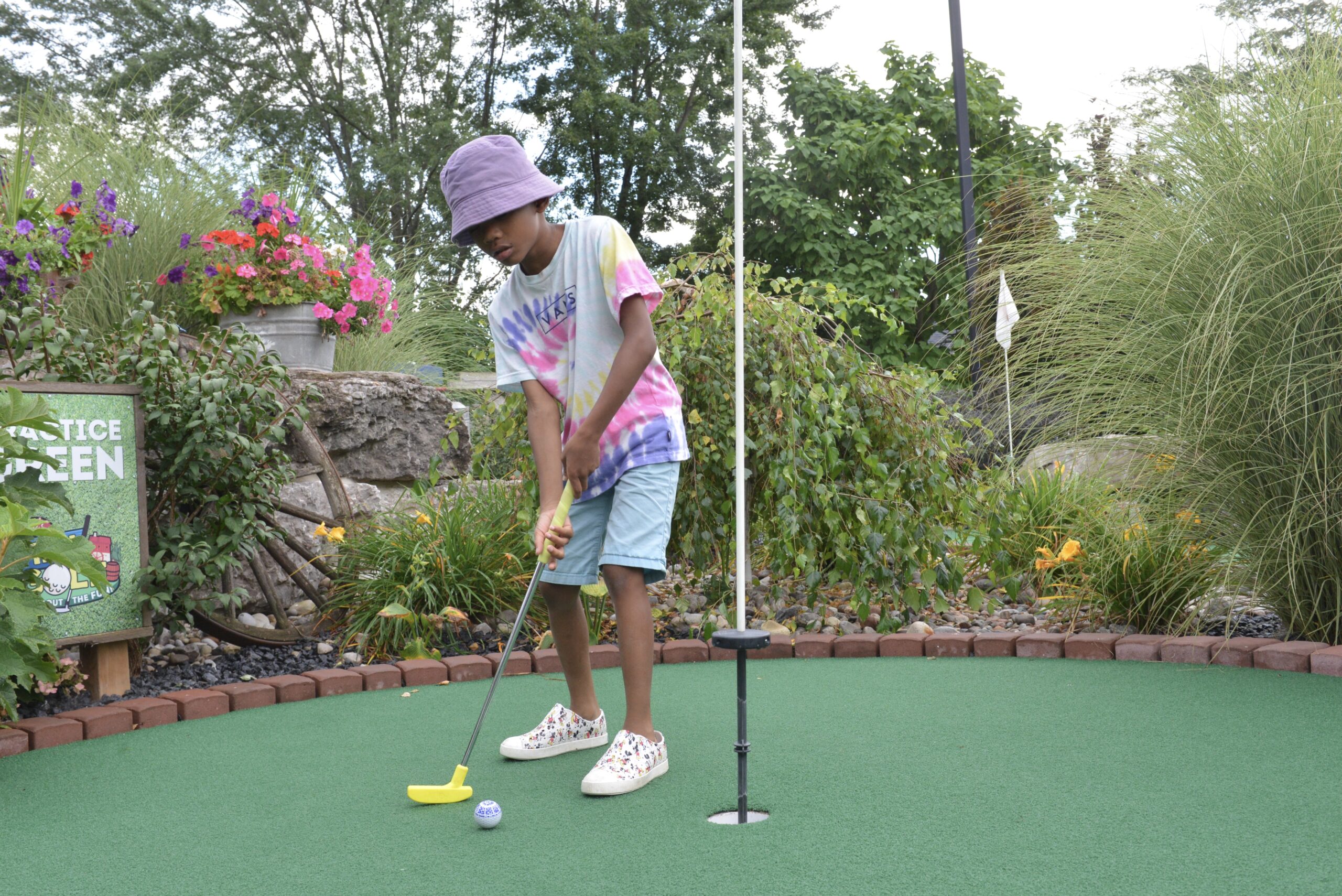 A family run business of 30+ years, Randy and Laurie Ure have a great set up with a restaurant offering the classics (the good morning one egg brekkie, big breakfast and pancakes filled us up). While we waited for our food, the boys bought candy from the convenience store, and we debated on having ice cream for breakfast too! Afterwards, we played mini golf on their course which is made of all-natural rock and vegetation. If you like pretty flowers, this is the place to be.
Two minutes down the road, you can further explore the sandy beaches of the Lake Erie shoreline or let the kids play at the Enbridge Natural Playground. It was incredibly convenient that the playground, the washroom facilities, the parking lot, and the beach were so close. Entrance into the conservation is $10 per vehicle and I recommend arriving early for that prime parking spot.
The grounds are beautiful with a picturesque view of the Detroit River. I highly recommend learning more about Canadian History by going into the site. You can explore on your own as there are many points of interest and plenty of staff at various locations to answer questions. We had a personal tour of the site by Sergeant Marshall and checked out the pensioner's cottage, officer's quarters and museum of military artifacts. The boys got to put on a uniform and participated in the Musket demonstration and then finished off with making cookies at camp cooking.
Editor's Note: Fort Malden is currently closed for the season and will reopen in Spring 2023.
Before we even saw our itinerary, my hubby wanted to check out the Freedom Museum, where you can learn the history of the Underground Railroad and the contributions that African-Canadians have made. We had a guided tour from Lorene who took us through the chapel, the log cabin and highlighted some of the artifacts in a way that was age appropriate for my eight-year-old boys. Not a large museum, but we were able to learn so much in an hour.
You must try the award-winning hand-crafted pizza and order the chef's recommendation of the Windsor classic. We met owner Professor Zaaa (one of Canada's top pizza chefs) where he shared his passion for using only high-quality ingredients. He also filled us in on the secret ingredient to his pizzas, which is the premium mozzarella cheese from Galati Cheese Company that has all his customers
raving. You must also try the Walnut Goat Cheese salad!
Thank you to the Windsor Essex County Pelee Island Tourism for hosting my family and putting together such a great itinerary. Grateful for the experience and getting the opportunity to share our travels and tips with you. You need to add this city to your bucket list. Happy road tripping!
By: Sunshine Lily, September 2022