Hotspots & Migratory Stopovers
Birds of a feather watch together. Join us for the birding season here in Windsor Essex. Discover the numerous species of flighted friends and ways to celebrate them!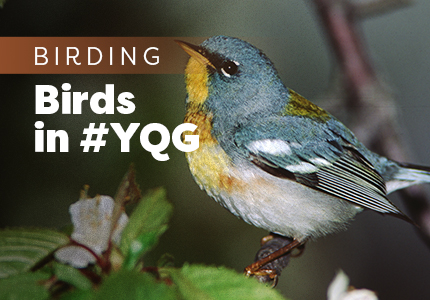 Premier Bird Watching
Did you know that Essex County is one of North America's premier bird-watching locations? The diverse habitats found here and the unique geography of the region attract hundreds of thousands of migratory birds on the move each spring — and equally as remarkable — each fall.  Use our Birding Guide found below to learn more about the types of birds that you can easily spot in Windsor Essex and on Pelee Island, plus learn which bird species to look out for in each season.
Home to Point Pelee National Park, Holiday Beach and Hillman Marsh Conservation Areas, and Ojibway Park, our parks and conservation areas provide important resting areas as these birds make their long journeys, and they offer year-round habitat for non-migratory birds. Conservation areas are equipped with convenient parking areas and pleasant trails and good viewing areas, and some have viewing towers to experience the pleasure of birding. Please respect rules and safety guidelines put in place at some of our primary birding spots.
Fall Monarch Migration
Each Fall many of our popular birding sites along the South shore, especially within Point Pelee National Park, are great for monarch viewing as they migrate south to Mexico.  Stay tuned to Point Pelee National Park's Facebook & Twitter for daily monarch counts as migration typically starts mid-September.
---
Birding in Windsor Essex
While typically each spring and fall our primary birding spots are busy with people trying to catch a glimpse of the many bird species, this year we are encouraging you to discover more right in your own backyard! There are many great ways to make your yard more welcoming to our feathered friends including providing food, shelter and water.  Keep your eyes peeled as early songbird migration starts in early March with the return of waterfowl, and shorebirds follow in April. Within weeks, full migration occurs with the arrival of numerous colourful species in May.  Spot hawks and raptors each Fall.  What will you spot? Play along with our Birding Bingo to see how many winged visitors you can see during your birding adventures this year!

---
Windsor Essex Birding Sites
Excellent birding locations are aplenty across Windsor Essex and on Pelee Island – you can learn more about them below.  Now more than ever, it is important that we take into consideration the rules and guidelines that have been put in place at our primary birding spots to ensure your safety and the safety of others.  While exploring nature, please be respectful of the fragile ecosystems that surround us.
Point Pelee National Park
Known as a migration mecca, Point Pelee is a world-class birding site with more than 390 species recorded in the park's birding area, and the park is coined "The Warbler Capital of Canada". Although significant breeding birds call the park home (such as the Wood Thrush, Yellow Warbler, and the Yellow-Rumped Warbler), Point Pelee's greatest importance is to migratory species (such as like Prothonotary Warbler, Worm-eating Warbler, and the Kentucky Warbler), moving through in spring and fall and decorating trees like ornaments, allowing birders to see up to one hundred species in a day.
Holiday Beach Conservation Area
Internationally recognized as a globally significant Important Bird Area (IBA), Holiday Beach is significant for its raptor migration and its breeding habitat for Prothonotary Warblers. Holiday Beach hosts a world-renowned Festival of Hawks each September to witness the migration celebration as thousands of hawks, vultures, eagles, falcons, and other birds of prey concentrate in the area before heading across the Detroit River towards warmer, more southerly destinations for the winter.
Hillman Marsh Conservation Area
The shorebird habitat at the Hillman Marsh is unique to North America, and features some of the best shorebird habitat in its 87-acre managed wetland in Ontario. Hillman Marsh also offers a shorebird viewing shelter and identification signs.  Over one hundred species of birds use this conservation area as a migration stopover, which draws sandpipers, ducks, warblers,and frequently spotted annual rarities such as the Yellow-headed Blackbird, Willet, Marbled Godwit, Eurasian Wigeon, Glossy Ibis, and Eastern Kingbird.
Ojibway Park and Prairie Complex
A visit to the Ojibway Prairie Complex in Windsor can be a rewarding experience for birders with over 247 bird species recorded in the Ojibway Prairie Complex on the southwest corner of Windsor. This is the largest protected tallgrass prairie and oak savanna in Ontario. This park complex attracts large numbers of migrant warblers, and other song birds and breeding birds such as Tufted Titmouse, Red-bellied Woodpecker, Hairy Woodpecker, Rose-breasted Grosbeak, Scarlet Tanager, and Indigo Bunting. The nature centre maintains a variety of feeders that attract large numbers of birds and provides an opportunity to view wildflowers, butterflies and other wildlife seldom encountered elsewhere in Ontario.
Pelee Island Bird Observatory
For birding, Pelee Island is truly world class. The Island is recognized as a globally Important Bird Area and is at the confluence of two migration routes – the Atlantic Flyway and the Mississippi flyway. Devoted to the study and conservation of birds on the Island is Pelee Island Bird Observatory at Fish Point Nature Reserve. To give you an idea of the vast variety of birds that make their way here, this bird banding station has documented 255 different bird species on Pelee Island.
Jack Miner Bird Sanctuary
Jack Miner, a great naturalist and Canada's first noted conservationist, became the founder of the migratory waterfowl refuge system by creating the Jack Miner Migratory Bird Sanctuary in 1904. It is located on the Miner property in Kingsville, Ontario. Five years later he pioneered the banding of migrating waterfowl; the recovery data was instrumental in the establishment of the Migratory Bird Treaty of 1916 between the United States of America and Canada as no government banding programs had been in existence at that time.
---
#BirdingYQG
Share your birding adventures with us on instagram – tag @twepi and use #BirdingYQG to be featured on our page!