Wednesday August 16, 2023
Brewing & Viewing: Taking In The Sights and Flavours of the Barrel Trail
A family-run brewery in the countryside. An historic beer-making spot in central Windsor. A fine winery with classic Chardonnay. And a bustling distillery with craft cocktails and fun, casual dining.
The Windsor-Essex-Pelee Island tourism region is blessed with a huge variety of beer, wine and distillery spots, which they highlight on their Barrels Bottles and Brews trail. The trail allows visitors (and locals) to explore 11 craft breweries and two distilleries in the area, and to check in with a digital passport along the way.
I was fortunate enough to explore a half-dozen or so fine establishments on a recent visit (it's okay, I only sipped) and came away highly impressed with the quality of the product, and with the people who make the magic happen.
Here's a look at my two days in the Windsor-Essex-Pelee Island tourism district.
A family operation that's been around for six years, GL Heritage is located in rural Amherstburg on a farm that's been in the family for nearly 175 years.
My wife and I wandered in and were greeted warmly by Jen and Dwayne Grondin. Dwayne makes the beer, while Jen handles onsite operations, marketing and community events. Dwayne's brother Greg takes care of licensees and field events, while Greg's wife, Cathy, handles accounting and payroll. Their kids also work at the brewery.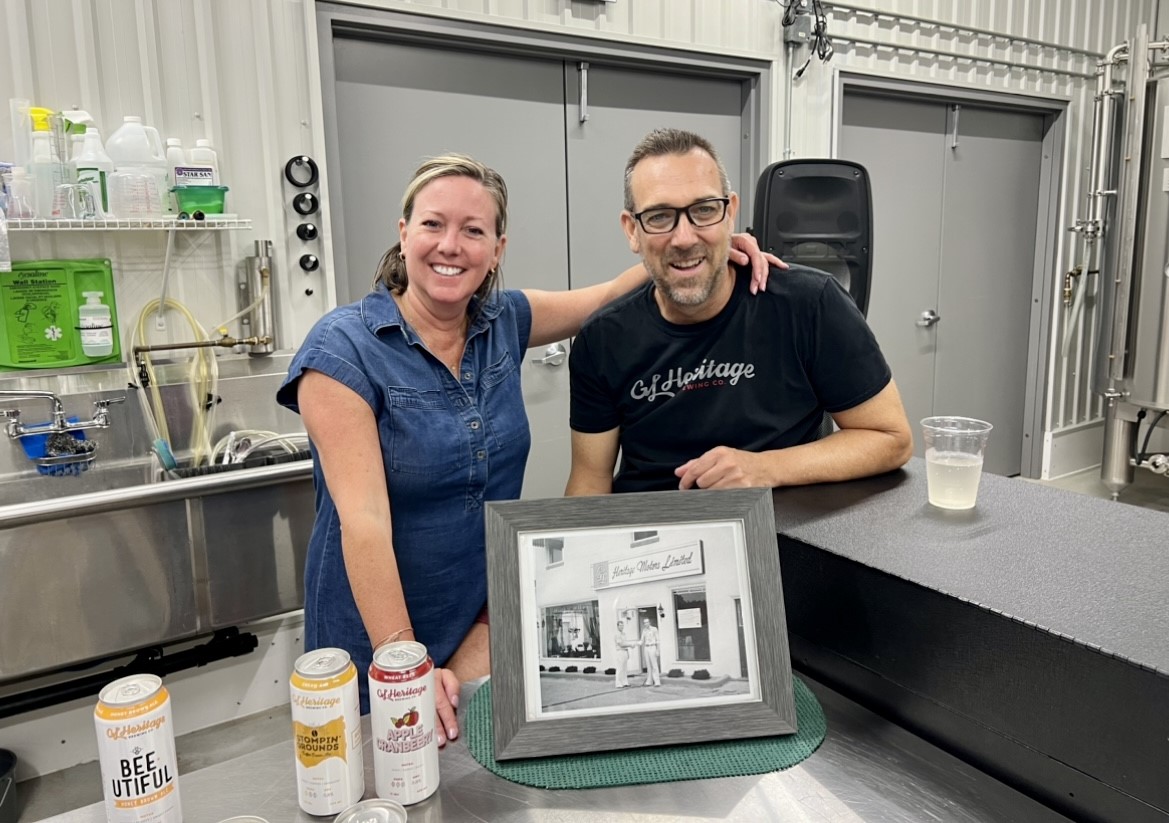 Jen tells us the family used to sit around a picnic table on the farm and watch trolley buses roll down the road to visit local wineries. The idea for a brewery came in November of 2015 when they were sipping local craft beers in the family garage.
Dwayne studied all he could and watched endless YouTube videos to learn more about making beer. By April of 2016 they had six beer styles they liked. After getting permission to run a brewery on agricultural land, they began construction and opened to the public in July, 2017.
"We had a goal of weekly keg supplies to five licensee locations within our first year of business," Jen tells me. "We had five licensees call to request our beer within two weeks of being open."
GL Heritage is named after the auto repair shop of the same name, which was co-owned by Dwayne and Greg's father, Don. Their Dad died soon after the business got going, but his legend lives on in some of the names of the beer. They make a California Common Lager called Common Mutt as Don's nickname was Mutt. If you look closely at their IPA, you'll see it says "I heart Pa."
They also have a Galaxie IPA, Galaxy being not only a type of hop but Galaxie being a model of car that Don owned.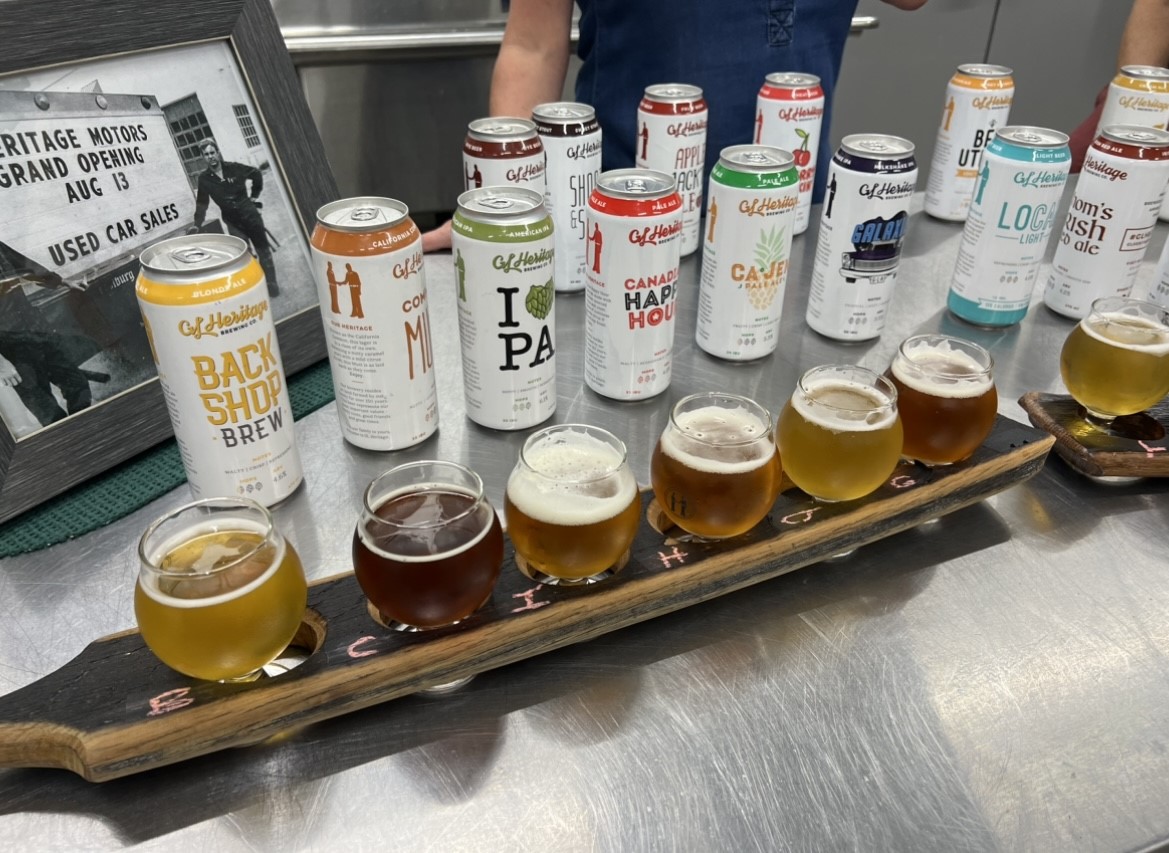 They like to mix things up a bit, too. GL Heritage makes a refreshing pale ale called Ca-Jen (for Cathy and Jen) with pineapple and a hint of green chili. The Apple Jack'd Ale uses gently-spiced, fresh-pressed apples and is blended with premium apple caramel whiskey from nearby Wolfhead Distillery.
There's a good-sized room for indoor tasting and an expansive patio. They also have cornhole games and bring in food trucks and pop-up restaurants, with new menus every week. On top of that, GL Heritage manages and hosts the Amherstburg Farmers Market every Saturday from April through October from 9 a. m to 1 p.m. Shoppers will find high-quality local produce, flower and honey farmers, mushroom & microgreen growers, bakers, all-natural health product providers and artisans selling hand-made products. There is also free space provided to local charities and nonprofits. They offer homemade breakfast to enjoy on site or to-go, fresh-brewed locally-roasted coffee and live music each Saturday morning.
 "And the taps open at 9 a.m.," Jen says with a smile.
If you're a fan of beer with fruit added in, or looking for an Oatmeal Raisin Cookie Stout, you're in the wrong place. But if you're into the classics, Brewmaster Michael Beaudoin almost certainly has something on tap that you'll like at the Chapter Two brew house in Windsor.
"I get teased by people in the industry. Sours and hazy IPA's aren't my thing. I want beer to taste like beer. But, hey, people should drink what they like."
Beaudoin started home brewing 11 or 12 years ago, then got a job at Walkerville Brewing. He's been at Chapter Two for several years now.
"Windsor is a good beer town," he says. "All the breweries cooperate. I might be here at work but I'm wearing a Craft Heads Brewing t-shirt. We all support each other."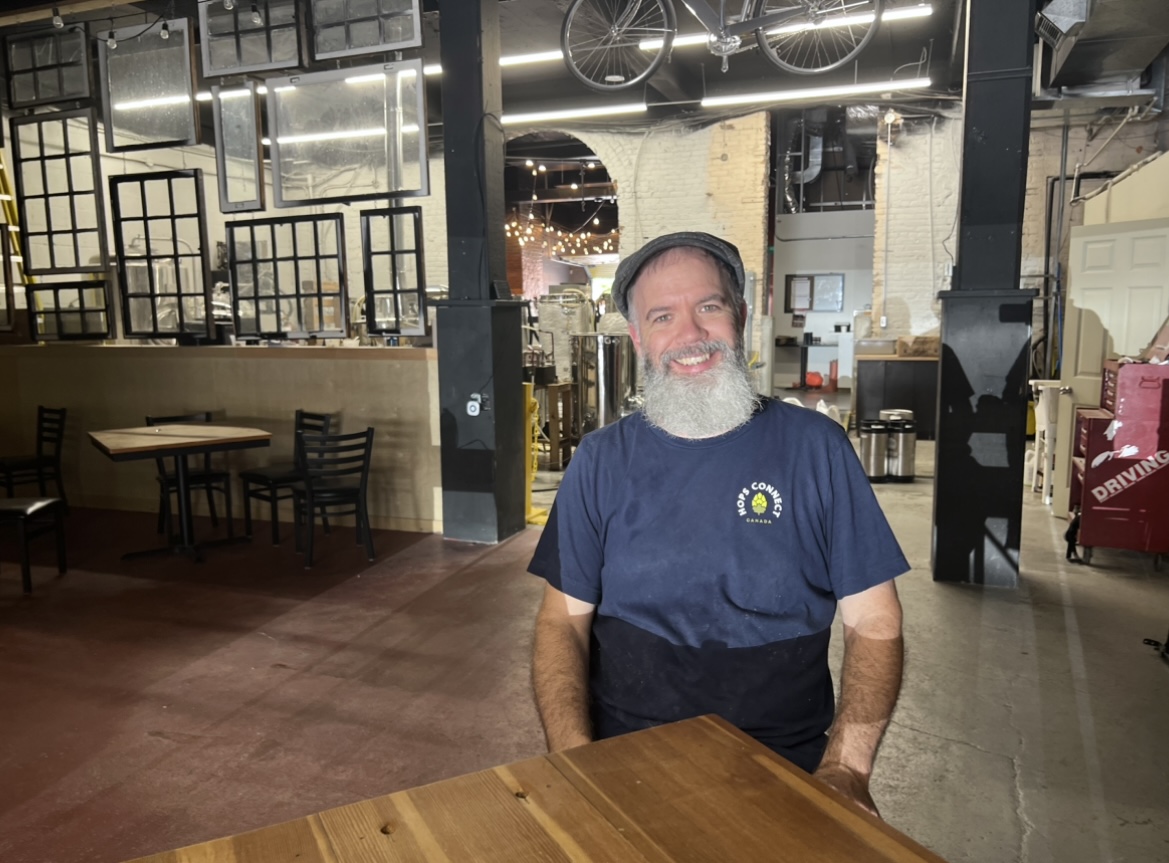 Beaudoin tries to have eight beers on tap at all times. His tasty Ford City Cream Ale is a big seller, as is the Danger Bird IPA.  If the latter is a bit too hoppy for you, try the lighter Little Bird pale ale. The kitchen is open on Friday and Saturdays (they hope to expand that in the future) and serves everything from beef and turkey burgers to arancini, wings, fries, onion rings and cauliflower bites.
Every Sunday is vinyl day, where you can bring your own record for them to play or listen to some of the albums in the Chapter Two collection. The first Sunday of the month features record buying or swapping.
This is a cool spot on the main street in Amherstburg. The interior has a sleek, industrial/bar look and gets its name from being on Lot 10 in the original plan for the city.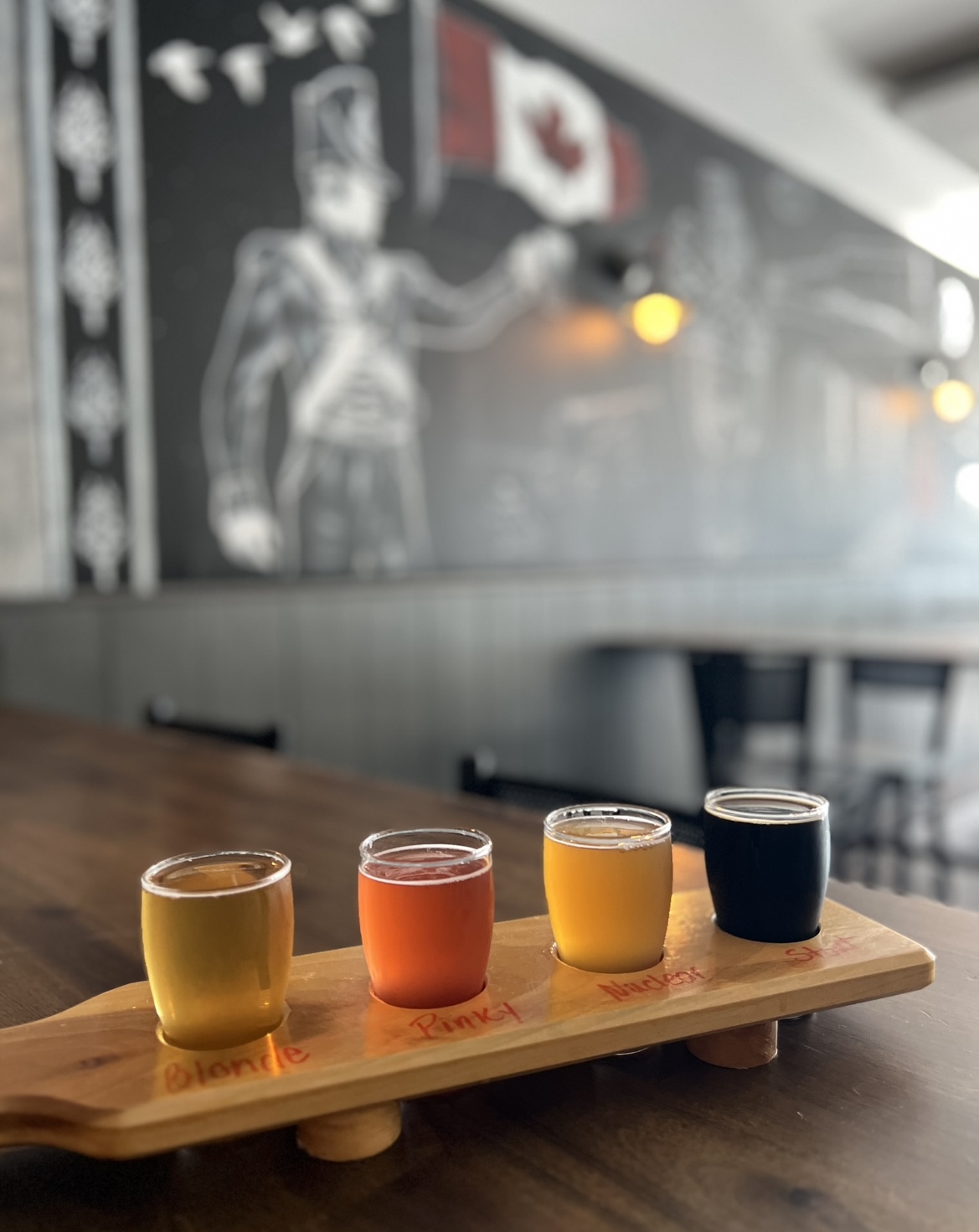 I quite enjoyed the Pinky Pledge, a light-tasting beer with local raspberries (seasonal). The Nuclear Sunset New England IPA has a powerful jolt of hops, while the River Town Blonde Ale is a smooth beer that's low on the bitterness scale and ideal for summer. The Thrift Shop Stout (the building that now houses Lot 10 used to be a thrift store) would be a good fit for Guinness lovers, with a nice, malty taste that's not overpowering. The Thirsty Soldier is a British Ale that no doubt would've been popular with British soldiers back in the day at nearby Fort Malden.
They serve flat breads in a variety of styles, including veggie, as well as nachos, Buffalo chicken panini, pulled pork tacos and more. They also have beer-inspired cocktails and local wines.
Look for live acoustic music in a room that can seat 70 guests. They also have special events and a large selection of board games for all ages. A vibrant spot in the heart of a fun community.
This is a large place across the street from the Hiram Walker and Sons distillery in Walkerville. It's maybe three stories high inside, with a cool, industrial look and bikes hanging from the ceiling.
"Windsor has become a real destination for beer lovers," says Natalie Dolman, who handles marketing and events for the brewery.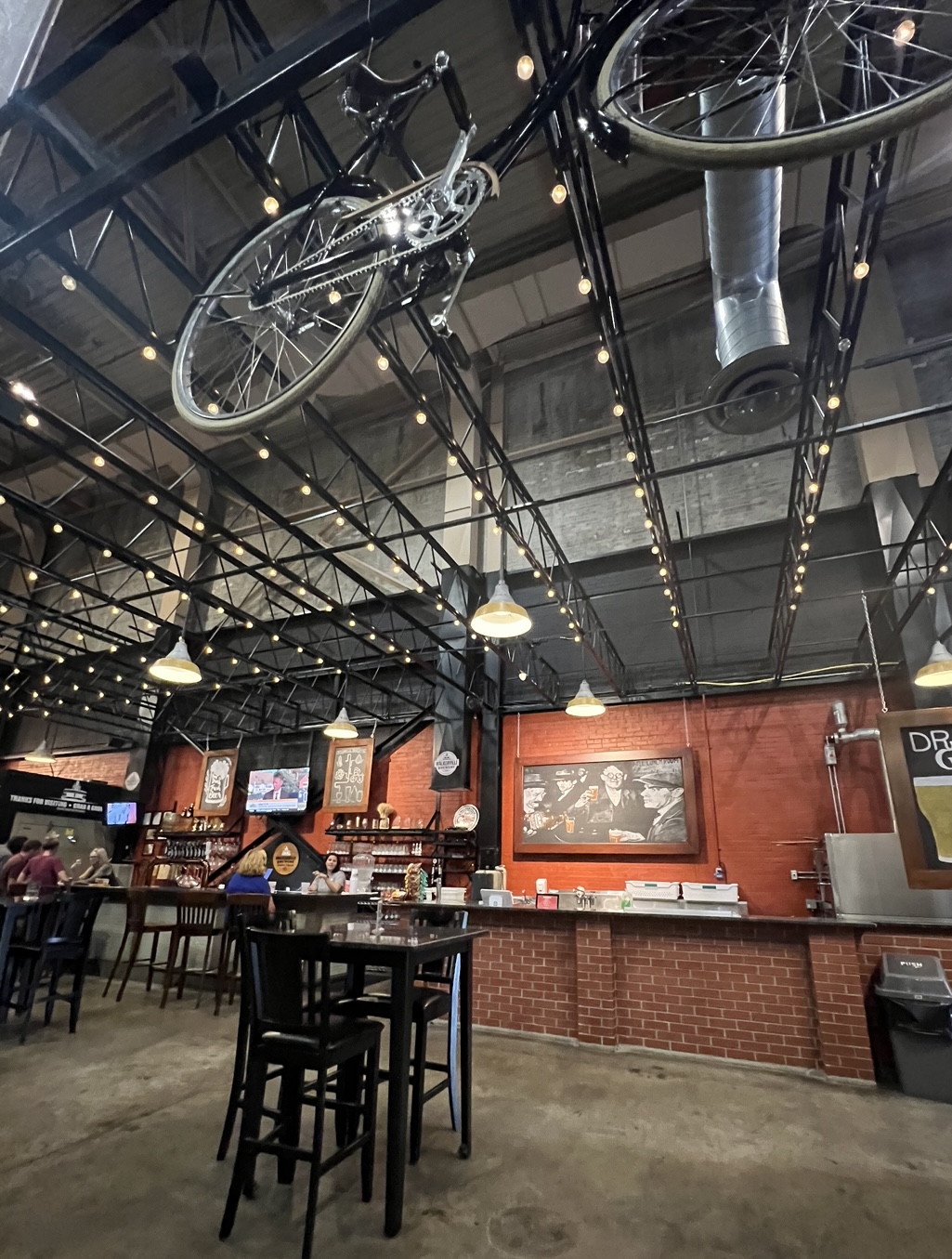 They make beer for just about every palate, with a dozen to 16 different brews on tap most days. The Honest Lager is just that; a light to medium bodied, approachable lager that's made in a German Oktoberfest style. The Party Pilsener tastes like a northern version of Corona, while the Rob Roy Scotch Ale has toasty, caramel notes. The Waterfront Wit is wheaty, but not over the top. They also make a crisp Argyle Apple Cider with local apples.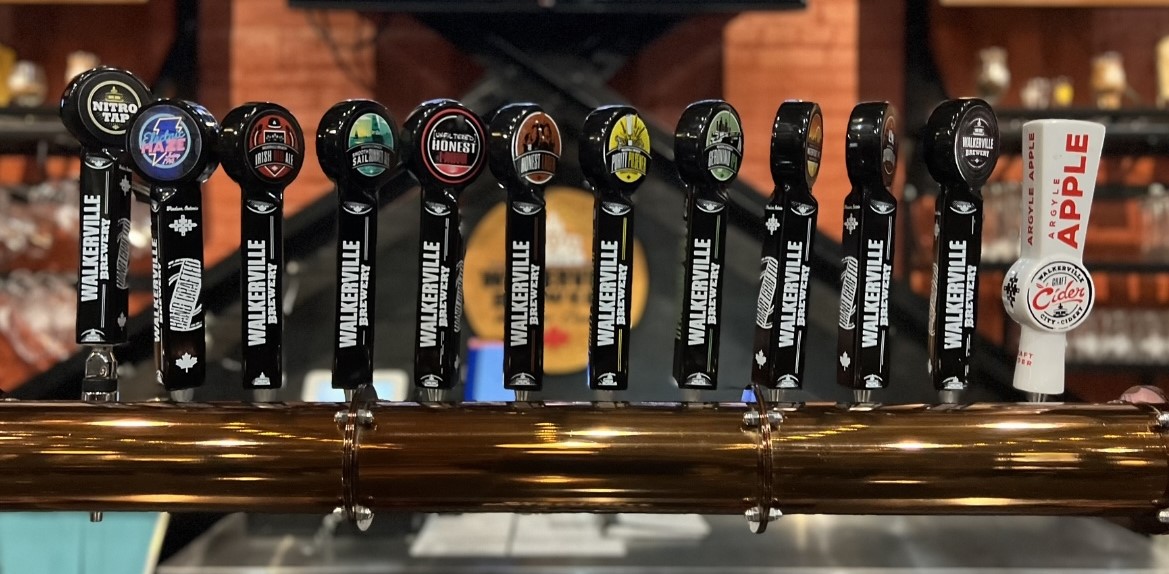 There's a great display space at the front of the brewery, with old photos of Windsor and Walkerville and stories about prohibition and smuggling of alcohol into the United States back in the day. There's also a bit of a beer museum, with old bottles of Cinci Cream, Black Pirate Ale and Old Comrades Ale. You'll also find beer-themed ashtrays and an old cash register. If you're a beer lover, it's nirvana.
There's no full restaurant, but they do have a pizza oven and also serve pretzels. They also have live music on Friday nights.
They also host a night market – The Walkerville Distillery District Night Market – several times a summer on the last Friday of the month. It's normally in June, July and August (Aug. 25) but they'll have one in September (the 29th) this year due to an earlier rainout.
Dolman says the market features local vendors, great beer, food, entertainment, kids' activities and more. It's free, and dogs are welcome.
WINERIES AND DISTILLERIES
Visitors to this charming operation on the outskirts of Amherstburg drive down a short road and pull up in front of a pretty red barn fronted by a deep green lawn and a massive, shady maple tree. White Muskoka chairs are spread out on the grass, providing a positively bucolic look. Dancing Swallows opened in 2020, during the middle of the pandemic. It might not have seemed like the perfect business plan, but because it's an outdoor winery with no large, indoor tasting area, it actually worked well.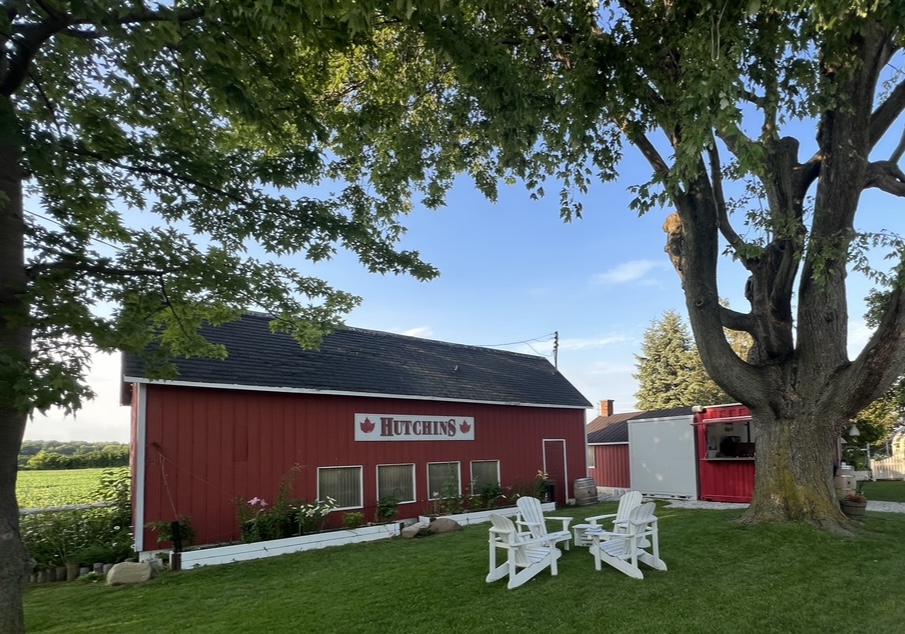 "We were one of the options people had" for entertainment, winery worker Bryce McCloskey tells us as we settle in to test their lovely chardonnays and red wines.
The winery is usually open Friday, Saturday and Sunday from spring to early fall, when they can bring out heaters if needed.
Owner Scott Wilkins trained as an engineer, which is reflected in Chardonnay names like "Prime Number" and "Random Number." The Random Number was wild-fermented, which means it's harder to predict a taste profile. It's a lovely Chardonnay, not too oaky or buttery, and would be fantastic with roast chicken. The Prime Number Chardonnay is just $18 and the Random Number sells for $25.
"This isn't as developed a wine region as some areas, so we don't go crazy," Bryce tells me. "People around here aren't looking for $50 bottles of wine."
They also make good reds, including Cabernet Sauvignon, Cabernet Franc and a bit of Baco Noir, which does well in the heat of southwestern Ontario, as well as some Riesling and Pinot Noir. Roughly 95% of the grapes used are from the Dancing Swallow Estate, so you're definitely drinking local here.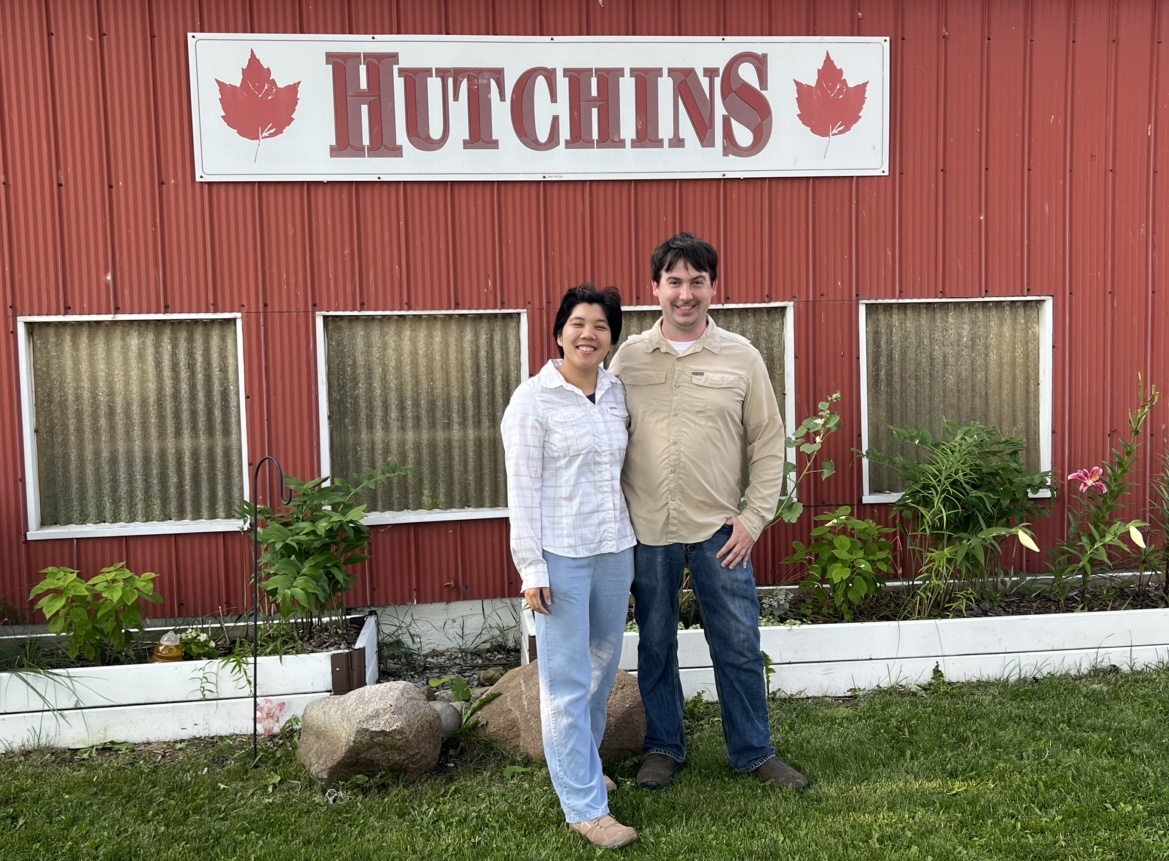 "Scott basically makes what he likes," said winery worker Annie Xu, who previously worked at a casino in Windsor, as well being a housekeeper and working at a Chinese restaurant. She and Bryce are a delightful couple. There's no restaurant, but there's a small shack where they serve bar snacks "to fill the corners or for the road," including cheese sticks, pita chips, rice crackers and macaroons.
This is a lovely spot on the outskirts of town, with a gorgeous, large patio and a nice indoor space where you can see the giant, copper distilling machines.
We didn't do a sampling, but we did sample a pretty good Manhattan made with Wolfhead's whisky, as well as a very good White Blossom cocktail with Wolfhead River's End Gin, Elderflower Liqueur, lemon juice, lime syrup, cucumber, mint and club soda. After dinner we sampled their pre-made cosmopolitan cocktails and the coffee whisky liqueur, a top seller that tastes like coffee meets bourbon. It's a great after-dinner sipper.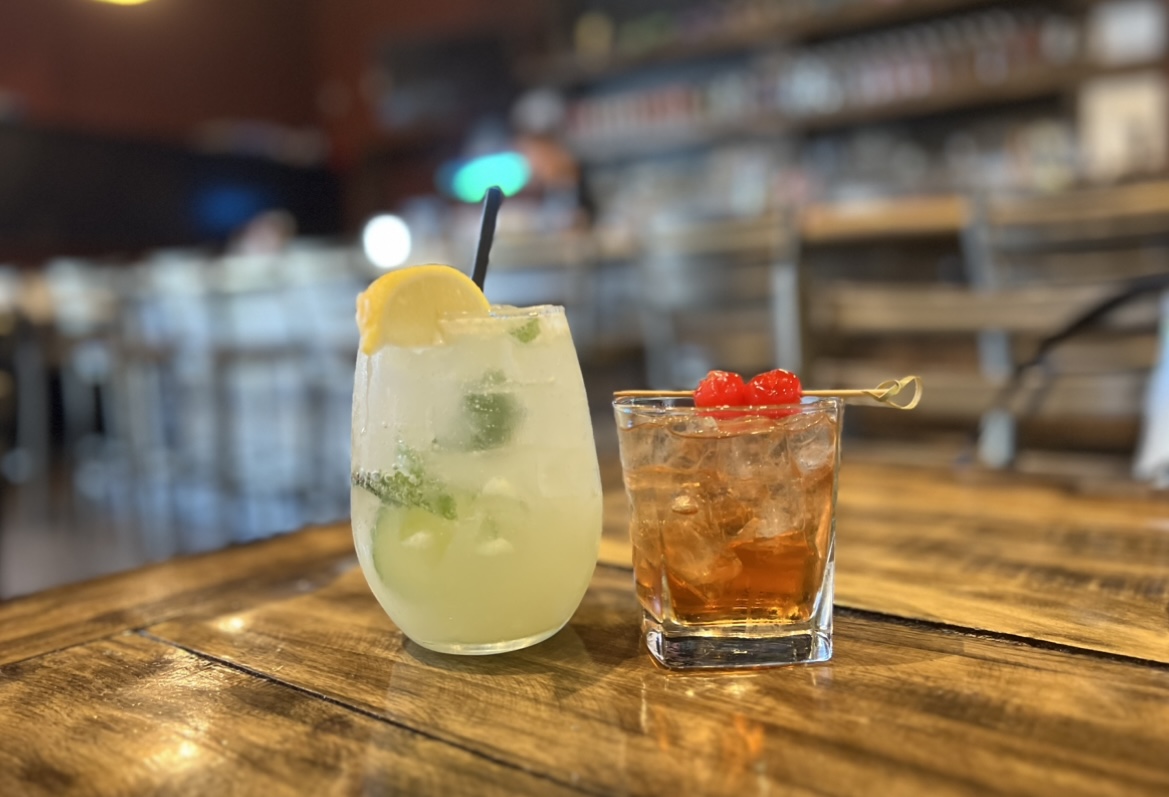 In addition to gin and whisky and the coffee whisky liqueur, they also make vodka, banana caramel vodka and other spirits.
The menu says you can taste four spirits for $10, and nine for $20, which is a fun way to sample the goods.
We were there for dinner and enjoyed an excellent garden salad with juicy red cherry tomatoes and a nice, zingy grapefruit vinaigrette. The pulled pork mac and cheese had great pork but could've used more cheese. The baby back ribs were tasty and came with a small mountain of fries.
The wait staff was super friendly, and they have a nice shop where you can buy cocktail gear, Wolfhead spirits (naturally), candles, hot sauce, and other goodies. 
This is a casual spot in the village of Sandwich, just a few blocks from the Ambassador Bridge. It's located in a lovely, renovated, historic building with exposed brick walls and tons of ambience. There's also a large, quiet patio out back that was blaring some great tunes when we visited.
Their Prairie Sunshine is a fine wheat beer that tastes of the great outdoors, while the White Bronco is a very good New England IPA with plenty of hoppy notes.
I had a terrific Cubano sandwich with pulled pork, cheese and dill pickles, along with a flight of excellent craft beer. On Wednesdays they serve excellent curry from the Indian restaurant next door, called Zaffron C3 Bistro. The butter chicken has a nice kick and came with a pile of basmati rice and naan bread.
WHERE TO EAT
Ankamah Zule has a smile that could light up downtown Toronto. She also makes wonderful, flaky, pies in the style she knows from her childhood in Ghana. The pastry is good enough to eat by itself, but Chef Zule fills hers with veggies, fish, beef, and chicken. They're spicy, but not over the top. Everything is made in house. Zule tells me she was a casino worker and started making Ghanian pies at home to give away. Her daughter convinced her to give the business a go, and taught her about Door Dash and other delivery services. The shop is now going strong. She also sells wheat-based "chips" in flavours such as cinnamon and jalapeno, as well as plantain chips, butter tarts, and Shito, a type of Ghanian hot sauce. Zule also sells frozen pies you can take home for an anytime snack or meal. The store is near Devonshire Mall and just off the E.C. Row Expressway. They also sell their goodies at various places in the city, including Little Foot Foods, Willow Tree Market and Christine's Bake Shop. You'll also find them at pop-ups and markets like the Downtown Windsor Farmer's Market throughout the year. Chef Zule was recognized as one of the Top 100 Women to Watch in Canada in 2022. A good story, and great food.
This is a superbly stylish breakfast/brunch/lunch spot in the Walkerville area of Windsor, with a shiny, black and white interior and a lovely, shady patio. They make their own dressings and sauces in house, including a marvelous jalapeno sauce. Brunch might include Nutella Mousse French Toast with almonds and berries. We were there for lunch and enjoyed a fabulous quinoa salad with lettuce, cranberries, almonds, feta cheese and red onions, as well as excellent (and large) Korean bbq chicken tacos and a perfectly cooked chicken sandwich that was crispy on the outside (and not too heavy with the breading) and moist inside. The restaurant also is dog-friendly. Walkerville is a handsome area of the city, with sturdy brick homes, thick green lawns and towering trees.
This is a classic pizza spot in Amherstburg for slices or a full pizza. You can order the Windsor-style pizza, with shredded pepperoni (better slice coverage than the usual round style) and canned mushrooms. I was told their biggest seller is Big John's, which is like a Windsor slice but also has Italian sausage and green peppers. I quite enjoyed mine.
Looking for a great cup of coffee in a modern, splashy café? This is your kind of place, a bright and shiny, Instagram-worthy spot in downtown Amherstburg. I had a pretty good breakfast sandwich with eggs and bacon, while my wife raved about the avocado toast. Tons of nice-looking pastries on offer and very good coffee lattes.
WHAT ELSE TO DO
Art Windsor-Essex is a lovely, three-storey museum/gallery on the waterfront, with a pretty garden outside and intriguing, cutting-edge art on display. It's really quite something, with exhibits that rival museums in cities five or ten times the size of Windsor. When I visited in July there was a fine, thoughtful exhibit called BioCurious that included a small, luminous dome filled with plants you can climb into (and also bring your own plants). There also was a terrific video show with human faces that appeared and receded in vibrant colours, as well as a fine exhibit from Tina Rouhandeh, who was trained in calligraphy in her native Iran and uses colourful, painstaking weaving art to comment on the political situation in Iran. Her work forms part of Below the 6, a series of exhibitions that focuses on artists based in Southwestern Ontario whose practices are socially and politically minded. The museum has free workshops and offers free, guided tours every Saturday at 2 p.m. There's also a fine patio with great views of the Detroit River and the Detroit skyline.
Amherstburg is a beautiful waterfront town south of Windsor. Take a stroll downtown and check out some of the fine stores, including the lovely River Bookshop, White Woods Home for kitchen and home gear, and Evelyn's Candy House for amazing candy and chocolates. Fort Malden National Historic Site is a wonderful place to learn about The War of 1812 and the Rebellions of 1837 and 1838. You can inspect the barracks to see how soldiers were packed like sardines, and how officers lived in comparative palaces. They do daily cannon firing displays, and hourly musket firing. Sure to impress the kids. There's also an old pensioner's house to check out, and great spots for a picnic along the Detroit River. There's a very large community park and kids' playground at the south end of the fort. "We're very fortunate to have a great town tourism centre," says Esther Reaume of White Woods Home. "We have everything Niagara-on-the-Lake has; history, the views, nice architecture It's really become a destination. We get people from all over the world." Former Maple Leaf Sports and Entertainment CEO Richard Peddie owns several businesses downtown and is planning a boutique hotel for the main street, with many rooms overlooking the city's leafy, riverfront park. He also helps stage community events and has sponsored vibrant art installations around the city.
WHERE TO STAY
The Little White Church is a former place of worship that's now an Air BnB property. There are a variety of rooms in different styles. We had the Detroit room, with a king-size bed and a ladder that led to a loft with two small beds. There was a Michigan license plate on the wall and a Bob Seger poster. We had a mini-fridge and a small freezer, plus a large bathroom, a good-sized TV and air conditioning. I loved sitting on the patio out back near sunset, where I watched a pale golden sun dip behind a weathered, red barn and spotted a small brown bunny scurrying about. I wouldn't have minded a larger end table by the bed, but it was a nice place to stay.
The Doubletree by Hilton is a bright, upscale property on Riverside Drive. Our top-floor room had a large bedroom area, a sitting/living room and a kitchen. Ask for a room overlooking the river and the Detroit skyline.
Original Blog Written By Jim Byers
Explore the Barrels Bottles and Brews trail yourself for a self-guided tour of the Windsor Essex #BarrelTrail. There are three purchase options including a 1 day or 7 day passport, or become a Frequent Flyer with a years worth of tastings and exclusive offers! Click here to discover the craft beer and distillery scene in Windsor Essex!