Wednesday June 12, 2019
Exploring & Pouring through Windsor Essex's Barrels Bottles and Brews Trail.
I was stoked to head west again to Windsor as it has been a couple years and the beer scene has grown there again as it seems to continue to do across Ontario.  Thanks to Tourism Windsor Essex and the revamp of
Barrels Bottles and Brews Trail
exploring Windsor-Essex has never been easier or better tasting.  This BBB Trail is a "go-at-your-own-pace" type of experience, which is fantastic for anyone who doesn't like to be on a tight schedule or wants to take their time exploring other stores, restaurants and activities along the way… trust me there's plenty!
From tours and tastings to the cool history of the area the BBB Trail covers all of that and is a great reason to explore this area year round.  I had a fun packed three days winding through all the stops on the BBB Trail , collecting my passport stamps and again realizing the great community built through tourism and beer.
Enjoy the following blog post as I take you through a great way to spend three days exploring the Windsor-Essex area.  You can also revisit my Instagram story of this trip as a highlight on my IG titled Windsor Trip!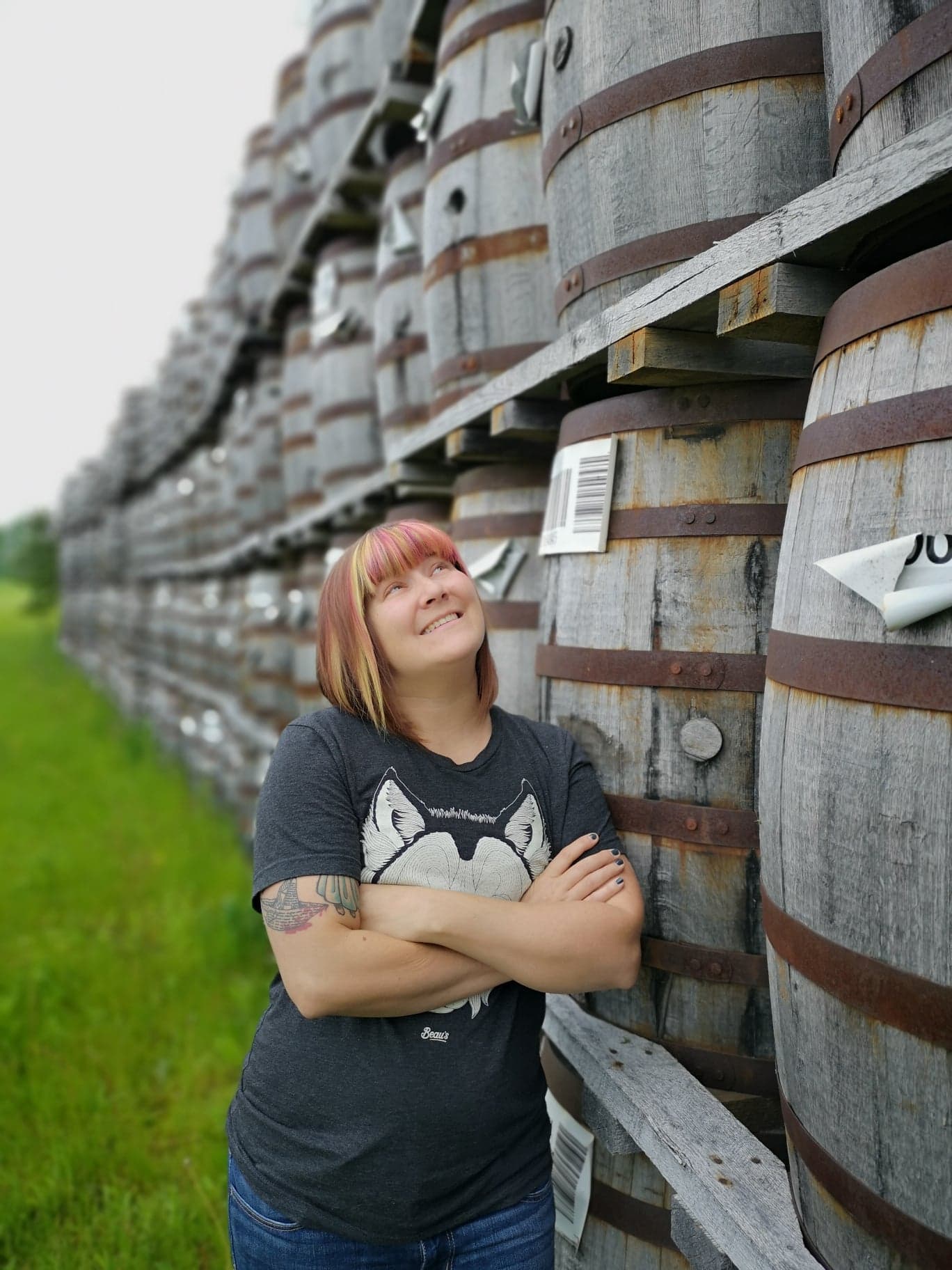 With ten breweries on the Trail and two distilleries there is no shortage of styles to drink, learning and interesting conversation.  Both the breweries & distilleries were all so welcoming, community driven and encouraging you to ask questions and stoked to chat about what's going on and how it got into your glass!
I hit up Wolfhead Distillery, Banded Goose, The Grove and the soon to be site of the Kingsville Brewery my first day.
Wolfhead Distillery greeted us with rows and rows of barrels displayed outside as it doubles as the storage for Hiram Walker's barrels.  They are able to store close to 80,000 barrels outdoors as they each are filled with just enough water to keep them hydrated.  Sorry to all of you that may have thought this all were filled with whisky and had dreams of tapping them from the patio.  We had a sampling of their craft
Vodkas and Whisky's and a bite of their just as tasty menu.  The taproom over looks the distillery so is a beautiful view while sipping a highly suggested cocktail from their list.  Made with all natural flavours I highly suggest trying their Grapefruit Vodka, Banana Caramel Flavoured Vodka and the Coffee Whiskey Liqueur.  Each time I visit a distillery I have an increase knowledge for the way the products are made and tend to add them to the shelves of my kitchen next to the beer fridge.
Banded Goose was next and has since opened up brewing 'wing' of its parent company, Jack's GastroPub, the brewery includes tasty food and a place to spend the night and relax after all your exploring directly upstairs called INN 15, Brewery Lofts. They open in the morning as bean15 so you can grab your coffee to recover from the fun night and get refueled for the day.
With unique, flavourful beer and good stories to tell about their history, town and life it was the perfect place to spend some time and chat.   It was cool to see the shift from their closet sized brewery at Jack's (which was just as impressive to know beer came from there) to a nice and still modest system at the new space.  Now with the option for more variety of beer as well since they have a bit more control over temperature etc that was a bit restricting before.  My faves were the Black IPA and Ginger Brown Ale!
A couple doors down Kingsville Brewery is hammering away at opening day as they are almost finished building their new space in an old bank.  We met on location with Mark just a few doors down from Banded Goose and it was cool to  see the  vision in progress and share a beer where their bar will be located, the centrepiece of the brewery at 25ft it is a great place to gather for a beer.
Though the brewery is not yet open beers have been being brewed and are out and about to be tasted, including over the border and at some Beer Stores.  Their Whiskey Stout is a beautiful slow sipper  and their Czech Style Lager is as nice to look at, amber in colour, as it is to drink.   They are also in construction off site with a large brewing facility so lots of action going on with Kingsville and I can't wait to come back and see all the wheels in motion.
The boutique Grove Hotel has 19 uniquely themed rooms to choose from ranging from Rustic Canadiana and Sophisticated Traveller to Zen and Las Vegas Glam. Of course my favourite was the Brew Master Suite complete with a growler bottle wall and a view that overlooks the 10 barrel craft brewery.
After grabbing a pre-bed snack back at The Banded Goose of a "hop dog" we headed up a flight of stairs and slept like babies in our brewery loft room with full-length windows and sky-high ceilings it was a great place to rest our heads.
Distinctive Inns has partnered with Tourism Windsor Essex Pelee Island to operate Kingsville Concierge welcome centre and is the place to check into your room and learn all about things to do in Kingsville, Canada's most southern town.
Day 2
The morning arrived and we grabbed a coffee at bean15 and a fantastic pastry (trust me get one) we hit the road to
Ocean Bottom Soap Co
in Tecumseh as it is always nice to explore something a little different when on a trip and well they create soap with local beers, whiskey and wines so their was a crossover for sure!   There is a lot more going on here than soap; it's about wellness, community and 100% all natural ingredients.  Charmaine has been in business 30 years now and has created quite a place.  With a large variety of scents, products and knowledge everything is made in house and they can even customize something just for you.   As we saw the production space in the back there were racks curing of soap for various breweries in Windsor as they make soap with their beer which is a whole new meaning to shower beer!   Did you know the vitamins in beer reduce acne breakouts, and can add to the natural glow of your skin?  Well now you do so be sure to stop in and grab some Canadian Beer Eh! or Lemongrass and Beer bars and keep your eye out at local breweries for Ocean Bottom Soap!
We then crossed over to Frank Brewing Co. receiving a warm welcome for lunch and a flight.  I love their "Straight Up Beer" approach because in a world of so many experiments, new styles and haze it is refreshing to go back to what beer was built on and enjoy a well done Pilsner or Brown Ale.  I highly suggest the Sasquatch Kolsch,
Made with Sasquatch Hops a new hop that is patented by BC company Hops Connect and the nation's first patented hops.  Brewer, Brad Wright, wanted to do something a bit different so he dry hopped a Kölsch with a Canadian hop and it turned out great!
I also recommend grabbing Pizza there as their food was fresh and delicious and for those of us Canadians craving patios they have a great one.  Grab a tour if you can as they have made great use of the building and the brewhouse is located in an old ambulance station.   Remember to grab some beer to go and they have some great shirts too!   We loved the pub-esque vibe that was going on here and the service was so fun, friendly and knew a thing or two about beer!
From here we moved on to what was my most surprising discovery of the trip… the town of Sandwich!  Why this town has yet to hit the map is beyond me.  As we drove under the 'Historic Sandwich Town' arch we were greeted by a town with both history and stories to tell.  This certainly continued into Sandwich Brewing Co as it is a stunning building that has been recreated and renovated to accommodate the brewery mainly by the owners.  Their blood, sweat and beers are scattered throughout including in the tables and bar that was made out of the old flooring torn up to create space for the brewhouse.
As we pulled a seat up at the bar, our favourite place to sit, we were greeted with a couple of pints and the beer was just as fantastic as the view.   I had a Skookum Pale Ale that is as west coast inspired in the taste as it is the name.  With a classic orange hue and a 100% cascade hop bill it was full bodied, almost creamy and fantastic lacing and head retention… I found my new favourite beer.
We had a short chat with the brewer and shared stories and laughs of mutual friends in the industry and he made sure to send us with a bottle of the White Bronco, NEIPA.  I loved the way he described it as with the travel I have done through Michigan I understood what he meant.  "A Michigan Style NEIPA is what we we're going for."   He nailed it and if I can try to put that meaning into words I'd say they are softer, creamier and juicier than some.  I find I can usually just have one but these I can put back a few White Bronco's as they are not overly sweet and don't leave a have a fuzzy texture in my mouth.  It was extremely well done at 5.7% and up there with Boss Tweed and M43 from Old Nation. Fantastic example of the style, Great job!  (I also can finally spell Sandwich correctly after this article!)
Somehow we were still on schedule, thanks to my co-pilot, and took a break to check into Holiday Inn Express on the river in downtown Windsor. Again being walking distance to many breweries, restaurants and the Casino it was a great spot to be.
Excited for our next stop, Craft Heads, as it was one of the first places we fell in love with in Windsor and they truly show their creativity and zest for life through their beers.  As I once again walked down the stairs to enter in anticipation of what stories and beers awaited we were greeted with a genuine excitement from Bryan, the co-founder and lover of all things wrestling.   Still offering up to 30 different beers off of their tiny brewing system it's a great example of whomever coined the phrase 'Bigger is better' clearly hasn't set foot in Craft Heads as here 'Small is perfect'.  They have shared exciting news just today that after purchasing a 3BBL (357L) system almost 2 years ago which was much larger than the 80L system we are brewing on now was put on a trailer yesterday and brought to its new home!  Where is that New Home you ask? Well stay tuned to their Facebook next week for some big news!  While you may still have to travel to the source to sample their creations it's worth the trip and they have bottles to go to share with friends over stories of travel and adventure.  I have trouble sharing how unique of an environment has been created here; creative events, rad people and delicious coffee for those that may not need a beer.  It's a downstairs gem and needs to be discovered by you!
I highly suggest trying the Turbulent Peanut Butter Chocolate Porter or one of the Cherry Poppins. Want to plan ahead what you will have?  Check out there Live Tap List here!
BREW was our final brewery of day two and was the perfect place to grab a bite and sample of the three beers they had on tap.  The pizza was delicious and with their consistent line up of beers you must try their crowd favourite Canadian Maple Brew, a malty smooth maple ale, spiced with fresh ginger root which finishes with subtle maple notes. For every case purchased of the Maple Brew they plant 1 maple tree!    Beer is available to go here in bottles, cans and growlers.
The Foundry Pub has a large space to grab a beer and some food.  We grabbed our last pint of the day there and sat on their rooftop style patio that over looks the street.  Don't be fooled by their large selection of macro beers staring you down as they have reserved a few taps for local Windsor Brews which is nice to see.
Day 3
As we woke up to the great view of the Detroit skyline, from our room at the Holiday Inn Express, to begin our third day in the area we took a walk along the river to begin the day before hitting up Thyme Kitchen for much needed breakfast and coffee.  Though I am not a vegetarian I love experimenting with those food choices so I ordered a BLT with coconut bacon and it was a pleasant surprise.  Full of coconut flavour and complimented the avocado and may on this sandwich well.  They had a delicious case of baked goods to tale with you alongside boxed lunches.  I will keep it high on the list of go to breakfast places that is both healthy and delicious.
Walkerville Brewery was next on deck and we greeted the opening doors at 11 am and were pleased to see the addition of a patio. Ian guided us through a tasting from their flagships to their new additions including a craft cider they are proud to exclusively serve on tap. As we overlooked the brewery, their canning line was hard at work we sampled another new addition to their summer line up the Smooth Sail Summer Ale an English style summer ale, perfect for long warm summer days.  If given in a blind tasting I would have trouble guessing the style as it is very smooth drinking and sunshine yellow in colour like a pilsner but lightly carbonated and a nice citrus flavour from the dry hopping of mosaic and amarillo aroma hops like a pale ale.  One thing I do know is it was crushable, refreshing and great for drinking in the sunshine or rain.
The Walkerville Tavern is just a short walk from the Walkerville Brewery and a great spot to po in too and grab a local beer and lunch.  For a place not much bigger than my living room it packed a lot of personality and flavour.  From the locals on their regular stools to their extended tasty menu it gives you a great feel for the town.  With the nice weather the garage door next to the entrance was open that added an outdoor vibe to the indoors.  Bernie grabbed a Rye Ale by GL Heritage Brewing Co (which is closed in the week  so we couldn't visit but a a part of the BBB Trail and I at this point in my life opted for a Caesar…. extra spicy!   Memo for American readers: Try A Canadian Caesar…. it is a staple for sunny days, brunch and hangovers. We yet again enjoyed our drinks and some nice conversation with the owner and prepped ourselves for the well talked about tour at JP Wiser's that was awaiting us. (Please note, The Walkerville Tavern has closed since the time of this writing.)
Again walkable from the pub, JP Wiser's Whisky is Canada's oldest continuously produced Canadian whisky. The brand was established in 1857, and Hiram Walker & Sons Limited currently produces it at their Windsor, Ontario, distillery.   It has a lot of history to share and that is precisely what the tour is for in addition to tasting.  I could try and pretend to tell you the correct history again but I really don't want to butcher them so I highly suggest taking the J.P. Wiser's experience distillery tour.  For $15 you Experience the story of Canadian whisky – from its vibrant history to the craftsmanship and process behind making it. The tour finishes with 'Whisky School' a sampling session of four whiskies (J.P. Wiser's Deluxe, Lot No. 40 Rye Whisky, Pike Creek 10 Year | Rum Barrel Finish, J.P. Wiser's 15 Year Old).    The guides are engaging, fun and full of information plus you get to wear a neon vest and glasses for safety.
Frisky on Whisky we headed to our final stop of our trip, Chapter Two Brewing.  I was excited for a few reasons; one being I hadn't been there yet and two I got to chat with an old friend and brewer of Chapter Two, Michael Beaudoin I first met Michael when he was a brewer at Walkerville, he is a wonderful guy for conversation, education and a passion for what he dose. I was excited to see I would again get to hang out and this time in a new atmosphere.   Like a slow mo movies we greeted each other with a hug and some heckling and got down to tasting beers and catching up.
Chapter Two has something to offer everyone as far as beer goes and their interior reflects the classic history of the surrounding area and an all brick decor with high ceilings has a charm we all want to drink beer in.  I know I sound old to be constantly talking about the weather but they also have a patio TO ENJOY THE SUN ON as you sip away.  I feel like this is the kind of place that if you are open to fun things happening it will happen here.  I recommend the very well done Cream Ale and the Porter was a treat but a flight is a great idea here as they were all great beers and new creations are popping up.
Well folks if you are still reading, fantastic!  You now know what you should start scheduling for your next trip.  Huge thanks to Tourism Windsor Essex Pelee Island for a well planned itinerary and to ALL the stops along the way for being genuine, excited and in love with what they are doing it's inspirational and shines bright in this most South Western point of Ontario.
A few notes:
Passports are available at each location so grab one when you start and keep in mind some breweries are closed on Mondays so be sure to plan accordingly.
There is no initial cost to visit each stop along the Trail but prices for tastings, tours and food can vary.
Take pics, video, along the way of the amazing food & drinks you're enjoying to share with other and give them FOMO use #BarrelTrail on Social
Plan ahead by choosing a designated driver, calling a cab or even better stay at one of the Amazing spots I listed.  Please Drink Responsibly!
The Barrel Trail is a "go-at-your-own-pace" type of experience which is fantastic for any type of schedule.
The legal drinking age in Ontario is 19, so come visit!