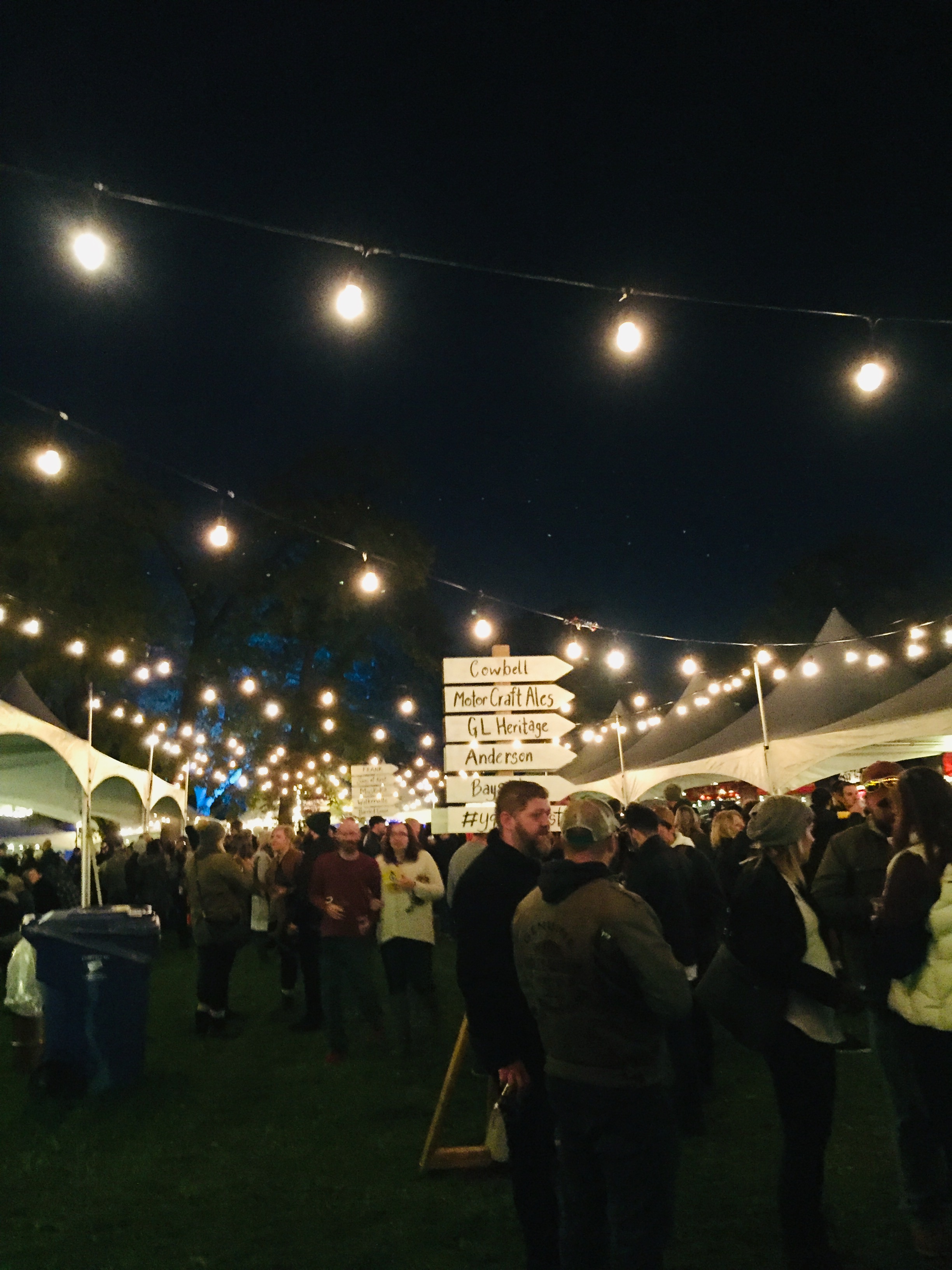 Friday November 15, 2019
Beer Adventures in Windsor Essex
Original Blog by Natalie of Cooking Quid Nunc | Wednesday, November 13, 2019
In Ontario, most people think of Niagara for wine tours or Toronto for brewery visits, but one place that tends to get overlooked is our neighbours over in Windsor-Essex County. The region boasts over 15 breweries, 17 wineries and 3 distilleries, making it the perfect destination to discover a new local beverage.
The proliferation of breweries started about 10 years ago and has been a welcoming industry to locals and tourists. Much of the excitement is attributed to the birth of the Windsor Craft Beer Festival which started seven years ago when there was just one craft brewery in the region. The festival has helped to foster the growth of craft beer in the area and continues to be a successful festival highlighting the very best local breweries.

Living in Ontario my entire life, I had never thought of Windsor as a weekend destination. But this past October I decided to visit for two main reasons: beer and pizza (trust me, they have the best pizza in Windsor). I managed to sneak in a few other activities such as losing my money at Caesars Windsor, hiking around Point Pelee National Park and walking along the riverfront trails with scenic views of the Detroit River. Windsor was a nice surprise, and a worthy road trip destination for a weekend of beer, food and fun. Here are my recommendations if you're planning a trip to the region:
Kingsville, Ontario
Kingsville is about a 40 minute drive from Windsor and is known as Canada's southernmost town. It is primarily an agricultural community but there are still many things to do and see in the area. The small town has really had a bit of a revival in the last 5 years or so, with hotels, restaurants, and shops collaborating to advocate Kingsville as a whole.
The Grove Hotel & Brewery
What is this brewery/hotel hybrid you ask? Well it's pretty much the coolest place I've stayed at in Ontario!
The Grove Hotel is a bright boutique hotel located in the heart of Kingsville. It looks like a hotel you would find in Key West or Miami; certainly not something I expected to see in Southwestern Ontario. It's a striking hotel that really adds some intrigue and vivacity to the area.

The quirky but charming hotel is housed in a historic building that dates back to 1854, and offers guests 18 uniquely themed rooms. Each room is one-of-a-kind, with decor that ranges from vintage bikes to beer suites. The lobby area near the reception desk is a cozy space, with a TV, couch, stylish odds and ends, and a 24-hour coffee and cookie area in case you're having a late night craving.

The general vibe of the hotel is incredibly restful; enticing you to actually spend time in your room, which is something I usually don't like to do at a hotel. Plus the cloud-like bed emanates next-level comfort, so you'll surely have a hard time getting out of it in the morning.

Editor's Note: The Grove Brewing Company has moved to a new location at 86 Wigle Ave, Kingsville.

I really enjoyed the beers and food at the brewpub and knowing that my hotel room was literally one step away made it easy to indulge in more than a few beers (heh). Both the brew house and hotel have already gained accolades such as TripAdvisor's Travellers Choice Award in the Top 25 Small Hotels in Canada and Town of Kingsville's 2019 Business of the Year.
Banded Goose Brewing Company
Banded Goose Brewing Company (BgB) is the brewing 'wing' of JACKS GROUP. Proudly brewing locally sourced craft beers at Jacks Gastropub, 15 Main St East, since 2013. The expansion took place in Jan 2019 when Banded Goose Brewery opened at 15 Main St, along with Bean15 Coffee Lounge, Distinctive Inns of Kingsville's Concierge & Welcome Desk and seven Brewery Loft Suites on the second floor.

In the summer months they feature a beer garden patio with curbside eats prepared by their Food Truck, BLACKJACKS. Their space is the ultimate destination for morning, afternoon and evening beverages and eats.  Drop by before work for a specialty coffee and pastry, or pop by in the late afternoon to evening for quality beers, and a creative food menu.
I really enjoyed the laid-back atmosphere at BGB and was happy to see a great beer menu featuring easy-drinking and experimental beers. I loved their Cool Beanz Coffee Cream Ale and their Boys to the Yard Milkshake IPA, both brewed in small batches for premium quality and taste.
Craft Heads Brewing Company
Craft Heads is located in downtown Windsor and is known for their full-flavoured craft beers. The brewery was opened by two home brewers who love to experiment with different styles and flavours. At any given time there are nearly 30 different taps featuring small-batch brews that range from easy-drinking beers to 'this is beer?' type concoctions. For example, I tried the Sour Batch Kids Watermelon Slice, and Chocolate PBR. The beers were fun to try but I couldn't imagine enjoying a full pint of some of the sweeter more pronounced tastes. They do have a lot of easier drinking beers though so you'll definitely find something enjoyable at Craft Heads.
Brew Microbrewery
Brew is known for their very Canadian Maple Beer which is a smooth maple ale, spiced with fresh ginger root. The result is a malty, gently hopped ale with very subtle notes of maple. Beyond their magnificent maple beer, you can find a few other easy drinking beers, including their Brew Proper Lager, which was created to be flavourful but most importantly smooth. Their tap room is a bright and airy space with an on-site kitchen that makes some of the best pretzels and pizzas in the area. Brew also delivers locally and outside of Essex County so you can order as many cases of maple beer as you want. Plus they plant a maple tree for every case ordered.

Sandwich Brewing Co.
In Windsor's historic Sandwich neighbourhood, you will find Sandwich Brewing Co. No it has nothing to do with the edible sandwich; Sandwich is actually considered one of the oldest, most historically significant settlements in Ontario.

Sandwich Brewing is housed in a renovated, 120-year-old building complex that has preserved some of its old structural charm. The beautiful and spacious two-story space has a real snug feel to it, making it a little too easy to spend numerous hours there.

The beers were all quite phenomenal, especially the White Bronco NEIPA and their South of the Border Porter on nitro. The brewery also offers growler fills, cans to go, and a small food menu that has some terrific charcuterie options. If you have time, drop by next door to Rock Bottom Bar & Grill which is owned by the same owners as Sandwich. They have a decent beer menu and probably the best damn wings you can find in Windsor.

Walkerville Tavern
The Walkerville Tavern is located in the trendy and historic Walkerville District. The area is lined with great restaurants, shopping and entertainment nestled in and between many heritage properties. If you decide to venture to the Walkerville area (which you absolutely should!) then drop by Walkerville Tavern for terrific beer and food. It's an extremely welcoming and neighbourly pub that is clearly a favourite among the locals.

The tavern is known for their burgers (apparently the best in Windsor) and their 'wok' items. As much as the burger was tempting to order, I went for the Shanghai Noodles with Tofu. I didn't expect a tavern to offer such flavourful Asian-inspired fare but I was really taken back by the rich and tasty flavours in my dish. It was such a fresh and vibrant meal that I still think about even one month after visiting.

The tavern also offers a decent beer menu that features some local brews, such as Chapter Two's cream ale. Whether you're in the mood for a nice dinner, a pint with friends, or watching a sporting game, Walkerville provides a welcoming and friendly space for all.
The Windsor Craft Beer Festival
The seventh annual Windsor Craft Beer Festival hosted by Windsor Eats and Motor Craft Ales took place on October 18-19th at Willistead Park in Windsor.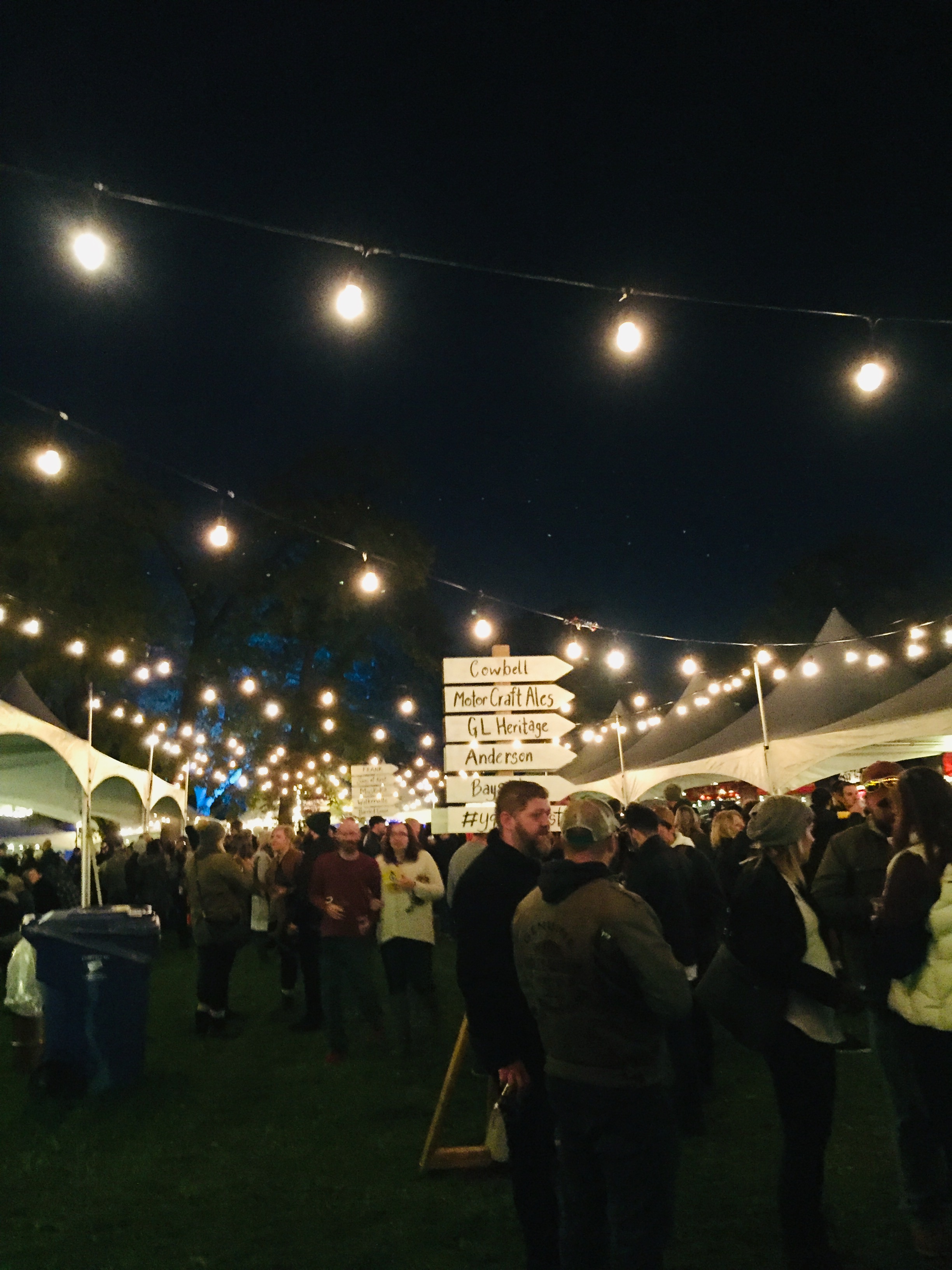 The festival has gained attraction across Ontario and is known for it's delectable food offerings, incredible brewery line-up, historic venue and of course, the immersive music. Each year the festival seems to grow, with more breweries attending, and more people from outside of the region visiting.
As a first timer, I was super impressed with organization of the event, something that is easy to fail at when planning a festival of this size. The lines moved quickly, the tokens were loaded on to electronic scanning bracelets, and people really seemed to be enjoying themselves on a brisk October weekend.

As for food, the festival offered eats from Motor Burger, Robbie's Gourmet Sausage Company, and much more. I was so full from eating at Walkerville Tavern that I didn't get to try the award winning sausages but they sure looked epic. I also missed the extravagant Detroit Party Marching Band which always steals the show at the festival. They wander through the crowd, strutting and performing, really immersing themselves with the crowds for a fun and lively time. They performed on the Friday, but I had attended the fest on the Saturday. There was still great music when I went, especially the groovy steelpan duo that got me moving my feet.

This festival was definitely worth the trek out to Windsor and I hope to attend again next year!
Armando's Pizza Bar
So I wasn't really aware that Windsor is known for their pizza or that they had their own style of pizza featuring shredded pepperoni, Galati cheese and canned mushrooms. Everyone knew this morsel of information except for me because when I told friends that I was going to Windsor, the pizza recommendations started pouring in. Some say that this Windsor pizza phenomenon was put on the global map in 2014 after finishing third in 30th annual International Pizza Expo in Las Vegas.  The Windsor team beat out over 60 participants for the title of world's third best pizza. Yep, THE WORLD!
Now I can only eat so much pizza in one weekend and so I had to get the very best, and that was at Armando's Pizza Bar.

Armando's Pizza Bar is a great place to gather, eat REALLY good pizza, and drink local beer (or wine). What makes this pizzeria unique is that they serve five different style of pizza: Napoletana, Windsor Style Deep Dish, Roman, Detroit Style Deep Dish and New Windsor.
Two of the styles which are exclusive creations by corporate chef Dean Lister, are some of the best pizzas you can get in Windsor. Dean or Professor Zaaa on Instagram, is seriously a pizza guru. His years of knowledge and working in the industry has won him chef of the year (open category) in 2018 at the Canadian Pizza Summit in Toronto for his "Dean Martin" pizza which is a Windsor style deep dish loaded with pesto sauce, mozzarella cheese, spinach, sautéed mushrooms, red onions, tomatoes, and prosciutto.

Of course I ordered the Dean Martin when I visited the pizza bar and I've got to admit that its probably ranked in the top 3 best pizzas I've ever had in my life (and I've had a lot of pizza). I think what won me over is the unique thick Sicilian-type crust. It was very light and airy, but still had a nice crispiness to it. It also tasted extremely fresh, which is usually not something I notice in pizza crust.
It was really great chatting with Dean about his love for pizza and I can't wait to go back to try the other four styles of pizza.

Overall I had a fantastic time exploring the Windsor-Essex region and plan to head back in the summer months for another beer and food filled weekend.  A huge thank you goes out to Tourism Windsor-Essex Pelee Island for hosting me on this eventful trip; as always, opinions and views are of my own.
This blog was created in partnership with funding from Ontario Southwest. To explore more that you can do in #OntSouthwest check out ontariosouthwest.com