Tuesday July 25, 2023
Exploring Hidden Gems & Eating My Way Through Windsor
Summer in Ontario is synonymous with road trips and that time of year when adventure beckons around every corner. With longer days, warmer weather, and beautiful landscapes, it's the perfect time to hit the road and explore the province's diverse offerings. When Tourism Windsor Essex reached out to invite me back, I was all in. A few years ago I explored the city of Windsor for the very first time and was blown away by its history, people and food scene. To this day, I reminisce about some of the meals I had. I was excited to visit again and get lost in its charm.
Situated on the banks of the historic Detroit River, this charming city offers a plethora of exciting experiences. A few weekends ago, Rikki and I immersed ourselves in its rich culture, savouring even more delicious dishes, and discovering hidden gems along the way.
Where to Stay:
To start our weekend getaway on a more exciting note, we checked in at the renowned Caesars Windsor. This award- winning hotel offers beautiful suites overlooking the Windsor riverfront. Its massive on site casino is also super fun! Alternatively, for a more relaxed and low key stay, the Four Points by Sheraton Downtown offers cozy comfort in the heart of the city.
Where to Eat & Drink:
I've said it before and I'll say it again, Windsor has an incredible food scene. Our culinary adventure began with dinner at F&B Restaurant, where tasty dishes paired with perfectly crafted cocktails awaited us. The brussels sprouts were one of our favourite dishes. "We tried to take it off our menu once and our customers weren't having any of it", smirked our waiter. I'm not surprised at all. Other noteworthy dishes were the scallops and the tomahawk pork chops. The cocktails here are perfectly crafted and a feast for all the senses.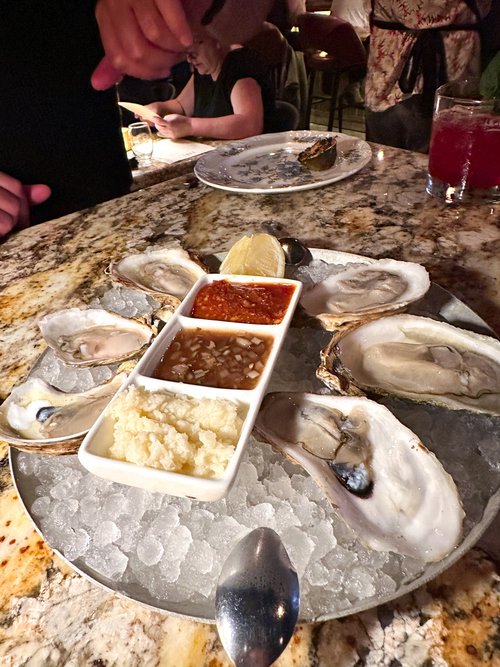 Vu Bar for After Dinner Drinks
For a post-dinner cocktail, we headed to Vu Bar at Caesars Windsor, to enjoy the beautiful views in a sophisticated atmosphere. Drinks here are relatively priced and they also have an outdoor patio overlooking the Detroit Skyline.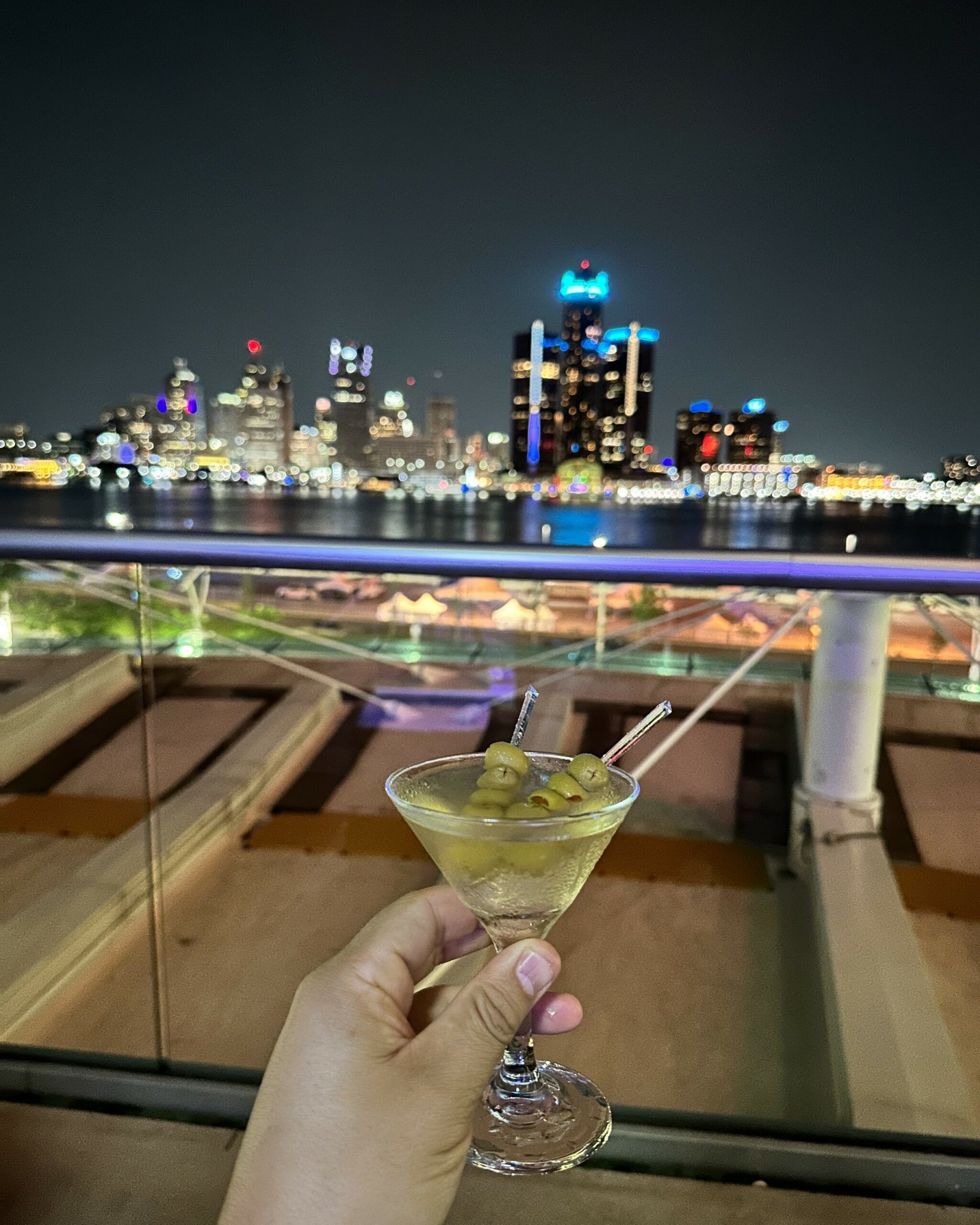 I'm a sucker for a good cookie. Indulge in your sweet tooth, and make a stop at the Cookie Bar, where a variety of mouthwatering cookies await to be savoured.
To kickstart your day, consider Cafe March 21, and savour a cup of aromatic coffee before embarking on your exploration. While I didn't have the food here, they also offer bites that looked and smelled delicious.
Beer enthusiasts will appreciate a visit to Walkerville Brewery, where you can enjoy some beer flights and discover a range of local brews. The cider here tastes like prosecco and goes down very smoothly.
For breakfast, head to the beloved A Dog's Breakfast, where traditional breakfast dishes like the pork belly eggs Benedict add a delicious twist to the most important meal of the day. I really enjoyed my breakfast here!
Cucina 360
Cucina 360 offers a remarkable culinary experience, featuring exquisite Italian flavours and impeccable service. Certain Italian cheeses are imported straight from Italy on a weekly basis for a truly authentic experience. This dinner was one of the best Italian restaurant experiences I've had outside of Italy.
Indulge in the tantalizing lobster roll, bang bag shrimp, or locally caught perch at the renowned Harbour House Waterfront Eatery, all while soaking in picturesque views of the harbour. It feels like being whisked away to a seaside town and I loved the nautical interior decor.
What to Do:
Shop:
Windsor offers a plethora of activities to keep you engaged throughout your visit. Explore local artisan shops like Whiskeyjack Boutique, where unique treasures and handcrafted goods await you. Lots of great finds and great stocking stuffers.
Enjoy the Outdoors:
To fully immerse yourself in nature's embrace, embark on a Peche Island Tour, for a tranquil oasis just a stone's throw away from the city's vibrant heart. A leisurely walk along the Detroit River offers a serene escape, providing beautiful views of the Detroit skyline.
Water Sports:
For adrenaline junkies, RAW Watersports offers an afternoon of thrilling jet skiing on Lake St. Clair. The wind in our hair and the splash of water beneath us created an unforgettable adventure. It was so much fun!
Windsor, Ontario, offers the perfect weekend getaway that combines culinary delights, hidden treasures, and unforgettable experiences. From indulging in delicious cuisine to exploring local shops and embracing the beauty of the Detroit River, this city invites you to create lasting memories. I had so much fun here and can't recommend it enough. There's just something about it that draws you in.
Original Blog Written By Luis Cabrera @lostwithluis – follow along with more of Luis' adventures at lostwithluis.com
Click here to read about more of Luis' adventures in Windsor Essex
To plan your own outdoor adventure and foodie getaway to Windsor Essex. Check out visitwindsoressex.com/mytrip for our MyTrip Digital Itinerary Builder. You can create an itinerary by interest, by dates you're planning your visit and much more. Save, export and share with your friends for a stop-by-stop and minute-by-minute itinerary straight from your phone to Google Maps.