Best of Windsor Essex: 15 Places To Eat, Play, Stay
Original blog by Raymond Cua, The Travelling Foodie | June 26, 2019

I love exploring my own backyard. As a travelling foodie, travelling doesn't always have to mean going to different countries. Experiencing the beauty in your own backyard is just as rewarding, especially if your backyard is Ontario.
I've been exploring Ontario quite a bit in the past few years, covering a lot of Ontario's Southwest. This time around, I visited Windsor-Essex County, the most southerly area of Ontario.

 Tulip Bulbs at Windsor Riverfront
About a 3-hour drive from Toronto, you'll want plenty of time to explore this vast region consisting of 10 communities. With so many things to do and places to eat in the Windsor Essex Region, it can be hard to decide.
Luckily, the region came up with the Best of Windsor Essex Awards to highlight some of the best the region has to offer as voted by the locals that live there.

 Local Perch at Jack's Gastropub
The comprehensive list, in its 4th year in 2019, showcases from best things to do, restaurants and accommodations to best photo-ops, entertainment venue and shopping district in Windsor and Essex County. Out of the 46 awards, I visited 15 of the winners, exploring Comber, Leamington, Kingsville, Amherstburg and Windsor in a nice 2-night trip!
Website / Address: 7005 Essex County Rd 46, Comber, ON N0P 1J0
Owned by husband and wife team, Chef Benjamin Leblanc-Beaudoin and Ginette Tremblay, the 3-acre Iron Kettle Bed and Breakfast is the very first Feast On certified Bed and Breakfast I've heard of. This means all the food served in the B&B uses local and seasonal ingredients from Ontario's farmers and artisans.
Did you know? Chef Benjamin and Ginette met at a restaurant where they were both working at, and they spent their wedding night at Iron Kettle B&B before purchasing it the year after.

This Victorian home was built in 1867, and it was restored for the bed and breakfast. Now, you'll find a garden where they grow herbs, a pool and a hot tub.

There's also a nice pond area with lounge chairs.
When I checked-in to the room, I found a nice treat of homemade croissants and jam with a hand-written welcome note waiting in my room. Nowadays, details like this make my stay much more memorable.

Breakfast includes fresh made pastries, fruits, juices and more. During my stay, there was also made-to-order omelette feature based on what's seasonal. Since asparagus was in season, Chef Benjamin made an asparagus and cheese omelette that morning.
They host events at the B&B like Afternoon Tea and Mother's Day Brunch. They also do dinners on Friday and Weekends, which people rave about. Did you know? Chef Benjamin competed in Chopped Canada Season 2 back in 2015.

I didn't get to try the dinner here, but I asked Chef Benjamin what was the one dish he would want me to try, and he said: Grilled Lake Erie Pickerel. Be sure to try it when you see it on the menu, and let me know what you think!
Once a year, Iron Kettle Bed & Breakfast hosts a very popular event called Harvest Dinner, which won the Best of Windsor Essex award for Best One-of-A-Kind Food Event. Since this event is once a year only and spaces are very limited, another great event to attend is their Iron Kettle Cooking Series at Lee & Maria's, a local farm market in Kingsville selling produce from the farm that they grow and other Windsor-Essex products.

Family-run: Kevin Black, Kathy Mastronardi, Alessia Perciballi and Jennifer Perciballi
Every month, Lee & Maria's hosts a cooking class usually with Chef Benjamin based on the season or a specific theme that the chef comes up with. The cooking class is an awesome way to learn about cooking and try local food and drinks! This cooking class is literally farm-to-table-on-a-farm!
The class is a four-course tasting menu prepared by Chef Benjamin in front of you, using local and seasonal ingredients, some of which are even from Lee & Maria's farm. Each course is also paired with drinks from an Essex County winery or brewery.

Strawberry Salad paired with Muscedere Vineyards 2018 Pinot Grigio

During my trip, the theme was Spring Thaw using vegetables and fruits found at early spring harvest like strawberries, asparagus and fiddleheads. Each course was paired with wines from Muscedere Vineyards, a family owned and operated vineyard in the Lake Erie North Shore Wine Country.
Chef Benjamin's best advice in cooking asparagus is blanching it: cooking it in hot water to get color, but not to the point that they turn brown.

Asparagus and Wild Leek Hollandaise paired with Muscedere Vineyards 2017 Pinot Noir

Spring Lamb Chops with Fiddleheads paired with Muscedere Vineyards 2017 Cabernet Franc

Strawberry Shortcake paired with Muscedere Vineyards 2018 Rose
Point Pelee National Park: Best Outdoor Attraction and Best Birding Hot Spot
Website / Address: 1118 Point Pelee Dr, Leamington, ON N8H 3V4
I enjoyed the beautiful Point Pelee National Park with its variety of things to see from marsh boardwalk, beaches, bird watching, nature trails, and more.
You'll definitely want to check out the Marsh Boardwalk which was the Best of Windsor Essex winner for Best Outdoor Attraction. This boardwalk receives the most visitors because it's one of the closest viewpoints from the park entrance and there's not much work involved to see the beauty.
You already see views from the parking lot. There are two towers with panoramic views of the ponds and cattail marsh. There's also a 1.4-km walking trail along the floating boardwalk.

Marsh Boardwalk View from the first tower
With over 300 species of birds migrating through the Windsor Essex region, Point Pelee National Park is considered to be the best place for bird watching. In fact, more than 390 species of birds have been recorded in the Point Pelee Birding Area.
The best time to see birds is during spring migration that happens in May. Point Pelee National Park hosts the Festival of Birds in the first three weeks of May where you get to learn and explore the world of birding.
I visited in May and the park was flocked with birders and nature lovers with binoculars and ultra-zoom cameras hoping to collect bird sightings. When I went to the Marsh Boardwalk, I saw so many birds flying in the area, especially where the first tower is.

Cars can only go as far as the Visitors Centre. After which, you either walk 2.5-km or take a shuttle to the tip. Once off the shuttle area, you'll get the opportunity to walk more along the Carolinian forest, spot more birds, and pass the famous 42nd Parallel!

The 42 Sign says: You are now just south of the 42nd parallel, as far south as Rome and Barcelona. Some of Canada's rarest plants and animals are found at Point Pelee because of its mild southerly climate.
Keep walking all the way and you'll reach Point Pelee. I finally got to check off one of my Canada bucket list item: being at the southernmost tip of mainland Canada.

Southernmost tip

View from the tip
Website / Address: 31 Division St S, Kingsville, ON N9Y 1P4
Whenever I'm in Ontario's Southwest, having Lake Erie Perch is always a must! The Essex region is a primary source for local perch, and, when in the region, you must try the perch at Jack's Gastropub, a staple in the quaint town of Kingsville since 1898 and winner for Best Perch.
Did you know? Owned by Kingsville local Trevor Loop, this farm-to-table restaurant was featured in Food Network Canada's You Gotta Eat Here in 2013.

Panko Perch + Chips ($24) – Loop Fisheries yellow perch, panko, cilantro lime slaw, fresh cut fries, caper-dill aioli
As a Feast On restaurant, Jack's Gastropub is proudly serving a seasonal menu created with ingredients from local farmers, producers & artisans, along with a local drink list of wine from EPIC wineries, and local brews featuring their in-house Banded Goose Brewing (BgB).
They are popular for their burgers which you can choose different patties for: beef, lamb, chicken and quinoa-black bean. Their biggest seller is the Spicy Jack Burger.

Spicy Jack Burger ($17) – jack cheese, bacon, banana peppers, roasted jalapeños, crispy onion tanglers, jack sauce, sesame kaiser
Website / Address: 455 Seacliff Dr, Kingsville, ON N9Y 2K5
Founded in 1979, Pelee Island Winery is the oldest estate winery in Canada with over 750 acres of vineyards in Pelee Island.
Since Pelee Island Winery has Canada's most southerly vineyards, its terroir is the most unique compared to all other wineries, making their wines quite special. Being on the southernmost island of Canada, they have an unusually hot and long grape growing season.
Being surrounded by Lake Erie which is made of limestone bedrock, the soil condition makes it great for pinot noir, making them the largest pinot noir producer in Ontario. Did you know? They are also the largest sparkling wine producer.

Sparkling Wine Tasting: LOLA Vidal VQA 2016, Secco 2014, LOLA Rose 2017
They are the largest integrated winery in Ontario complete from farming, harvesting and processing to bottling and retail.
I can totally see how they won Best of Windsor Essex Award for Best Wine Experience. Having a wine tasting inside a giant wine barrel, including wines straight from the barrel! That was definitely the best wine tasting experience I've had to date.
Website / Address: 7781 Howard Ave, Amherstburg, ON N0R 1J0
Opened in May 2016, Wolfhead Distillery is the first premium craft distillery in Windsor Essex County offering 3 vodka products and 3 whisky products.
Travelling Foodie Tip: Tastings are available daily for $6pp, but Tours (which include tasting) is only available on Saturdays at 1pm and 2pm for $12pp.
Wolfhead whisky uses 5 year old corn and 13 year old rye aged in American oak bourbon barrels with a 3 degree char inside. Did you know? In the US, you can only age whisky in a barrel once to be able to call it bourbon. In Canada, whisky makers typically take those used barrels. Then they age whisky a minimum of 3 years to be able to call it Canadian whisky.
750 whiskey barrels aging. 55 gallons per barrel.
Their vodka uses 100% wheat distilled 7 times, making it gluten-free. They chose wheat instead of corn because they want to be different: corn-based vodka is the most popular in the market because it's cheap, but high-end vodka like grey goose uses wheat.
Used for experimenting spirits, the Pilot Still can distill exactly as a Pot Still but at 1/12th the capacity.
Did you know? Wolfhead Distillery uses limestone filtered water to proof their spirits similar to grey goose and any bourbon whiskey.
Whisky and Vodka Tasting (left to right): premium whisky, premium vodka, grapefruit vodka, apple caramel whisky, banana caramel vodka, coffee whisky liqueur
Wolfhead Distillery won Best of Windsor of Essex Award for Art of the Cocktail for their hand crafted cocktails. They have a wide variety of cocktails using their spirits.
I love the twist that they do on traditional cocktails. I loved the Big Apple Manhattan which uses their Apple Caramel Whisky to add that sweet apple flavour.

Big Apple Manhattan ($10) – Wolfhead Apple Caramel Whiskey, sweet and dry vermouth, Angostura bitters, splash of Wolfhead Premium Whisky, garnished with a twist of lemon
Caesars Windsor: Best Gaming Attraction, Best Entertainment Venue & Best Hotel/Motel
Website / Address: 377 Riverside Dr E, Windsor, ON N9A 7H7
Hailing from its popularity in Las Vegas, Caesars Windsor is the largest casino in the Windsor Essex region. This 100,000 sq-ft hotel and casino has 2,600 gaming machines, 95 tables games and 14 poker tables making it the Best Gaming Attraction in Windsor Essex County.

The Colosseum at Caesars Windsor won Best Entertainment Venue with its 5,000-seat theatre hosting world-famous concerts, shows, musicals and comedy like Jason Mraz, Howie Mendel and Martina McBride.
Website / Address: Riverfront Trail, Windsor, ON
When in Windsor, you'll definitely want to check out the Windsor Waterfront, the Best of Windsor Essex winner for Best Photo Op.
The 5-km riverfront trail gives you great photo opportunities with scenic views along Detroit River passing through Ambassador Park, Centennial Park, Dieppe Gardens, Festival Plaza, Bert Weeks Memorial Garden and Clifford and Joan Hatch Wildflower Garden.

You can even see the Detroit Skyline from the riverfront.
Website / Address: 1515 Ottawa St, Windsor, ON N8X 2G3
A Windsor staple for burgers since 2013, Mamo Burger Bar has won Best Burger Joint every year (to date) of the Best of Windsor Essex Awards. Did you know? The name Mamo comes from owner Ryan Odette's mother's maiden name.
Mamo Burger Bar serves local beef ground in-house. There is a lot of choices on their signature burgers menu. But, if you want to to do your own instagrammable burger, they have a Build Your Own Burger where you can go crazy on toppings like peanut butter, fried egg, mac & cheese, caramelized pineapple and more.
Travelling Foodie Tip: Ask about their Burger of the Month. When I went, it was the Hot Mess Burger which interestingly had chili, sour cream and BBQ Fritos along with beef patty, cheddar cheese and bacon.
I thoroughly enjoyed The Big Popper. Fried goat cheese should be a thing for burgers! And I loved that the cheese balanced the spice from the jalapenos.
I asked owner Ryan what his favourite burger was. He's old school when it comes to burger so his favourite is the Old School Burger with American cheese, pickles, lettuce and their signature Mamo sauce.

On the table: 1. The Big Popper ($16.95) – Fried Goat Cheese, Pickled Jalapeños, Hot Pepper Colby, Bacon & Chipotle Mayo. Upgrade to Onion Rings ($3). 2. Salty Caramel Milkshake ($5.25)
Website / Address: 326 Cabana Rd E, Windsor, ON N9G 1A3
One major thing I learned about Windsor this trip is they have their own Windsor Pizza. What's Windsor-style pizza? It's a thin crust pizza which uses cornmeal under the crust, topped with shredded pepperoni (instead of round ones). A big factor of Windsor pizza is the cheese. The cheese used is made locally by Galati Cheese Co which consumes the entire daily milk production in Essex County. The pizza also uses canned mushrooms instead of fresh mushrooms due to its history. When Windsor pizza first started, there were no mushroom farms in Windsor so they can only use canned mushrooms.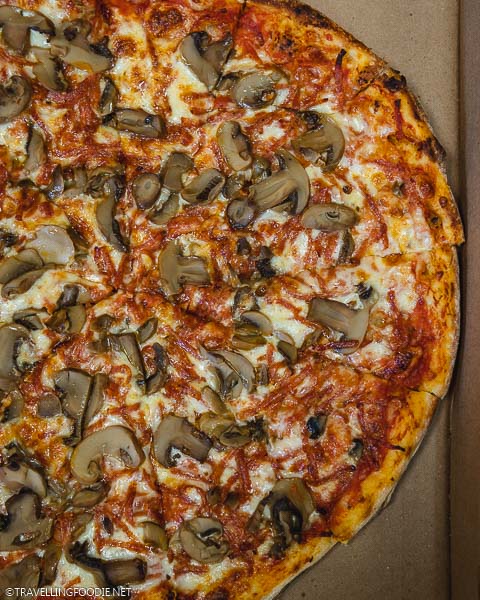 The Classic Windsor Style Pizza ($20.35) – red sauce, mozzarella, shredded pepperoni, canned mushroom
Canada's 2018 and 2019 Pizza Chef of the Year, Dean Litster, makes this award-winning pizza at Armando's Pizza, which has won the Best of Windsor Essex for best pizza every year (to date)! On top of that, his Windsor-style Pizza won No. 1 International and No 3. in the world at the 30th International Pizza Expo in Vegas in 2014, where pizza chefs from all over the world compete!

All his pizzas are hand stretched to keep the air in the dough which makes it lighter and fluffier, unlike using a rolling pin which takes out all the air.
Watch how Chef Dean Litster makes the Windsor-style Pizza along with the Detroit-style Deep Dish Pizza at Armando's!

As Windsor is a neighbor of Detroit, you'll also find Detroit-style Deep Dish Pizza at Armando's. Chef Dean said he crossed over to Detroit and tried all the Detroit pizza there just so he can come up with his own.
His Detroit-style Deep Dish Pizza has cheese all the way to the side and topped with butter toasted panko. Interestingly enough, the tomato sauce is poured on top after the pizza comes out from the oven. Did you know? His Detroit-style Deep Dish Pizza won 5th place in the International Pizza Expo.

Detroit Style Deep Dish Pizza ($21.05) – mozzarella, shredded pepperoni, cup & char pepperoni, sausage, butter toasted panko, finished with red sauce
WindsorEats is all about the food and drinks that Windsor and Essex County has to offer. They won the Best of Windsor Essex for Best Tour Experience for such tours like Friday Night Lights, a pub and grub crawl on a bicycle.
They also host festivals like the Street Food Festival which I attended. I like to think food festivals are still tours because you get to tour various food vendors and different dishes in one convenient location.

Spicy Elote ($6) from WindsorEats – red pepper, charcoal
The Street Food Festival was held at a packed Lanspeary Park where some of Windsor's best restaurants and food trucks can be found serving up some gourmet style street food.
Chef John Alvarez had both restaurants The Grand Cantina and Food & Beverage (F&B) serving up some delicious tacos and fresh shucked oysters.

Barbacoa Taco ($5) from The Grand Cantina – slow roasted beef, chipotle aioli, onions, cilantro

Freshly Shucked Raspberry Point Farms Oysters ($2.5/pc) from Food & Beverage
Even one of Windsor's top fine dining restaurants, Mezzo Ristorante, was serving up some delicious grilled lamb chop! Kudos to be able to serve this perfectly at a festival setting.

Grilled Marinated Lamb Chop ($6/pc) and Veggie Skewer ($3/stick) from Mezzo Ristorante
Website / Address: Walkerville, Windsor, ON
A former town founded in 1890 by Hiram Walker, owner of Canadian Club Whisky, the Walkerville district is known for its blend of historic and hip with a multitude of shopping, dining and entertainment options.
You'll also find Best of Windsor Essex award winners in this district, some of which I visited below.
Website / Address: 543 Lincoln Rd, Windsor, ON N8Y 2G6
I cannot resist a good cup of coffee! When in Windsor, you'll want to check out Anchor Coffee House for coffee and freshly made baked goods like bread and bagels!

Latte ($4) and Shortbread ($2.50)
They serve a wide variety of Canadian coffee including Chance Coffee (a local Windsor roaster), Phil and Sebastians, Detour Coffee and Transcend Coffee.
Website / Address: 1833 Wyandotte St E, Windsor, ON N8Y 1E2
The first restaurant in Walkerville, The Twisted Apron offers twists to comfort food. They started with only breakfast and lunch, but does dinner now due to popularity. Did you know? They also won 2017 Best of Windsor Essex for Best Farm to Table Restaurant.
With their "twisted" breakfast dishes, none can be better than Canada's ultimate comfort food, the poutine, twisted with the ultimate brunch food, eggs benedict! I'm surprised it's the first time I've seen this dish. It's quite instagrammable too with #yolkporn and #cheeseporn combined.
View this post on Instagram
Their hollandaise sauce is homemade and is a good replacement for the gravy over the potatoes. Also, if you like spicy like me, I added their homemade hot sauce to the poutine and it was delicious as it was a good contrast to the hollandaise.

Eggs Benny Poutine ($15) – hash, 2 poached eggs, hollandaise sauce, cheese curds, peameal bacon
Website / Address: 548 Chilver Rd, Windsor, ON N8Y 1E3
When travelling to destinations, people love to buy locally made products for souvenirs and gifts. In Windsor, the Urban Art Market is the perfect place for that. Winner of Best Windsor Essex Made It/YQG Made Store, Urban Art Market is the first store of this kind in Windsor where a community of artists comes together.
The Urban Art Market is made up of over thirty local artists and artisans from Windsor Essex County. Owner Anissa Noakes curates the products available in the store based on needs, and the artists work in the store to keep operations.

Witch and Whimsy is known for unique knit/crochet gifts made with acrylic yarns.
Website / Address: 1747 Wyandotte St E, Windsor, ON N8Y 1C9
Winner of Best Antiques or Vintage Store, Timeless Treasures is the only consignment shop in Windsor. The 2-floor showroom showcases a variety of items from antique and vintage to contemporary, and also from small to big items.
This is a unique consignment shop where 100% of the items are from somebody else. Sellers can bring items or show pictures for approval, and then decide the pricing with the store owner, Laurean Stobbs.
Hope this travel guide gives an idea on the best things to do, where to eat and stay in Windsor and Essex County, Ontario! There's so much to explore in this beautiful part of Ontario's Southwest!
---
This post was created in partnership with funding from Ontario's Southwest. To explore more that you can do in #OntSouthwest check out ontariosouthwest.com.
---