Thursday January 16, 2020
A Weekend in Windsor: The Ultimate Two-Nation Destination
Original blog by Travelling Mitch | January 16, 2020
If you're currently torn between whether to take your next vacation in Canada or the United States, I'm going to ask you a question – why not both? Sometimes, as it turns out, you can have your cake and eat it too.
Recently, my brother and I got together in Toronto and tried to map out the perfect weekend away. For much of the last decade, I'd lived in places not named Toronto, and so, finally being in the same city again, we felt we ought to make up for lost time.
We went through the list. What boxes were we looking to check?
We wanted a place with quality restaurants, reputable breweries, access to top-notch sporting events, unique neighbourhoods, a touch of history and, of course, just a touch of gambling.
And then it came to us like a strike of lightning.
One weekend, but two cities – Windsor and Detroit.
We booked in at Caesars Windsor, hopped on a decidedly easy one hour Porter flight from Toronto to Windsor, and landed not knowing we were about to have a weekend for the ages.
Let me break down exactly what we did to make the weekend so memorable, and ensure that, if you so choose, you can do the same.
So, What Should You Do in Windsor?
While this is framed, in a sense, on what you might want to do on a weekend away with friends or, in my case, a "guy's weekend" – I think it's fair to say that this will apply to anyone who is looking to just generally have fun in Windsor.
Start Your Weekend with a Cheers at One of Windsors' Breweries

The first thing you should do, in my humble opinion, is to drop off your luggage, then take your preferred mode of transportation right on down to Walkerville Brewery. The original brewery opened up in 1890, and, all this time later, they're still carrying on that legacy and doing a fine, fine job.
Their beer is also excellent, and I don't have a problem crowning Walkerville Brewery as the best in the city. I didn't taste a bad beer while there, so let your personal preference guide the way. I'd recommend getting a flight so that you can sample at least four of their beers, since they've got such varying styles.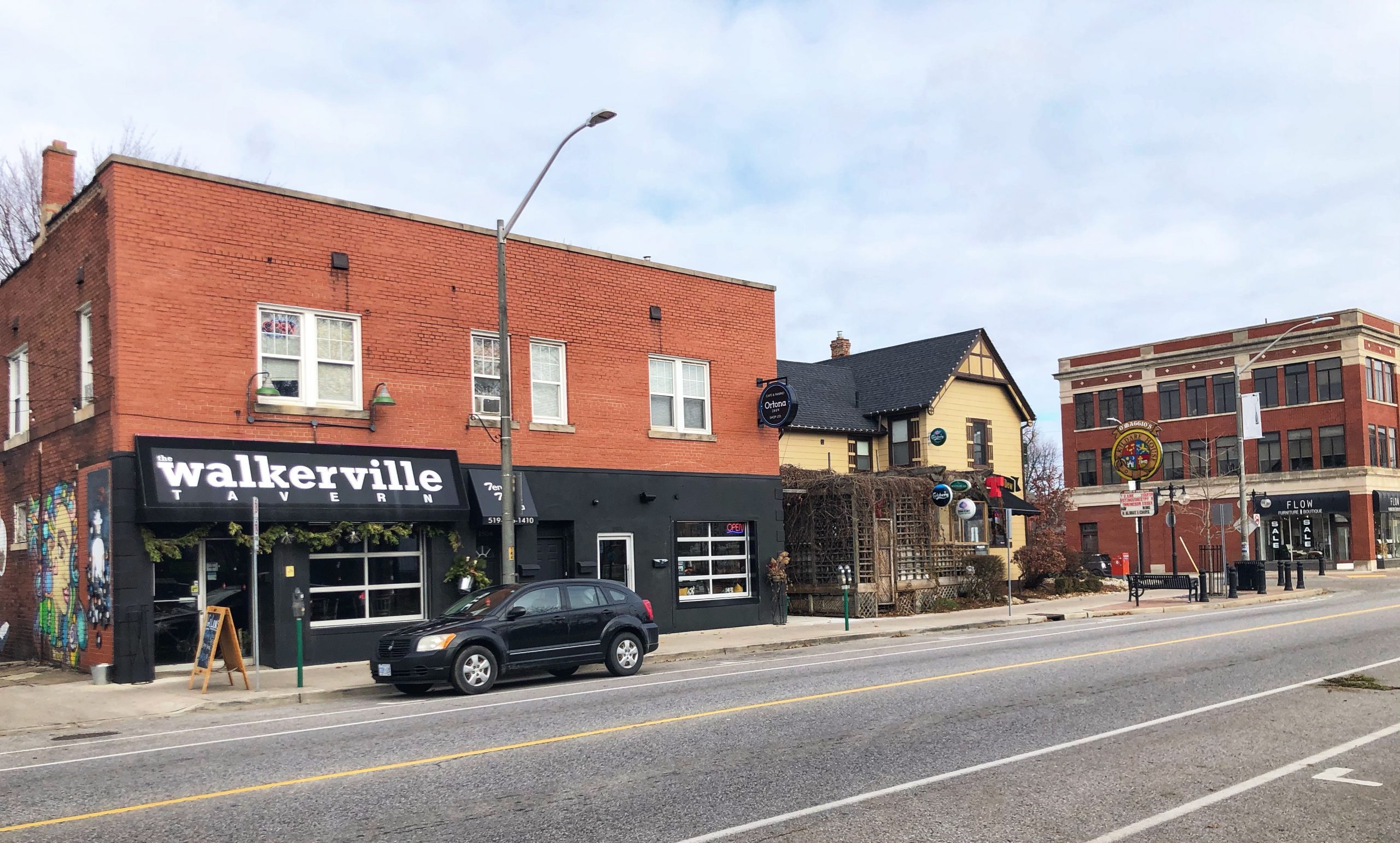 When you're done there, feel free to check out the Walkerville neighbourhood at large, as there's plenty to do, and it's one of Windsor's coolest areas.
If you're still feeling thirsty on your way home, then BREW Microbrewery is a good bet. For one, they've got very inexpensive food (including pizzas for just $7.50), but people seem to come from far and wide not for the grub, but rather for their Maple Beer. Their Spiced Amber was more to my flavour palette, but you might as well try both when you pop into Windsor's first microbrewery and make your own judgment.
Head on Down to Maiden Lane W.
The first thing that I did when I got down to Maiden Lane was just take in the magic of the murals around there.

I'm a huge fan of street art, and I honestly believe that the Maiden Lane Murals hold up well to much of the top street art I've seen around the world. That quality was also confirmed for me in the time that I spent in Ford City. For reference, there's an upcoming article specifically on Ford City coming up on my other website, Ultimate Ontario, so stay tuned.
If you're a photographer, this is how I'd start – just take in the feeling of the area through its murals and wander around just a touch.
Afterwards, I'd recommend popping into a local shop in the Maiden Lanes, such as Whiskeyjack Boutique. They've got a carefully curated store full of knick-knacks and souvenirs that are actually focused on propping up local artists and creators. The owners there are also exceptionally nice and helpful. One way or another, you'll leave with a smile.

Now, you're going to want to wash all those lovely Maiden Lane memories down with something, and I'd suggest wine. Before taking off, grab a glass of wine and a bite to eat at Maiden Lane Wine & Spirits. They have varying hours depending on the day, so check when they'll be open when you're planning to go (most days they open at 4pm). They're a relatively new player to the Windsor wine and food scene, and they're doing an awfully good job.
Appreciate the Impact of WIFF
My brother and I both love movies, so checking out the Windsor International Film Festival was high up on our list. The only problem, of course, was that WIFF runs from October 30th to November 8th, and we weren't there during that period.
And so, we did what we felt was second best, and headed down to WIFF Alley. The colourful murals there will knock any film lover's socks right off. Both Dave and I were nothing short of enamoured, and I think it's a testament to how much WIFF has grown over the years.

WIFF is indeed the prize of Windsor, but more and more I believe it's something that we can be proud of and support collectively as both Ontarians and Canadians. These events are not easy to organize and pull off like WIFF does, and that's worthy of our collective admiration.
Get Your Windsor Style Pizza Fix
So, you've heard of Detroit style pizza (don't worry we'll get there), but have you heard about Windsor style pizza?
Since we conveniently flew to Windsor with Porter, we made a point of stopping by Armando's Pizza Bar right before we headed back to Toronto, since it's not terribly far from the airport.

We met Dean Litster who runs the show over there, and I can honestly say that Dave and I were astounded by this guy's passion for pizza. He brought out award-winning pizza after award-winning pizza, and brought us into the kitchen to show us that those awards were no mistake.
The highlight, in all likelihood, was "The Dean Martin," which is a Windsor style deep dish pizza that was voted the top pie in Canada. It has pesto, mozzarella, spinach, artichoke, caramelized red onion, sauteed button mushrooms, bruschetta tomatoes, and is finished with just the right amount of parmesan.

Dean never stops innovating it seems, and you can follow his creative process over on his Instagram account.
Stay at Caesars Windsor
Who doesn't want to stay at a casino with their brother? After being out exploring all that Windsor had to offer, you better believe we were ecstatic to get back to Caesars Windsor, grab a delicious bite, watch some sports at Legends Sports Bar, and then get out on the floors.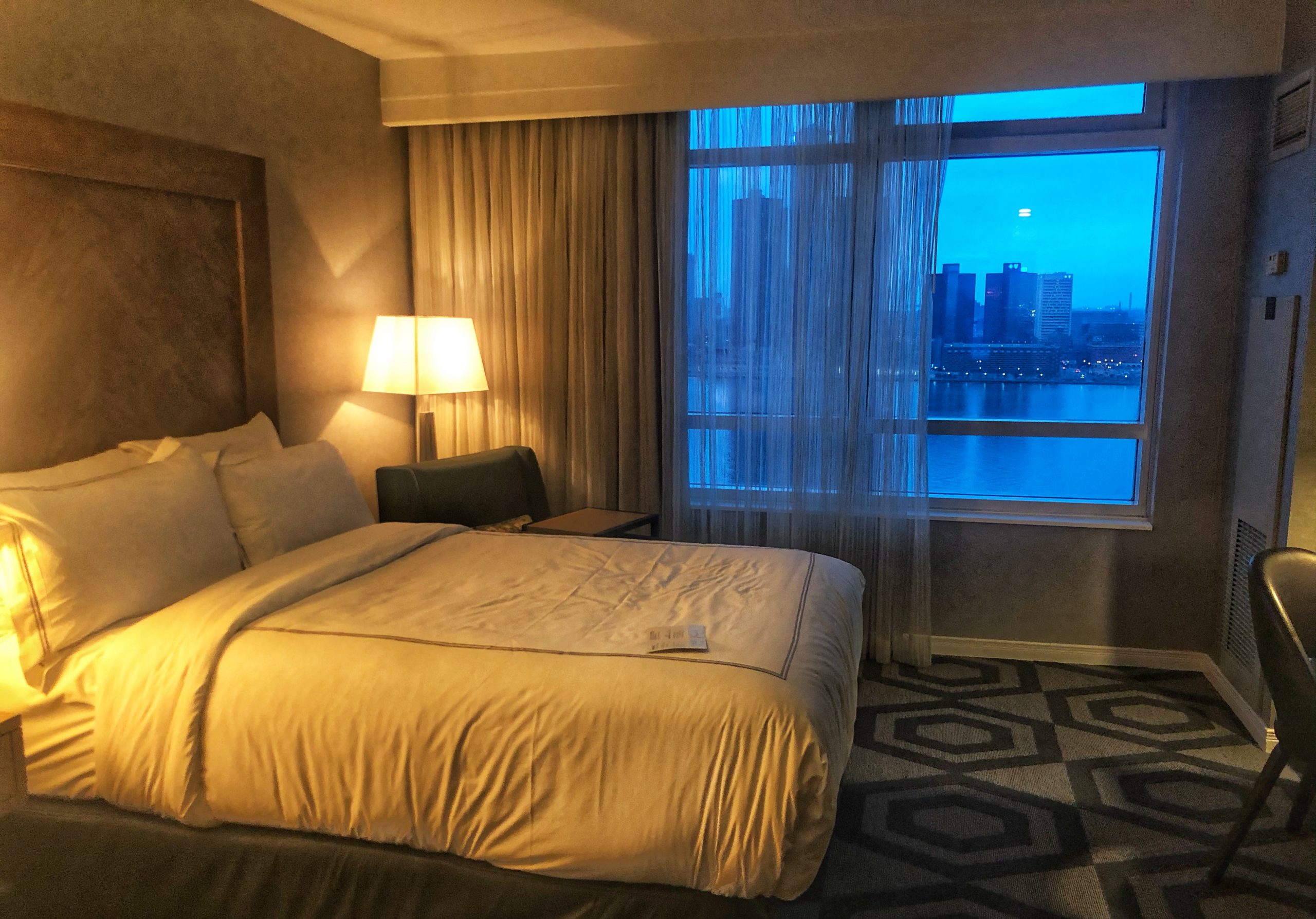 For a while there, you couldn't have bribed us to get off the roulette table, and that's because we were on a bit of a run. Throughout our stay, this was our game of choice, and we had a blast with it. I've always felt that gambling is fun if you set a limit for yourself and don't worry too much about the outcome.
And that's what we did. It was also novel to be able to finish up at the tables, then nab an elevator right on up to our room.
It was just plain fun.
And What Should You Do in Detroit?
What's great about visiting Windsor is your proximity to one of America's most historic and fascinating cities, at least in my humble opinion. I love cities with grit and a story, and that's what you'll find in Detroit.
It was also cost effective for my brother and I to stay in Windsor, then take the easy bus ride across the border for less than ten bucks. We got up bright and early (despite our brewery visits and staying at the casino the night prior, I might add), and had a full day of exploration in Detroit.
It was an unbelievable day, and now I'm going to share the secrets on how you can replicate our adventure.
Bask in History at the Motown Museum
As a music lover, and lover of Motown music in particular, visiting "Hitsville U.S.A" was something special. Both Dave and I felt that they'd done an excellent job in preserving what made the place so remarkable, including the recording studio where you feel you've literally gone back in time.

Our guide was full of energy, and brought the story of Berry Gordy's record company alive for the whole group. Even though you need to hop on a guided tour to see this spot, this is still something you can easily work into a one day visit in Detroit, and I can assure you that you'll leave more than satisfied.
Embrace Detroit's Present Day Music Renaissance at Third Man Records
I've been a fan of Jack White for quite some time, and my brother is much the same. And so, we took an Uber directly from the Motown Museum to Third Man Records, rather fittingly.
While you can see the records being pressed and such, Third Man Records, for all intents and purposes, is really more of a store and venue for concerts. Their vinyl collection was excellent, largely because they've got some artists I love on Third Man Records. Furthermore, I thought their clothing was branded well, and bought a few articles myself.

It was intriguing to see how the music scene in Detroit had progressed, but I would note that, unlike the Motown Museum, Third Man Records is more a hub for commercial enterprises than anything else. We were happy we went but, in the end, it was a touch impersonal.
Get A Beer or Two Across the Border
Long gone are the days when America's reputation for beer is lacklustre. Take it from someone who has crisscrossed the country doing extensive "research" – nowadays, there are some great American craft breweries.
Eastern Market Brewing Co. is not just one of the best breweries that we visited during our time in Windsor and Detroit, it is one of the best breweries that I've visited in the United States, period. They've got an ideal venue, creative marketing, excellent quality beer, and owners that you want to cheer for.

I'm quite sure that Dave and I tried their entire roster of beer and not once were we even slightly disappointed. In fact, time and time again, we were blown away. If you're in Detroit, and you're a beer fan, it is a foregone conclusion that you need to spend time here. And when you do go say hey to Dayne for us, won't you? He's the Managing Partner, and a standup guy.
Of course, Eastern Market Brewing Co. is just one brewery, so to try a plethora of different Detroit beers, I'd recommend going to HopCat. They had an absurd amount of local beers on tap that made Dave and I happier than on Christmas morning.

I'd also say that this is an ideal spot to grab some lunch. In fact, the Food Magazine Network gave them the award for "Top Ten French Fries in America," so whatever you do, make sure you at least get a side of their O.G. or Loaded Cosmik Fries. They're also well known for their "Tendies" (essentially extremely delicious chicken fingers).
Enjoy One of America's Great Sports Cities
Getting to see the Toronto Maple Leafs take on the Detroit Red Wings at the brand new Little Caesars Arena – yeah, that's up there on my sports bucket-list, and to do that with my brother was even more meaningful.
We proudly wore our blue and white jerseys into red territory, and we even came out with a nice, big win.

Detroit is a mecca for sports, and whatever your preferred sport is, you're going to find an outlet here. Basketball fans can watch the Pistons, baseball fans can head to Comerica Park (one of the best ballparks in the country) to watch the Tigers, and then of course you've got the Lions, and Wings.
These are not bandwagon fans, trust me, and, like Toronto, they stick with their team through the good and the bad. I've got a lot of respect for that.
Either way, for one night, Dave and I were transported back to being kids, and giddy as can be to watch our beloved Maple Leafs in Motor City.
Eat Some Detroit Style Pizza
If you're going to eat pizza at Armando's in Windsor, then you're going to need to head somewhere to get a point of comparison, and see what makes pizza different in these two neighbouring cities.
The place to do it, without question, is Supino Pizzeria, which is a short walk from Eastern Market Brewing Co.

Like any good pizzeria, they focus on what they're good at and own it. They do thin-crust pizza their way, and the menu is both creative and classic. We got the San Gennaro, a "red pizza," which had onions, roasted red peppers, sausage, and mozzarella, and it certainly hit the spot.
When I go back (and I will go back), I think I'd love to give one of their "white pizzas" a try, and particularly their "Smoky," which includes smoked ham, roasted garlic, chopped parsley, mozzarella, smoked gouda, and ricotta.
Supino Pizzeria is the stuff of legend in Detroit, and pretty much every Uber driver we met confirmed it.
Yes, You Can Tackle Two Cities This Easily
There aren't that many destinations where you can visit two interesting cities in two countries in one weekend, but heading to Windsor does indeed provide that opportunity.
Before taking off, I think both Dave and I had high hopes for what the weekend could be, but our expectations were blown out of the water by both cities.
I also think that this visit was a prime example of why you need to go and visit places yourself. When I was telling friends, readers, and followers that I was headed to Windsor and Detroit, most people asked, simply, "why?" And then, by the end of our trip, and all that posting on social media, I can assure you not a single person was asking that question anymore.
One of my pet peeves in travel is arriving in a destination and simply not having enough to do. But, I can assure you that we didn't have that problem, and this jam-packed, fun-filled itinerary will ensure that you make the most of your weekend away in Windsor, a two-nation destination not to be missed!
For a more in-depth look at our time spent in Windsor, make sure to check out A Complete Guide to Windsor's Walkerville Neighbourhood.