Wednesday August 21, 2019
Family Fun in Windsor Essex
Adapted from original blogs by Create With Mom | August 21, 2019
During our recent travels to Windsor Essex, we visited Windsor, Kingsville and Leamington.  The first day of our visit had us take a trip to Peche Island and then enjoyed lunch at Healthy Mama before heading to the Adventure Bay Waterpark and checking in at Holiday Inn Express Windsor Waterfront. We ended our evening with a delicious meal at Paramount Windsor and strolled by the waterfront to watch the sunset over the Detroit river.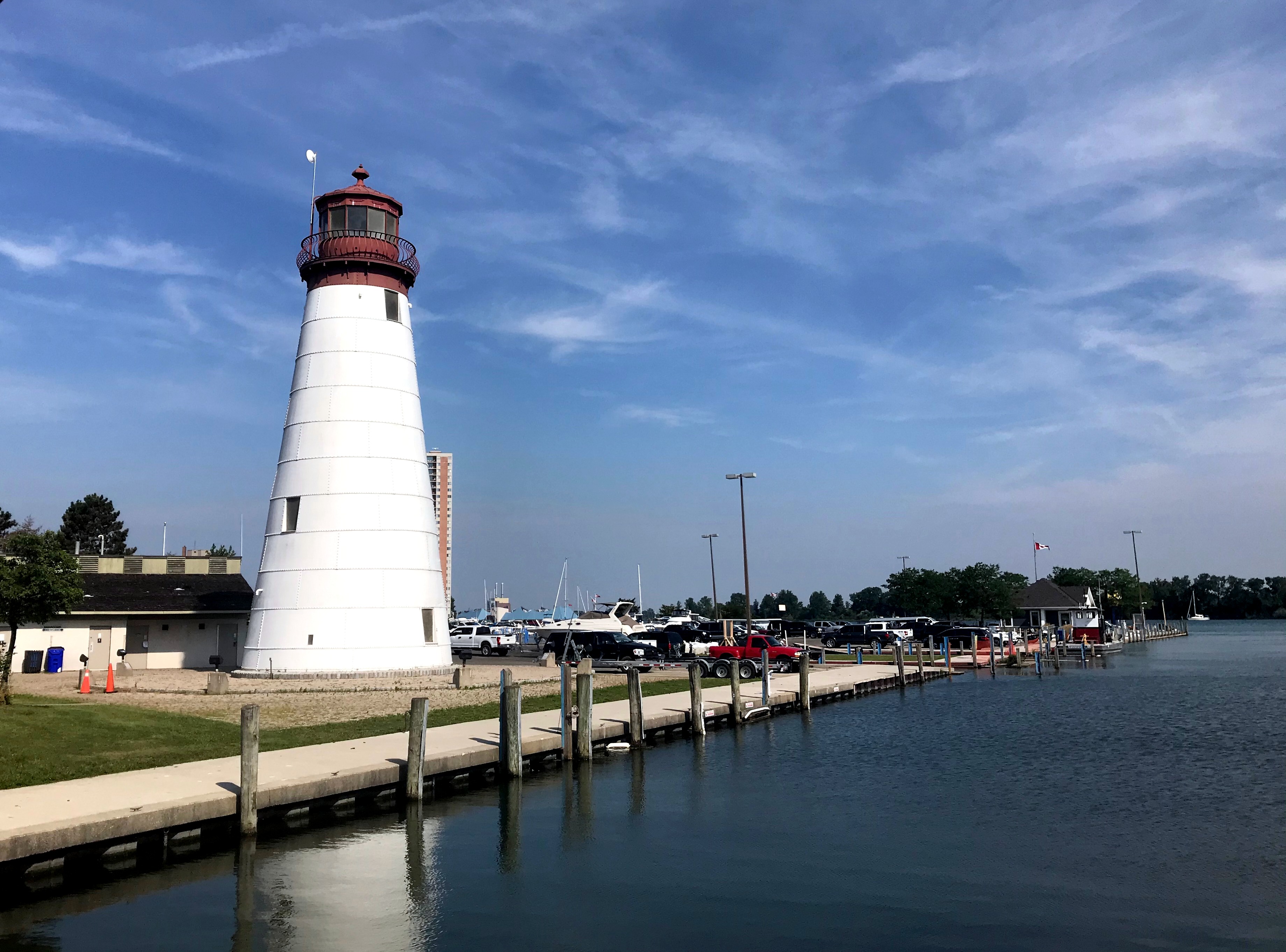 Peche Island, located in the Detroit river, has 86 acres of naturalized trails, canals, and ruins. It is a peaceful place to hike and enjoy the view of Windsor and Detroit.  This island was owned by Hiram Walker in 1883 as his summer home. There used to be a stable, large home, greenhouse, and an icehouse. The property was sold in 1907 to the Province of Ontario, and City of Windsor acquired the land in 1999.

To get to the island, there is a less than a 10 minute boat ride that operates between June to October which adds to the excitement of going to see this Island. The boat ride costs $7.50 per person both ways and takes a maximum of 12 passengers each way. The boat goes back and forth from the marina to the Island every half hour between 10 a.m. until 2 p.m.; the last shuttle returns from Peche island at 3:30 p.m. The tours operate Wednesdays, Saturdays, and Sundays weather permitting, and they require payments to be made at the time of booking.

There are picnic and park benches around the island where we can sit and take in the natural beauty. They also have a couple of washrooms close to the boat dock. The island has a pack-in pack-out policy, to keep it clean and tidy so everyone can go on a hike and enjoy.

The hike around the 2 km rustic trail took about 45 minutes to 1 hour to complete. It was fun to see the river through the different lookouts. During this easy hike we explored the flora and fauna, including several at-risk species such as Kentucky Coffeetree, Butternut, Eastern Foxsnakes, and turtles. We saw the nesting zone of bald eagles, where dozens of bald eagles congregate every winter.  When you see the land, forest, and waterways of Peche Island you will understand why it attracts visitors.
Upon returning from Peche Island we had worked up an appetite and ventured to Healthy Mama who's menu has a wide range of vegan choices. The colourful meals are loaded with fresh flavours from vegetables, fruits, lentils, spices, and sauces. We tried the Mediterranean Bowl, a delicious salad that hit different flavour buds – the colourful salad had chickpeas flavoured with sumac, roasted vegetables like zucchini, romaine lettuce, kale, grape tomatoes, cucumber, pickled turnip, hummus, and tahini dressing. The Spicy Sushi Bowl was a filling meal, which had good portions of organic brown rice, sesame seeds, avocado, carrot, cucumber, red pepper, mango, green onion, sriracha mayo, and maple tamari.
We also tried the Ultimate Backyard Burger and the hibiscus iced tea made with organic hibiscus, cinnamon, orange, cardamom, and cloves has a refreshing flavour, a perfect way to end a meal or enjoy with the meal. At Healthy Mama you can dine inside the restaurant or outside in their patio, the friendly and relaxed atmosphere has a very laid back, healthy feel that we enjoyed!  We also had a neat experience of getting to know that some of the vegetables at Healthy Mama came from Lee and Maria's farm we visited – more about it soon! They also sell a number of their own house made frozen products to purchase and enjoy at home. The best thing about the colourful menu at Healthy Mama's is that even picky eaters will like the presentation and enjoy how the flavours complemented each other and worked beautifully to give each dish a unique wholesome taste.
Our next stop was the Adventure Bay Water Park located downtown inside Windsor International Aquatic Centre, which reminded us a little of the Fallsview water park in Niagara Falls. This indoor park would be a fun way to spend a few hours or if you wish an entire day. It is the largest indoor water park in Southwestern Ontario.
There are 10 water slides to keep the little ones and adults entertained for several hours. Since there is something for everyone – it is quite easy to fall in love with your favourite water slide/feature. There is a wave pool where children will enjoy splashing their way through. The lazy river inner-tube ride loops around so you can swim a little, walk in the water or relax and float.  We enjoyed the Master Blaster and the Mammoth Python that snakes its way through twists, turns and a drop at the end. The interactive Splash Zone and Tot Loch has swings, ground sprays, interactive features, and slides which is a fun spot for younger children.

There is an in-park concession to purchase treats and a lot of seating spread around the water park. Having day-use lockers in both the change rooms and water park area is convenient. The guests can bring their own locks or rent one from Guest Services. There are life jackets and plenty of lifeguards on site.  Children between 3 to 12 years can stay dry at the Cannon Cove located on the second floor of their facility. This three level indoor play area has obstacles and launch foam balls through air-powered cannons.
We stayed at Holiday Inn Express Windsor Waterfront. The hotel opened in 2017 and has 150 guest rooms and suites with two queen beds or single king beds. We liked that it is located right on Windsor's beautiful Riverside Drive, across the waterfront, where we can take a stroll to enjoy the gorgeous view of the Detroit landscape.
The hotel is located in the heart of downtown Windsor, close to several restaurants, gardens, and the Windsor International Aquatic Centre. The hotel has all the amenities including a mini-fridge, microwave, Keurig coffee maker, and complimentary hot buffet breakfast making the stay for families comfortable. The nearby parking has added fees. They also have a 24 hour Fitness Centre and indoor heated pool. During our stay, we walked by the Moksha Canada Diversity Festival right on the waterfront, where a lot of people gathered to listen to music, play, and have a good time.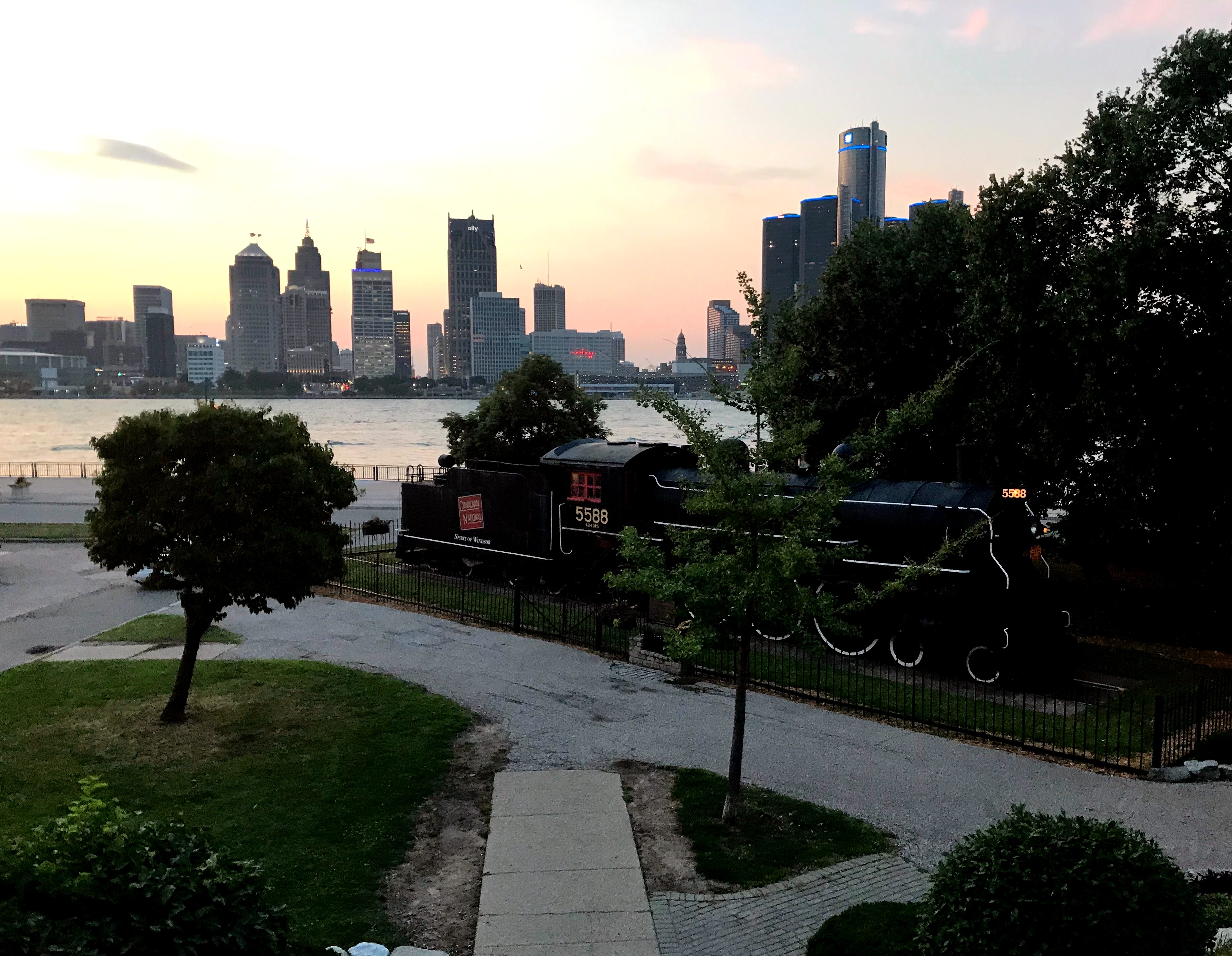 We stopped at Stacks for brunch before heading out of the city on our second day. Stacks is a must stop for breakfast, brunch or lunch. Once you visit Stacks, your perception of pancakes will change, it certainly did for us! We now have a whole different view of pancakes. The homemade flavourful batter is used to make a variety of creative gourmet pancakes.

We tried the Birthday Confetti from the kid's menu, which is a stack of classic pancake with confetti sprinkles topped with powdered sugar and whipped cream severed with either meat or seasonal fruit. There are other choices in the kid's menu for children under 12 years that include rainbow mini stack, mini chocolate chip stack, PB and J mini stack and more. Each of us enjoyed a mini stack and chose three different flavours; cinnamon swirl, carrot cake, and chocolate. We all felt like we were eating dessert. The simple laid back fun atmosphere of Stacks is very inviting. We can't think of another pleasant breakfast to start off the day.
During our visit in the county, we had a few interesting experiences. We stepped back into the past when we visited John R. Park Homestead Conservation Area where the original 1850's homestead it gave us a glimpse into the early settler days of Essex County. John R. Park born in Massachusetts emigrated to Upper Canada with his older brother, Thomas in the early 1820s. In 1833, the two brothers bought this land and began to build a mercantile business and farm on their 114 acre land. While John remained to run the store, farm and sawmill, his brothers, Thomas and Theodore, moved to Amherstburg to manage the Great Lakes shipping line and trading business.  John married Amelia Gamble and had six children, where they built a fine house in the summer of 1842. When John moved to Amherstburg, Francis Fox purchased the property in 1871 and the property remained in the Fox family for nearly a century. Since 1978, the Homestead is opened to the public as a living history museum and is operated by the Essex Region Conservation Authority.

The House is an American Greek Revival home where we can see how well-to-do families in 1850 would have lived. This is a rare surviving example of a nineteenth century farmstead, where there is scale and massing of all elevations of the barns and outbuildings. We learned a lot about the history of this homestead when we went into the 1860's storage barn which is now the Visitor's Centre where we can watch an introductory video. The shed reconstructed from 1840s is original, as it uses mortise and tenon joints, where there are no nails in the frame of the building. There is a livestock stable with sheep, beautiful heirloom orchard and garden, smoke house, and an ice house where blocks of ice cut from the frozen lake was packed in layers of sawdust to preserve for summer use.  They had a blacksmith shop where small hardware and repair of farm tools is done using forge and blower. The brick forge and chimney of the Blacksmith shop surrounded by a dirt floor is an attribute special to the American Greek Revival architecture. The sawmill powered by an 1882 steam engine was a typical equipment that was used in the past.

The staff at John R. Park Homestead told us about the 10th anniversary weekend festival of Explore the Shore event where 32 businesses had set up activities along County Road 50, Canada's southernmost drive.  One of our stops was the Garden Gallery, where we strolled the rolling gardens along a natural stream in a Carolinian woodland and met a few artists and had a conversation with Ed from Sissy and Roché Fine Arts and Elizabeth from Paint Pleinair. After meeting Ed and getting to know about his studio, we dropped by to visit before returning home.  Ed conducts watercolour classes for all ages, and they also have lots of painting and fun products we can purchase for home décor at their shop/studio, Sissy and Roché Fine Arts. Ed has a wealth of knowledge about the watercolour medium, and after seeing his paintings we are inspired to try painting more with watercolours.
Taking a walking farm tour at Lee and Maria's is a fun and exciting way for families to learn about farming and food. Lee and Maria's is a family run farm that started 40 years ago as a small roadside hut. Now, they sell fruits and vegetables grown in their 30-acre farm and are known for their membership based delivery service which has a customizable seasonal weekly menu.

As we got the guided tour by a family member of Lee and Maria's we got to ask lots of questions about the tools they use, planting, harvesting, and more. We got to see and learn about the importance of crop rotations, how the farm equipment works and the amount of labour required in a farm, the cost of farm tools and equipment, and more. It is interesting to be aware of these and getting the tours makes you really understand the amount of labour and love that goes into food.
During our tour we also learned tips on how to grow and harvest some vegetables, and what to look for when we shop for fruits and vegetables. For example, the weight and the round top of the corn determines if it is time to harvest.
The tour ended with a sampling of Kombucha drink, tasting corn right off the cob – the sweetest we've had, juiciest melon, and chocolate cherry tomatoes.  They also have ice cream and a lovely spot to enjoy it. We can also purchase Kombucha drinks, lots of healthy frozen food from companies like Healthy Mama, and join their cooking classes. There was a lot of different fresh produce for sale, so on our way home we bought fruits, vegetables, potatoes, and corn. We feel the best way to learn about our farming and food is directly from the farmers, this tour is a wonderful way to do just that!
Our next stop was Colasanti's Tropical Garden. They have a restaurant with different options and a lot of seating. Although, it is indoors it feels like we are outside. There are different spots to shop for both beautiful home décor and tropical plants including cacti.

There are games, an arcade and a mini golf area both children and adults can enjoy. There is also a petting farm with goats, an area with other barn animals, and another farm-like space with parrots, lizards, and more.  On the weekends they have meet and greets at the petting farm hourly from 12 p.m. to 3 p.m. Since there is lots to do, it is quite easy to spend a few hours at Colasanti's.
It is convenient for families to have a meal while spending the day enjoying the variety of activities. We tried the seafood and vegan burgers with fries and coleslaw along with their popular peach drink. Their restaurant is famous for their broasted chicken, and have a lot of family meal options and buffets.  When you visit Colasanti's don't forget to try their donuts, made right in front of us and sold warm.
When we explored Leamington we stayed at Best Western Plus Leamington Hotel and Conference Centre. The room had all the amenities to make our stay comfortable. It is close to Pelee National Park, and to restaurants and other attractions in Leamington. It is a built in a unique fashion with an atrium in the centre that had a basketball court, badminton court, ping pong table, lounge area, and arcade. There is also a heated crystal blue salt water pool with two giant water slides.  We liked how this environment brought together all the visitors to have a community feel, our children were quick to make friends when they explored the play area. The back sliding door of the room looks into the atrium, so we can keep an eye on the children or join them to play any of the sports or sit and relax in the ample seating by the television.
On our final day, we ventured to Point Pelee National Park.  This is our second visit to the Park which is the second smallest national park in Canada, but the most visited because of its diverse species and natural events such as bird and butterfly migrations. This park has oTENTiks where visitors can stay over and enjoy the park. They also have a 4 km cycling trail. There is a lot to do at this beautiful park, which is in the Carolinian Zone. The original forests of Point Pelee were typified by broad leaved deciduous trees and lush growth. The southern location, mild climate and moderating effect of the Great Lakes create a long growing season and diversity of life not found elsewhere in Canada. Since 2010, Parks Canada has been working with the Caldwell and Walpole Island First Nations to bridge traditional ecological knowledge with scientific research in order to protect the park for future generations.

We explored the Visitors Centre museum and children's learning space. There are a few beach access points where we watched the rough waters of Lake Erie. We enjoyed taking a guided tour of the marshland on a freighter canoe, which can be booked in advance for a fee. It is fun to go with other people in the canoe and observe the beauty of the marsh. We got to see unique flora like the lotus, lily, cattails and hibiscus plants native to Ontario.  The tour guides were knowledgeable, and were able to answer questions and point out interesting features like the beaver lodge, different frogs, and fish that can be found in the water.
In this visit we also checked out DeLaurier House, where you can see a two storey, gable roof structure and log houses. As we walked around and read the information boards – we learned a lot about the past life at Point Pelee. We were able to see the life and times of a small French Canadian community outside of Quebec and the agricultural activity between 1850 and 1966. Point Pelee used to be a British Naval Reserve because of its tall stands of white pine which was used as timber for ship building. During 1891, families like DeLauriers, Abbotts, and LeFleurs were granted free title to the land they had squatted on since the 1830s. In this close knit Point Pelee community, there had been houses, cottages, tents, shanties, a school, post office, several shops, a couple of hotels. By late 1960s there were more than 300 privately-owned buildings that filled the Park from the entrance to the Tip – which is hard to imagine now.
We had a healthy, vegetarian meal to-go from Bradt's Butcher Block to have as a picnic at Point Pelee National Park. This family owned and operated company specializes in selling locally raised meats that are cut fresh daily. They make their own store made beef burgers, sausages, and kabobs. We liked the variety we saw at the store – there is a deli counter, meat and cheese trays, fruit trays, sandwiches and more.
We loved the simple, yet delicious meal. The healthy sandwich was packed with fresh local vegetables. There was a box of fresh cut vegetables and pita bread accompanied with garlic sauce, store made hummus, and a bean salad. The picnic lunch also had a package of kettle corn popcorn, paper plates, napkins, and utensils to take along.  Bradt's is just one of the foodie spots that should be on everyone's list when visiting Leamington.
Freddy's Restaurant close to Point Pelee National Park is a family friendly restaurant. We loved the unique flavours of the dishes we ordered for our dinner; plan to visit the restaurant anytime you visit the park as it would make for a memorable stop during your travels. When ordering don't forget to tell the waiters your dietary restrictions as they are very accommodating and have a variety in their menu including plenty of vegetarian and seafood dishes. We found the restaurant's atmosphere friendly, inviting, and relaxing where the meals can be enjoyed either inside or outside in their patio over looking Lake Erie.

The beautiful presentation of the starters and meals made the food very appetizing. Each dish we enjoyed had distinct flavours with the right amount of seasoning making them unique. We liked that the meals are made with fresh ingredients which was apparent when we were enjoying the different dishes like their tabbouleh, salad, and fish. Freddy's seafood menu includes locally sourced yellow perch and pickerel from Lake Erie. We liked the well thought out combinations of the dishes such as the Perch taco with the slightly tangy coleslaw and homemade tartar sauce, and the Coconut perch with the delicious sweet and spicy sauce. We also tried the sautéed shrimp, perch burger and a couple of Freddy's Lebanese themed dishes like the tabbouleh and stuffed grape leaves that were flavourful. This casual and friendly restaurant serves exceptional food giving us a feel of fine dining but with good portion sizes and reasonable prices. It is nice to see this family-run restaurant which started off three decades ago expanding, while keeping their Lebanese heritage and values alive through their flavourful food, atmosphere, and friendliness. We plan on stopping at Freddy's for a meal when we visit Leamington again; they are open from March to December check their website for the detailed menu and when they are open.
On one of the evenings we were at Leamington, we stopped for ice cream at Sweet Retreat. (Editor's Note: Sweet Retreat has closed since the time of this writing.) We were super excited that our favourite Kawartha ice cream was available in Leamington! Sweet Retreat is a super cute ice cream parlour, which is also the home of the owners Pat and Bob. It is a fun experience going to the beautifully decorated parlour to enjoy our ice cream.

The backyard with plenty of comfortable seating, flowers, and Koi pond was totally a "sweet retreat"! They also have seating in the front of the shop and inside if you rather enjoy the ice cream or other goodies like a banana boat indoors. Pat bakes the cookies for ice cream sandwiches and makes the ice cream cakes fresh. Sweet Retreat has all the different flavours of Kawartha Dairy ice cream made with 100% Canadian cream and milk. They also have London Ice Cream, lactose free options and vegan soft serve. The creative and colourful entrance to the shop is made for easy access by wheelchair. This home/ice cream parlour is a peaceful and beautiful place to enjoy ice cream any time of the day; they are open from 2 p.m. to 10 p.m. It is easy to miss this cool spot because it is in a residential neighbourhood, so add it to your list of places to go when you are in Leamington.
Before leaving Leamington, we make sure to take a moment to sit by Seacliff beach. The Pedestrian Pier is a beautiful place to just watch the beautiful water. There is also an amphitheatre, change rooms, parking and a water park for young children.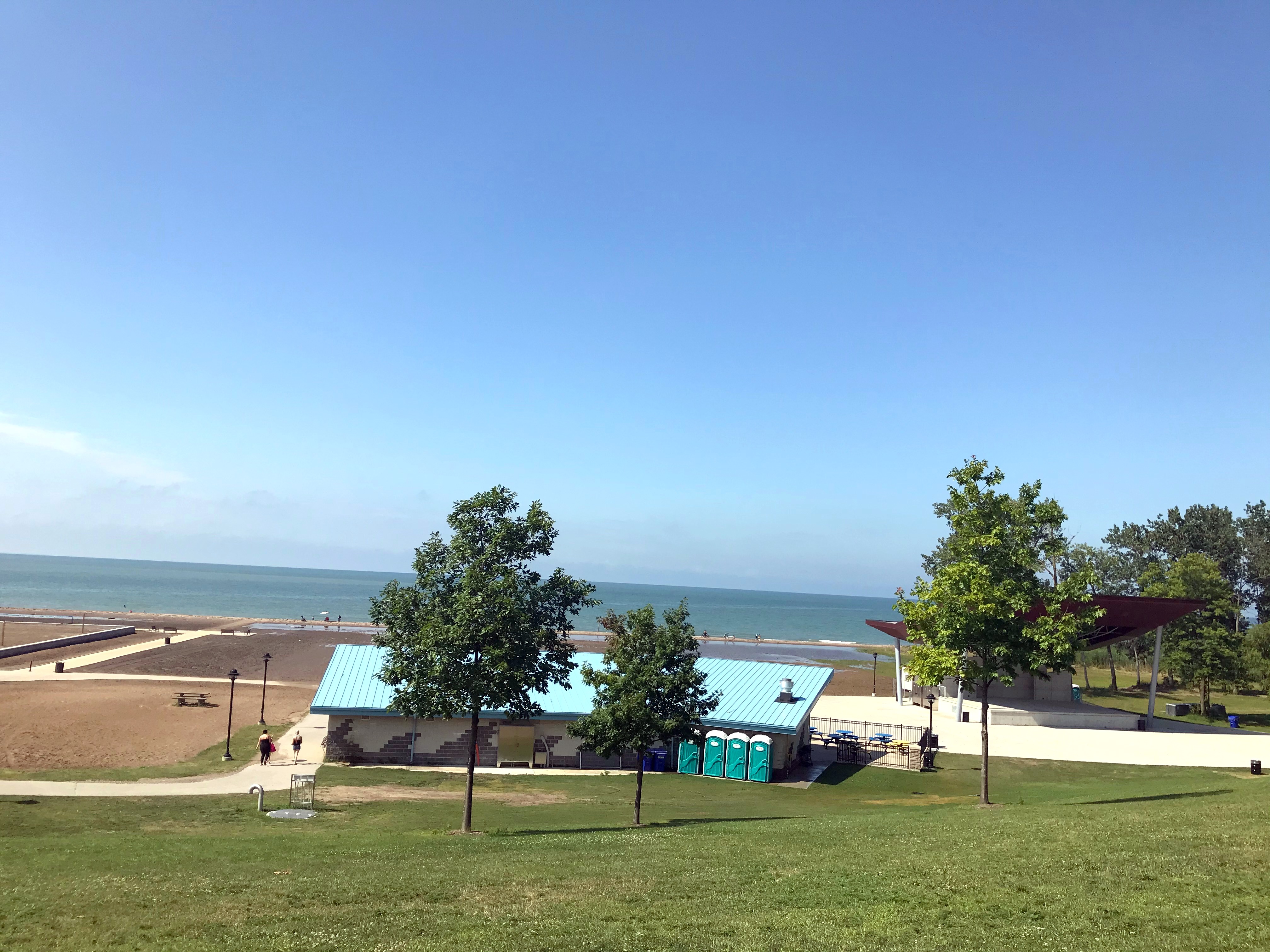 Windsor Essex has become a blooming place with lots of fun family friendly activities and attractions. There is so much to do, as a lot of creative people have taken a leap of faith to open a variety of stores and restaurants. We have only seen and done just a handful of things at these places, so we are looking forward to going back soon to enjoy other things this county has to offer.
---
This blog was created in partnership with funding from Ontario Southwest and Tourism Windsor Essex Pelee Island. To explore more that you can do in #OntSouthwest check out ontariosouthwest.com