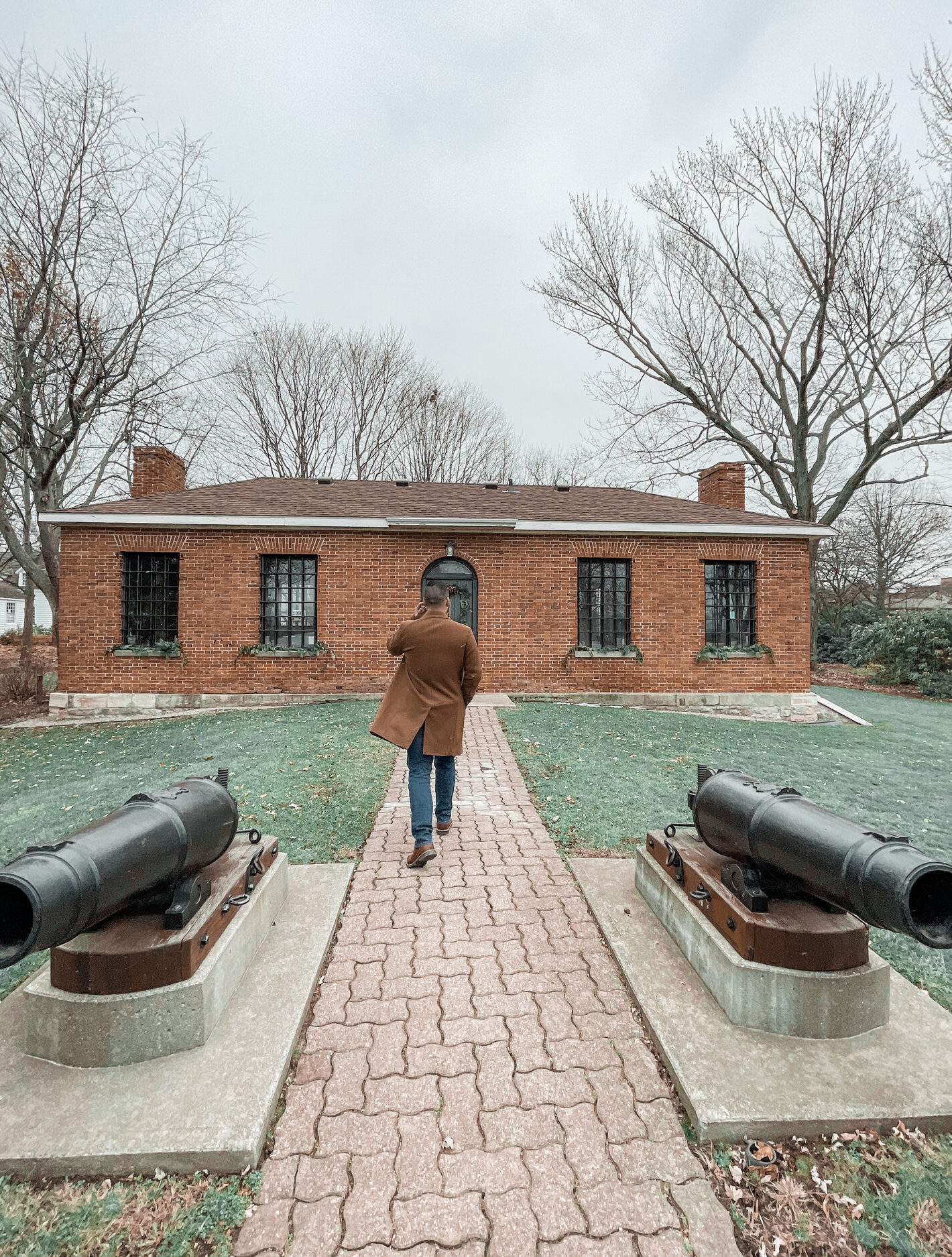 Thursday December 2, 2021
Lost in Ontario: A Weekend Getaway in Windsor-Essex
Published on Dec 2, 2021 by Lost With Luis 
I live for a good weekend getaway. Just getting out of your day-to-day routine and exploring a new place is the perfect way to relax and reset. I recently traveled to the Windsor-Essex region in Ontario, which is about a four-hour drive from where I live in Toronto. Prior to this trip, I had never been to the region so I was super excited to explore and get lost in it!
Windsor is a town in southern Ontario, just across the river from Detroit in the US. Windsor is located within Essex County, along with other municipalities such as the historic Amherstburg, which I was also able to explore during my trip.
I had such a fun time here and there is a lot to see, do, and—like any good trip—eat! Here is an overview of my weekend and some recommendations for your own trip to Windsor-Essex.
Where To Stay
One thing I love about visiting new places is getting to check out some local accommodations! I always look for either small, boutique hotels or Airbnbs when possible. This way, I can experience a more authentic and unique environment.
I stayed in this Airbnb and absolutely loved it! It is a loft room located right above a winery retail store—definitely a perfect location! The winery is called Vin and was the perfect spot to go grab a night cap after a long day. The hosts ensured our fridge was stocked with all the wines they sell as well as the local beers they produce which was a nice added touch.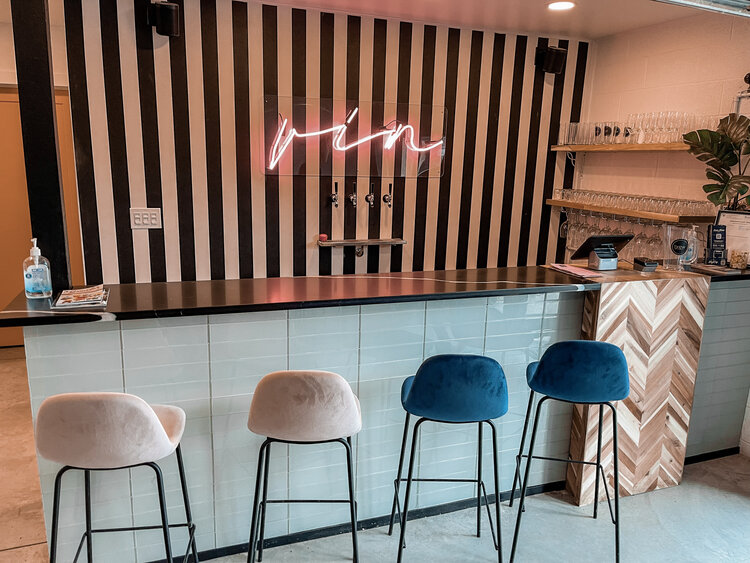 Photo of the winery retail store located just below the loft Airbnb.
The loft is normally used as a bridal suite as the winery and premise is most often used for weddings. Coming from a background in events, I can honestly say that it's the perfect venue. We met up with Jordan, one of the owners who walked us through the grounds and believe me when I say that they put so much thought and effort into this little oasis.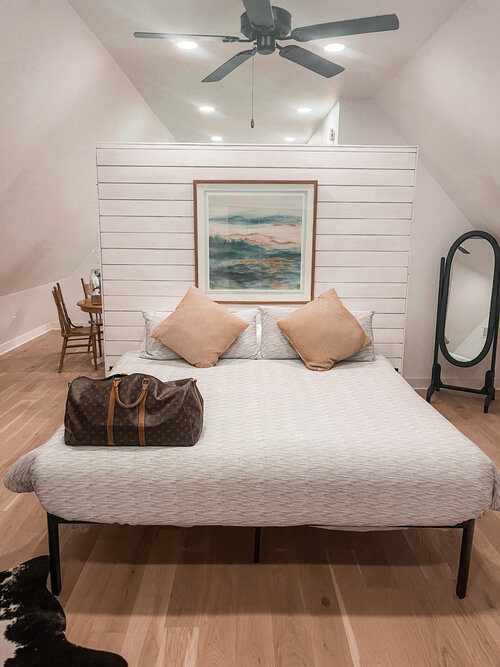 Because this Airbnb is a loft, it had a really unique A-frame shape with slanted ceilings on the inside. The décor has a sleek, minimalist aesthetic with white walls, modern furniture, and unique features like a claw foot bathtub . This space was also equipped with a kitchenette, sunroom, and patio—lots of space to hang out and relax. I was also a big fan of the rain shower they had in the bathroom, such a nice touch!
I enjoyed this bath tub twice during my stay!
The Airbnb was located outside of Windsor in a more rural area. It was quiet and peaceful and surrounded by forest, but still close enough to all the main attractions and places to visit. On the second night it snowed and I woke up to a winter wonderland. It was the perfect home base for two nights to explore and get to know Essex.
What To Do
I had a pretty jam-packed couple of days in Essex. There is a lot to see and do and I really got to experience what makes this place special and split my time between shopping, sightseeing, and learning about the history of the Windsor-Essex region.
Here are some of the top things to do while in Essex:
Go Shopping: I love visiting local shops and stores in a new city, because you can always find something unique! I spent a bit of time wandering around and looking at the different shops in historic Amherstburg on Saturday. One of my favourite stops was River Bookshop, which is a local bookstore with a mission to make the city a better place. They want to create a community hub, or a "Third Place" where people can gather and hang out. I especially loved their cozy fireplace as well as their holiday market on the second floor. I also loved going to Happier Camper, which is a camper showroom with onsite coffee! It's the perfect blend of camping (which I love!) and coffee (also love!).
The inside of the River Bookshop was super cozy!
Get Outside: If you have read anything else on my blog, you know that I love getting outside! Luckily there is a beautiful national park in Essex County to spend time exploring: Point Pelee National Park. There are options to canoe, hike, or even take a shuttle bus to The Tip (the southernmost point of the Canadian Mainland). I spent Sunday morning in the park, just immersing myself in nature and taking in all the views. Even though it's a fairly small park, it's the most ecologically diverse park in Canada.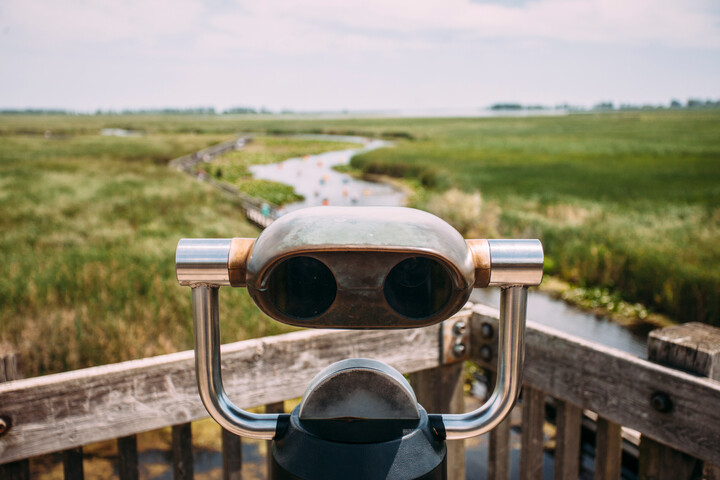 Embrace the Season: I'm so glad I visited this area during the holiday season because I got to experience the River Lights Winter Festival! The festival is full of massive light displays that light up the entire city and river walk. It's such a fun community event in Amherstburg, and the perfect way to get in the holiday spirit. I also got to embrace the holiday spirit through a fun wreath-making workshop on Sunday afternoon. It was hosted in the John R. Park Homestead Conservation Area and was the perfect way to flex my creative skills and make something to bring back home and decorate the apartment with.
Learn the History: I plan to write a full blog post about this topic in the future because there is a lot to cover and it's SO important to share. Both Amherstburg and Old Sandwich Town are historic towns and were an important part of the Underground Railroad before the American Civil War; fleeing African-American slaves would often cross the Detroit River, escaping to Canada via towns like Amherstburg and Old Sandwich Town. I learnt about this important time in history at both the Sandwich First Baptist Church and the Amherstburg Freedom Museum. I also visited the Tower of Freedom, which commemorates the Underground Railroad. I can't wait to fill you guys in on all of this rich history which I think more Canadians need to know about.
Sandwich First Baptist Church
Where To Eat
Going out to eat and drink is always the highlight of any trip. It's a great way to experience local dishes and cuisine, find out what the locals are up to, and even experience a piece of history. Essex county is full of great places to eat and drink, and I was blown away by the cuisine. When I say I ate my way through the region, it's an understatement. Here are some of the highlights from the trip:
Breakfast: Any good adventure starts with breakfast! On Saturday morning, I hit up Caffeine & Co. which is the spot in the city for delicious food and amazing Instagram photos. Seriously—everything about this place is cute and picture-worthy! On the following day, I got breakfast at Garfield's, a local family-run place. Their comfort food and large portions were perfect to fill up on before heading out for a day at Point Pelee National Park. I mean you can't go wrong with an Eggs Benedict with a side of tater tots!
Above image: Delicious display at Caffeine & Co. Bottom left image: Eggs Benny at Garfield's. Bottom right: avocado toast with smoked salmon from Caffeine & Co.
Lunch: For lunch, I tried two totally different places. The first was The Plant Base, an eco-conscious and sustainable eatery where I met with the owner Danielle. I am not a vegan but I try to be conscious of my meat intake so it was great to enjoy a plant based meal. The Plant Base serves delicious plant-based foods, which was the perfect healthy balance to some of the other food and drink I indulged in over the weekend. I was blown away by the Crunchy Sushi Roll Bowl, which is essentially deconstructed sushi, as well as the delicious Garden Veggie Burger. It was SO good. Although we were full after the meal, we couldn't leave without trying their delicious cheas'cakes which were also incredible.
Editor's Note: The Plant Base has closed since the time of this writing.
The next spot for lunch on Sunday afternoon was completely iconic: Kingsville Brewery Tap House. This restaurant is located in an old Union Bank of Canada building—built back in 1902! The vault used by the bank is a cool focal point of the restaurant and makes for an interesting spot to grab a beer and enjoy some pub food. They are also part of the Kingsville Barrels, Bottles, and Brews trail—if you are a beer fan, I definitely recommend checking out The Flight Log, which is a self-guided tour of the region's best brews.
Dinner: The weekend started off with an amazing dinner at Funky Chow Kitchen on Friday night. Located in Windsor, this restaurant serves some delicious and diverse Asian-fusion dishes. This meal was to die for! I was blown away.
On Saturday night I got to experience the local pizza scene with Dean Litster, a champion pizza maker, at Armando's Pizza. It was so cool to learn more about what makes Windsor pizza so unique and… not to mention eating it—that was pretty good, too! There is even a Windsor Pizza Club to celebrate Windsor-style pizza! Dean is part of a documentary coming out soon called The Pizza City You've Never Heard Of, that has been making its rounds at film festivals across North America. The documentary highlights the pizza scene in Windsor-Essex as it is often overlooked as a top pizza city in the world.
Drinks: One of my favourite experiences was going out for a glass of wine on Friday evening at Wineology in Walkerville. It's an upscale lounge with an amazing rooftop patio! Happy hour on Saturday afternoon was a bit more casual at the Lot 10 Brewing Company, a microbrewery in the heart of Amherstburg. Here I enjoyed some awesome local beers, right on the banks of the Detroit River.
This weekend getaway to Windsor Essex was just what I needed. It was the perfect mix of culture, nature, history, and great food! I loved exploring this region and definitely recommend it if you are looking for your own weekend away. If you're planning a trip, make sure to check out Tourism Windsor Essex to learn more about all the awesome things to do and see!