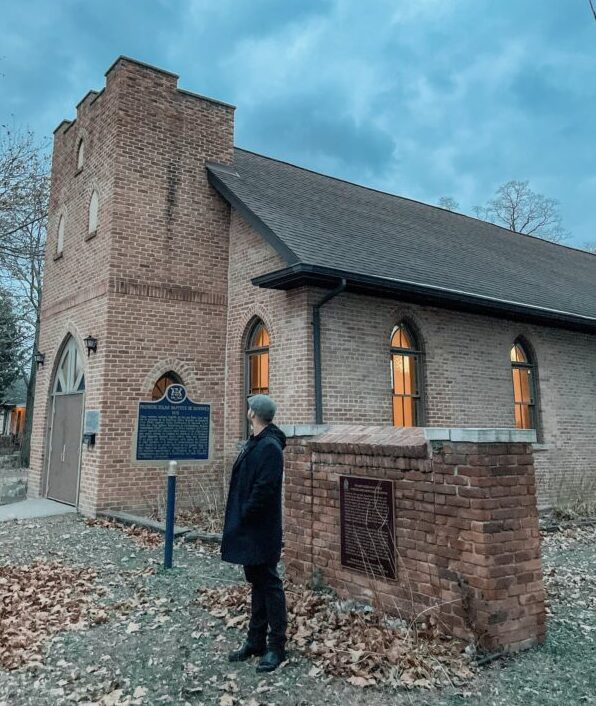 Thursday February 3, 2022
Lost In Ontario: Black History In Windsor Essex
Original blog by Luis Cabrera of Lost With Luis | Published on February 3rd, 2022
Lost in Ontario: What I Learned About Canada's Involvement in the Underground Railroad During a Trip to the Windsor-Essex Region
Back in November 2021, I had the chance to enjoy a weekend getaway in the Windsor-Essex Region in Ontario. I had such an incredible time exploring, eating delicious food, and hanging out in the area.  You can check out my full blog post about things to see, eat, and do in Windsor Essex here.
One of the best parts of the trip was visiting some of the historical sites in the region. Amherstburg is a town in the region that was a key component in the Underground Railroad during the 19th Century. In light of Black History Month, I wanted to write about my experience and what I learned during this eye opening visit.  Not only do I want to shed light on Canada's involvement with the Underground Railroad, but I also want to highlight these incredible, historical landmarks that are right here in our own backyard. I bet most of you didn't even know this existed.
First, My Story
I live in Toronto now, but am actually from the Dominican Republic and grew up in Florida. I've always been fascinated by the history of my ancestors as well as the history of slavery and the civil rights movement. American History was one of my favourite school subjects growing up and I continued to be fascinated by all of the history, even after moving to Canada.
I had the chance to go to New Orleans a few years ago and went on a few plantation tours where I was able to learn more about slavery in America. You can read more about that experience here.
Because of my interest and exposure to this history, I have a pretty good understanding on what things looked like south of the border. But I never really learned that much about Canada's involvement in this part of history, which is why this trip was so important to me. I loved learning the history and freedom stories of so many who sought refuge in this country I now call home.
Canada's History
The Underground Railroad was a network of people who resisted slavery and enabled slaves to escape and flee to freedom. This network started in the early 19th century and operated throughout the southern United States, helping slaves reach freedom in Mexico, the western states, the Caribbean islands, and Canada.
The Windsor-Essex region in Ontario was a key piece in the Underground Railroad, as it acted as the last "station" on the railroad. The famous American abolitionist Levi Coffin described Amherstburg as "the great landing place, the principal terminus of the underground railroad of the west." It was an important stop on the Underground Railroad because of its geographical location, located on the shores of Lake Erie at the mouth of the Detroit River, just a short trip from Detroit, USA.
Because of this strategic location of Amherstburg, it was a practical and convenient crossing point into Canada; it's estimated that 30 African Americans arrived in the town by steam boat each day after 1850. In total, 30-40,000 fugitive slaves crossed over to Canada through the network of abolitionists and freedom fighters.
Southern slave owners discouraged escape by falsely claiming that the Detroit River was 3,000 miles wide, despite being less than four miles wide. This and other propaganda by slave owners did not discourage many slaves who would risk anything to find freedom. They were led by members of the Underground Railroad, such as Harriet Tubman, one of the chief organizers and conductors; Tubman made 19 trips leading 300 people to freedom.
It is important to note that while Canada played a key part in bringing slaves to freedom, there is also a dark history of slavery in the country for the 200 years prior to slavery's abolishment in 1807. Even after the abolition of slavery and the acceptance of black refugees, life was not always perfect or free from discrimination based on skin colour. Former slaves who settled in Canada would face discrimination, were relegated to certain jobs, or denied places to live.
The history is complex and it's important to look at things from all angles to try and understand it. While I am so proud of Canada's role in the Underground Railroad, I also know that there is still a lot of work to be done in this country in grappling with our own racist past and current experiences of racism and discrimination.
Historical Lessons from Windsor Essex
During my trip, I visited a few of the historical sites in Amherstburg and surrounding area. These sites help tell the story of the Underground Railroad and Canada's part in it. Here are the places that I visited during my trip:
This monument is one of a pair, with the Detroit monument depicting slaves waiting for transportation to Canada. The counterpart (pictured here) is across the river in Windsor, and depicts their arrival to Canada. It's such a powerful piece of art that shows the overwhelming emotions of joy and hope that they may have experienced. I was overwhelmed with feelings as I looked at the Detroit river behind the monument and thought how brave these people were.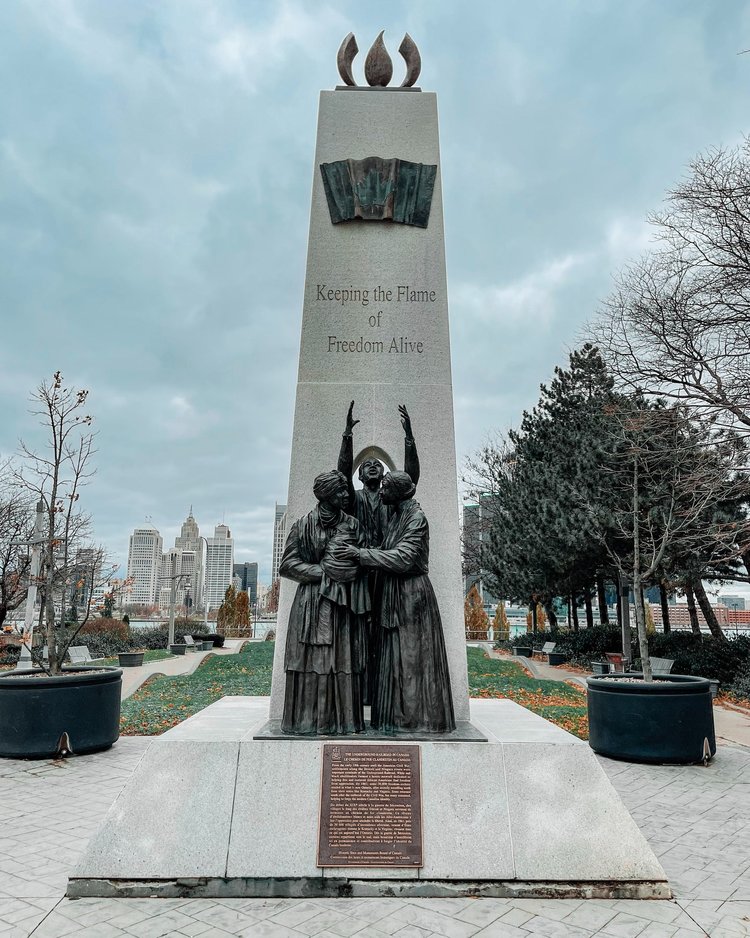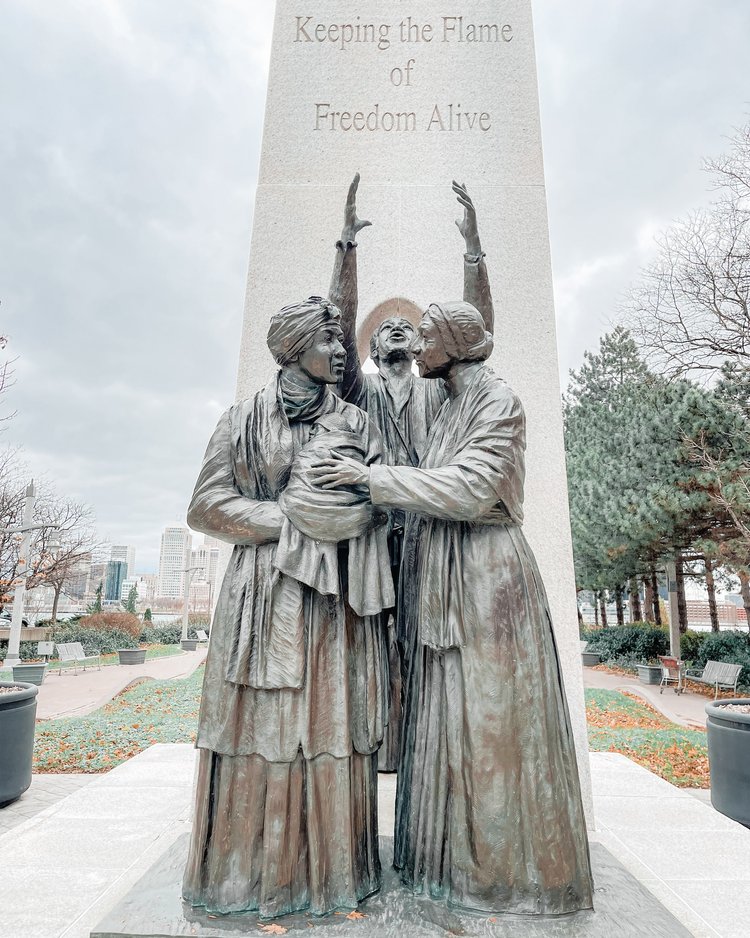 This is the oldest active black church in Canada, and was formed by former slaves back in the 1820s. It was designated a National Historic Site of Canada in 1999 and is still an active church today. It was so humbling to see a place that offered community and hope to former slaves as they started to build their new life in Canada.  I met with Lana Talbot, one of the coordinators of the church who provided me with history and a tour of the church. There was something so surreal about being inside a historical landmark and being able to see the basement where it is said slaves were hidden when bounty hunters came searching for them.  Throughout the years, prominent historical figures have visited the church, including Harriet Tubman, Rosa Parks and Frederick Douglas. I was in awe to have been in the same room with such important historical figures.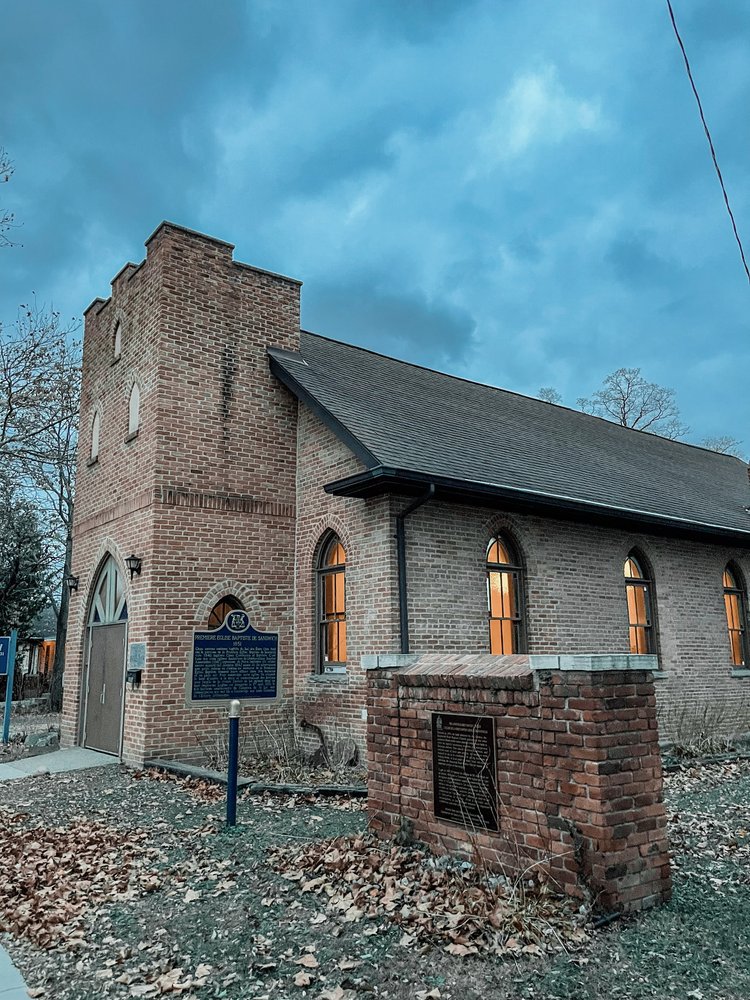 The Freedom Museum tells the stories of all those slaves who escaped to Canada. It's like going back in time looking at the photos, artifacts, digital collections. It was fascinating to explore!  We received a tour of the museum by a smart, bright young girl (the name escapes me!) who was super knowledgeable and well read on the history. We were able to visit the Nazrey African Methodist Episcopal Church on site which also served the growing Black community at the time and served as a refuge for slaves. The Taylor Log Cabin was also incredible to see which housed George Taylor, who escaped slavery in Kentucky and lived in the cabin with his family at around 1880.
The Taylor Log Cabin, former home of George Taylor, who escaped slavery in Kentucky and lived in the cabin with his family at around 1880
Uncle Tom's Cabin Historic Site
This historical site is located in Dresden, about 1.5 hours from Amherstburg. It's the former home of Josiah Henson, who escaped slavery himself and became a conductor of the Underground Railroad, helping 118 enslaved people find safety and freedom. The site now recognizes his accomplishments and provides more information and context on the Underground Railroad.  Josiah Henson's memoir was the basis for Harriet Beecher Stowe's famous 1852 book Uncle Tom's Cabin, which has been credited with fueling the abolitionist movement and laying the groundwork for the civil war.
Conclusion
Being able to visit Windsor-Essex and exploring these historical sites was such an amazing experience. I am glad to have learned more about Canada's role in the Underground Railroad and how a community of freedom fighters worked relentlessly to bring people to safety and fight to abolish slavery.
This Black History month, I'm going to continue to learn and reflect on this important time in history and how it still makes impacts in our society and culture today.If you are able to visit Windsor-Essex, I highly recommend it! But if not, there are tons of resource out there (like these from CBC, the Canadian Encyclopedia, Library and Archives Canada resources, or all of the links above) to learn more about this time in history.