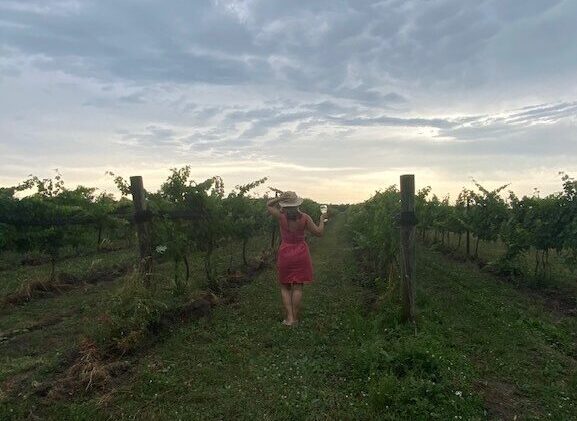 Tuesday July 21, 2020
A #YQG Girls Day Out
Original blog by Lisa S. | July 21, 2020
When you think of the "Ultimate Girls" day out in YQG, you should automatically think "Wine County". No, not the Netflix film, but all that our backyard has to offer with 19 local wineries to choose from.
As busy working moms, it's important to us to find time to unwind, recharge and share some laughs – and boy, did we ever do all three!  What makes it all the better is we can do all that while also supporting our local region.
Our day began at Oxley Estate Winery, located in Essex on County Rd. 50. We started with a  refreshing summer drink called "The Roxley", which quenched our thirst on what was certainly one of the hottest days we could remember.
Oxley is known for their delicious oysters and lightly battered Lake Erie perch and lunch certainly did not disappoint. There are also fire pits on the property complete with Adirondack chairs to relax in which gave everyone plenty of space to enjoy themselves.
Next, we headed to North 42 Estate Winery. The beautiful Serenity Lavender Farm on the same property has the most picturesque grounds for photo ops so of course we took advantage! We enjoyed the multi-purpose outdoor patios and indulged in the winery's famous lavender cheesecake, which paired perfectly with a bottle of their Summer Chill.
Conveniently, our next stop at CREW, also known as Colchester Ridge Estate Winery was just down the road.
We sat on the back covered patio overlooking the beautiful vineyards and sampled several wines in the Summer Breeze tasting flight. It consisted of an Unoaked Chardonnay, a Riesling, a Sauvignon Blanc and a Posh Cuvee, all paired with a baguette, aged Handeck cheese and olive tapenade.
Our final stop was at Muscedere Vineyards, a family owned and operated winery on a scenic 13 acre estate. We sat under the large pavilion and enjoyed two delicious wood fired pizzas — the Quattro Staggione and The Muscedure – along with a bottle of Sauvignon Blanc. OK maybe 2!
With two adorable goats on the grounds, along with chickens and cats, it provided some great entertainment. We loved every minute and it was the perfect way to cap off our day.
Hats off to all of our local EPIC wineries for providing an incredible experience and delivering the best "girls" day out, right here in our own backyard. I can't say enough good things about this experience, and I encourage you all to enjoy a staycation right here at home! Get out with family or friends, support local and find your hidden gem of an adventure.