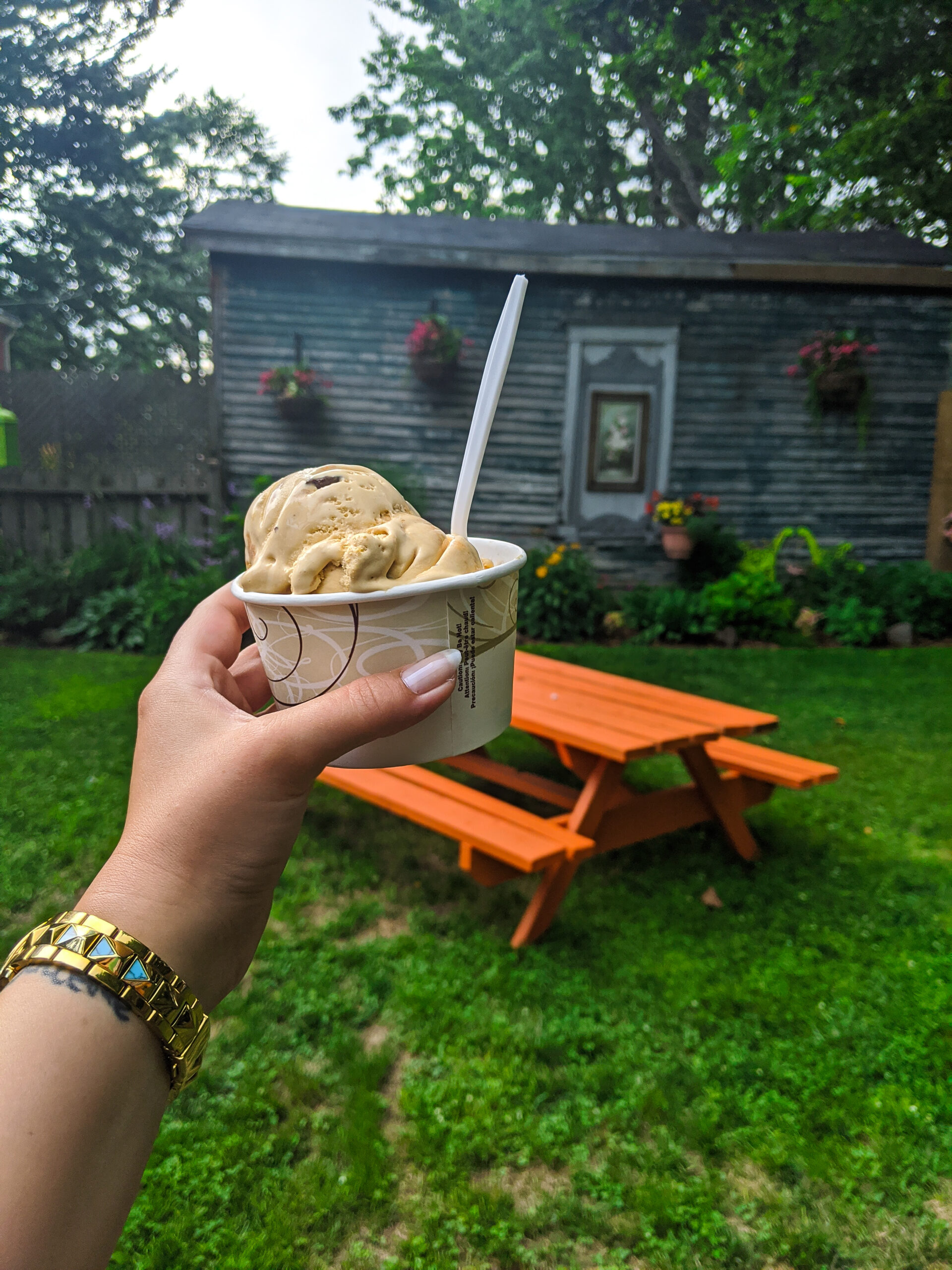 Wednesday July 29, 2020
7 Stellar Outdoor Dining Areas in Leamington
Original blog by: Natalie Hillis, @AnitaSnack519 | July 29, 2020
With our incredibly hot, sunshine-filled, beautiful summer well under way and the re-opening of many of our favorite restaurants and patios – I wanted to showcase some incredible places right here in Leamington to eat, drink and soak in a beautiful view!
Armando's Leamington has a large patio with tons of socially distanced seating. They've paid attention to every little detail including screening guests at the front door and providing single-use menus to keep things clean. Armando's features a versatile menu of home-style Italian cuisine like arancini and chicken Parmesan.

They also offer some delicious pizza that really embodies the "Windsor style" pizza that we all know and love. Chef Kevin recommended a pizza called the 42nd Parallel – this pie is named after the 42nd Parallel, the latitude circle that runs through this town. The pizza features all local produce including Highline Mushrooms and locally grown tomatoes. Crispy crust and flavorful toppings, what more could you ask for?
Birdie's Perch is a must-try for any local perch enthusiast! With their iconic red double-decker bus turned food truck and their incredibly fresh lake Erie yellow perch, you really can't go wrong!

They have a large spacious patio with lots of shade, and they are just a short stroll to waterfront views. The perch tacos are absolutely unbelievable – fresh crispy perch, salsa, greens, and birdie sauce on a corn tortilla. Really, the only downside to Birdie's Perch is that you have to resist the urge to eat 10 tacos.
Crave Family Grill recently got permission to expand their patio over to a large adjacent park right next to the building and they have created a beautiful large shaded patio to enjoy your meal. Crave has created a menu full of delicious pub fare and some unique burgers with some really decadent toppings.


I started out my meal with the frickles (fried pickles!) and decided to give the Goat Got Your Tongue burger a try. With sweet bourbon BBQ sauce, goat cheese, extra thick bacon, and crispy onion rings on a grilled Kaiser – this is not your average burger. I'm already craving another visit!
Jose's Bar & Grill really went all out with their newly expanded patio – shady tents to keep things cool, lots of plants to set the garden vibe & plenty of room for patrons to keep social distance.

Their menu is full of bar & grill classics and lots of great appetizers if you're looking to relax with an app and a bevvy. Their Asian Calamari – with it's sweet chili and wasabi aioli – gives you the perfect balance of sweet and heat to accompany your cold drink.
Freddy's Restaurant on Point Pelee Drive is another great place to visit if you're looking for super fresh and local Lake Erie perch.

With their speedy service, it's easy to stop by their patio for a bite, or you can do like we did and order takeout and take a stroll across the street to eat your meal right on the water! If fish isn't your thing – their large menu has lots of other choices like burgers, chicken plates and their signature sandwiches with an iconic "F" branded right onto them! You will not be disappointed.
Sweet Retreat is more than just your average ice cream place. Every ounce of the building is bursting with color and personality and they offer Kawartha Dairy – a premium ice cream that is made right here in Ontario and makes the classic "Moose Tracks," which is a personal all time favorite and can be hard to find. When they told me to check out the backyard patio, I strolled around the building with reasonable expectations but those were quickly shattered as I entered into a backyard wonderland.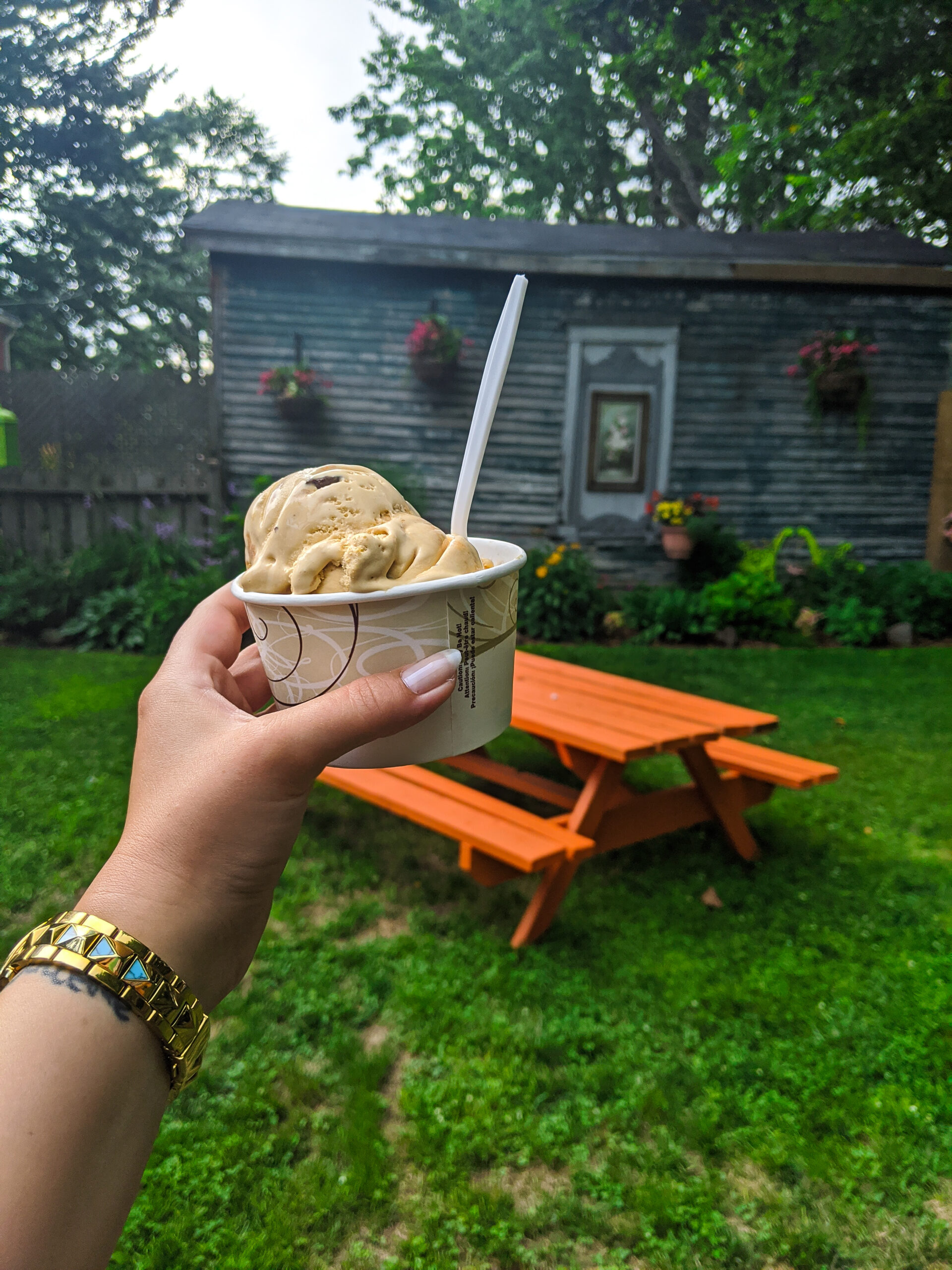 They have put so much thought and effort into creating a beautifully manicured space complete with a pond, gazebo, and so so many beautiful plants and flowers. The large space is complete with lots of picnic tables and small dining sets making it easy for you to enjoy your sweet treats in the shade while still keeping your distance from other tables. Whether you're a traveler just passing through, or are local to Windsor-Essex, Sweet Retreat's patio needs to be on your to-do list!
Erie Shores Golf & Country Club has a beautiful patio to enjoy a drink with a view. Overlooking Lake Erie, it is the perfect place to enjoy some local Pelee Island wine and take in the scenery. Whether you're a golfer or not, anyone can appreciate this view!
So if you find yourself in Leamington make sure to find a patio and delight your tastebuds with some of the delicious local fare.  From fresh Lake Erie perch and great burgers to salty snacks and sweet treats, there is sure to be something for everyone as you explore all there is to eat on the 42nd parallel! Come hungry and leave happy.