Explore Windsor Essex's part in Black History
The Underground Railroad
For many American slaves Windsor Essex offered what they yearned for most – a new life of freedom.  Our region played a proud and pivotal role in the Underground Railroad Movement, helping thousands escape the brutality of slavery. The Underground Railroad was not a railroad nor was it underground. It was the name of a secret network of people who hid and guided slaves and refugees as they fled to escape enslavement. It was the largest anti-slavery freedom movement in North America, having brought between 30,000 and 40,000 fugitive slaves to Canada. Learn about the terminus of the Underground Railroad – right here in Windsor Essex, Ontario.
Read Our Blogs
Check out our blogs on black history and black culture to learn more things you can do when you visit Windsor Essex in the future.
Learn More
Get a further understanding of Black History in Windsor Essex Pelee Island through our blogs, itineraries, and listings of black owned businesses and artists. During Black History Month, you'll also be able to find our virtual events guide so that you can further experience the rich history, accomplishments and the road that led to freedom for Canadians of African and Caribbean descent.
Black History Heritage Sites in Windsor Essex
Amherstburg Freedom Museum 
The Amherstburg Freedom Museum welcomes all people of all ages to experience the history of the Underground Railroad and the compassion and solidarity it took to make this network possible and bring freedom to many. Here you will be able to view exhibits and artifacts that share the stories of African Canadians, their journey to freedom and their contributions to society.
Founded by Amherstburg resident Melvin "Mac" Simpson, and located in the historic town, the museum was created to preserve the stories of African Canadians' journey and contributions so that future generations would have greater knowledge and pride in their own history.  He wanted to do something tangible to increase Black awareness, to help future generations claim and develop enhanced dignity, strength and purpose of being.  He envisioned a means to educate the entire community.
The Freedom Museum site includes the Nazrey African Methodist Episcopal Church, built during the days of the Underground Railroad and the Taylor Log Cabin, a 19th century home of a former slave, that early black families inhabited, which also provides a unique representation of the conditions of the time.
---
Sandwich First Baptist Church
As people were fleeing slavery in America, they would find themselves passing through the Sandwich First Baptist Church, the oldest black church in Windsor's historic Sandwich Towne, en route to finding freedom and their new home in Canada. The Church served as a haven for refugee slaves who were fleeing slavery mainly from the southern United States.
For hundreds of fugitive slaves who crossed the Detroit River into Windsor, Sandwich First Baptist Church was their first stop. A hole on either side of the floor in the Sanctuary still exists, which allowed those who were being sought after by bounty hunters to escape. The Church, which was built first as a log cabin in 1820, was rebuilt by free and fugitive slaves in 1841.
Sandwich First Baptist Church is the oldest active black church in Canada. A group of former slaves, led by Henry Brown, John Hubbs and Willis Jackson, began an informal church group in the 1820's. In 1840 eleven fugitive slaves from the 'Close Communion of Baptists' organization formed the congregation. They worshiped outdoors or in the homes of individual members until a log cabin was constructed in 1847.
---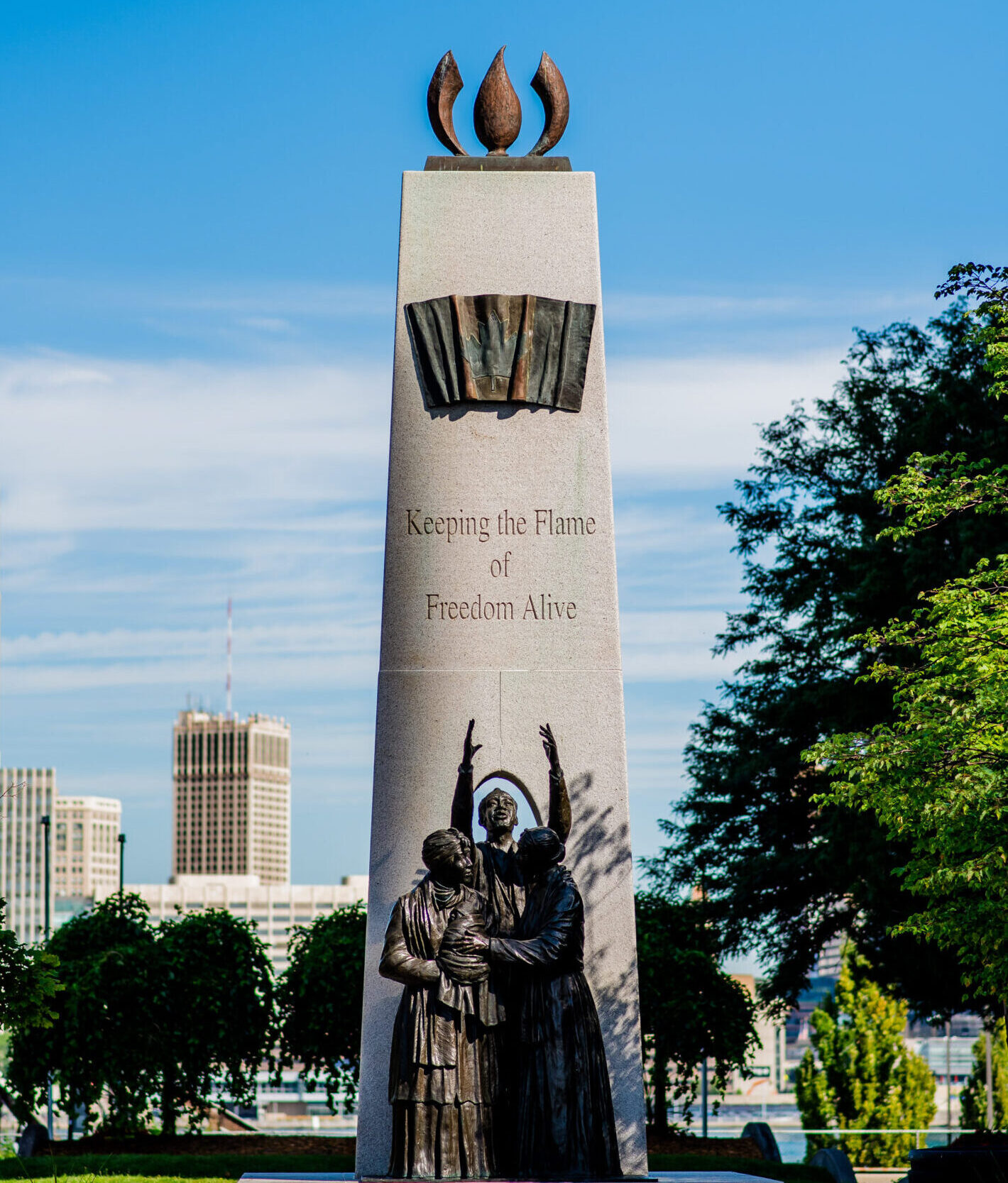 Tower of Freedom 
Situated between Goyeau St. and McDougall Ave., Civic Esplanade in downtown Windsor, the Tower of Freedom Underground Railroad Monument is one half of the International Underground Railroad Memorial: the Detroit monument, located in Hart Plaza, depicts the Gateway to Freedom and features a bronze sculpture of six Underground Railroad travellers awaiting transport to Canada.
Created by sculptor Ed Dwight, the Tower of Freedom Underground Railroad Monument honours the flight of enslaved African Americans to freedom in Canada by depicting the refugees' arrival into Canada and their overwhelming emotion upon encountering freedom. The monument features four life-size bronze figures on the south side of a granite monolith: two women with a baby and a man standing behind with his arms outstretched in praise. On the north side of the monolith, a young girl holds a rag doll and looks back across the river, depicting many Underground Railroad travellers' desire to return to the U.S. after the abolition of slavery.
The figures rest on a ten by ten-foot base which is home to the Canadian federal historic plaque commemorating the Underground Railroad. The monolith is twenty-two feet in height and is visible from its sister monument in Hart Plaza. The names of local people and places of significance to the Underground Railroad movement appear on the monument along with a bronze Canadian flag and the flame of freedom.
Continue The Story
Many more heritage sites, artwork pieces and monuments exist in our region, including a large portion of the permanent display at the Chimczuk Museum. Discover more by clicking the link below.
---
Chatham-Kent Black History Sites 
The story of the Underground Railroad did not end in Windsor Essex – the quest for freedom continued on to neighbouring Chatham-Kent.  Here you will discover important black historical sites which served along the path to freedom for American slaves seeking new life in Canada. Today, the Buxton National Historic Site & Museum, Uncle Tom's Cabin Historic Site, and the Chatham-Kent Black Historical Society all serve as windows in the past and allow for the continued storytelling of Black History.
Each site allows visitors to touch, feel, see, and hear the stories of those who took heroic journeys to find freedom.  This emotional look into history provides visitors a glimpse of their struggle to seek a better life through storytelling, historical artifacts and guided tours.  Chatham-Kent is Ontario's second largest national historic site where visitors will be able to tour one of the last standing schoolhouses, an 1852 log cabin, 1853 barn, church, cemetery and museum.
Click here for more details on the Chatham-Kent Black History Society and their continued efforts to share our story.