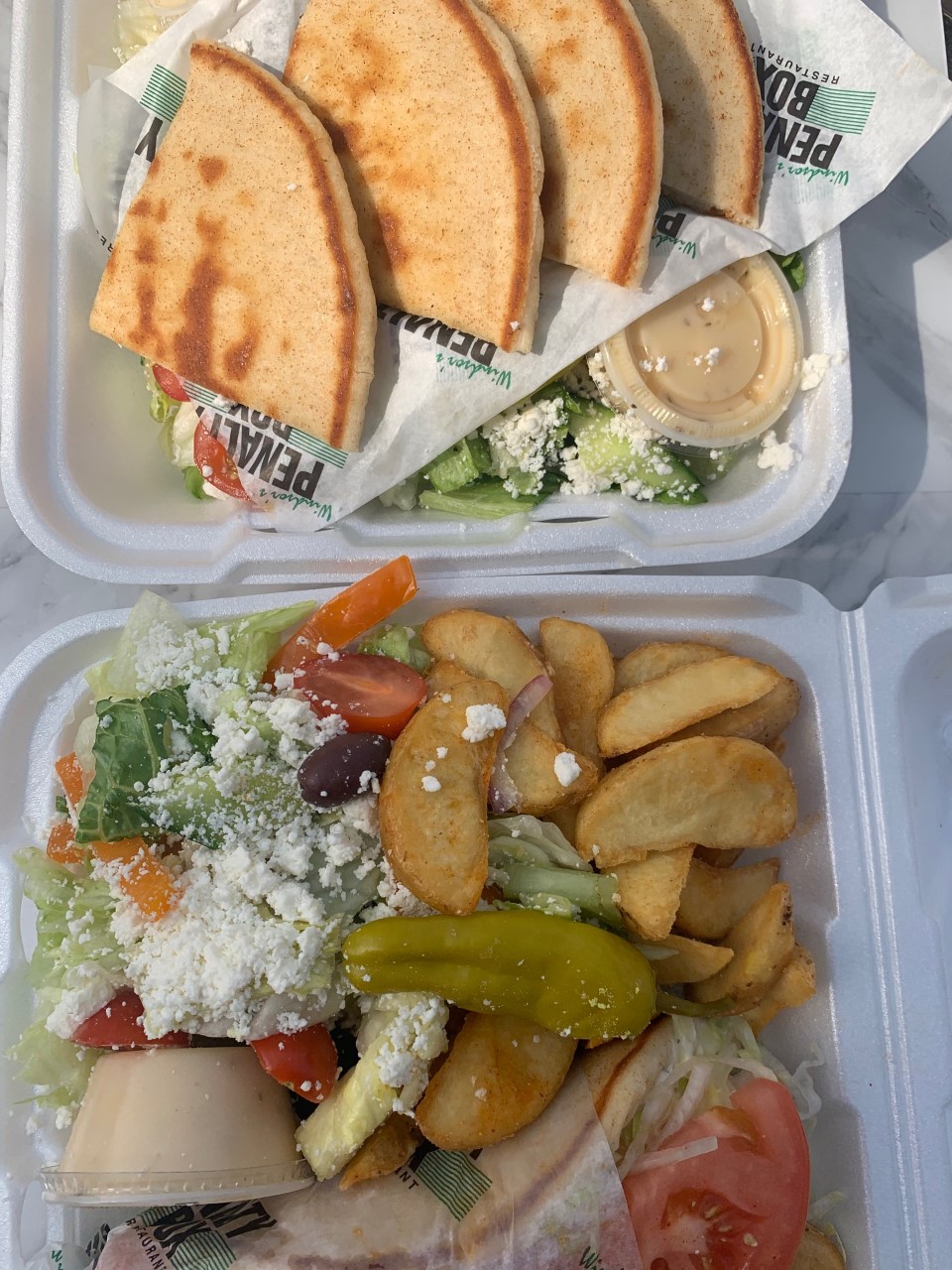 Wednesday May 26, 2021
Eating My Way Through Windsor Essex: The Most Iconic Foods You Need To Try
Original blog by Christina Coletti of Scenes From Dinner | May 2021
Windsor Essex has such an incredible food scene! We are blessed to have an abundant number of dining out choices from restaurants, bakeries, coffee shops, food shops and wineries.  If you lived here long enough, you'll know that this city is a culinary treat! We are one of the most diverse communities in Canada and there are so many incredible places to support locally! From chicken delights to pizza to peach juice, here are the top "must-try" foods in Essex County. I'm sure you'll be drooling and out the door to pick up takeout by the end of reading this!
Shawarma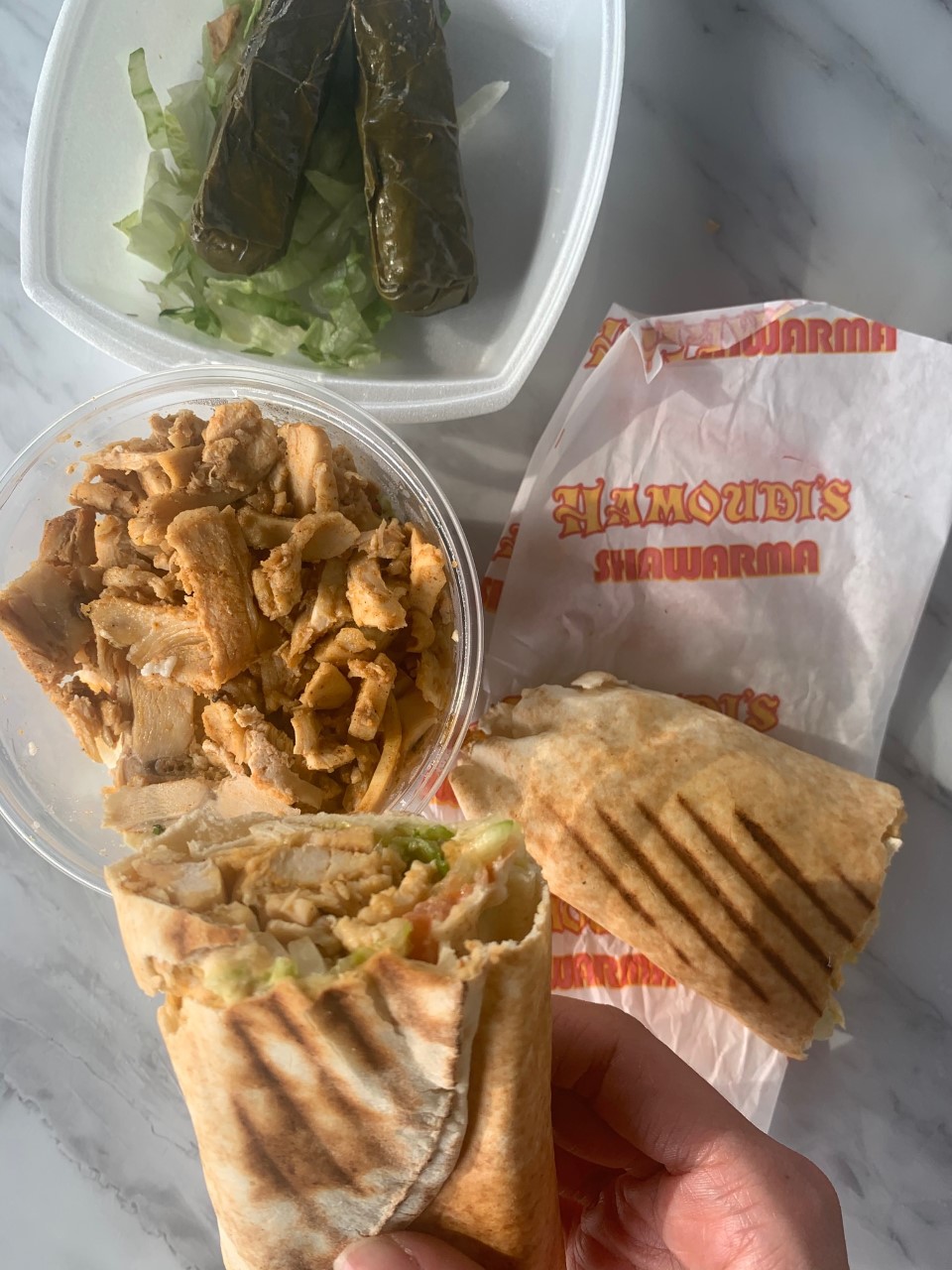 For many, a late-night shawarma feast after a night in downtown Windsor brings back many memories. My go to spot for a shawarma in the city is Hamoudi's. Hamoudi's is a family-owned restaurant offering a traditional menu but also puts a twist to the typical classics. One of my favourite menu items is their popular Shawarma Shake options. This special twist to the traditional shawarma sandwich is a healthier version without the pita! Add all your ingredients, shake and eat it!  The Chicken Shake (pictured) is my absolute favourite! Also recommended to try is Hamoudi's Burger which gives you the taste Middle Eastern Cuisine with it's signature Hamoudi's Sauce. Hamoudi's has two locations in South Windsor and Lakeshore.
Lake Erie Perch
From the Lake to Plate! Located in charming Kingsville, Ontario, Jack's Gastropub offers the ever so popular perch dinner. Jack's is a staple in the area and a must visit. Yellow perch is one of Ontario's most sought after fish. The Loop Fisheries Lake Erie Yellow Perch Dinner with a side of Jack's slaw is out of this world! Dip your perch in the delectable caper dill aioli sauce and you will loveeee it! Since you can't quite enjoy sitting on the patio quite yet, I enjoyed taking my Jack's takeout and heading to Lakeside Park for an outdoor picnic. Jack's also offers an excellent selection of local craft beers and delicious burgers (The Spicy Jack burger is my go to).
Donuts and Peach Juice 
Colasanti's is an absolute Windsor Essex classic! A trip to Colasanti's Tropical Gardens is such a cherished childhood memory – I would go with my family a couple of times throughout the year. When I was younger, it was the goats I would enjoy seeing and now … give me all the plants and cinnamon donuts! The hot, homemade cinnamon donuts are just so delicious that you can't eat just one! Colasanti's also specializes in their popular "Broasted Chicken", apple cider and butter fudge! A family favourite and must try is the peach juice! It's truly a foodie's dream to come here at any season throughout the year! Colasanti's will always hold a special place in my heart because of all the great family memories spent here.
Windsor Pizza
When it comes to pizza, most Windsorites know that it's a staple here! What makes Windsor pizza so popular? Maybe it's the shredded pepperoni? Canned mushrooms? Galati cheese? Windsor is known for their delectable pizza locations, but there's one spot that's definitely a must try if you're craving a slice. Oven 360 has 8 locations and I visited the Oven 360 LaSalle location to grab some yummy dinner and treats! As soon as you walk in, your mouth is watering! I love that the pizza is prepared right in front of you in their 360 degree oven and that there is a lot of fresh toppings to choose from. If you don't have time to wait, you can always pre order and pick up! My go to pizza of choice is always the Miranda (Prosciutto, Ricotta and Spinach). The Francesco (Sweet Potato, Goat Cheese, Garlic, Parsley) is another must try! The flavours are just perfection! Don't forget save room for a Nutella pizza as well as some gelato for dessert! We dined al fresco at home on the patio. Patio pizza nights are the best!
The Chicken Delight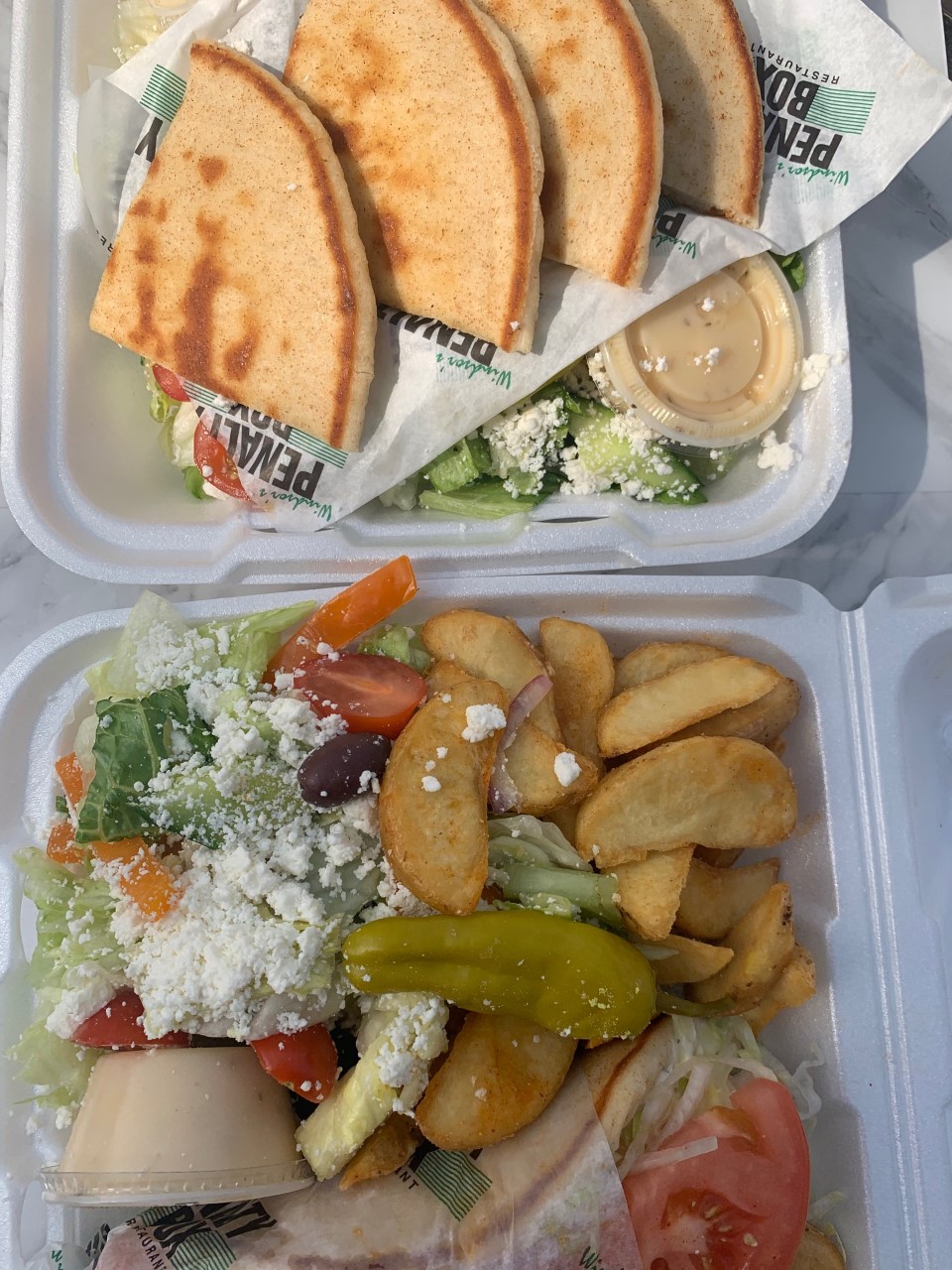 If you know, you know! The specialty Chicken Delight wrap from the popular business, The Penalty Box is iconic around here! You can order the Chicken Delight with fries, salad, or half of each!  Some even order the Steak Delight which I've never tried but swear it's unbelievable too! If you have driven past the Penalty Box Restaurant in recent months, you've likely noticed a mural painted on one of the exterior walls facing its busiest intersections in Windsor. This image pays tribute to frontline workers and all the incredible healthcare workers in our community, as well as across Canada. The Penalty Box has a huge number of loyal staff and customers and all are eagerly awaiting the much-anticipated location number 2 in South Windsor to open in Fall 2021! Visiting Penalty Box, I was greeted by long time staff members and was surprised to see a special touch on my takeout box, my Scenes From Dinner logo and name! This was a wonderful surprise. When I first started Scenes From Dinner and had Michigan residents asking me for the top place to try in Windsor, this place was always the first place I would send anyone!
Italian Food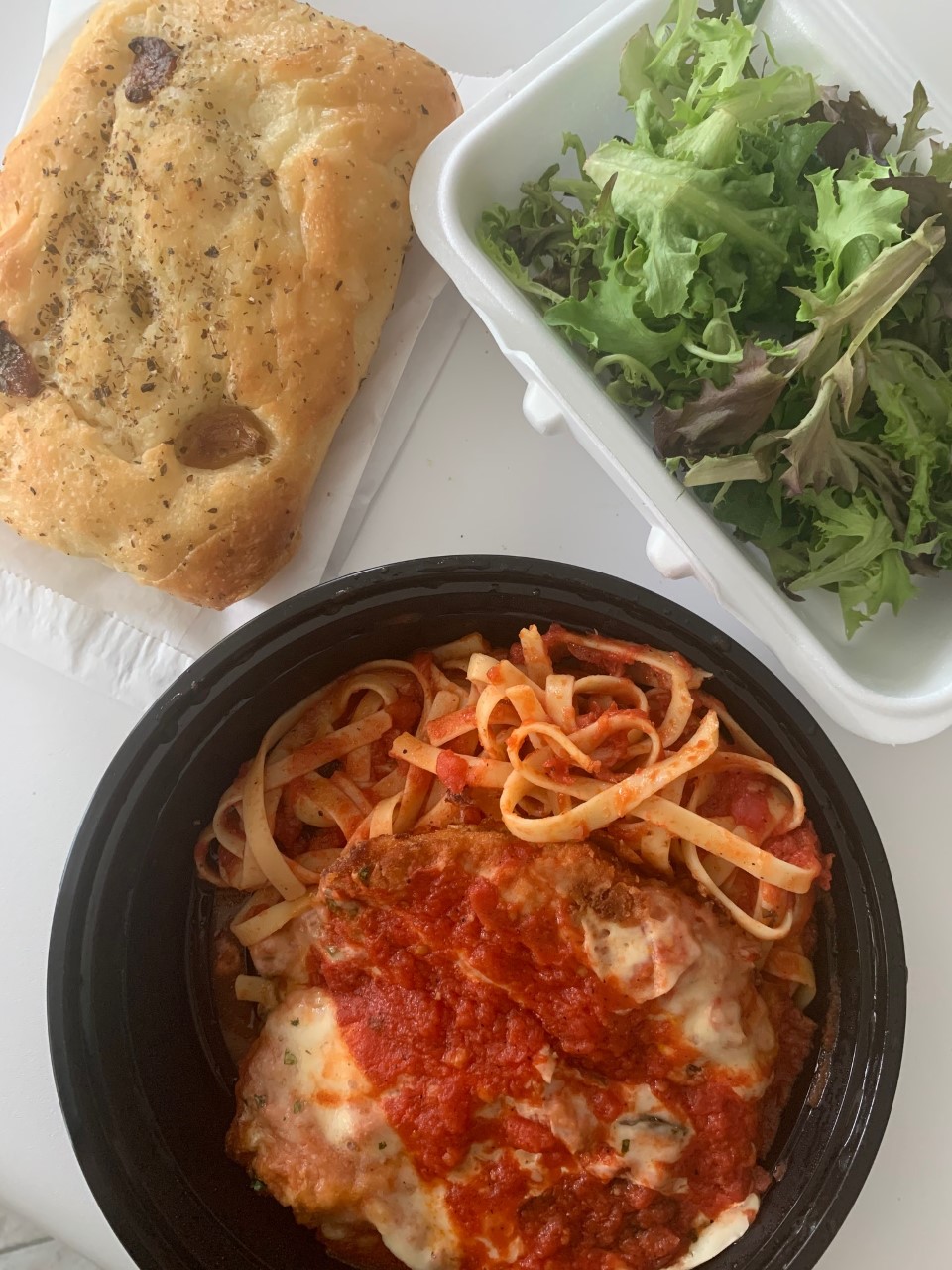 Spago Trattoria is a Windsor hot spot and every single time I visit, they never disappoint and always exceed my expectations. Spago is known for their authentic Italian food and excellent service. They give you the taste of Italy even when you can't quite visit it just yet. With three locations now, each offering the same traditional menu with different atmospheres, Spago offers impeccable Italian food which attracts tourists from outside our city and even Toronto's very own artist, Drake! I have tried a lot of menu items, but my favourite would be the pasta dishes. Any type of pasta – gnocchi, spaghetti, or fettuccine with any type of fresh sauce; tomato, meat or blush is just perfection. For this visit, I knew exactly what I wanted without having to look at a menu. I ordered the chicken parmigiana with homemade fettucine in a delicious tomato sauce. The order came with their tasty signature homemade garlic focaccia bread. I highly recommend trying the arancini, the grilled calamari and any kind of pizza as well!
We heart local: Pierogi's
Little Foot Foods is a local, independent business located at 1404 Tecumseh Road East. They offer ready to eat delicious foods for families with their speciality being pierogis. Currently, they have their products in about 30 retailers, and you can also visit them at the Downtown Windsor Farmer's Market every Saturday! I decided to take a drive to Kingsville to visit The Willow Tree Market and pick some up! If you haven't been here yet, you are truly missing out! It's probably my favourite place to go when the weather is nice, and you want to take a drive. The Willow Tree is a local family farm market (We Heart Local Farm Stand) offering a wide variety of fruits and vegetables as well as local products such as pastries, honey and other food options. When I got to the Willow Tree Market, right away when you walk in the freezer section, you can find Little Foot Foods! I picked up the Vegan Pizza pierogi flavour as well as the Jalapeno Cheddar. This place is truly such a gem in Kingsville, and I simply love visiting! For more details on the bounty of Essex County – Farmer's Markets, growers, fruit and vegetable stands –  make sure to check out www.weheartlocal.ca.
Sweet Treats 
Here's The Scoop
About 5 minutes past Cooper's Hawk Winery in Harrow, you will find the MOST adorable ice cream shop ever! This is for sure a MUST to check out this summer! Here's The Scoop is a farm themed ice cream parlour with over 30 flavours of ice cream. From shakes to sundaes and floats, they make it all! They also have food options like nachos and cheese, hot dogs and local pretzels from Pretzel Central which they feature on Sunday's and Saturdays. I ordered the Double Chocolate Brownie Sundae and loved every bite. Next door, you can find Priscilla's Presents which feature women's clothing to home décor items to jewelry. I really enjoyed meeting owner Tracey Cipkar and her daughter! You can tell that they are passionate about their business and have so much creativity as both the storefront as well as ice cream shop were decorated perfectly. This place offers unique gift ideas and I loved every minute of visiting this gem. Sitting outside on a nearby picnic table and enjoy the view while eating your treat is just the perfect time.
Coffee, Craft Breweries & EPIC Wines
Tourism Windsor Essex Pelee Island highlights a variety of programs such as Coffee Culture, Barrels Bottles Brews and EPIC Wineries where partners are pleased to offer both home delivery and curbside pick up options. While in Kingsville, I made sure to stop at the popular coffee spot, Red Lantern Coffee Co. to pick up some fresh coffee and a bag of the Medium Roast Dark Chocolate blend which is a best seller. For all you coffee lovers, the Colombia Huila is a must try! Also close by to the coffee shop is The Grove Brewing Company which in addition to craft beer also offers a Paradise Island Style Hard Seltzer. I picked up the new Tropical Seltzer Mix Pack and the loved the flavour options. The seltzer is made from a blend of seltzer water, gluten reduced malt base and hint of natural fruit flavour. My favourite flavour was Pineapple. I love how these are a lighter drink option, each 100 calories, and gluten friendly! These were the perfect addition to relaxing by the pool and an outdoor picnic by Windsor's Riverfront, enjoying the view.  I also had to stop in for a curbside pick up at Cooper's Hawk Vineyards, one of the eighteen EPIC Wineries in the area and also home to The Vines restaurant where executive chef takes pride in designing Windsor Essex sourced menus. I picked up a bottle of the 2017 Touché white wine. This caught my eye as it has aromas of pineapple and honeydew melon, as well as fruit cocktail. This paired perfectly with my Thai food takeout during the week!
DineYQG
Now more then ever it is so important to support local in all aspects. #DineYQG is designed to guide you through local restaurants offering take out and delivery while also giving you the chance to WIN a $100 gift card! (Contest closes June 3rd, 2021). Windsor Essex businesses need the support of it's residents at this challenging time by takeout, curbside or online ordering.  I strongly encourage ordering takeout and supporting one of your neighbours.  If you haven't yet tried all the iconic Windsor food listed above – what are you waiting for? Tuck in your napkin and enjoy the incredible cuisine our region has to offer!
---
For more information and pictures of all these amazing places, feel free to check out the Scenes From Dinner Facebook and Instagram Pages.