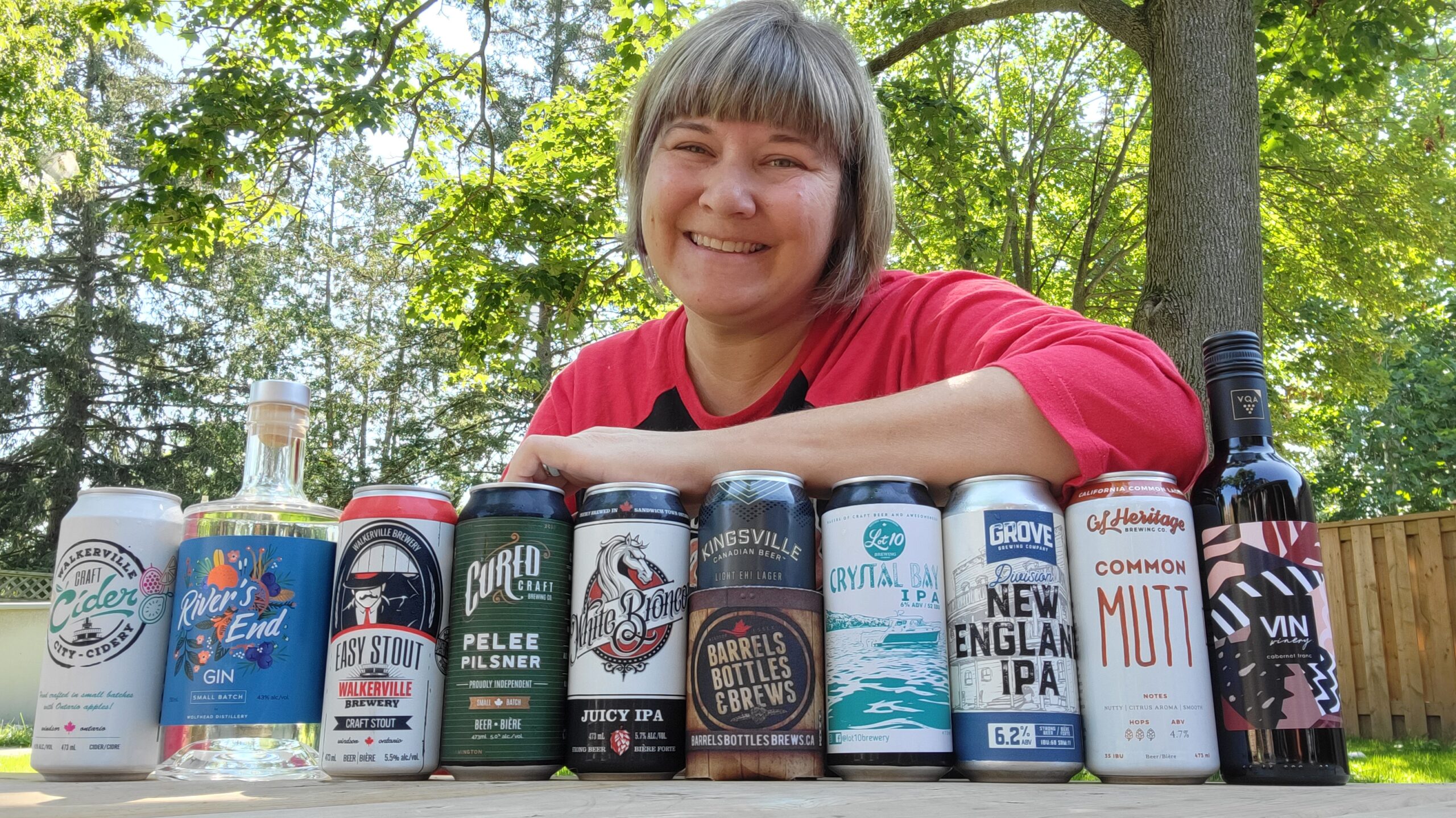 Wednesday August 4, 2021
Getting Crafty with Windsor Essex's Flight Log!
Original blog by Tiffany Hayes, The Travelling Pint | August 2021
Known to many as the Automotive Capital of Canada Windsor Essex is also a prominent craft beer area and has been atop my list of places to visit ever since I visited there in 2018. Whether you are a local and looking for a staycation or are feeling good about booking short trips again it's a great option that offers a combination of lively urban districts rich in culture and rural countryside with farm-to-table deliciousness and best of all some tasty craft breweries.
Windsor is often overlooked because most people want to see the big city of Toronto but this southwest area of Ontario is a great place to visit with a lot of history, tasty food options, and an ever-growing amount of craft breweries and distilleries.  Well, wineries too but that's for another writer…
My focus this trip was to explore the revised Barrels Bottles & Brews Trail and share with you the Flight Log (passport) available in three options to enhance your experience in Windsor Essex. It highlights both craft breweries and distilleries in the area and once purchased it is delivered instantly via text or email with no apps to download or paper to carry/lose along the way. Plus, it's a great value.
How it works: There are 1 Day, 7 Day, or the Unlimited Frequent Flyer Passport, perfect if you live in the area, available to purchase.
1 day, includes a flight/tasting at 5 breweries/distilleries $25 (Valid for 24hrs after first use)
7 days, includes a flight/tasting at 9 breweries/distilleries $40 (Valid for 72hrs after first use)
Unlimited Frequent Flyer is $75 (Valid for one year after first use).  Again you receive a deal at each location in addition to monthly offers and a treat on your birthday!
For more details on incentives or to purchase your Flight Log head to flightlog.ca and come back to read about all the stops available and more below.
This blog post will allow you to plan more day by day and geographically too. I promise you these places are worth a visit so planning for at least two days is recommended but a full weekend is highly suggested.  Warning: You may enjoy it as much as we do, make new friends, and continue to go back each year to catch up, wet your whistle and visit the newest additions. It's fair to say Windsor Essex has grown on me and I've been browsing realtor.ca since I've been home.
As I prepare to drink in the moments of my first beer-venture trip in 16 months I am reminded how much I love to travel to great beer and how fortunate I am to do what I do. So, shall we begin? Maybe go grab a beer first to best enjoy the read.
"I am always baffled when people say to me, 'I don't like beer,' for they might just as easily say 'I don't like food.' For the reality is that there is a seemingly endless range of beer flavours and styles."  ~Charles Bamforth, Distinguished Professor,  Scientist, and Author
Day 1 begins…
The first brewery stop of the trip was Cured Craft Brewing Co. Leamington's only craft brewery located right in the heart of uptown!  We grab a seat on the spacious patio and though the brewery is steeped in history, as the building was built in 1911, we wanted to enjoy the atmosphere of the active patio.  The name of the brewery is influenced by the owners' backgrounds, Lisa is in nursing and Scott is the local butcher so curing people and curing meats, it works!
Point Pelee National Park (more about my visit there below) is just 17km from the brewery and just happens to be the name of their flagship Pilsner which was a top choice of mine alongside their Red Ale. Red Ales are rarely my favourite choices but Cured smokes their malts in-house, and the smoked malts were a nice addition to this Red Ale, comforting, and very drinkable.  Their beer lineup was as laid back as the locals that seemed to come and go on the patio.  They are a small-batch brewery and the traditional brews pair beautifully with their food menu.

The menu is curated with locally sourced foods and has some tasty meat options (Must try's: charcuterie board or Barbacoa Beef Sandwich) which only make sense as Scott, the co-owner, is the local butcher!  Cured's beer names are inspired by the heritage and personality of this quaint town, as well as the background of their co-founders including their nicknames. So grab a seat and improvise a tour through their town by drinking the beers, reading the names and chatting with the staff!

It's time to hop back into the car and make our way to Kingsville where we will spend the night at the iconic Grove Hotel.  We check-in to this adorable boutique hotel housed in a building from 1854 that offers a memorable visit each time.

The last time we were in Kingsville we visited both the soon-to-be production site of Kingsville Brewery and their Taphouse location.  It was just dust, concrete and dreams (and of course a few chilled cans to enjoy while dreaming of the future visit).

Well, I'm back and not disappointed at all. In fact, I can't believe how far they have come despite the toughness of the last 16 months but am equally not surprised as they are a determined bunch and also fun to catch up with.

We leave downtown Kingsville and head out on our e-bikes rentals from The Grove Bike Co, (so fun and cruise up to 30km per hour so you can cover a lot of area while feeling the cool breeze on a hot day) and whip along the Chrysler Canada Greenway multi-use trail and arrive at their new production facility, shined up and days away from brewing their beer on location. Located just steps from Lake Erie it's also home to their lively outdoor Biergarten. You won't miss it the building is big and the logo is larger than life and beckoning you to join them for a beer.

As they prepare to brew some more small batch and seasonal options at their new location there are still some great options to choose from on tap and to-go alongside their swag in retail. (Note: They have some great competitive pricing for a case of their craft beer.)  We grab a picnic table and order up some Light EH! lagers to quench our thirst and sit down with the brewmaster Derek for a chat.  It's the perfect start to our visit, to quench our thirst after our ride, not that I peddled much ? With a sweet bready aroma, its taste is balanced out by a light grain and hop flavour. At 4% it's as expected crisp, clean and refreshing.

Mark the co-owner is soon to join us as Derek & Will continue to share the excitement about brewing on-site any day now and I now order the polar opposite of my first choice and get a Woodrunner Barrel-Aged Stout.  It's 6.7% with rich roasted notes and dark fruit notes that dominate this medium-bodied stout. Then some oak, whisky and vanilla undertones creep in and it finishes dry with some dark chocolate. I LOVE it.

I admire how both Mark & Derek keep a keen eye on the crowd assisting the staff to make sure everyone has a beer and is happy as they continue to chat with us.  They seem to be all about working hard and playing just as hard outdoors here, whether finding a new trail or hitting the ice. Like they say "While each beer is unique, they all should be paired with crisp open air and good company." I dig it.
We hop back on our bikes to return to the hotel and have a quick costume change / 15min power nap to prepare for a much-needed dinner at Kingsville Brewery Taphouse.   It is located back downtown, close to The Grove & Banded Goose Brewing and houses great bbq and food options from the Butcher of Kingsville and of course more beer!

We are seated next to the bar and I take a moment to stand at the bar and take a picture in the same place I stood the last visit.  I close my eyes and remember back with the same beer in hand but now surrounded by the atmosphere and no longer under construction.  The sounds that now fill the Taphouse are what I expected, lots of conversations, outbursts of laughter, clinking of glasses and people truly enjoying being out again.  With dinner, I opt for their Czech style Lager, beautiful in colour and pleasing to the palate it pairs well with the BBQ platter we order.  Depending on what you order off of their locally sourced menu their Hefeweizen is worth tasting too, it's hazy, balanced, effervescent with clove spiciness & of course banana notes from the yeast, just the right amount.
Sharing below from their website is the thought process that has gone into the creation of labels, read on, reflect and enjoy their cans in a new light…
'The deep shades of blue and herringbone represent the way the land and lakes meet on the borders of Essex County to sustain life. The avian silhouette on each can represent the local predatory birds of the region including Osprey, Peregrine Falcons, Cooper's Hawks, and Sharp Shinned Hawks.  The 127 you see emulates our commitment to excellence through founder Marty Turco's record number of NCAA wins as a member of the Michigan Wolverines Hockey Team from 1994-98. To follow up on the Marty Turco detail, if you're ever in Texas keep your eyes out for a taste of home as their brand is doing well in the Dallas area.'
Alright, folks believe it or not we still have one last stop before we rest our heads for the night, down the road to Banded Goose Brewing we stroll.  Before tasting anything I always enjoy the vibe of Banded Goose and fondly remember my last stay with them at the attached brewery loft suites, INN 15. The brewery is charming, inclusive and chill.  Outback, adorned with string lights, is their patio which is a prime summertime spot hosting gourmet street food from the permanently parked BlackJack GastroVan (food truck). A balance of creative malty & hoppy offerings are available and as always I opt for a flight to sample the wares.

Making these unique beers isn't as easy as throwing together water, malt, hops and yeast in the kettle, a lot goes into the process of creating consistently good craft beer I am reminded of throughout this trip.

I am still full from dinner so opt out of a late night snack and order a flight of four beers.   Klassen's Blueberry Belgian Wit, Best Bitter, DH Strata IPA & Boys to the Yard Milkshake NEIPA.  They arrive in a rainbow of colours and I sip away as I reflect on the fun first day of travel.    The Best Bitter is often my favourite, these British Ales are underdone and have been a staple in British Pubs for centuries.  This one is 4.5%, a little higher ABV then some, and with malty notes of bread crust, caramel and tad of molasses it hits the spot.   The Blueberry Wit has a purple colour to it and ticks all the boxes of a Belgian Wit with a little bit of funk.  I'm funny with this style I equally don't enjoy it as much as I love to order it in a flight and appreciate it.  Theirs is well done and worth a try.  As we finish up we grab a couple cans to go including their Pear & Chai Seltzer (tried at home I must admit I got behind this one too, it was delicious flavour combination…send help) and cross the road to get a good nights rest.
Day Two
Day two begins and my enjoyment for road trips and beer-ventures have returned and we are turned up with GL Heritage, Wedding in the Woods, Wolfhead Distillery, Lot 10 Brewing, Craft Heads and Chapter Two all on the list for today.
Welcome to GL Heritage Brewing Company, our first stop of the morning because on Saturdays in the summer they are the hosts to The Amherstburg Farmers Market!

After dodging some rain and shopping around the market including an amazing breakfast from The Hub we are ready to explore the flavours of the brewery and learn a little more about this place.  We are greeted outside on the covered patio by the smiling co-owner Jen (well she had a mask on but I could just tell by her eyes, ok?) and she warmly invites us in. We are introduced to her daughter behind the bar and kindly offers us each a flight to sample as we hear the warming story of how this brewery came about.  The brewery actually resides on land farmed by their family of 7 generations, that's over 170 years!  The beer they brew represents their most important values – family roots, good friends and great times.  I'd say this is reflected in all they do here for the town, community, and travellers.

In November 2015 after being influenced by other delicious craft beers from southwestern Ontario and watching trolleybuses drive by their land, on their way to the amazing local wineries they decided to go for it.  After purchasing a pilot system their first-ever brew was created the following January. Dwayne taught himself the art and science of brewing in a very short time – read, studied, YouTubed, subscribed….. and practiced weekly in early 2016 while Jen, Greg and Cathy taste-tested along with other friends and family, things were going well and the rest I guess is history…family history.

If you haven't been to this brewery you are missing out!  I was one of those people, cause they've been opened to the public since July 2017 but here's why it's worth a visit to GL Heritage:
They offer a variety of styles of beer all with their own signature stamp on them.  On-site, they create recipes, manufacture, package (can and keg), serve and sell.  They have 6 beers on tap to enjoy on-site while listening to the vinyl being played or perhaps a local musician is there that day for your enjoyment.  More beer options in the fridge to take home and share with friends…
It's a family affair and they treat you like family too! They had been wanting to start a shared family business on the century farmland for at least 20 years and GL Heritage was founded by two brothers and their wife/sister-in-law.  They operate a welcoming taproom and proudly display signs out front that show their support.
Book a Tour! They run a popular and entertaining Tour & Tasting Experience in the Brewhouse.  Inquire with them for upcoming dates and options and any special experiences or events you want to be hosted on-site.
FINALLY, they do ALOT for the community, it's a priority for them, and to date have proudly raised  $300,000 for the community and local charities.  They also have provided a location for the Amherstburg Farmer's Market on Saturdays throughout the summer and have won some distinctive awards in the community as well so you can feel good about supporting them. They also have a long list of experiential collaboration with many local, small businesses such as hosting various food vendors on-site every weekend to showcase amazing food presented by local chefs, caterers, food trucks and restaurants, chocolate & cheese pairing events and pairing dinners, exclusive classes like hands-on pork butchery, yoga and beer experiences and more…
My top picks where their Black IPA, Galaxie Milkshake IPA (pineapple & coconut) and CaJen Pale Ale with notes of pineapple and building spice from the green chilli!

Open Fridays, Saturdays and Sundays only at this time as they still all hold "day jobs" but if you're local they now deliver weekly across Windsor Essex on Wednesday. Happy Hour Is Here, as they like to say, so come raise a glass at this special brewery.
Next, we head down the road a little to check out something new. An enchanting & rustic private venue on 30 acres forested area; Wedding in the Woods.  Coming from getting married in a circus tent myself I love the direction weddings seem to be going these days and this beautiful forested area is right up my alley.

"You're already married so why are we talking about this?" you may be asking.  Well, the owners of Wedding in the Woods also own BREW Windsor located downtown and have a new on-site winery called Vin at this new location and you will enjoy your reception with an open bar featuring craft cocktails and their BREW beers & Vin wines made on site.
Full use of the property for the weekend of your wedding is also unique as they have a handful of cabins available to you and the wedding party to enjoy a weekend event. They are booking already into 2023 so if you're looking for a picturesque outdoor venue look no further than Wedding In The Woods!

Since I am now hungry like a wolf so we head to Wolfhead Distillery for lunch and a change of pace cocktail!  I love driving in here and being greeted with rows and rows of barrels displayed outside as it doubles as the storage for Hiram Walker's barrels.  They can store close to 80,000 barrels outdoors as they each are filled with just enough water to keep them hydrated.  *Reminder to self – drink water and keep hydrated.

We get seated at the bar and introduced to Nick, the bartender extraordinaire, who is kind enough to multi-task by perfectly pouring many drinks for the crowd and filling us full of facts about distilling, spirits around the world and specifically their new Gin. I look over their drool-worthy craft cocktail menu and decide to go with Cool Cuke made with the newly released River's End Gin!   It's packaged in a  unique bottle and a label just as beautiful as the story behind the name. The name River's End was inspired by Dave Lovell, a neighbour and good friend of Wolfhead Distillery owner, Tom. Dave operated a business of the same name and often spoke about stories of the river. Sadly, Dave passed away of cancer a few years ago and this is Tom's tribute to his friend.  It has an aroma of juniper and pine and slight orange and lemon but to taste has more citrus notes than Juniper and slight star anise.  I love Gin, I am a fan of this and it's quite delightful in this cocktail.

They also have a locally grown food menu your palate will continue to crave and goes well beyond the normal pub-style menu. Chef Larry is well known around these parts and for a reason, as he is heating up their large patio with Jerk Chicken Fridays – ALL SUMMER LONG.  1/2 Jamaican Style Jerk Chicken with rosemary roasted potatoes and veggies of the Day for $25… anyways it's Saturday so I get the turkey burger, maybe not very wolf of me but it's delicious and pairs well with my cocktail.

I have really dove into summer cocktails this year, maybe it's the fact that more craft distilleries are popping up all around but now I'm open to the idea of continuing cocktails into the fall too so it's a good thing Wolfhead has us covered with Coffee Whisky Liqueur, their NEW Cinnamon Whisky and beyond!   Their Cinnamon Whisky is fantastic, tastes of real cinnamon and caramelized sugar, it's really good.

Lot 10 Brewing Company is the next stop, in the downtown of the picture-perfect town of Amherstburg situated on the banks of the Detroit River.  It is actually taken the space of what was once Bullock Tavern back in 1839 and has returned to serve beer once again in the form of Amherstburg's first craft brewery.  They make a damn fine American Brown Ale one of my favourite, hard-to-find, styles and brew a rainbow of other styles to please all palates. We were on a mission for more beer so opted for the large paddle flight of ten 4oz samples that included everything on their rotating menu they were pouring. From Blondes & Pale Ales to NEIPAs & Kettle Sours.

If you bring the kids they have a family-friendly environment and offer The Pop Shoppe craft soda flights too and craft cocktails if you are looking for something besides beer because that happens from time to time.
My Top Picks are:
The Don- American Brown Ale 5.5%.  As this was just available in cans at our visit so I enjoyed it at home. It was roasty, chocolate-like and a decent bitterness from the American hops. (Fact: American Brown Ales are slightly more bitter due to the style of hops used compared to British style or porters)  It poured beautifully into my glass with a nice tan collar that left lacing with every sip.
Thrift Shop- Stout 6%. Pours jet black with a tan collar that sticks around. Balanced notes of coffee, chocolate, and slight caramel fill the glass and with a mildly bitter finish, I am in love.
Nuclear Sunset- New England IPA 7%. Hazy and heavily dry-hopped this New England style IPA is dominated with citrus flavour and some slightly bready notes.  It has a full body but doesn't have t be chewed to get down, I approve!
I could actually add a few more to this list like the English Mild but stop by and discover for yourself all the different beers pouring on tap.
"Pro" tip: Always remember to *hop* on over to the fridge to see the beer-to-go options as they may be different from what's being offered on tap. I found a few beers this trip that I love and would have missed out on if I didn't look!

It's evening by the time we hop on some e-scooters by Byrd and scoot along the paved trail next to the Detroit River, past large historic brick homes through the beautiful Walkerville neighbourhood and arrive at Chapter Two Brewing Company for some dinner with friends and a few pints. I am looking forward to a lighter style at this point in the day and they don't disappoint. I eye up a Helles cleverly named Helles Hath Frozen Over Lager – based on the fact that the brewer finally cracked and brewed a lager, I laugh and proceed to order.  The Helles is true to style- Pale gold and clear with clean Pils malt aroma. Goes down with a full mouthfeel that is rich, savoury and smooth. It's soft and balanced with a touch of malt sweetness with floral Noble hops and restrained bitterness. The Helles is a masterclass in restraint, subtly and drinkability which makes it an enduring style for true beer lovers and an elusive style for craft brewers to recreate. Clean and crisp, this is a refreshing beer with substance.

Or in short, it's 4.7% and it hits the spot.  Michael is the co-owner, head brewer and a Cicerone.  He proudly brews beers true to the style and you can bet his Tripel alongside the rest are worth the visit.
Michael has joined us and offers to show us around and proudly showcase what is new since our last visit. Perfect timing as the sky is opening up and delivers a wild storm or rain and wind that seems to be a common occurrence in this area. As we step inside the humid air warms us up as much as the good vibes this place offers warm my soul. It's once again a beautiful historic brick building and the sight does not get old.  They have added a kitchen and a fantastic menu many had been telling me about days leading up to our visit. We order the firecracker wings (just one of ten fun flavours) and a plate of jalapeño poppers, obviously, and continue the tour into the back. They have opened up a few more walls under the beautiful brick archways and the back now has space to host larger events, entertainment, theme nights, and perhaps a corn hole tournament one day in the future.  It's as beautiful as the beer in my glass.
We continue to catch up and chat over beers while we watch the lightning light up the night sky and the rain pour down and rain or shine the brewery is packed with happy people, I like it here.
Day Three
We've made it to Day Three and it's time to kick off with a heavenly breakfast at Thyme Kitchen located downtown Windsor, just steps from our hotel.  They pride themselves on providing fresh, flavourful food for all lifestyles.  So whether you are vegan, vegetarian or a meat lover they have something for you.  Everything is made in-house and the owner Julie is just the cutest human around.  Again this isn't a food blog but you must eat here and know that they are licensed too so pouring local beer and crafting cocktails as well.   I opt for the Smoked Salmon Bagel (fried egg, avocado, lemon dill cream cheese / fried capers/spinach / in a homemade bagel) and a couple cups of coffee.  I reluctantly pass on the $5 mimosas as I know our next stop is quickly approaching.

We hop, once again, into the car and head just east of town to Sandwich Brewing Co.. It isn't just easy to remember because of the location in Historic Sandwich Town, which you may not know existed alongside the Canada–USA border of the Detroit River, it's also where a love for old buildings and great beer collides. Sandwich brews up 3 of my favourite beers to drink in Ontario, yes a bold statement.

They happen to have all three on tap this visit and serve flights of three beers,
Quick Lunch Session IPA a delightful 4.6% that's tweaked with Bronco yeast to create a light, refreshing citrusy flavour that's perfect for when you only have 15 minutes for lunch or are on day three of touring 😉
White Bronco NEIPA, see I drink these and when they are this good I crave them! Citrusy on the nose, with plenty of orange juiciness and hints of pink grapefruit, passion fruit and peach. Slightly more floral with resiny bitterness towards the back end, it has a smooth & pillowy mouthfeel. At 5.8% it's light for this style-perfect!
Big Skookum 7.0% This tasty beer is resinous, piney and bitter balanced well with malt- everything you want in a West Coast Style IPA.

Their small-batch series and other beers are all worth tasting and really, there are so many more reasons to love Sandwich Brewing, like their gourmet menu (try a sandwich!), dog-friendly Biergarten to sit and stay at and free popcorn.  And really, there are so many more reasons to love Sandwich Brewing, like their gourmet menu, but I'll let you get out there and experience it yourself!

So by now, you can probably guess that my next stop is Windsor is housed in yet another historical building bursting with history.  You are correct, welcome to Walkerville Brewery. A place of heritage, community and of course – great hand-crafted beer. Their history begins in 1890 when Walkerville Brewery Limited was founded by Hiram Walker of distillery fame. It was first called the Walkerville Brewing & Malting Company and was renamed the Walkerville Brewery Limited in 1899. It was known by this name until 1944 when it was acquired by Canadian Brewers Limited. The brewery then closed in 1956, but in 1998 a new craft brewery resumed production of beer in an empty Hiram Walker warehouse under the name Walkerville Brewery, where it continues to brew today.  How's that for Canadian beer history, eh? So when you enter the brewery take a moment to look at the display cases on the right at all the eye-catching breweriana from times past.

They serve up many beers on tap alongside the Gold Medalist Geronimo IPA. The bitterness of this beer is nicely balanced out by subtle malt sweetness and dry-hopped for an extra dose of the aroma of pine and grapefruit and orange peel aroma.  I am a big fan of their Easy Stout & Purity Pilsner and am looking forward to digging into a few new beers of theirs I brought home with me such as the Waterfront Wit, Hofer's English-style Pale Ale and the Pin High Pils.  They really have a lot more beers to offer than in the past and some quite intriguing like the Minterstellar Mint Chocolate Stout.  In addition to beer they have successfully ventured into ciders and offer a those both on tap and in cans.  As a non-cider fan their Tropical Breeze Cider with passionfruit was delicious.  With added patio space to host you while they wait to reopen inside you can still head inside to retail to purchase a variety of beer to go and if you're in a rush grab one of their pre-mixed six packs with six different beers waiting to be cracked open.

Just a note to say that J.P. Wiser's Experience is a proud member of the Barrel Trail but is currently closed for tours and tastings until further notice. Stay tuned to their website or social media for when this changes. It's a stone's skip from the Detroit River in the district of Walkerville, it was a unique tasting experience and tour the last time I got to go so do stay tuned to their re-opening.

After paddling around Lake St Clair at the exit of the Detroit river it is time to head to our last stop of the trip mere minutes away at FRANK Brewing Co. and y'all know I can never say no to a beer and food pairing, especially when it involves TACOS!! FRANK's is well known for their pizza but I was craving tacos and after eyeing their Cerveza lager on the menu, I had to. This beer was just what I needed after a few busy days of tasting beers across Windsor Essex. Cold, refreshing, bright and crisp oh, and that lime! There is a definite toasted white bread malt note and fresh lime zest flavour that elevates this from a pedestrian Corona with a lime in it. It paired just as well with the tacos as it did the wrestling on TV.

Another must-try is their Honey Habanero Spicy Ale, inspired by their Grandad's wife's homemade honey habanero marmalade, it's the perfect blend of sweet and spice and pairs well with many dishes, try it with a burger!  Frank's is pure, straight-to-the-point beer just like the name suggests.  It has a brewpub feel and you can see the brewery, and brewers, hard at work most days through the window from the restaurant.
Editor's Note: The Barrels, Bottles & Brews Flight Log is also valid at The Beerded Dog Brewing Co. in Harrow. A clean, cozy, and family friendly restaurant where all are welcome – from the experienced beer drinker to the casual night out
Beyond the Beer
#BeerBreak and by that I mean a break from beer, not taking a break from reading to go pour one, but that does sound good. I know I most always talk beer and boozy things to do on here, but let's talk about something to do that doesn't involve alcohol as life is about balance.  I thought it might be helpful to share with you a few awesome things to do in Windsor Essex that don't involve drinking, are just as fun and give you a different adventure to mix in throughout your stay as I do.

A great spot to start this whole trip was at the most southern part of Ontario, Point Pelee National Park Though you could spend a whole day here I had some beer to get to but was happy to dedicate a couple of hours to two of the many attractions there. Standing on the most southern mainland tip of Canada and climbing their new 24-meter observation tower, and not pooping my pants. Ok, TBH the climb was a lot easier than expected, even with a fear of heights. There was a railing to hold, no crowds to race up and I just looked ahead, not down, and took one step at a time. This tower allows visitors to soak in a 360-degree birds-eye perspective of the "beginning" of mainland Canada – from Essex County to the North, across Lake Erie to Pelee Island in the south, and unforgettable sunrises and sunsets.  It was worth it!
There is a lot of coastal beauty and scenic waterways in Windsor Essex so it's time to hit the water in a chill vibe way with Urban Surf Co.  You can choose your adventure with a few rental options; kayak or stand-up paddleboard to paddle your way through the eye-catching marina and out to Lake St Claire, ebike rentals to explore on dry land, or take one of their offered classes or tours.

Head to The Amherstburg Farmers Market at GL Heritage Brewing and to shop all the amazing local food being grown or made in this area. Local pottery, handmade soaps, bakery treats, mouthwatering food and more line this outdoor market with a welcoming feel and a sense of local.  Downtown Windsor also hosts a Farmers Market that I will one day get a chance to check out as well.

I talked earlier about the cutest little town Amherstburg and in addition to Lot 10, their Open Air Weekends are worth a visit! June 11 to September 27, every Friday evening, Saturday evening and all day Sunday they close off some streets and local pubs, breweries and restaurants extend their patios and the local shops too! You can safely walk around shopping, dining and quenching your thirst while taking in this quaint downtown. They have created an inviting and enjoyable atmosphere that includes incorporating culture, art and fun in the streets and parks.
I've always been a fan of local Street Art and seeing alleys transformed into galleries. Downtown Windsor has a few to view one being The WIFF Alley, which is an "entertainment corridor" connecting the venues for Windsor International Film Festival aka WIFF, that celebrates the festival's 15th anniversary and is an effort to promote the arts, especially film.  It's easy to access along University Avenue West, between 144 and 176 University in front of Phog Lounge. You can stroll along with your favourite cold brew or ice cream, take great Instagram pics of just enjoy the art, any time of the day.   3-D art more your style? Then take an outdoor stroll through Windsor Sculpture Park. You'll get a great view of downtown Detroit, add a few more steps to your day (or rent an e-scooter) and admire some original, yet wacky public art.
Well folks that's a wrap.  If you have read this far well done and go pour yourself another beer.  Ready to plan your trip but still need some help?  Let Tourism Windsor Essex Pelee Island help! Head to www.visitwindsoressex.com/mytrip, select your dates and travel style and build your itinerary!  Or feel free to message Tiffany at The Travelling Pint with any questions about her trip!
---
?Windsor Essex, ON
❗ Lands of the Caldwell, Myaamia, Peoria , Attiwonderonk (Neutral)and Mississauga Peoples
Though this was a #sponsoredtrip I want to assure you all these words and thoughts are mine and honest reviews. If you've followed along with Travelling Pint for a while you will know I speak my truth and wear my hop on my sleeve. I hope you find as much enjoyment along the trail as I did and remember as many places across our country continue to open, return to normal and get back to it to be kind, try new things and find your new favourite place to visit!