Monday August 29, 2022
More Than Bagels & Locks: Not Your Basic Brunch
Who doesn't love brunch?! Whether it's rolling out of bed on a weekend with a fierce hunger or connecting with friends over nibbles and mimosas, there is something about brunch that gets everyone excited.  With a beautiful blend of breakfast and lunch foods, it cannot help but be one of the most drool-worthy and photographic meals. If a picture is worth a thousand words, get ready for quite the mouthful. Step aside muffin, we're going to dish up Windsor Essex's tastiest brunch dishes.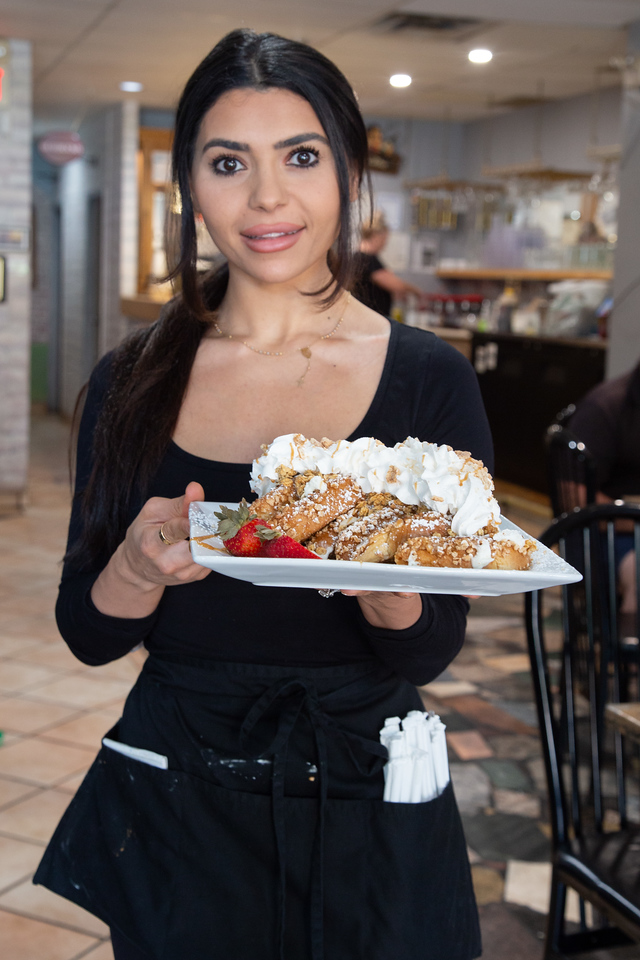 While some of the best sellers here include the California Benny, Chicken Waffle, and Pineapple Boat, it's only appropriate that at a restaurant called TOAST, we would choose a toast-based dish. We were not disappointed. The Cinnamon Toast Crunch French Toast is over-the-top decadent. Thick slices of perfectly crispy French toast are coated with cinnamon toast crunch cereal and topped with vanilla icing, almond granola, and whipped cream. The resulting dish is what dreams are made of. Put a fork in us, we're hooked on TOAST.
Exposed brick, harvest tables, reclaimed wood doors and chalkboard menus bring home the farm-to-table ethos of this restaurant. With a menu that changes seasonally, and broken into BReakfast, lUNCH, and the UNCH stuff, your brunch choices run the gamut, from sweet and savoury to greens and sandwiches.
We recommend the Smashed Toast, consisting of grilled rye, avocado, sauteed mushrooms and onions, chili oil, and the most perfect crispy poached egg. Your choice of hash, fruit, or greens rounds it out. Get your camera ready as you cut into the crispy egg for some Instagram-worthy slo-mo yolk flow.
It's would not be a brunch list without fried chicken, and Thyme takes their fried chicken to another level. Chicken lovers must try the Maple Bacon Fried Chicken and Churro Waffles. Fluffy cinnamon sugar waffles are topped with perfectly crispy fried chicken and smoked maple syrup. Are you drooling yet? When we arrived, we loved hearing that Chef-Owner Julie was at the farmers' market and would be back shortly with choice items, allowing her team to "taste new things and get inspired". That was reflected in our gorgeous fruit bowl, stuffed with dragonfruit, figs, grapes, kiwi, starfruit, and strawberries. The brunch here is taken up a notch and you'll likely have something new to try on your plate, as Julie pursues (and shares) her goal of taking one bite of everything in the world.
What's not to love about this local neighbourhood spot? From the rolled-back garage door entrance to the open French windows with flowerbeds, you can't help but want to pull up a seat and soak in the ambiance. We drool for a good eggs benny, and A Dog's Breakfast did not disappoint! There are seven variations of this dish here, from pork belly to Florentine, with something for every taste. We had the Southern Fried Chicken topped with their delicious hollandaise sauce, on a toasted English muffin, served with fresh fruit and roasted potatoes. Which one will you choose?
If you are staying at the casino, you don't have far to go for an elevated brunch experience, and a delicious hair of the dog. Roll out of bed and head to Legends Sports bar where you can have the best of both worlds, a drink and meal in one.
We recommend the Winged Wheel Caesar, which consists of four chicken wings tossed in your choice of sauce or dry rub, served with a dill pickle and onion ring spike. If you are not quite feeling wings, you can opt for the Tempura Shrimp Caesar, and sub the wings for two crispy tempura shrimp.
Hakuna mimosa brunch warriors!
Click here for more not-so-basic brunch spots in Windsor Essex!