Farm to Table: Savoury Apple, Pear and Caramelized Onion Ricotta Galette
Original blog by Irene Matys | September 29, 2020
Recently I had the honour of partnering with Tourism Windsor Essex Pelee Island (TWEPI) and spent a memorable few days and enjoyed the beauty of what Essex County has to offer with one of most wonderful humans and dear friend Solmaz of TheCuriousCreature.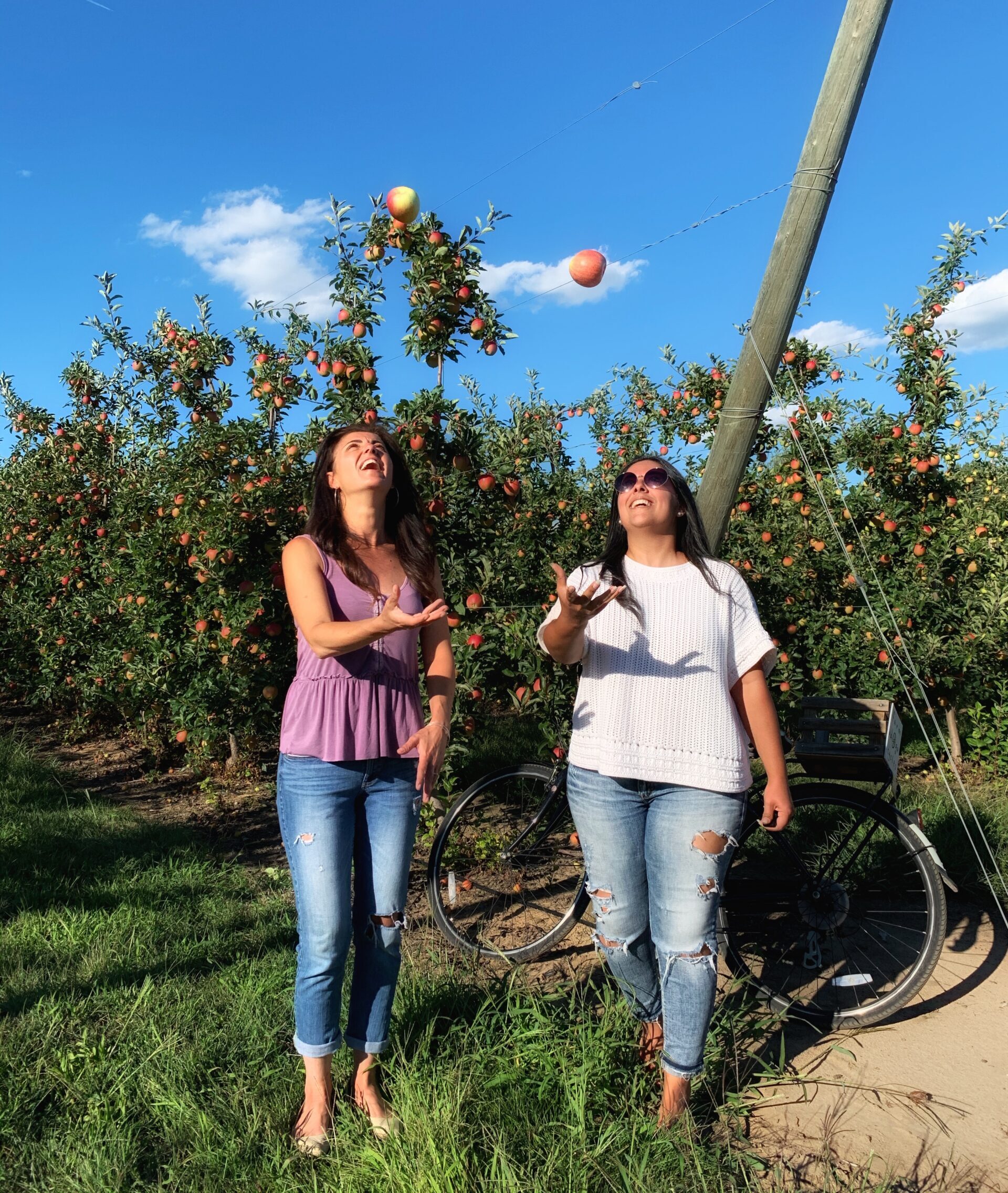 From wineries, ciders, dinning experiences, unique and elegant accommodations, local farmers, artisans, producers, their beaches and the most beautiful sunsets. The list goes on and on. I can not believe what adventures and beauty our Ontario Southwest provides us in our own backyard. I have saved my wonderful experience and introduced you to some of the connections and friendships we made along the way on my Instagram Highlights.
Being a passionate Local Farm To Table advocate, I fell in love with this welcoming and friendly County especially with the love they put into growing fresh food and supporting each other, the most special community. This Savoury Galette is inspired by The Fruit Wagon , a farm stand and farm owned by Farmers Doug and Leslie Balsillie. Along the shore of Lake Erie near Harrow, it was in 1984 where it all started. There they enjoyed having their four daughters growing up and helping them over the years. We were lucky enough to spend quality time with Farmer Doug learning about their story and enjoying an experience on their Orchards. Their retail Fruit Wagon is upfront where they share with you all their farm grown, vegetables, fruits, market gardens and they even make their own Apple Cider Vinegars. Their main harvest is fresh apples and featured here are their Silken which are harvested in September along with their Harrow Crisp Pear. You can head to Ontario Apple Growers to read more about their story behind these unique and delicious fruits.
For this rustic Galette, I have used their Silken Apples, Harrow Crisp Pears and their Apple Cider Vinegar to caramelize the sweet onions. This recipe not only makes a stunning presentation but it is full of local seasonal flavours with a flaky crust.
Ingredients
2 tbsp olive oil
1 medium yellow onion, thinly sliced
1 tbsp Fruit Wagon original apple cider vinegar
500g ricotta cheese
2 tbsp fresh thyme leaves
2 tbsp smoked honey or regular honey
3 large Silken apples, sliced in 1/4 inch rounds, seeds removed
1 Harrow Crisp pear, slice lengthwise in 1/4 inch slices, seeds removed
1 tsp salt
1 tsp fresh ground pepper
1 large egg, beaten with 1 tsp water (egg wash)
sesame seeds (optional)
Galette Dough
2 cup all-purpose flour
tsp salt
1 cup unsalted butter, cold and cut in 1/2 inch cubes
1 tsp fresh lemon juice
1/2 cup full fat sour cream
Preparation
Galette dough
Pulse all-purpose flour and salt in a food processor to combine. Add butter and pulse until mixture resembles coarse meal with a few pea-size pieces of butter remaining. Transfer mixture to a large bowl; drizzle with lemon juice and add sour cream Mix with a fork, until dough comes together; lightly knead until no dry spots remain and dough is smooth. Pat into a disk and wrap in plastic. Chill at least 1 hour.
Filling
In a sauté pan, heat oil over medium heat. Add onions  and sauté for 7-8 minutes until onions have turned golden. Add vinegar and season with 1/2 tsp of salt and 1/2 tsp of pepper. stir and sauté for another 1-2 minutes until caramelized. Set aside to cool. In a medium bowl, mix together ricotta, 1 tbsp thyme, 1 tbsp honey and remaining  salt and pepper.
Place apples and pear slices in a bowl, toss with remaining holes and thyme.
Preheat oven to 375F and line a large baking sheet with parchment paper.
Remove dough from refrigerator and let rest to soften for a few minutes. Dust clean surface with flour and roll out dough to 14 inches round with even thickness.
Carefully transfer to lined backing sheet. Spread ricotta cheese evenly on dough, leaving about 2 inches around the edges. Spread onions evenly on ricotta and lay pears and apples evenly and slightly overlapping onto. Drizzle any juices from the bowl onto.
Fold in the sides just enough to meet up with the apples and pears to make a frame around the them.
Brush the frame of the dough with the egg wash and sprinkle the sesame seeds ( if using) on top of egg wash around the pastry frame.
Place in the oven on the middle rack and bake for 45-50 minutes until crust is dark golden and fruit has softened. Let cool for 5 minutes prior to serving. You can also drizzle additional honey on top.
SERVINGS 6-8 | PREP & COOK TIME 1.5 hour + chilling time
Hope you enjoy it as much as my family and friends did. I highly recommend you give this County a visit as they have a lot of love and beauty to offer you.
To explore this itinerary or other suggested itineraries, download it HERE.
---