Tuesday February 11, 2020
Weekend Day-Date Adventures
Original blog by Chris & Danielle of sketch & Urban Surf Co. | February 7, 2020
Chris and I always love heading out for the day and finding new adventures right here in Windsor – Essex County. It's fun to explore your own city and find new little nooks that you haven't created any memories in yet. When you do this, you feel like you're on a vacation somewhere else where you can let loose and experience things for the first time, so it feels fresh and exciting.
So last Saturday was our big adventure out, we had our twins covered at home from 10am till 8pm.  WOW, a whole day to vacation around and get lost in our city!
We started out at Micheal Difazio's shop at 10am for the Ford City Makers Club, a wood coffee table crafting workshop, where we got to sand, stain and drill our own Difazio-style coffee table. There is something relaxing about sanding and something even greater about being in a shop where you can feel the love through the walls.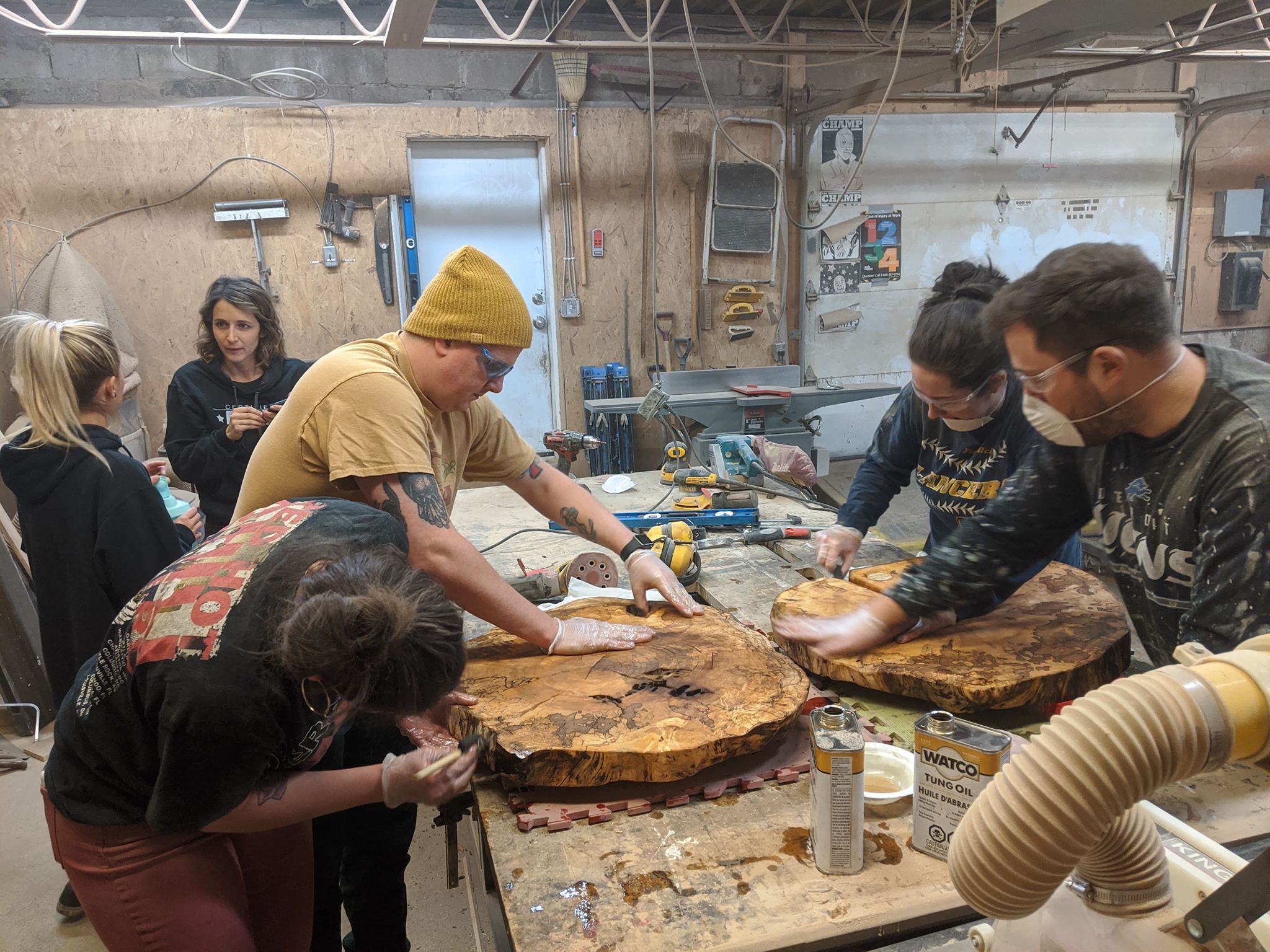 All the blood, sweat and hard work that has been done in that shop made us feel raw & edgy and to be honest at one point I even asked Micheal if I could be an apprentice there. Yes, knowing I have a full-time super busy life, but in that moment l felt like I  just had to squeeze it in somewhere!!
We didn't want the workshop to end, it felt so good to create something together and Micheal made us feel at home, like we were part of his crew. With sawdust all over us and the "I'm crafting my own freaking awesome coffee table right now" persona going on in our heads, we were reclaimed artists that morning. We were "Micheal Difazio" for those 4 hours and it felt super cool to get lost in that world right there on Drouillard Rd.
Oh but the coolness didn't end there, just as your stomach started to growl a little… here waltzes in one of the chefs from Grand Cantina with an epic spread of tacos, guacamole and Mexican pop. The crew (10-12 locals just like us) gathered around a big huge wood table and we feasted together, sawdust and all.
Sharing fun stories about how our tables were going, getting to know these people that we are now making these memories with. New people that we would have never met if we didn't get outside of the box and try something new that day. We will never forget that taco meal and we will never forget that feeling of being one of the crew creating something with our own hands in Micheal Difazio's shop. A beautiful table that will now live on in our home and then in our kids home for years and years to come. I mean the quality of this walnut table is top notch, it's a beauty, one that the kids will all fight over down the road for sure.
Now heading off in our car feeling accomplished and with our new family heirloom laying in the trunk it was time for a cold one. We wanted to try a new brewery, there's so many new ones in our city it was time to finally experience one. Not far from Ford City, we decided on Chapter Two Brewing – we've heard that their flights were a must and the funky atmosphere gave us that "we are on vacation" vibe that we were looking for.
Surprisingly I finished my flight before Chris! I'm not even a big beer drinker but the taste of each one was super appealing to me. The Creamy one being my favourite of the four, it was cold, had this creamy layer on the top …to be honest I am actually craving that flight right now as I write this. While sipping back our beer we learned that you can pay $25 to have a flight at 10 different local breweries and 2 distilleries with this Flight Log Passport. We signed up, now setting in stone that we have many more fun day dates to be had together, only 9 breweries and 2 distilleries to go!
Since we spent the morning with Micheal Difazio, and sampled craft beers at Chapter 2,we wanted to add in a little bit of local shopping. On "vacation", you always have to hit up some little local shops and pick up some locally-made and unique souveniers, so off to Walkerville it was.
Nothing beats local shopping than the Urban Art Market, I mean this cute little shop just screams it. When you are in there, you feel super inspired by each crafter's skill and knowing that, anything you buy will make a local artist do a little dance makes you feel super confident in your purchase. Fresh soaps, tea, candles and jewellery, knitted hats, weaved baskets, wood signs and painted canvas filled this cozy little loft. I wanted to buy everything but settled on a super soft merino wool toque by Stray Sheep Co. If you haven't been to Urban Art Market yet, then make this a sign that you have to. The next time you have to buy someone a gift, go there, support a local artist and anyone you give it to will feel the love and authenticity of it. They're also part of this cool W.E. Made It Program that celebrates all the local artisans and makers in our region – a great resource when you're stuck on gift and souvenir ideas.
The day was filled with fun, laughter and new experiences and we still had a babysitter for 4 more hours. We thought about going home and take over, or we could keep this little local vacation going.  You got it, we kept it going. Walking out of the art market we looked across the street and saw Vito's Pizzeria, and the minute you see the place you want their pizza, you crave that atmosphere.
Once you walk in you're submerged into this Italian realm. For anyone who has been to Vito's, you know what I am talking about. Anything or nothing could be going on in the outside world, but the moment you walk into Vito's it's like you're in a movie. A movie with a lot of history and all senses being tapped into with those regulars sitting at the bar who make you feel a part of something bigger than you are. The service is A+, and the whole vibe in there makes you want to stay in there forever and forget about any other commitments you have that day. Our city wouldn't be the same without Vito's, a true landmark that we all get to share located in super-friendly Walkerville. I always get the Sicilian Pizza… but today is about trying new things and getting outside of the box. Today I ordered a pizza with Capers! I was not disappointed!
Looking back and writing about our stay-cation in Windsor Essex it has us itching for more. So this Saturday we are off to visit Pressure Drop and then hitting our next stop on the Barrels Bottles & Brews trail!