Ultimate Guide To Goats And Goat Products In Windsor Essex
Original Blog by Goat Roti | October 2022
When I first started talking to Tourism Windsor Essex Pelee Island I was trying to figure out how I could write about the region in a way that it hasn't been covered yet. Then it hit us:  why not create the Ultimate Guide To Goats In Windsor Essex!
If you love the outdoors then this corner of Ontario will make you very happy. From provincial parks, to small towns, to farms and wineries, Windsor Essex has it all. And now with this Ultimate Guide to Goats in Windsor Essex your needs are fully covered.
The Little White Church
Address: 7860 Essex County Rd 20, Amherstburg, ON N9V 2Y7
There weren't any goats here but we needed a base camp for our explorations. Visitors will find quite a few hotels in Windsor Essex but a lot of them are closer to downtown Windsor. Accommodations are not hard to find because there are a number of cottages and guesthouses along the shores of Lake Erie.
One of the more historical spots in Windsor Essex is The Little White Church in Amherstburg. Built in  1892  at the intersection of Howard Avenue (County Road 9) and County Road 20, it began serving the community as a church. Worshippers would gather for weekly services, but also for other celebrations such as weddings and baptisms.
Today the 130-year-old former church serves a whole new purpose as an Airbnb. While the interior has  undergone a total transformation, the owners have abided by the heritage designation and made only small modifications to the exterior.
There are eight rooms, each with their own entrances and decorated with unique styles and themes. We stayed in the Game On Suite which appealed to the sports fan in me. The massive blueprint of Chicago's Soldier Field (home of the NFL's Chicago Bears) caught my eye as I entered. The rest of the room was tastefully decorated with leather chairs, sports memorabilia, board games, sport history books, and a very comfortable king-sized bed.
At the back of the building there's a nice private outdoor space with picnic tables. On our first night we had clear weather so we sat outside enjoying the star-filled sky, something we don't get to do in Mississauga.
Address: 1550 Road 3 E, Kingsville, ON N9Y 2E5
The next morning we started our trek to build the ultimate guide to goats in Windsor Essex!
Our first stop brought us to Colasanti's Tropical Gardens, a family-run operation started over 80 years ago.  The Colasanti's property is spread over 35 acres with 3.5 acres of that being indoors. The indoor space at Colasanti's focuses on family activities and houses a restaurant, an arcade, an 18 hole mini-golf course, a garden centre, and the very popular Colasanti's petting zoo.
Fifteen greenhouses take up a huge chunk of the rest of the property, growing thousands of cacti and tropical plants. In fact, it was their plant business that helped them survive the pandemic. They haven't quite returned to pre-pandemic levels yet but they're slowly ramping up.
I needed coffee so we grabbed breakfast before exploring. I have a weakness for tater tots and theirs were delicious! They tasted like they were coated with potato chips and then deep fried. We also tried their Doughnut Breakfast Sandwich and their broasted chicken.
After breakfast we headed over to the Colasanti's petting zoo to meet some of the goats that roam around looking for something to eat. Apparently these goats have super hearing because as soon as we dropped a coin into the machine to get some feed they darted over. As you can see my wife was very popular with them.
Address:519 Notre Dame St, Belle River, ON N0R 1A0
About thirty minutes from Colasanti's Tropical Gardens is La Belle Fromage, a cute little cheese shop in the centre of Belle River. Inside the shop we found owner Gia Ataman working on a cheese platter for her daughter's birthday party .
Even though Gia only took ownership of La Belle Fromage in late July, she's no stranger to the area. Her parents own a restaurant in nearby Amherstburg so she practically grew up in the food industry. She has also operated Mangia Cakes for the past ten years. Gia was actually in the financial industry before La Belle Fromage. Talk about wildly differing careers but there's nothing like working for yourself.
I have no idea how Gia and I started talking about beets but we found out that we both dislike them.  She then introduced me to their house-made beet dip and my feelings towards beets have totally changed. It was a delicious mixture of roasted beets, goat cheese, maple syrup, and a few secret ingredients. Sticking with the goat cheese theme she opened up a goat gouda from Mountainoak Cheese and an award-winning goat gruyère from Stonetown Artisan Cheese.  We actually toured Stonetown a while back when we were in Perth County.
La Belle Fromage is the only cheese shop in Essex County and carries cheeses mainly made in Ontario and Quebec, even vegan cheeses. Customers will also find cured meats and dips and spreads all made in-house. For those busy weekday nights you can find premade meals like stir frys, pizzas, pies, and meatballs in her freezers.
There weren't any goats at La Belle Fromage, but we did have some delicious goat cheese so it's going on the list!
Address:1303 Essex County Rd #22 Suite 190, Belle River, ON N0R 1A0
You'd think that after breakfast and a cheese tasting I'd be full but I always have room for more food. We had just started our list and right up the road we found The G.O.A.T Tap and Eatery. As we walked in we met manager Zeina Youssef who seated us and then proceeded to treat us like family.
The restaurant has the casual atmosphere of a sports bar with sixteen screens showing a variety of sports. On the menu we found many items you'd expect to find in a sports bar but scattered throughout were some gastro-pub dishes like Sesame Crusted Tuna, Poke Bowl, and fish and chips made with Lake Erie yellow perch.
Shareable menu items
We started the meal with an Aperol spritz and a red wine sangria. We wanted to try a variety of their dishes so we asked Zeina to surprise us with a few things from the sharable menu. First up were the Golf Balls (deep fried brussels sprouts in a balsamic reduction and sprinkled with chopped pecans). These smelled amazing as they hit the table. The brussels sprouts had some burnt edges and the sweet balsamic reduction worked so well with it. That combined with the pecans made it the perfect bite.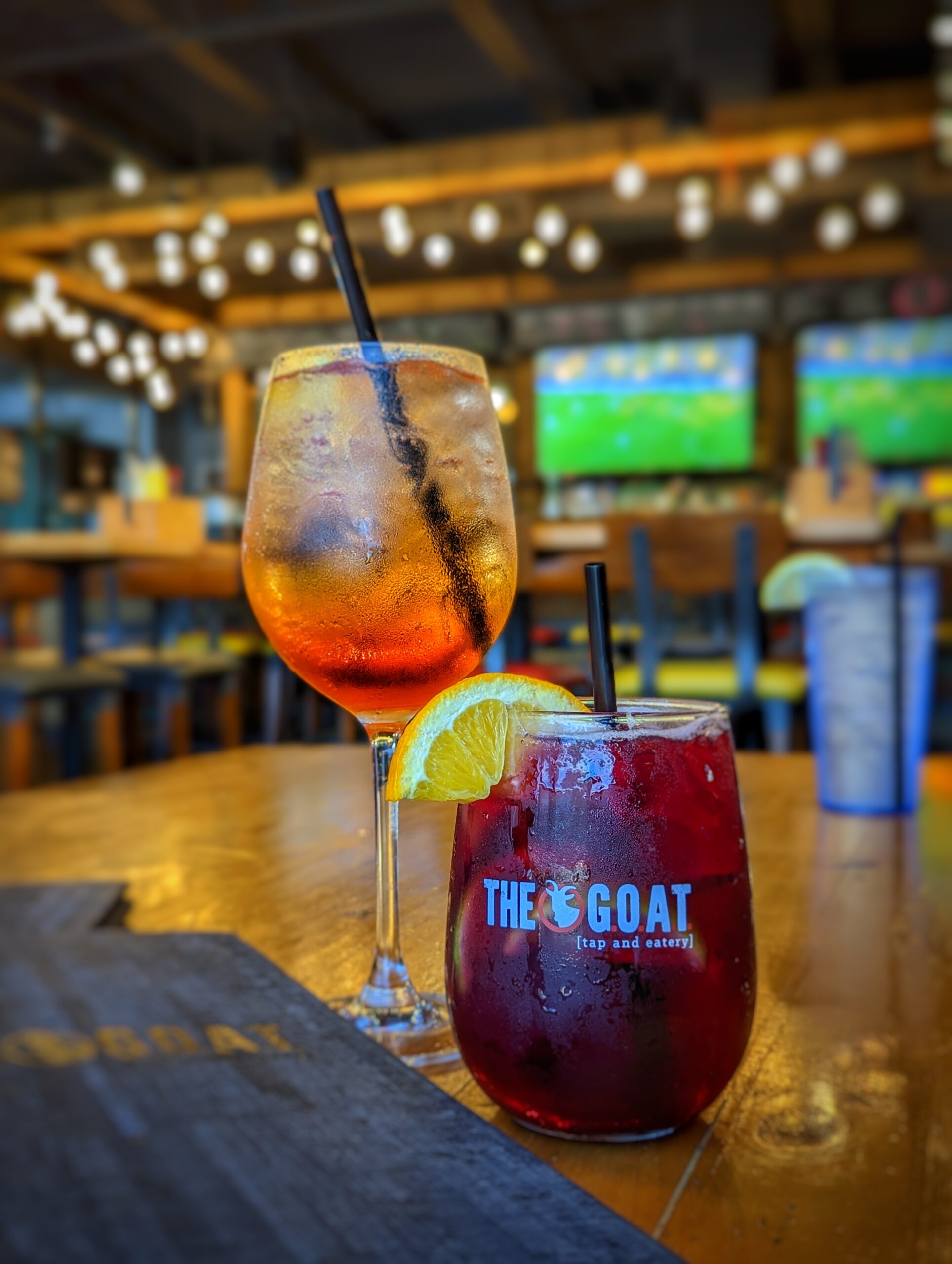 Next up were the Fried Goat Balls and no, it's not what you're thinking! Panko crusted balls of goat cheese were deep-fried and served with a house-made tomato sauce with crispy flatbread. I never tire of goat cheese and I loved the texture of the crispy exterior and warm, creamy interior. The goat cheese wasn't too strong and the tomato sauce tied everything together perfectly.
Zeina thought we still looked hungry, which we weren't but that's how she treats her family, so she brought us an order of their steak tips. My wife doesn't eat beef and I was so happy I didn't have to share this. There were skewers of beef tenderloin and very sweet roasted cherry tomatoes. The steak was so tender and flavourful. I don't know what they did to those tomatoes but they were perfectly roasted and sweet.
Friendly service, delicious goat cheese, and there's the word 'Goat' in its name! The G.O.A.T Tap and Eatery is definitely going on my ultimate guide to goats in Windsor Essex.
Address: 1614 Lesperance Rd, Windsor, ON N8N 1Y3
Believe it or not, our next spot didn't involve food. We headed over to Ocean Bottom Soap Company to check out their lineup of lip balms, lotion bars, and goat's milk soaps.
Owner Charmaine Gillis's journey started when she was searching for a formula for natural products to help with her own skin issues. After a fair bit of research she finally developed a soap that worked. Over the next twenty years her product line has grown and can now be found on shelves throughout the region. Despite the constant growth, all of their soaps are still made in-house, and by hand.
A lot of their products are vegan and they use as many locally sourced ingredients as possible. When they can't find their products locally they then turn to specific offshore suppliers to fill their needs. Their suppliers, locally and abroad, are known for having superior products as Ocean Bottom's priority is to help their customers with their skin ailments.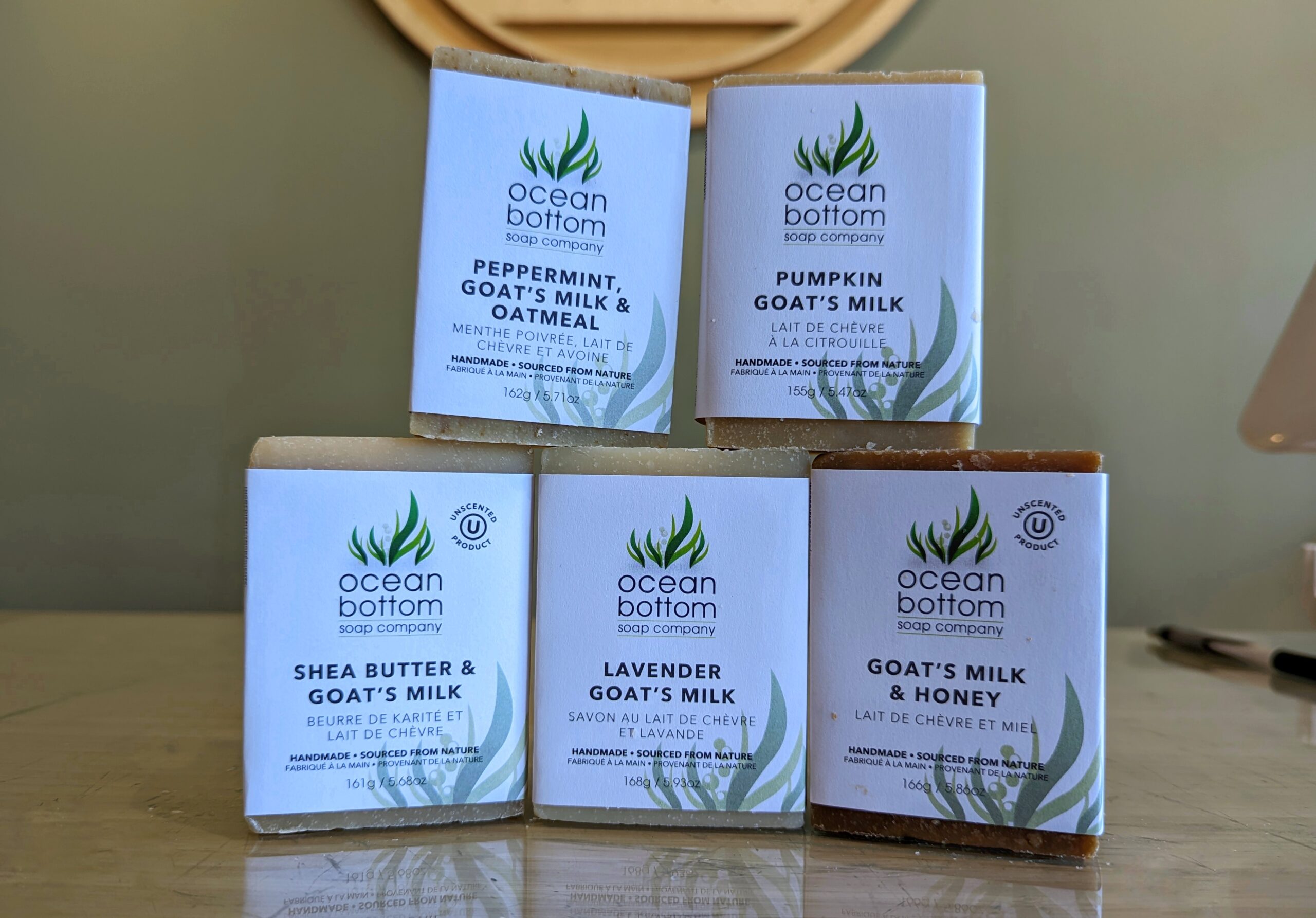 As I said earlier we wanted some handmade goat's milk soap and Ocean Bottom had six different kinds. There are plenty of benefits to goat's milk soap. Goat's milk is known to have a high content of alpha hydroxy acids such as lactic acid, which help break down dead skin cells. This results in skin looking renewed and youthful, which I need! We brought a few bars home and I love using them.
Address: 257 Rd 10, Cottam, ON N0R 1B0
Sunny Britches Acres is a unique agritourism attraction in Windsor Essex run by Nicole Winkels. They're a fully functioning farm but the farm is centered around education, as well as providing a fun environment for children and adults looking to experience a bit of the farm life.
They operate as a hatchery from January to June and then they're open to the public from April to October. Apart from poultry they also raise sheep, pigs, cows, a horse, rabbits, emus and, of course, goats. Their small, but massively cute, goat herd is made up of four breeding does and one breeding buck. The does are Gigi, Pita, Wilma, and Pebbles and the buck's name is Johnny Cash, or Cash for short. Gigi and Pita are Nigerian Dwarf, and Wilma and Pebbles are Pygmy. Cash is Nigerian Dwarf with 1/8th pygmy. Like I said, small goats but massively cute!!
It's no surprise that the goats are the star attraction, especially during field trips. Since they've been handled from birth they're very good with human interaction and love attention. Sunny Britches Acres is looking to start goat yoga next year and guests will be able to practice their Downward Dog with the new babies that will be born in the new year. I've never done goat yoga but I am willing to give it a go, it shouldn't be too baaaad!
Raising goats has definitely been a learning curve for Nicole since they quickly figure out how to escape their enclosures. Thankfully the local farming community has always stepped up with advice. She is a first generation farmer who was raised in the city so she recognizes just how crucial that advice is to the success of the farm.
Address: 7457 County Rd 18, Harrow, ON N0R 1G0
One cannot visit Essex County without stopping in at a few of the wineries that line the narrow country roads. If you're like us, looking for unique places for goats and goat products in Windsor Essex, then Muscedere Vineyards has to be on your list.
Some of the wineries in Windsor Essex are small, family-owned and operated businesses, just like Muscedere Vineyards.  We met with Melissa Muscedere who showed us to a table underneath a large gazebo in the backyard of the family home/headquarters of the winery. Nearby her mom, Pat, was busy cooking pizzas in a wood burning oven and the smell had us salivating! Melissa soon came back with a couple of pies and flights of wine and sat down to chat. It felt as if we were at a friend's house surrounded by their family enjoying a beautiful afternoon with wine, pizza, and good conversation.
Normally when a family goes into business it's the parents who initiate things but not this time. It was Melissa's two older brothers, Fabio and Rob, who first came up with the idea of a winery.
The family owns 163 acres of land in the area and use thirteen of those for their vineyards. In 2003 the first four acres were planted with Vidal, Riesling, and Cabernet Franc vines. Within the next couple of years they added Pinot Noir, Syrah, Merlot, Cabernet Sauvignon, Pinot Grigio and Sauvignon Blanc over eight acres. Finally, in 2008 they planted one acre with Barbera and Nebbiolo vines, which are used to make Barolo wines. All of the grapes for their wines are hand-harvested to ensure that only the best grapes are picked.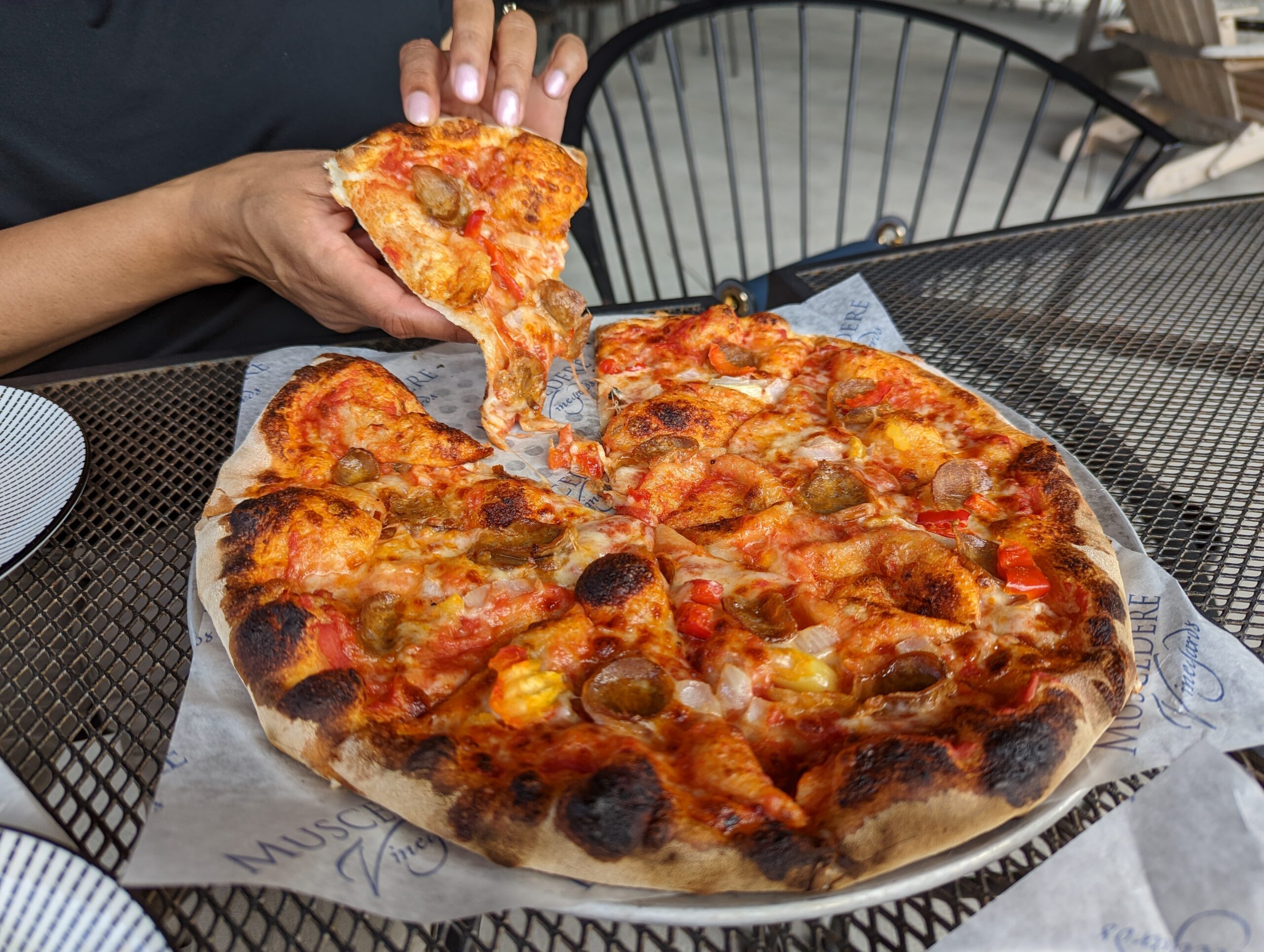 More Than Just A Winery
As I mentioned before, visiting this Windsor Essex winery feels like visiting a friend's house. Melissa told us about her mom's love for animals and that was evident as we explored their massive backyard. As we walked around we found a couple of pens with chickens. There are also cats that roam the property and a huge fluffy bunny, but the stars of the show were Savvy and Marla, the two goats. My wife brought her goat whispering skills with her and soon had them literally eating out of her hands.
The Muscedere family has figured out how to make their Windsor Essex winery a family-friendly destination. The animals, the gelato, and the pizza can keep the little ones entertained while the parents sit back and relax with a glass of wine. I wish I had known about them when my kids were younger!
Muscedere Vineyards is another fantastic addition to our ultimate guide to goats in Windsor Essex.
Address: 1833 Wyandotte St E, Windsor, ON N8Y 1E2
One of Windsor's most popular restaurants is The Twisted Apron and it takes just one look at their menu to see why. Unlike other restaurants they're open on Mondays so that definitely helps to get people talking about you.  The menu runs the gamut from traditional French toasts and eggs benedict to items with a twist like the Dirty Bird: Brioche French toast topped with fried chicken, BBQ sauce, sour cream, hot sauce, and fried jalapenos.
The Dirty Bird was calling out to me because I love anything with jalapenos but I decided to be slightly healthier and go for their Avocado Smashed Toast.  Remember I said they take traditional dishes and add their own twist? This is one of those dishes. They took a traditional avocado smashed toast then added sautéed mushrooms and onions, topped it with a crispy poached egg and drizzled chili oil over everything. I added an extra twist by asking for goat cheese and bacon. My taste buds were very happy after that first bite.
My wife went with the sweet and savory route and ordered the Chicken n' Waffles. Again the chefs added their own twist by topping it with poached eggs, bacon, and house made hollandaise. The eggs and hollandaise sauce made this a very rich and tasty dish. Needless to say after that breakfast we decided to skip lunch.
These past couple of years have been tough for the restaurant industry and The Twisted Apron was no exception. Owner Kate Robinson chose to keep her doors closed even when they were allowed to open for takeout so that employees could be with their families. It has been tough but now that there's a sense of normalcy her customers are coming back in droves.
Address: Windsor, ON N9B 1E8
This might come as a surprise to some but I do enjoy art, preferably outdoor art. I'll gladly walk the streets of a city to take in murals or interesting sculptures. I heard about a special sculpture at the Windsor Sculpture Park and since we were on a quest to build the ultimate guide to goats in Windsor Essex we headed over. I also needed to walk off that breakfast we had just finished.
The Windsor Sculpture Park is open year-round and features 31 large-scale sculptures by world renowned artists. It's located along the shore of the Detroit River, almost in the shadow of the Ambassador Bridge.
The thing that I loved about the Windsor Sculpture Park was that the sculptures could be classified as being modern. Each piece looks to be intentionally different and that makes it even more enjoyable. The park was made possible through the generosity of Mr. Louis Odette, a businessman and philanthropist. Mr. Odette was also instrumental in creating the Toronto Sculpture Garden. Initially known as the Odette Sculpture Park, the name was changed at the request of the Odette family back in 2012.
Remember that special piece that I mentioned earlier? Yep, it's a sculpture of a goat called Billy Goat Spring and was a gift from the City of Lublin in Poland, Windsor's twin city. It celebrates the hundredth anniversary of the Polish community in Windsor.  It's a goat so it's going on our ultimate list of goats in Windsor.
By far, the most popular sculpture in the park is Tembo by artist Derrick Stephan Hudson. Tembo is a sculpture of a three elephants. The huge mother elephant is in front and followed by her two babies. Each year the city's recreation department hosts Tembo Wash Day, an event where kids can come down to the park to wash the elephants. It's a great way to get the community to come out and learn about the amazing Windsor Sculpture Park.
Address: 110 Chatham St W, Windsor, ON N9A 5M6
Who would've thought that I'd be able to find curry goat in Downtown Windsor? Diva's Delite Caribbean and Canadian Cuisine opened their doors in August of 2021. For owner Earle Baker, the plan was to open before the pandemic but the shutdowns put those plans on hold.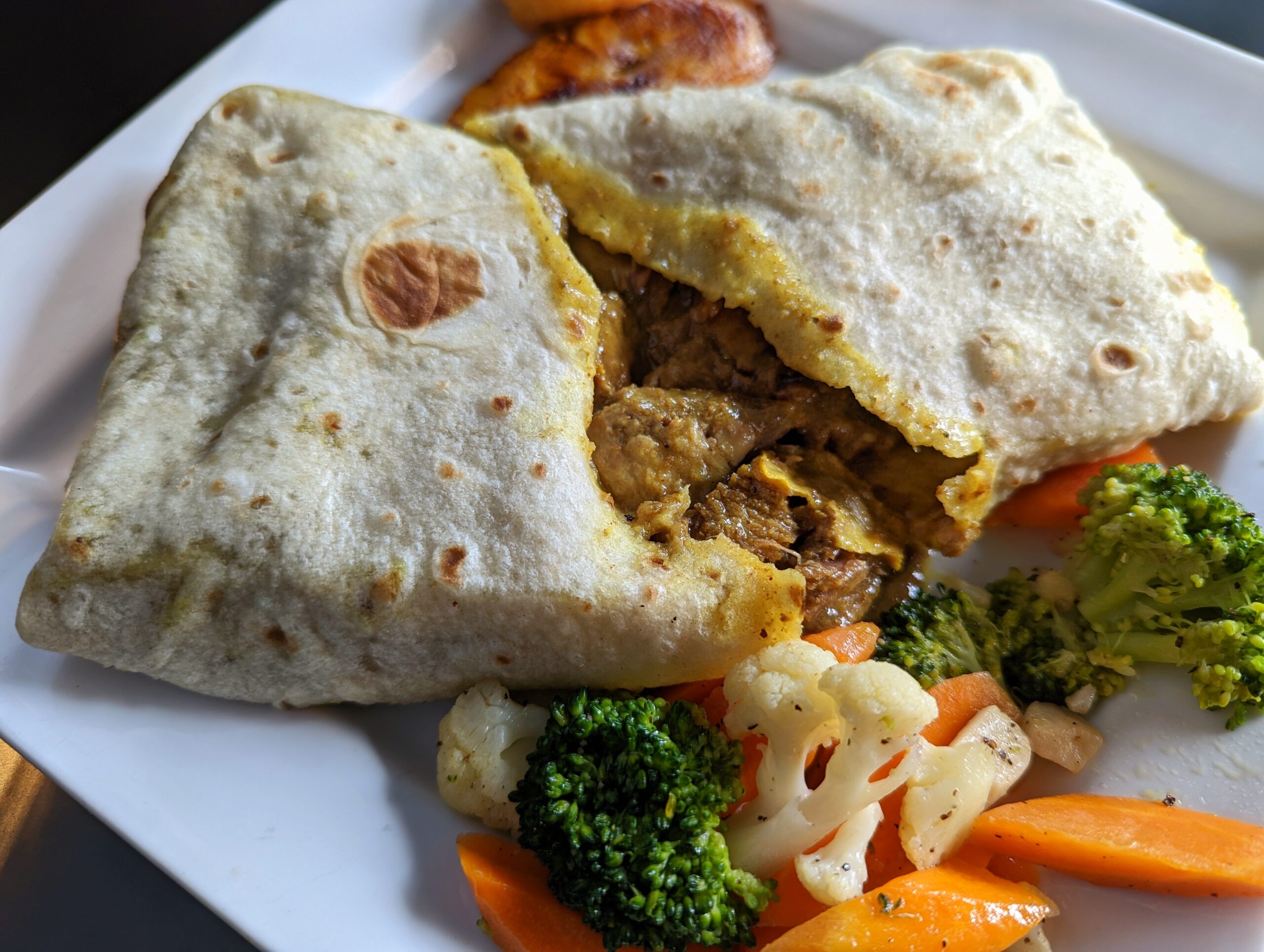 This is another restaurant that's open on Mondays and can get especially busy during the lunch hours. My go-to order from a Jamaican restaurant is jerk chicken but this time I opted for the curry goat (we were doing a goat's guide, after all!). The meal came with a plate of curried goat, vegetables, festival (Jamaican deep-fried bread), and fried plantain, with a bowl of rice and peas on the side. I have to say that goat was some of the most tender goat I've ever had. The curry permeated each piece and the bones just made the gravy that much richer. It was a lot of food and I had to save some for dinner.
My wife got the goat roti which came with also came with a side of vegetables, festival, and fried plantain. The goat was boneless, full of flavour, and very tender. We haven't had a goat roti from a restaurant in a while and this was quite tasty.
Conclusion
As you can see there is a lot more to Windsor Essex than it being a border city. There are fantastic farms, restaurants, and best of all, people who will welcome you and gladly spend time telling you their stories. It's a region where by day you can explore its country roads, stopping in at a local winery or shop, and at night sit outside in a comfy chair with a special someone staring up at the star-filled sky.
Disclaimer: This blog post was sponsored by Tourism Windsor Essex Pelee Island so we could share our experience in the region with you. As always, opinions are my very own.
---