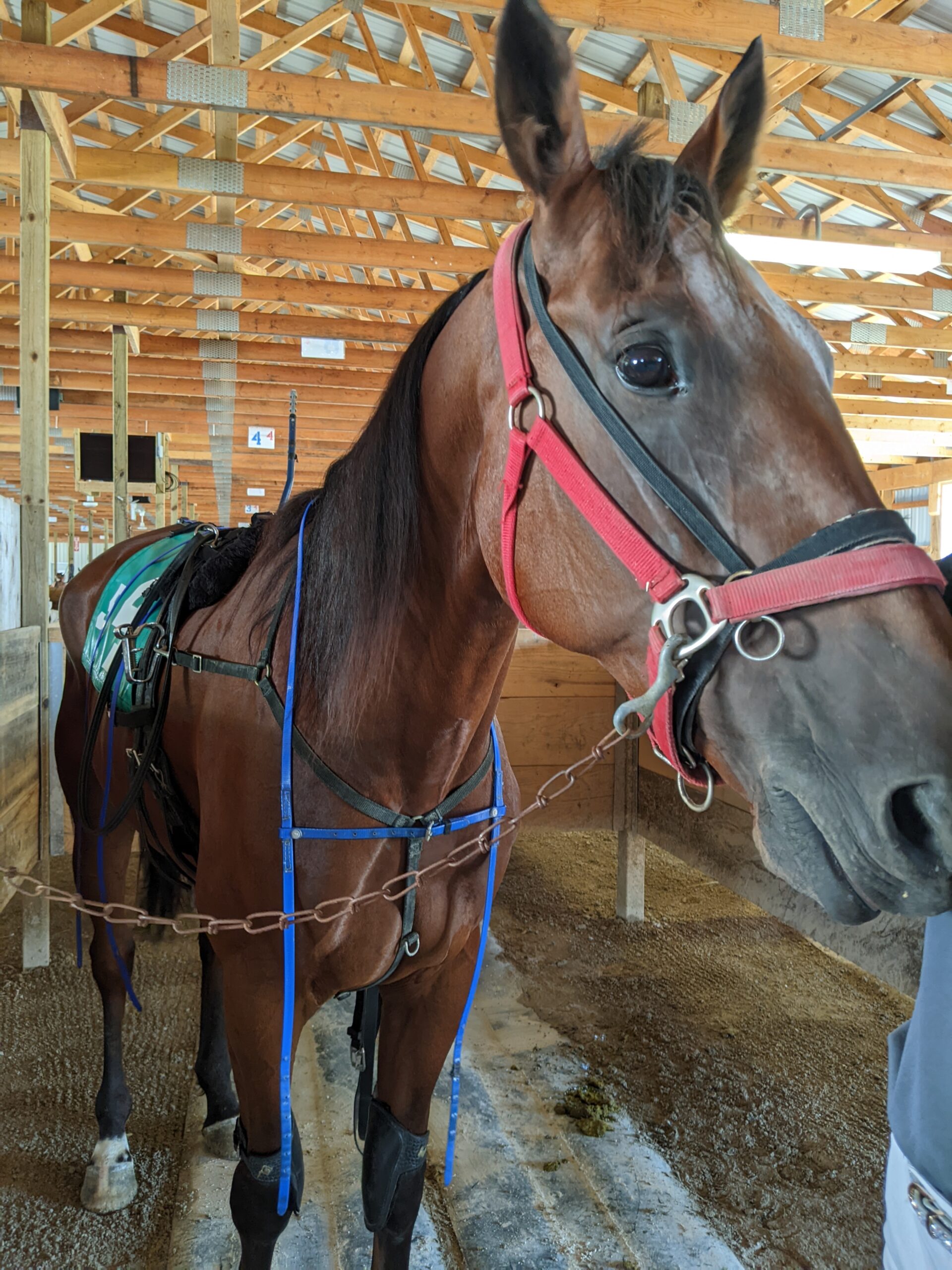 Friday September 9, 2022
Off To The Races
By Nathan Carr
When I think of horse racing, I am brought back to a time when I was much younger.  My grandparents lived down the street from Windsor Raceway and I recall many a nights of watching cars line up and pour in and out of the parking lot through the 90s.  Sometimes I would see horses running around the track warming up in the afternoon. On a few occasions I got to go take a closer look with my parents.   That said, my adult experience in going there was very brief as an eighteen year old with less money than knowledge of the sport.  Not a great combination. However, years later I have found a rebirth of that excitement and I found it on Sunday when I headed off to the races at Leamington Raceway!
It was a going to be a busy day, so I wanted to make sure I was properly fuelled up. I hit the road for my first destination to grab some breakfast at the The Grove Brewing Co.  That's right, The Grove Brew House does breakfast on Saturdays and Sundays starting at 9AM and what a breakfast it was! I started with a delicious Grove Beermosa (made with their Paradise Lager and orange juice) and then feasted on bacon, eggs, sour dough toast and home fries.
Everything came out hot and tasted great! It was honestly exactly what I needed to fire myself up. Plus I can't say enough great things about their new location. The atmosphere in there is spectacular, its a great vibe and an excellent spot to catch a game or even some morning highlights. I laughed to myself as I geeked out over their sports ticker (score board) of all things. The staff was friendly and fun as well. I'll definitely bring the family out for some more morning mimosas soon.
I knew my next stop was going to be a real adventure, and a first of it's kind for me.  Kayaking!  As soon as I arrived at Pelee Wings Paddle Sports, I was greeted with a big smile and handshake from Eric, he couldn't wait to get me started. We chatted briefly about my minimal paddling experience, went over some of the ground (or water rules in this case) and he even took the time to demonstrate some techniques I could use to further improvement my experience. The main takeaway here, he made me feel comfortable with taking on this new challenge. In fact I later learned that many people who come out here are often first timers too! They have lots of ways you can hit the water, no matter what your skill level and plenty of suggestions for adventures you can enjoy while you're out there. I won't lie to you, I may have got bitten by the kayaking bug. I started out being a bit nervous and hesitant, but the more time I spent out there (which really was no more than an hour) I quickly started having a lot of fun and wanting to go further and further. I can't imagine that a first time experience could go much better than that. I'll be back again soon and again after that.
Back on dry land and after a quick change of clothes, I returned to my car and took the short drive to Leamington Raceway. Lynnette handles the MC duties on race day and it's easy to see why as she greeted me with a great big smile and loads of energy. There is a real passion with the team that works here and it was evident throughout the day in all areas of my tour. Everyone is full of knowledge, well organized and communicating to put on a special day for not just those in attendance, but for everyone involved. I was kind of blown away on how everything comes together, and as we walked through the back stretch where the horses get ready to race, a quickly realized that his is a huge undertaking and it takes a heck of a lot to pull off. There are a lot of rules on race day and everyone is busting their butts to ensure they are followed.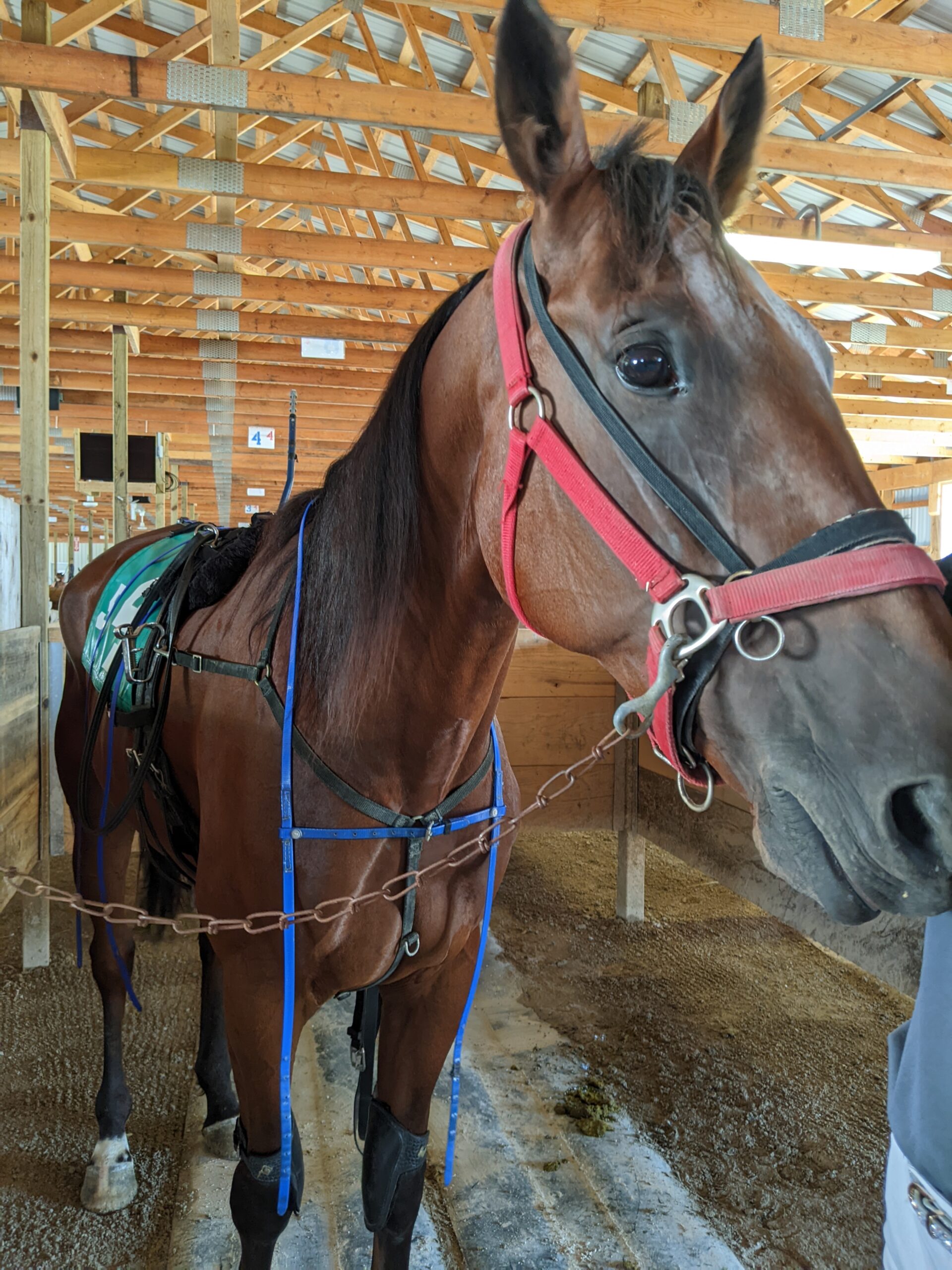 I even got to see where the real magic happens and one of my favourite parts of the tour, the announcer booth. Nathan Bain is so incredibly talented at what he did that it kind of rocked my world to be hearing he's been calling races since he was 12 years old. He's 20 now, and his years of experience show. The time he takes in preparing to call a race and pass along as much information has he can to the live spectators and those watching online is incredible.  Yes you catch watch a live stream and make your wagers online and that's something that is carefully planned out and given attention to by Nathan as other races (often many of them) are happening at the same day and within the same time frame. Organization is key to keeping things on track and bringing in the bets for every single race.
Naturally as I was in attendance for the first time, I wanted to place a wager of my own.  I came out of the blocks strong in Race 1 and took a horse named Pink Monster to win… it happened and the race to the finish line was exhilarating to watch live at the fence.  It really did hook me in. Having walked by these horses in the backstretch and see them getting ready gave me a strong appreciation for what goes into getting out there on race day, and I loved every minute of living through it right alongside everyone. I would gladly bring my family out knowing that they would enjoy this show. There's food, drinks and lots of seating to accommodate different views of the track.
Here are a few of my main takeaways from my first visit to Leamington Raceway.
There is a ton happening behind the scenes that make this day feel so fluid and easy to be part of. The easiest part is coming out with the family and having some fun. It's a free event to get into and the races start at 1pm. (Raceway opens at 10am, come early if you want)
The program for placing wagers was easy to follow along with, and if you have questions the staff has answers.
The coverage and information you get from Nathan doing the announcing and Lynette's interviews/crowd interaction is fantastic. The kids can often get involved too. You'll learn something and have fun while doing it.
Check there schedule online, there are lots of fun events coming up including a Kids Day on September 4th, $100 Press Your Luck Game on September 11thand the Wiener Dog Races on October 2nd!
Passion and care are running at optimal levels here. The people behind this day made me the biggest fan. I will gladly share my experience with so many others now and encourage a visit here. Lots of laughs, smiles, and a heck of a lot of yelling at times (gotta cheer as loud as you can), even if my voice today is a little….hoarse.
My final stop of the day was at Cured Craft Brewery.  No, I did not ride a horse over.  Though it was really not to far of a commute…maybe I could have made that work?  The staff here was friendly and the food and drink selection, amazing! While I have had a few beers from Cured in the past, I'd actually never been out to sit on the patio. Let me tell you, this was the perfect day for it.  It was sunny, hot and perfectly shaded under the umbrella. I decided to try a flight of their seasonal beers and they were all very enjoyable, especially the stand out for me on this day…The Screechy Wheel Sour.  All the samples complimented my Steak & Cheese Pizza (to die for) extremely well.  So well in fact, I had another pint before stocking up and saying goodbye for the day.  I could have honestly sat out there until closing time (Sigh)
I know exactly where I'm coming, next time I head back off to the races!
Check out Leamington Raceway's website for a full event schedule.