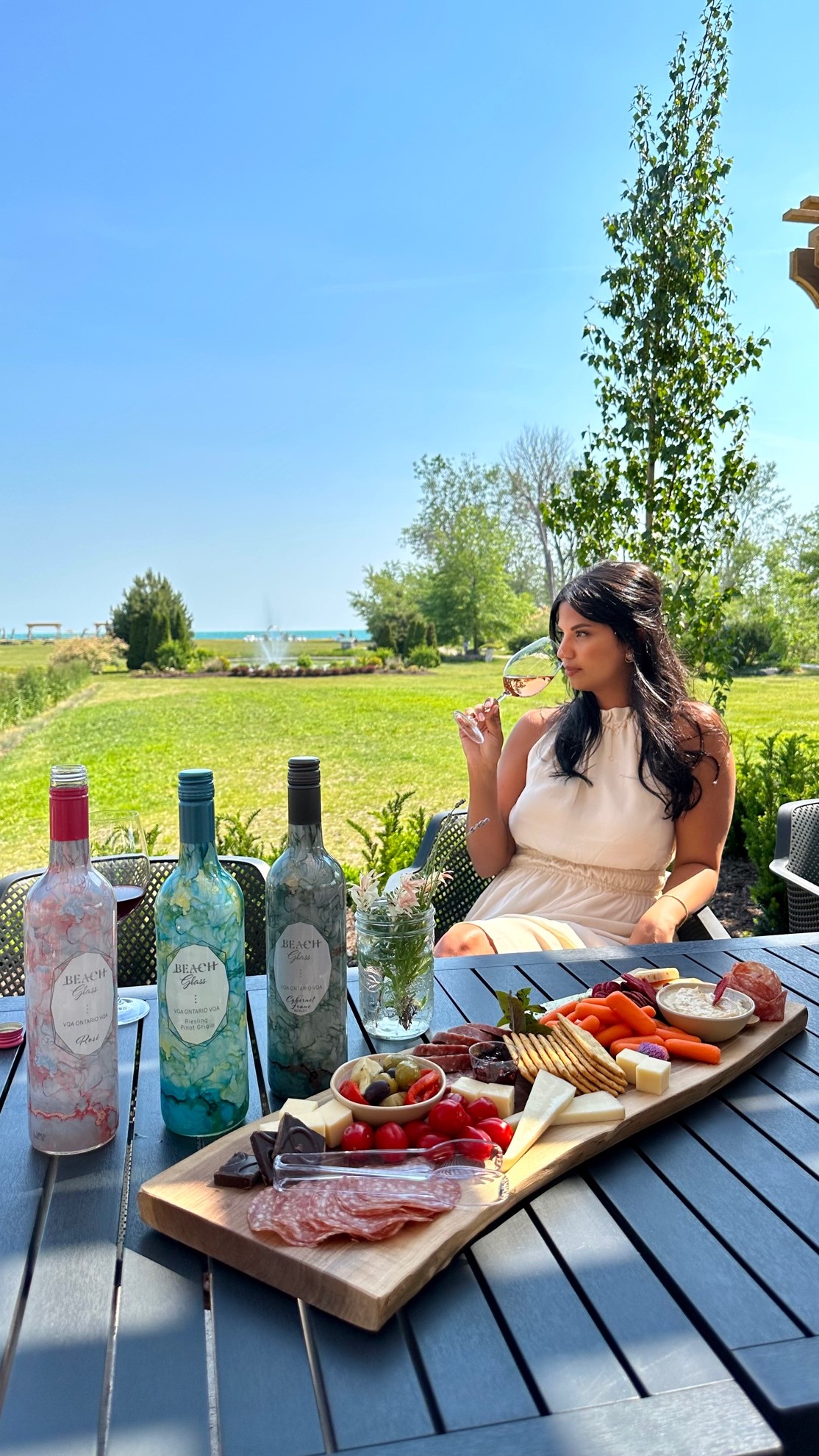 Tuesday June 27, 2023
The Ultimate Guide to Windsor Essex for Wine Enthusiasts and Food Lovers
Windsor Essex is home to many charming wineries and award-winning restaurants. This region is not only known for breathtaking scenic views but also for its exceptional and diverse culinary scene.
I promise, you'll have an unforgettable culinary experience as you explore the art of wine and food pairing in the wine country. 
Whether you are a wine enthusiast or a food lover, you must plan your next trip to Windsor Essex this summer! A short flight with Porter Airlines from Billy Bishop Toronto City Airport will take you here in no time – or, if you are feeling adventurous, you can plan a scenic road trip. We hopped on a quick Friday morning flight (under one hour!) and flew into Windsor International Airport. The flight was relaxing and refreshing – Porter Airlines elevates the experience of economy air travel for every passenger. Porter's signature in-flight service features complimentary beer and wine served in glassware, along with a selection of premium snacks and two-by-two cabin seating – meaning every passenger enjoys more personal space with no middle seats! Porter Airlines was the perfect way to kick off our weekend getaway!
WHERE TO WINE
This winery is in Harrow, Ontario and on the north shore of Lake Erie. The outdoor tasting patio is surrounded by vineyards and a serene setting for wine tasting – with a warm and welcoming atmosphere and a stunning tasting room and outdoor patio, you'll never want to leave this place!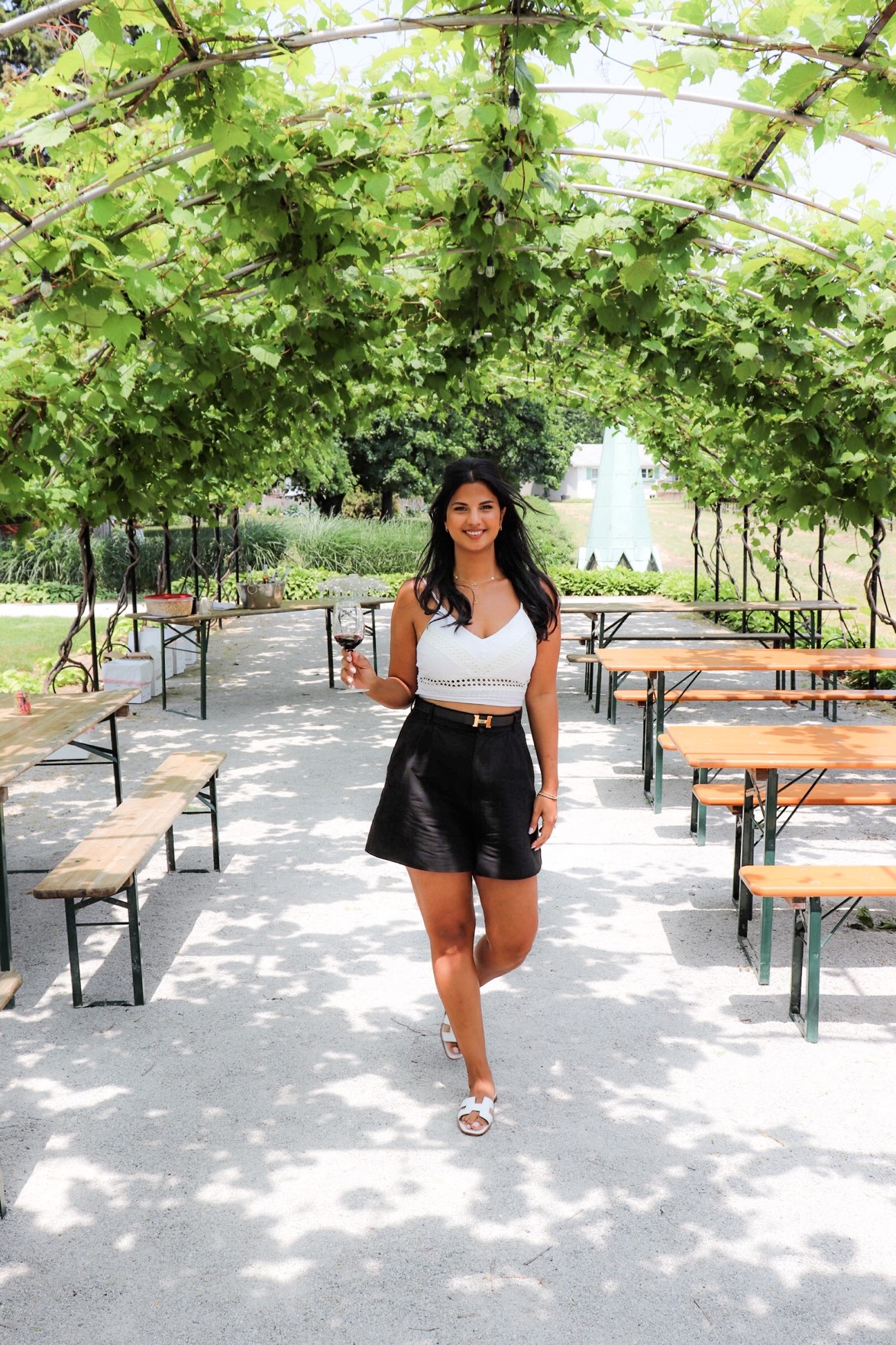 Muscedere Vineyards is a family-owned winery located in the heart of Essex County. Believe me, you will not run out of things to do at this winery! From wine tasting and enjoying a wood fire pizza on the patio, to visiting farm animals in the vineyard, there is something for everyone to explore! 
This winery has a beautiful outdoor tasting patio overlooking the vineyards, where you can unwind and taste Muscedere's award-winning wines.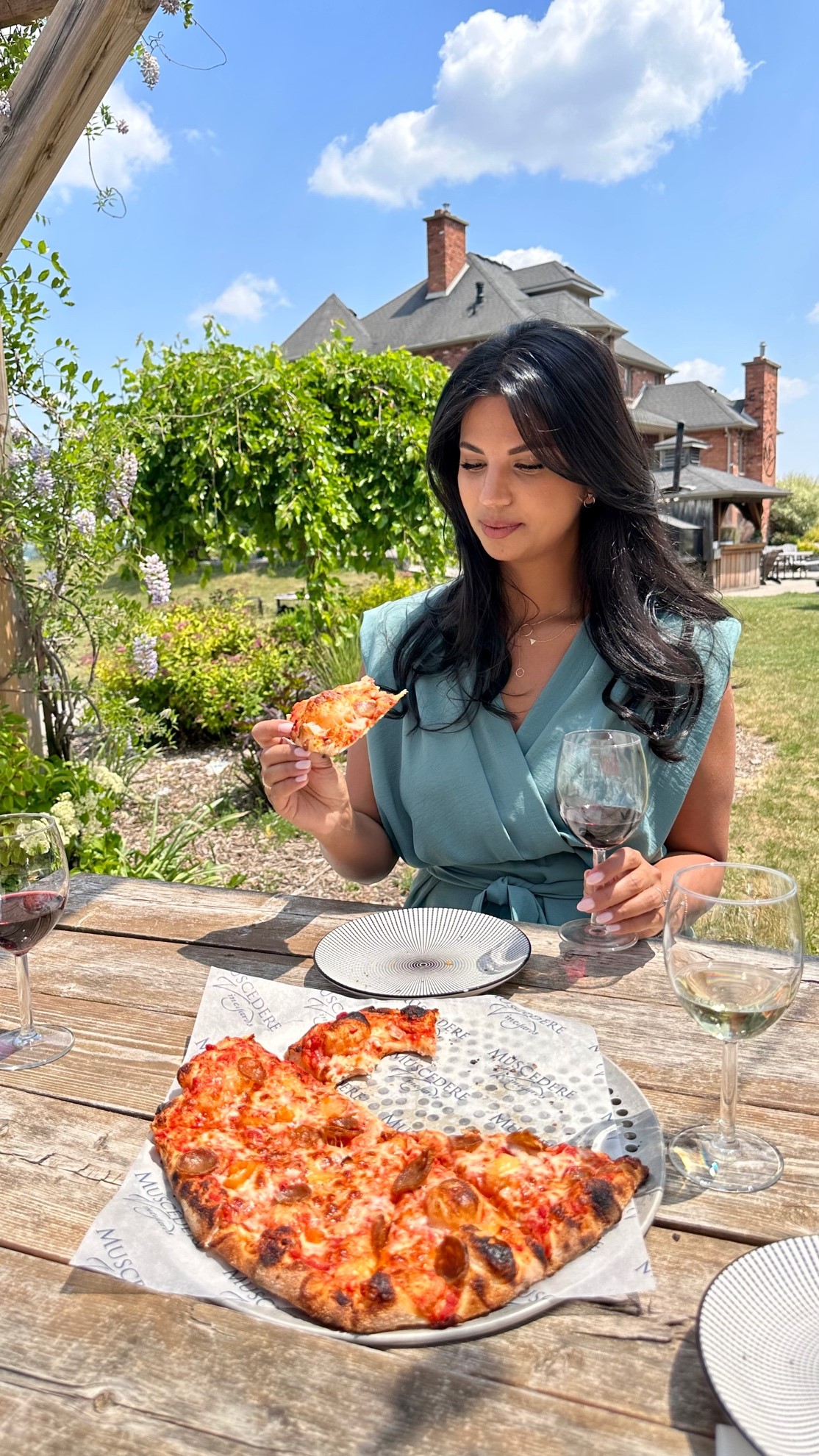 Colio is one of Ontario's first wineries with a history of producing high quality and award-winning wines in Ontario. We had the opportunity to meet the winemaker and learned a lot about producing cold climate wines in the region. The staff at Colio is knowledgeable and passionate about wine making and eager to share their insights with you. 
Sprucewood Shores Estate Winery is known for being the only beach front winery in Ontario. Located in Amherstburg, Ontario, this picturesque winery is a must visit in Essex County! You will fall in love with their outdoor patio and a serene setting surrounded by vineyards and breathtaking views of the lake. The panoramic views of the vineyards and Lake Erie, creates a perfect setting for sipping wine and enjoying the beauty of the vineyards overlooking the water.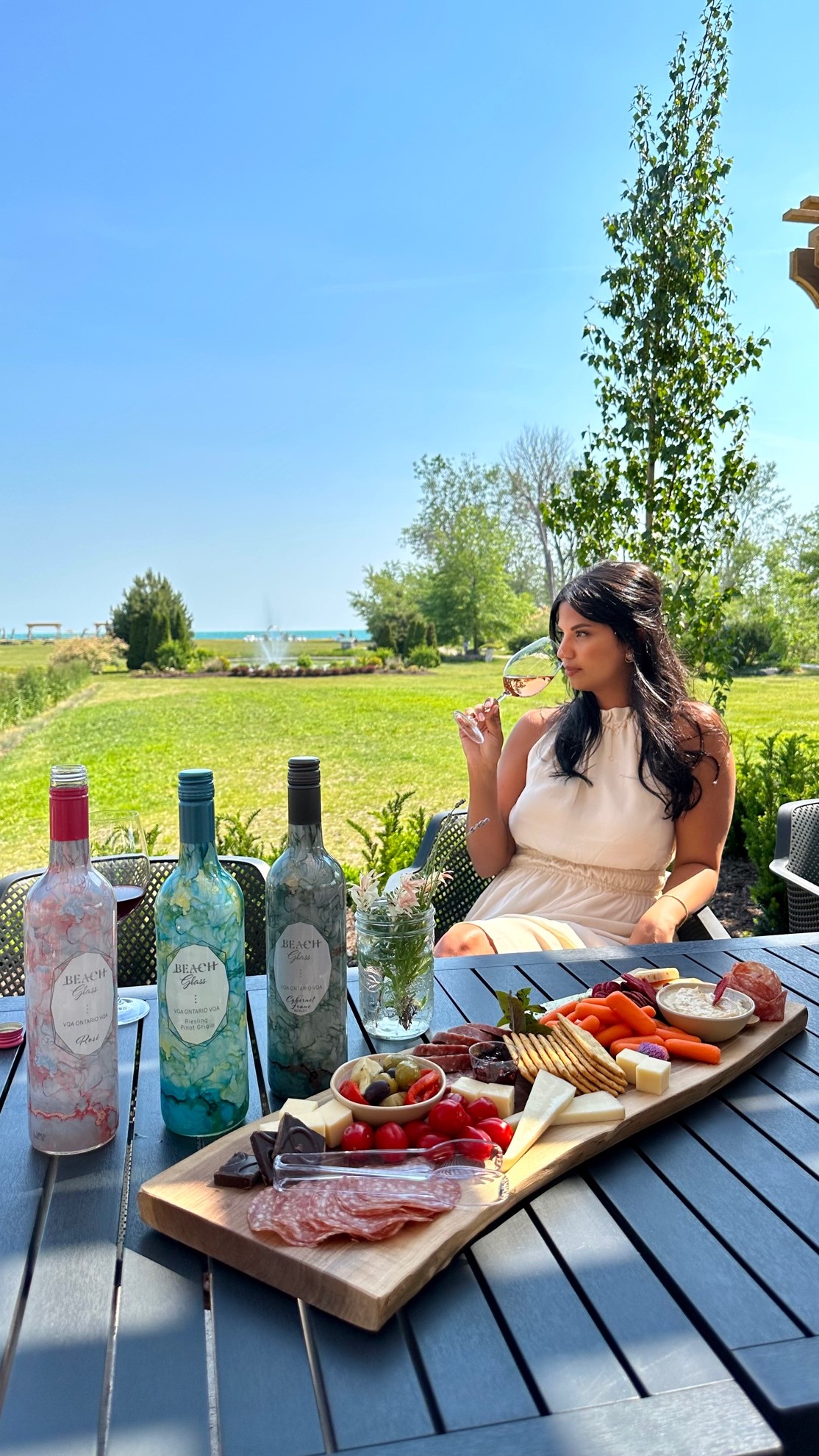 Cooper's Hawk Vineyards & The Vines Restaurant is a unique destination for food and wine lovers! This winery offers a wide selection of high-quality wines and ciders, complemented by the food offerings at their full-service restaurant. You can enjoy a wide range of options, including seafood, steaks, pasta, and vegetarian dishes. If you are visiting Cooper Hawk's Vineyards, make sure you plan to have lunch at The Vines Restaurant before or after your wine tasting.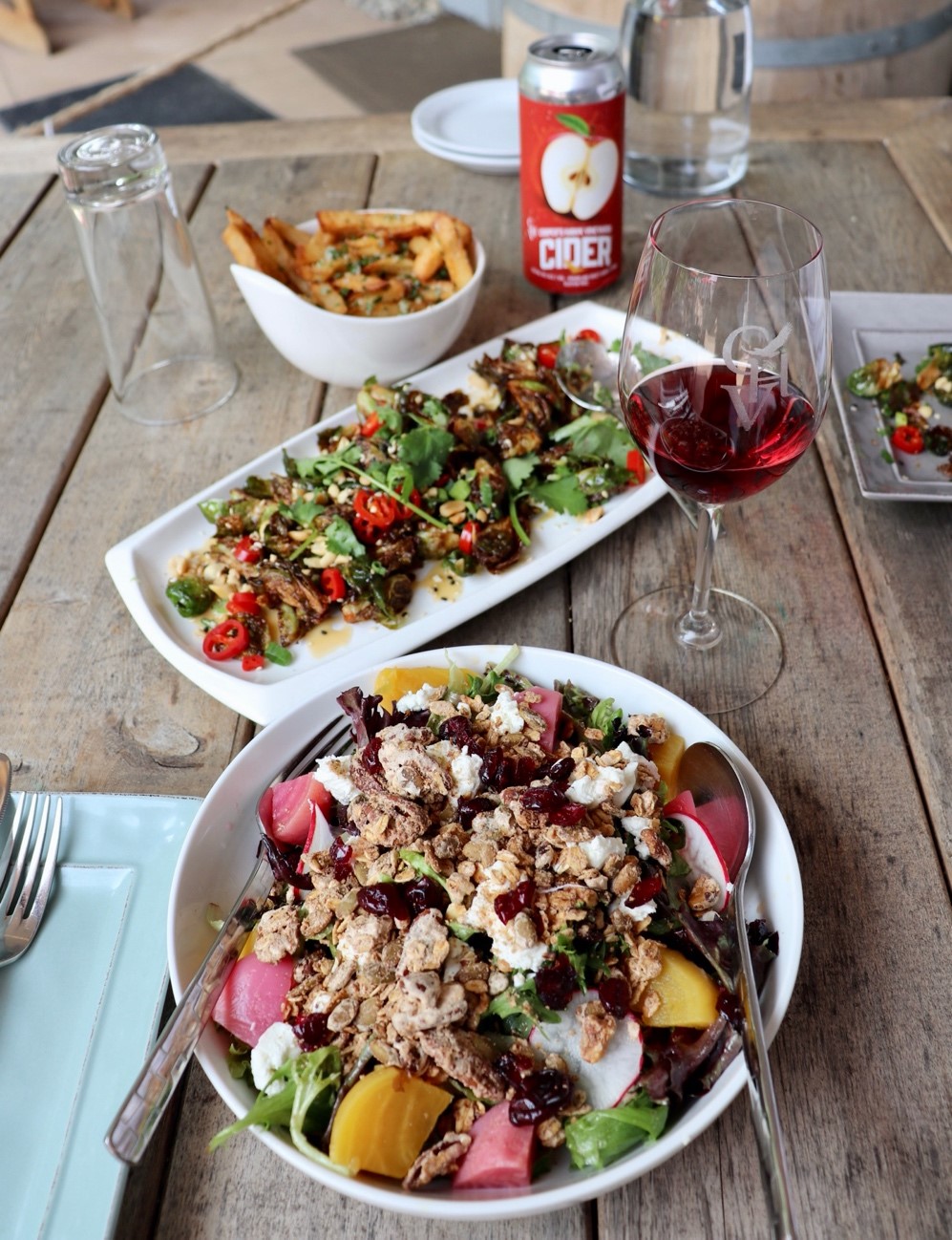 Pelee Island Winery is a must visit destination in Windsor Essex. The vineyard is located on Pelee Island, the southernmost point of Canada. Pelee Island Winery is one of the oldest, and most famous wineries in the region. It's also one of the largest estate vineyards in Canada!  
If you are planning to visit Pelee Island Winery, make sure you book a guided tasting tour that'll take you to the barrel room where you can see the original barrels from 1980s. 
Whether you are a wine enthusiast or simply seeking a tranquil escape in a beautiful outdoor setting, VIN Winery is a must visit destination in Windsor Essex. Nestled in the woods, you'll feel at peace as soon as you walk in!  
VIN winery is the newest winery in Windsor and home to BREW Microbrewery. They have a unique selection of wines and beers complemented by their delicious bites on their food menu. I promise, you will not regret trying their Ahi Tuna Wanton Nachos or Smokey Brisket Board!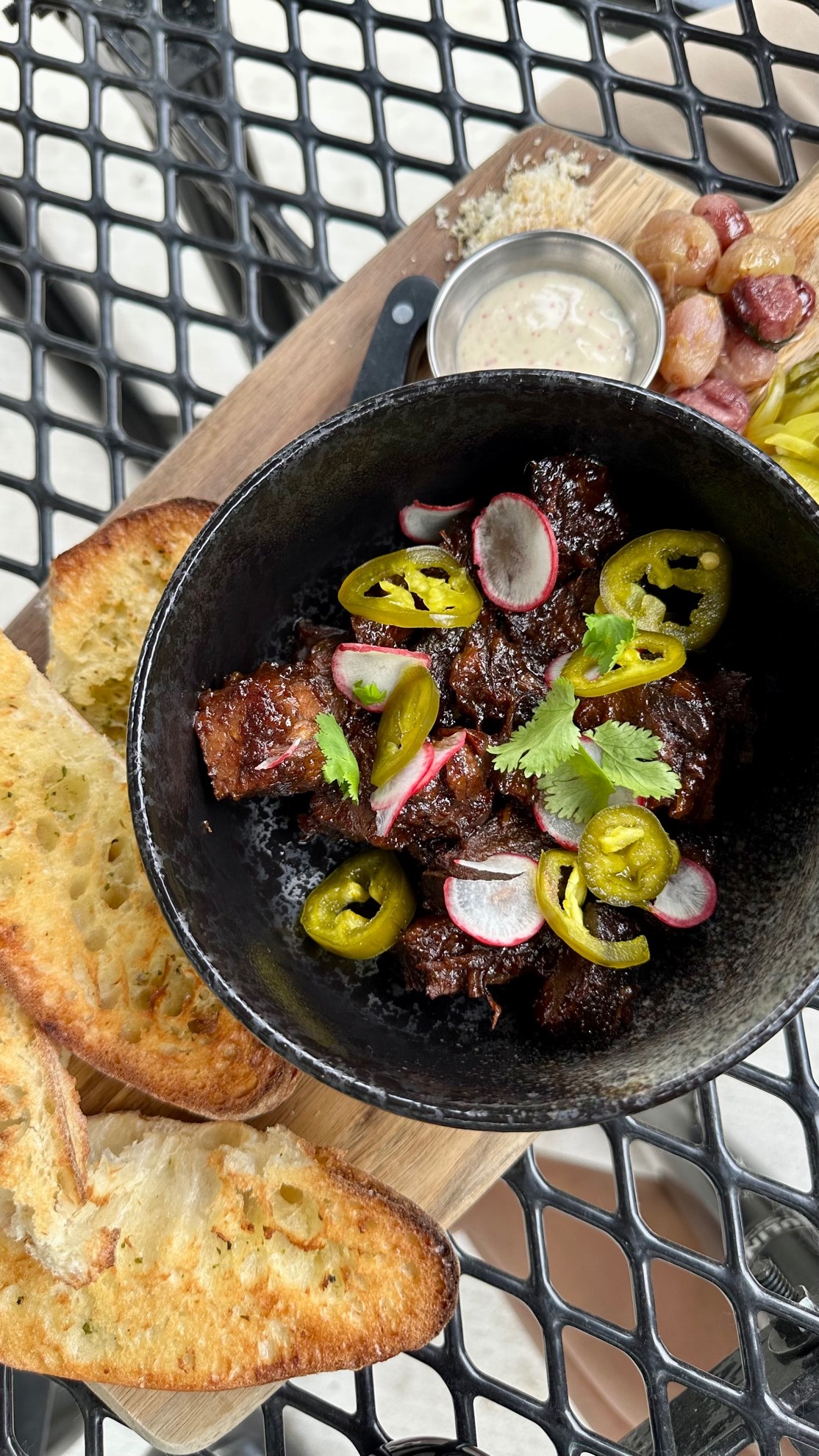 This stop is for Apple Cider lovers! This year, Carolinia Cider Co introduced its first fermented apple ciders made from apples grown exclusively at The Fruit Wagon Farm. I highly suggest visiting the cider bar to try a flight of their apple ciders.  
The Fruit Wagon is more than a farm and it's magical during apple blossom season! 
They also offer seasonal fruits and vegetables throughout the year and make their own infused apple cider vinegars that you don't want to miss. We bought a few bottles to take home to use as salad dressing. 
WHERE TO DINE
With a rich farming and agricultural history, Windsor Essex is committed to using locally sourced ingredients and offering farm-to-table dining experiences. From unique dining experiences to fine dining restaurants, you'll have a wide range of options to choose from.  
Located in the heart of Amherstburg, you will fall in love with a warm ambience and an outdoor dining experience at Artisan Grill. The menu at Artisan Grill offers a variety of dishes from burgers and pastas to seafood – Make sure you are hungry, because you´ll want to order everything on the menu!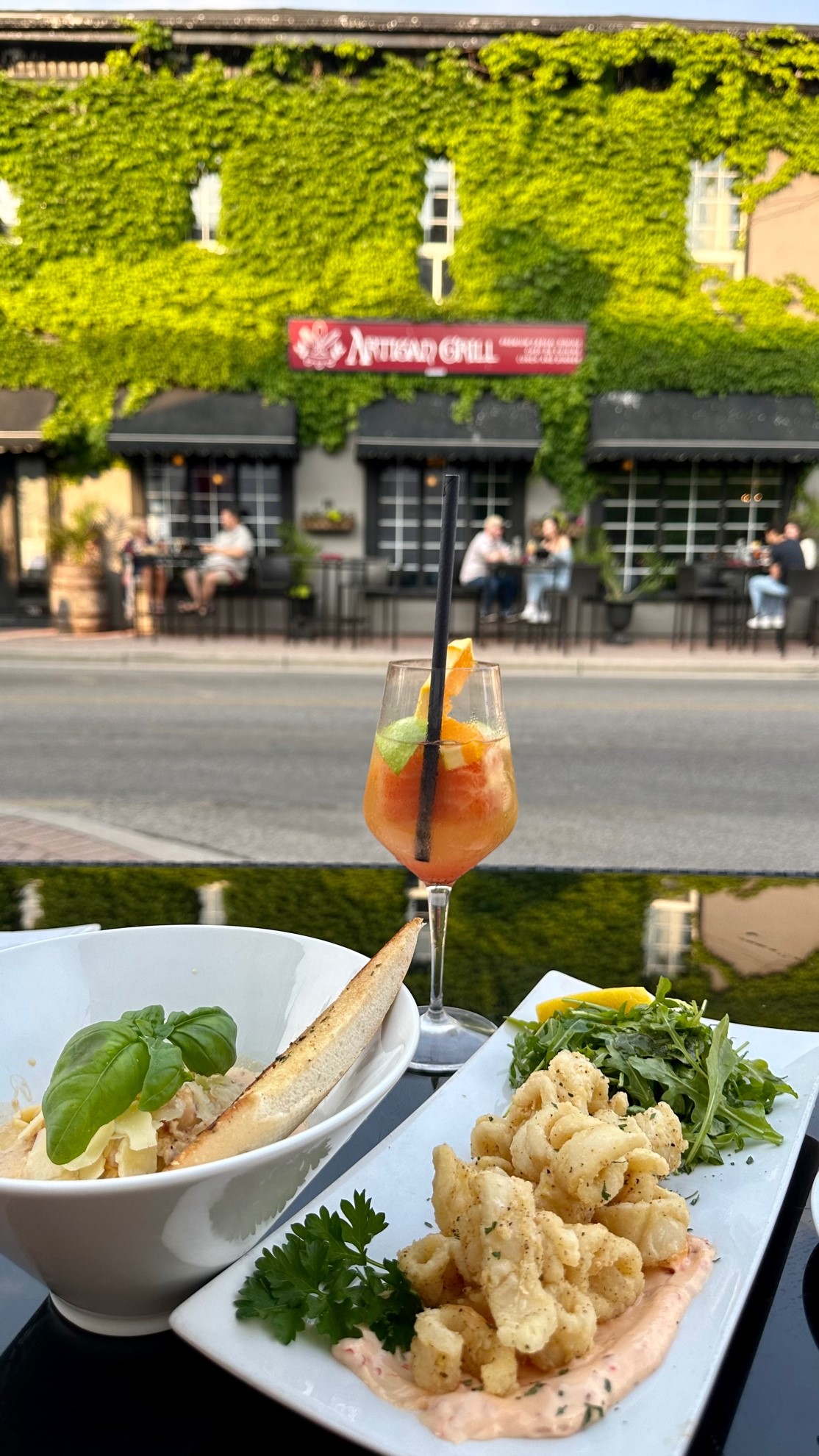 The Beach House Grill is a hidden gem in Kingsville, Ontario with a warm and welcoming beachside atmosphere. Known for their extensive breakfast, lunch, and drinks menu, you'll have plenty of options to drink. eat. repeat! 
Located in the heart of downtown Kingsville, Ontario, Taphouse 127 offers a lively and welcoming atmosphere that you don't want to miss! They often host live music events, creating a vibrant and fun experience.  
They focus on farm-to-table, high-quality and innovative food creations with a wide selection of craft beers from local breweries. If you are planning to visit Windsor Essex County, you must stop by Taphouse 127 to try something unique from their menu, grab a drink and enjoy their live music performance.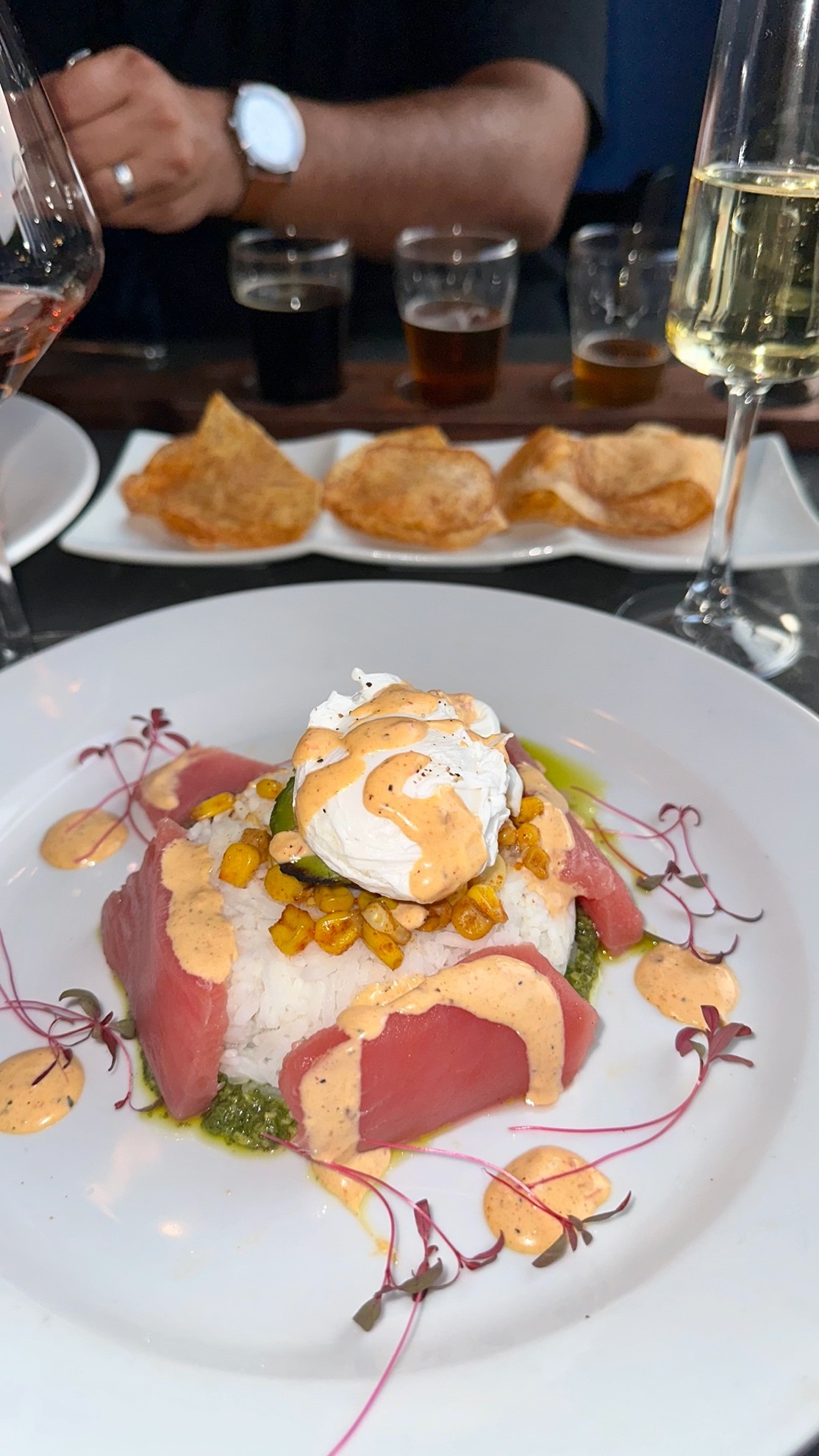 If your day doesn't start until your first sip of coffee, you must visit JOE. HOT + COLD where you will have the ultimate specialty coffee experience. They have an outdoor patio and a modern indoor seating where you can enjoy your morning coffee with fresh pastries. This place is a vibe you don't want to miss!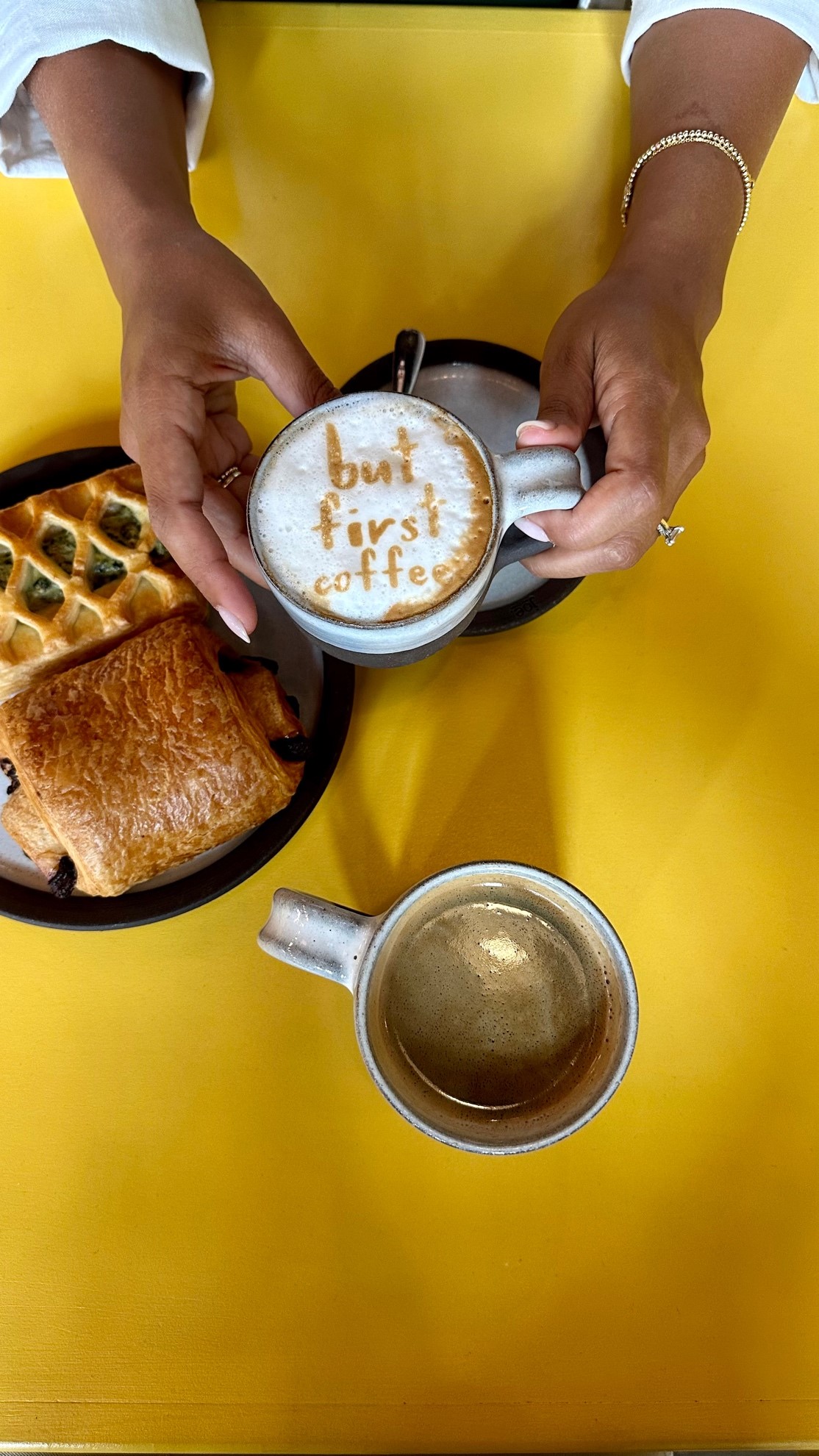 WHERE TO SHOP
Visiting Cindy's Home & Garden was the highlight of our trip! You must stop by to visit their gift shop and olive oil and balsamic tasting bar. With over 60 flavors of extra virgin olive oil and balsamic vinegar, don't be surprised if you leave with more than a few bottles! 
Priscilla's Presents and Here's the Scoop is a hidden gem in the heart of wine country. They have a huge collection of unique and inspiring decor and gifts for any occasion. Stop by this place to browse, shop, or grab a scoop of ice cream! You will have an unforgettable shopping experience and leave with something unique and memorable to take home. 
WHERE TO STAY
Best location! This farm inspired and cozy Inn is the heart of downtown Kingsville and steps away from bars, restaurants, coffee shops and more! If you are looking for a central location, I highly recommend staying at the Green Heart Inn. This spacious Inn has a full kitchen, two bathrooms and two showers, a large living room and dining room and five individual bedrooms which makes it perfect for big groups or families. If you are staying at The Green Heart Inn, make sure you visit the Green Heart Kitchen to pick up your morning smoothie, freshly baked bread, or organic farm grown fruits and vegetables.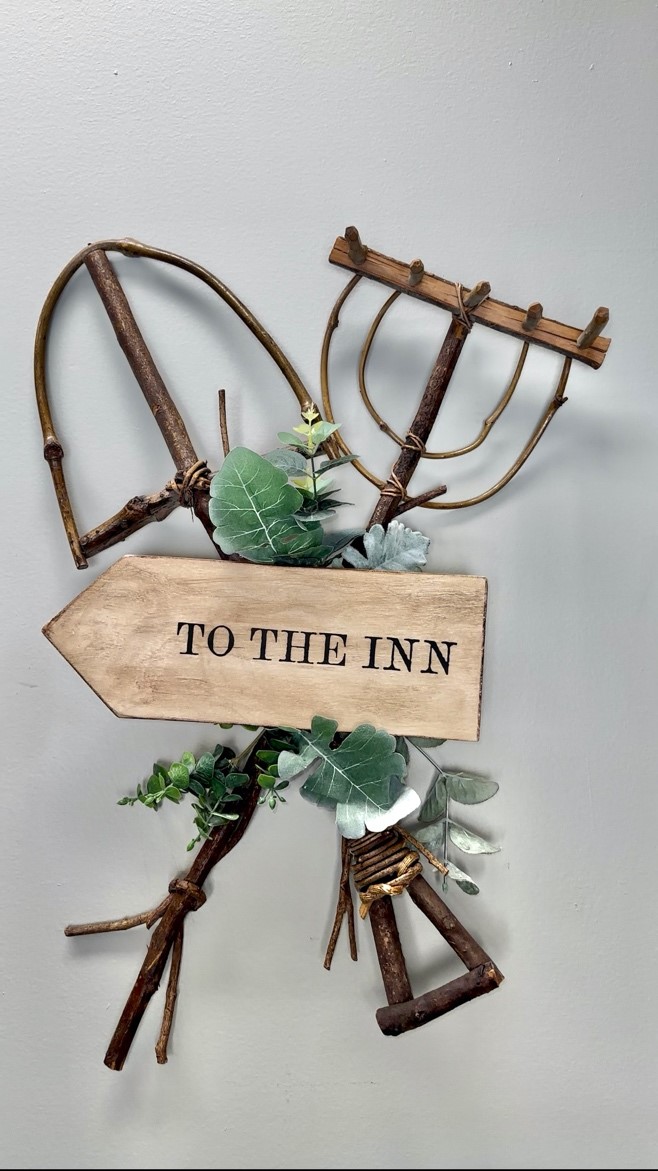 Essex County is a dream destination for food and wine lovers! It offers a perfect blend of culinary experiences and exceptional wines. Whether you are looking to indulge in delicious experiences, picturesque wineries, or simply exploring the town, you will fall in love with this region! Visiting Windsor Essex is truly a remarkable and memorable food and wine experience that will leave your taste buds craving for more! 
Original Blog Written By Sima Badrii @simabadrii
To plan your own EPIC Wineries getaway head to visitwindsoressex.com/wine. Use our Wine Route Map to plan your tasting route. Explore the 17 wineries along the Lake Erie North Shore that call EPIC Wine Country home and use the map to plan your accommodations and attraction stops along the way.