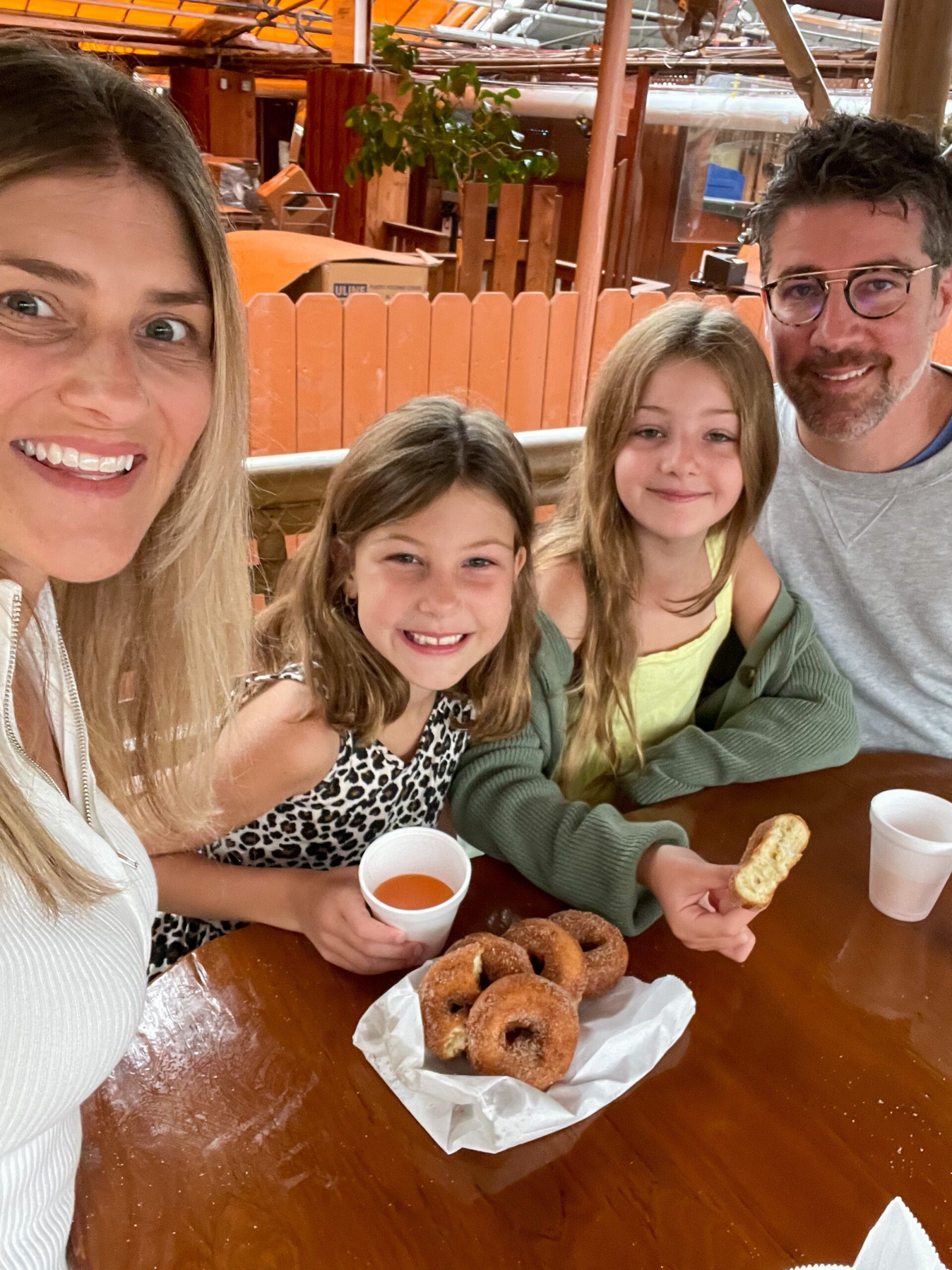 Friday August 19, 2022
Our Family Fun Day at Leamington Raceway
Leamington Raceway recently invited us out for a day of family fun to experience everything that goes in to a day at the horse races – and what a day it was! My family had such a wonderful time and we're looking forward to attending more races this season, especially the upcoming Family Day on Sunday September 4th!
Our day began at Colasanti's Tropical Gardens with – what else – donuts and peach juice for breakfast! It was a great way to start the day. We schmoozed with the animals in the petting farm, played a round of mini golf and a few games in the arcade and I of course made time to pick up a few potted plants from the greenhouse too!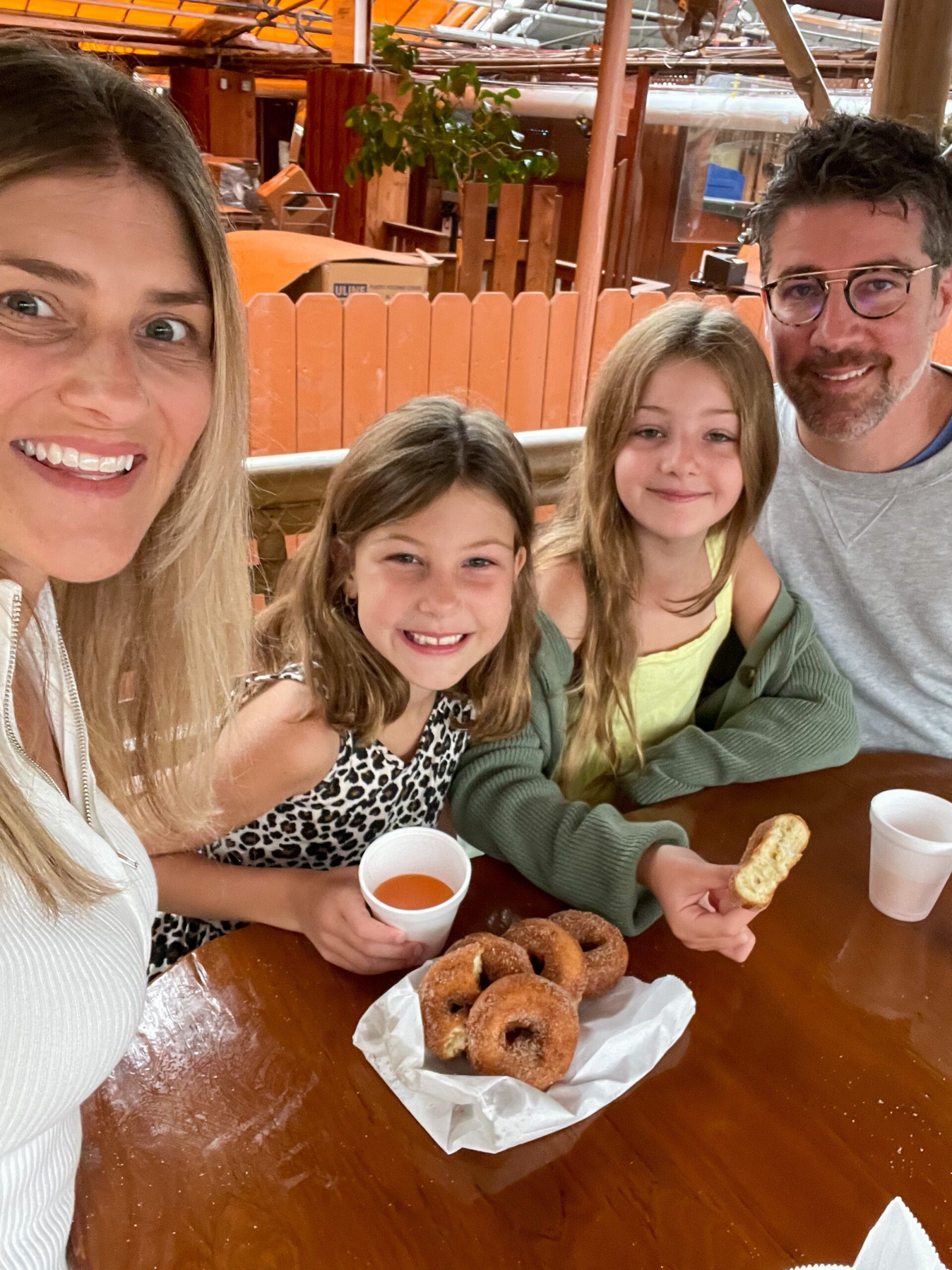 After Colasanti's it was time for lunch so we headed to Oven 360 Leamington for a taste of the mouth-watering Black Truffle pizza – mushroom, sausage, roasted pepper and black truffle … mmmmm. Oven 360 is a family-favourite of ours and we are definitely adding this pizza to our regular rotation!
Arriving at Leamington Raceway, we were greeted by retired standardbred racehorse, "The Painted Pony", owned by female trainer Emma Christoforou who we were able to see later on with one of her current racehorses, Millenium Seelster (aka Melman or Melly) … we fell in love with Melly and the girls were his own personal cheering squad for his race! Melly was wearing a pink harness and a glitter hood which the girls could not get enough of! We were ready to see more!
We were ushered to the grandstand by our host who gifted us t-shirts and hats to fully embrace the vibe, and then had our faces painted by artists Dez and Louie. In keeping with our theme for the day, of course the girls chose a unicorn and a horse for their face paintings.
With a quick crash course in racing lingo and a rundown of how the afternoon would flow we are now racing pros! We learned that there are 10 races per day with 7 horses usually in each race. The number of each horse coincides with the colour they wear: #1 is always red, #2 is blue, #3 is white, and on it goes. This makes for a quick and easy way to know which horse is which number. Even though the girls were too young to place a wager, they had fun picking out their favourite horses for the grownups to place a few bets – they even picked 2 winners!
We were lucky to have a special "back of house" tour to visit the track announcer Nathan Bain in his perch atop the grandstand. Nathan announces for each of the races – fun fact: he called his first race when he was 12 years old. We were blown away by his talent and knowledge of the horses especially since the races are under 2 minutes long! It sure goes by quick!
Next up on the agenda was a tour of the paddock where we were able to see horses being harnessed and getting ready to race. We met back up with our friend Emma and learned all about the equipment that the horses need to wear for the races. It is a bustling hub with 70 horses getting ready for their respective races. Each horse races in one race per race day. It was a bit overwhelming to see all of the people and organization it takes to put the races together.
The girls assisted emcee Lynnette on the microphone with draws, a t-shirt toss and the crowd favourite "Press Your Luck" game. Press Your Luck will continue all season long with prizes ranging from a $5 betting voucher all the way up to $500 cash!
Then…it was time for the big event! The anticipation starts for the race as the horses line up in the backstretch behind the starting gate and it climbs as you can feel the thundering of the horses hooves as they pass by the grandstand and then we heard the announcer call "and they're off!" and we all cheered for our favourite horse.
We took our photos with 2 of the winning horses in the winner's circle to cap off our day at the Raceway.
We weren't ready for the fun to end so we made the quick drive over to Sweet Retreat Ice Cream & More – we were greeted by owners Pat and Bob and treated to gigantic banana splits for the girls and a flight of spiked ice cream for the grown ups! This was an ice cream EXPERIENCE! It was lovely to relax in the garden and soak up the warm summer afternoon.
For dinner we headed to Freddy's Restaurant on Point Pelee Dr. The fresh-from-Lake Erie-perch dinner cannot be beat! Sitting on the patio, we chatted about our day and the new horse friends we made and can't wait to plan our next trip back to the Races!
Leamington Raceway has a long tradition of racing dating back to the early 1900s. Currently run by the Lakeshore Horseracing Association, racing takes place August through October on Sundays at 1pm with a family-friendly community focus. Hosted by the Leamington District Agricultural Society at the Leamington Fairgrounds each week has a different theme to engage the audience. The Raceway offers concessions, a licensed area, a covered grandstand, free parking and admission is FREE too! Onsite betting happens throughout the day, opening one hour before post time.
Family Day will take place Sunday September 4th with children's entertainment and activities, face painting, a bike giveaway and more.
For more information and a list of upcoming events, visit lakeshorehorseraceway.com