Monday February 27, 2023
Cycling Through Windsor Essex
I started my cycling career, if you will, battling cars for room on the road on the rather unforgiving streets of Toronto. As the lengths of my rides increased, and my patience for traffic decreased, I found myself yearning to ride in places where I had a little more room to play – where my rides could be a little more restorative and meditative.
Thankfully, in Ontario, we're blessed with a multitude of options, but I found my happy place riding in the region of Windsor Essex Pelee Island. It started years back when I was cycling the open roads of Pelee Island, and then before I knew it I was back with my partner Briana, riding from one winery to the next in EPIC Wine Country.
I rode along the water in Windsor, and through the historic streets of Amherstburg. I locked my bike up to check out the restaurant scene in Kingsville, and put my bike down for a moment to walk along the picturesque sand in Point Pelee National Park. I took my two wheels to Tecumseh, and found moments of reprieve amongst the stately homes along Lake St. Clair.
Every trip I took became easier as more and more resources were created to help cyclists like myself who were coming to explore and appreciate the region. All of this culminated with the establishment of the Cycle Tourism Map, which established six distinct trails that span a combined 354 kilometres.
Find the Trail That's Right for You
I've ridden all of these trails at one time or another, and the trail that you choose will depend on a whole host of factors. The important thing to remember is that there's no wrong way to approach this, just your way.
Also, don't hesitate to mix some of these established trails together to create your ideal day. Perhaps as you're riding along the Chrysler Canada Greenway, you decide that you want to nab a bottle of wine to bring home, so you follow it all the way down to Harrow as opposed to heading west to Amherstburg or back north up to Windsor. Your trip, your way, the map is merely there to guide you.
I've personally combined some of these routes so that I could do a century (100kms+) on multiple occasions. Anyway, they've built out an interactive map for you to play with, but here's an overview to get the wheels spinning a little (pun very much intended).
The Windsor Riverfront Trail
This is a 34 kilometre route that's a great starting point since it's largely paved, flat terrain. I'd recommend staying overnight in Windsor so that you can truly get to know neighbourhoods like Walkerville and Ford City, though they are also en route as well if you only have time to make a quick visit while riding the trail.
You'll utilize the 8km Ganatchio Trail, ride along the riverfront trail past Dieppe Gardens, and also around Downtown Windsor. I personally like the Windsor Sculpture Garden, and taking in the views of Detroit's skyline along the waterfront.
Another potential perk of staying the night? How about finishing your ride then heading straight to Caesars Windsor Casino Resort?
The Boblo Trail
This is a 61 kilometre trail that's largely flat, but does have a mixture of paved and groomed sections. You start from the town of Essex, and spend a fair chunk of time on the Cypher Systems Greenway Trail, which rolls through the stunning, historic town of Amherstburg – a place I've written about at length. 
It's then off to Holiday Beach, and you'll be following a sandy stretch along the Lake Erie shoreline. Pro tip – throw a bathing suit in your bike bag and stop off at Colchester Beach!
Pelee Trails
Some of my favourite riding that I've done in this province has been on Pelee Island. It's a world unto itself, and a beautiful world at that. You're best to tackle this 96 kilometre route over a weekend in order to fully take it all in.
You kick things off in Kingsville, then its onwards to Point Pelee National Park, which many will know provides access to the southernmost tip of mainland Canada. You'll want to allot some time here for exploring and photography, and trekking out to the beach, or walking along the boardwalk. Then it's on to the Hillman Marsh Conservation Area, a birder's paradise. You'll finish day one in Leamington, and I'd strongly recommend a stop at Cured Craft Brewing Co.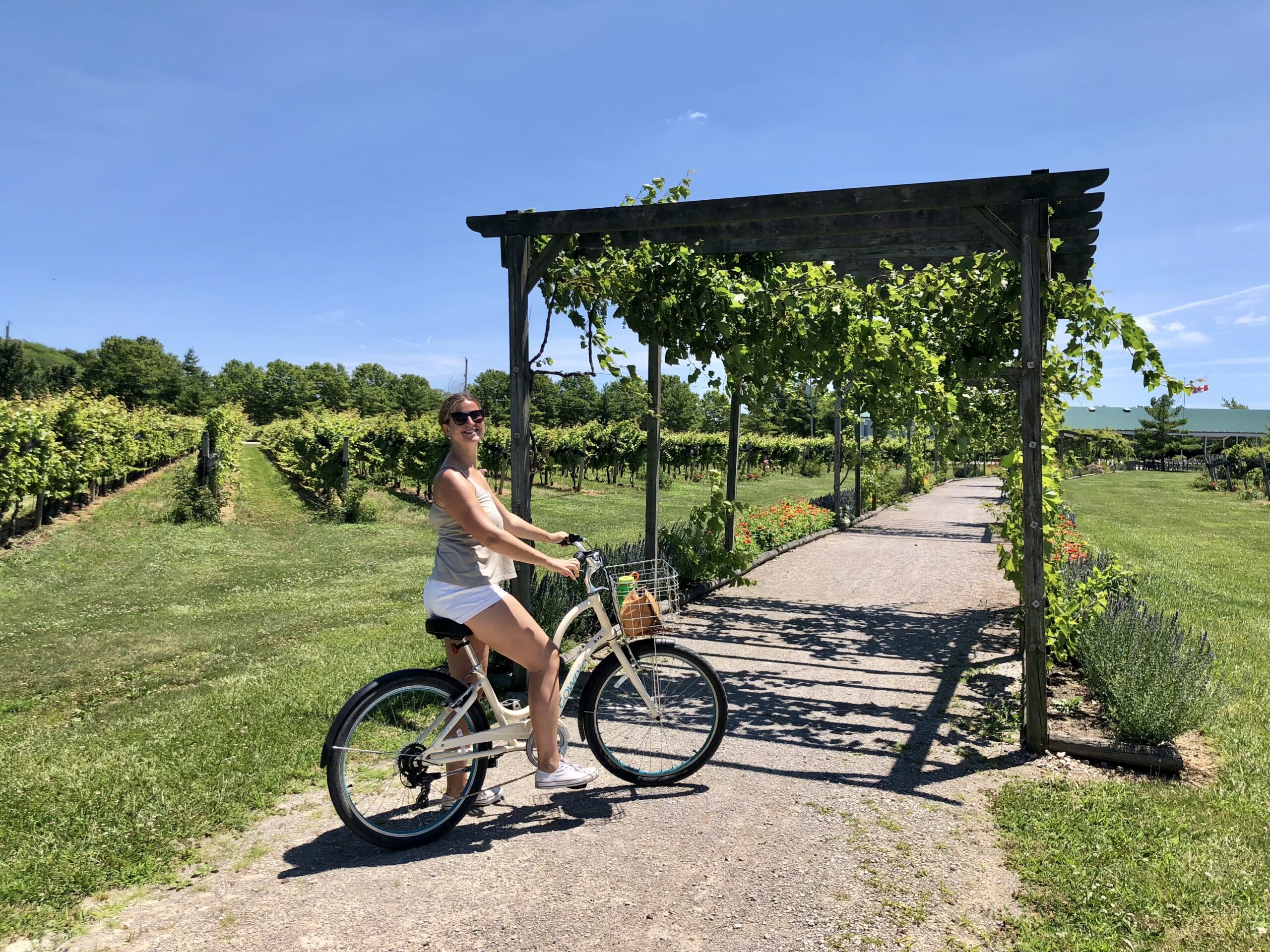 Day two, you're throwing your bike on a ferry to Pelee Island, and then spending the day at nature reserves, in front of lighthouses, doing a little tasting at the Pelee Island Winery Pavilion, and popping into the shops of local artists. There are few cars on the island, so the cycling is as serene as it gets.
The Parkway Trail
I personally love this route because it's largely spent on paved and groomed trails – 67 kilometres of them at that.
You kick things off on the Rt. Honourable Herb Gray Parkway, around and over existing roads and highways, and then towards the ever peaceful Chrysler Canada Greenway Trail. If you're keen to dive into indigenous culture, make time for a stop right at the beginning of your trip at the Ojibway Prairie Complex.
The Chrysler Canada Greenway Trail covers 50km, so you can spend a fair bit of time here, or travel west on the LaSalle Trail System. Along the way, roll through Essex to check out their outdoor murals, and set eyes on the Spitfire Memorial.
The Lakeside Trails 
This 55 kilometre route is perfect for those who want to keep the water in view, and get a nice breeze off the water to stay cool in the warmer months.
While biking along Lake St. Clair, I'd encourage you to stop at lighthouses along the way – particularly Lighthouse Cove and the Belle River Lighthouse. You'll roll through the town of Tecumseh as well. On my last rip on this route, I made a point of stopping at Frank Brewing Co. and was sincerely impressed.
I followed that up with a stop to the delectable Georgia Rae's Hot Chicken, and the cherry on top of it all was trading my bike for a paddleboard at Urban Surf Co. at the end of the day so I could get up close and personal with Pike Creek and Lake St. Clair.
Cycling is an awfully effective form of sightseeing, if you ask me. I often joke that if you say you know a place, I don't want to hear how long you spent there, I want to hear how far you cycled.
The Wine Trail
41 kilometres of easy terrain, largely paved, but with some groomed trails mixed in as well. Wine is the name of the game here, but be sure to consume responsibly, and perhaps bring a larger bike bag than usual in case you try something you love and want to bring it home.
You'll take Country Road 50 to the Essex Pelee Island Coast (EPIC) Wine Region. There are over 18 wineries here to choose from, and I would recommend building out your own itinerary by taking a look at EPIC's interactive map which provides information about all wineries in the region. You can also plan stops at historical sites like the John R. Park Homestead and Conservation Area, and nab some lavender products at the Serenity Lavender Farm.
Let your preferences and tastes guide you in terms of wineries, but I would throw it out there that getting some freshly made pizza with some wine at Paglione Estate Winery should be near the top of your list. Fitting in some brunch and wine at Oxley Estate Winery would not be a bad choice either!
What Else Should You Know Before Tackling These Cycling Routes?
Here are a few things that I'd keep in mind.
If you're coming from a fair distance, you're going to thank yourself later if you spend the night. Whether you base yourself in Windsor or Kingsville, Leamington or Amherstburg, there are restaurants and accommodations aplenty that will be up your alley.
Beyond breweries, wineries and restaurants, there are a number of museums on the routes that are outlined up above. I'd urge you to make a little time for culture, as having historical and cultural context for the region brings it alive when you're on the saddle.
Prioritize visiting local cafes and restaurants over chains. It's easy to do in Windsor Essex Pelee Island, and this approach has led to some fantastic and fruitful conversations. It's not uncommon for a chat that I have in a cafe to affect my route for the day, as I add another stop to the mix that they've recommended.
It can sound a little counterintuitive when we're talking about cycling, but I'd urge riders not to rush. There's a lot to see, so find a balance between performance and taking in what's around you.
Finally, stop where you haven't before. One of the joys of cycling is having full control of where you're headed and why. If a place looks intriguing to you, stop there, even if it's not on anyone else's map or trail. I've found the small business owners in TWEPI to be some of the most welcoming around.
As I said before, there's no right or wrong way to approach this, and Tourism Windsor Essex Pelee Island's increased dedication to cycling in their region means you've got options galore. I was a little overwhelmed at first, considering that these six trails encompassed nearly half a thousand clicks, but here I am on the other side of that, having ridden them all, with a familiarity and fondness for the region that I couldn't be more grateful for.