Tuesday July 21, 2020
An Open Air Weekend
Original blog by: Natalie, AnitaSnack519 | July 21, 2020
After 3+ months of staying at home, surely you're itching for an excuse to get out into the sunshine and eat, drink, and explore – but in a safe way. Amherstburg has found a way to make the best of the slow reopening of Ontario by maximizing beautiful outdoor spaces to expand retail and dining into patios, streets and parks.
I spent last weekend exploring Amherstburg's Open Air Weekends & other outdoor events. The Open Air Weekends run from Friday – Sunday every week and allows an area of Dalhousie St. to be blocked off to vehicular traffic so that is opened up for pedestrians and socially distanced patio dining. The Open Air Weekends allow stores to expand onto the road and showcase their products out in the sunshine.
If shopping is what you desire, there are so many great outdoor options including the Amherstburg Farmer's market, as well as the Open Air Weekends. Amherstburg has great small businesses to check out such as the Towne Shoppe, Vintage & Vinyl, and so many other options!
Amherstburg's Farmer's Market is located on G.L. Heritage Brewing Company's lot every Saturday from 8:30am-1:30pm. There are a wide variety of local vendors including farmers of local produce and flowers, artists, and artisan food such as the delicious dips created by Simplee Delicious. Each local vendor is happy to tell you exactly how they grew / made their product and it is so satisfying to shop not only knowing that it was locally produced, but also that you're supporting a business within your own community. The market is thoughtfully arranged to keep foot traffic flowing with lots of distance between people to maintain a safe and comfortable shopping environment.
After you work up an appetite, you can sit on G.L. Heritage's beautifully shaded patio and enjoy a beer and one of Nonna's wood-fired pizzas. The Cherry Pickin' wheat beer has a light fruity flavor with just a hint of sweet and tart – super refreshing on a hot day. Nonna's pizza has a wood-fired oven right on site and whipped up a beautiful breakfast pizza with an over easy egg right on top! It's cut so that you can tear away at the flatbread and dip it right into the egg.
Right down the street from G.L. Heritage is a newly opened micro-winery called Dancing Swallows Winery. They offer wine tastings on the weekends on their quaint patio as well as selling bottles of their wine for retail. I opted to try the Acute Angle Riesling, the light, crisp flavor and the modern label design makes this versatile wine a great gift (or a gift for yourself!)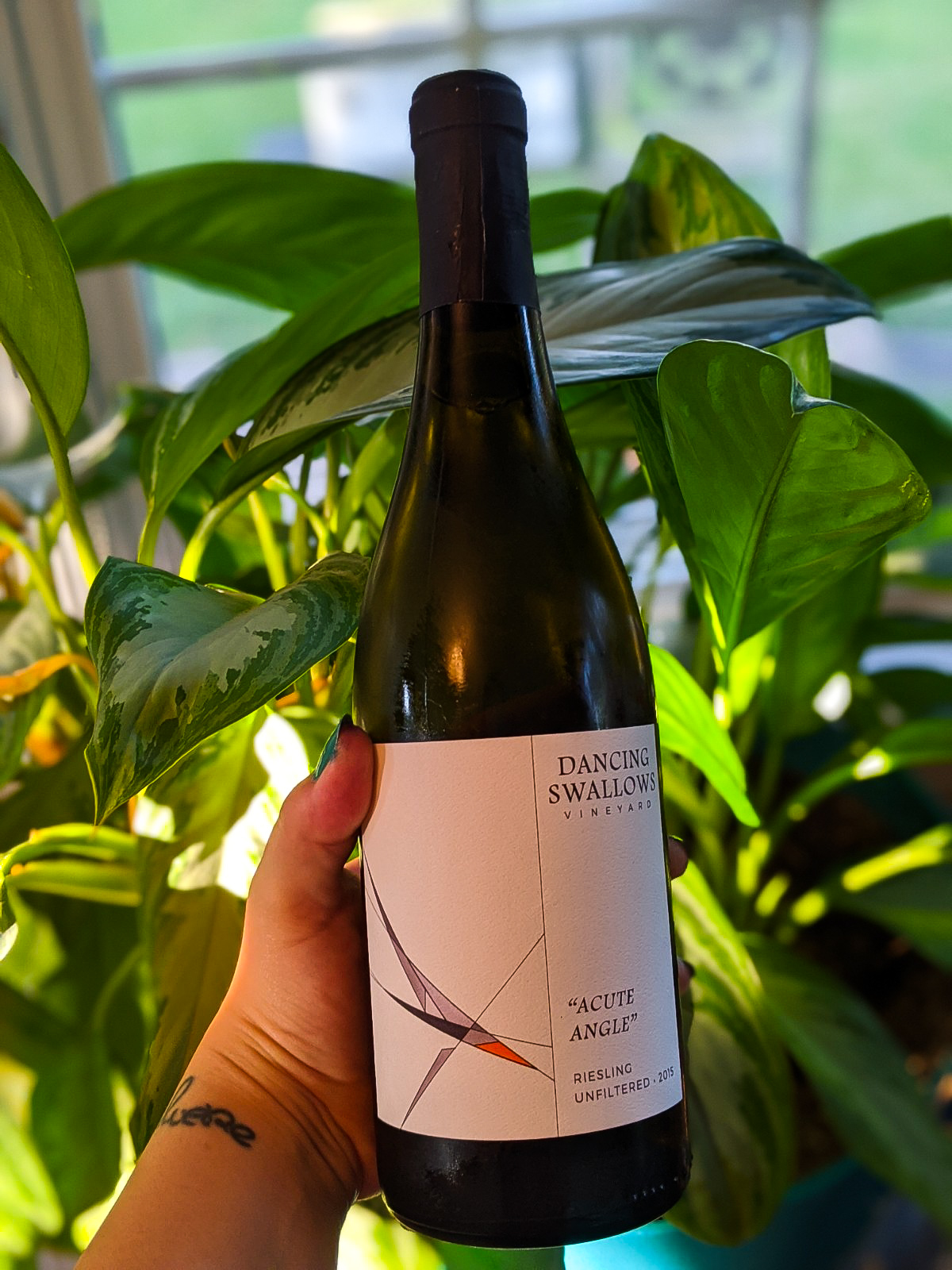 There are great patios to check out – many are open during the week and expand their patios into the streets on the weekends. The Salty Dog is located on Dalhousie St. and features a unique menu of wood-fired pizza, sandwiches and burgers. Everything on the menu is a must-try, especially their super tender Grilled chicken sandwich and their Calamari. If you're looking for an after-dinner treat, Nuccelli's Frozen Yogurt is right around the corner and offers great soft serve and frozen yogurt flavors and just about every topping you could desire.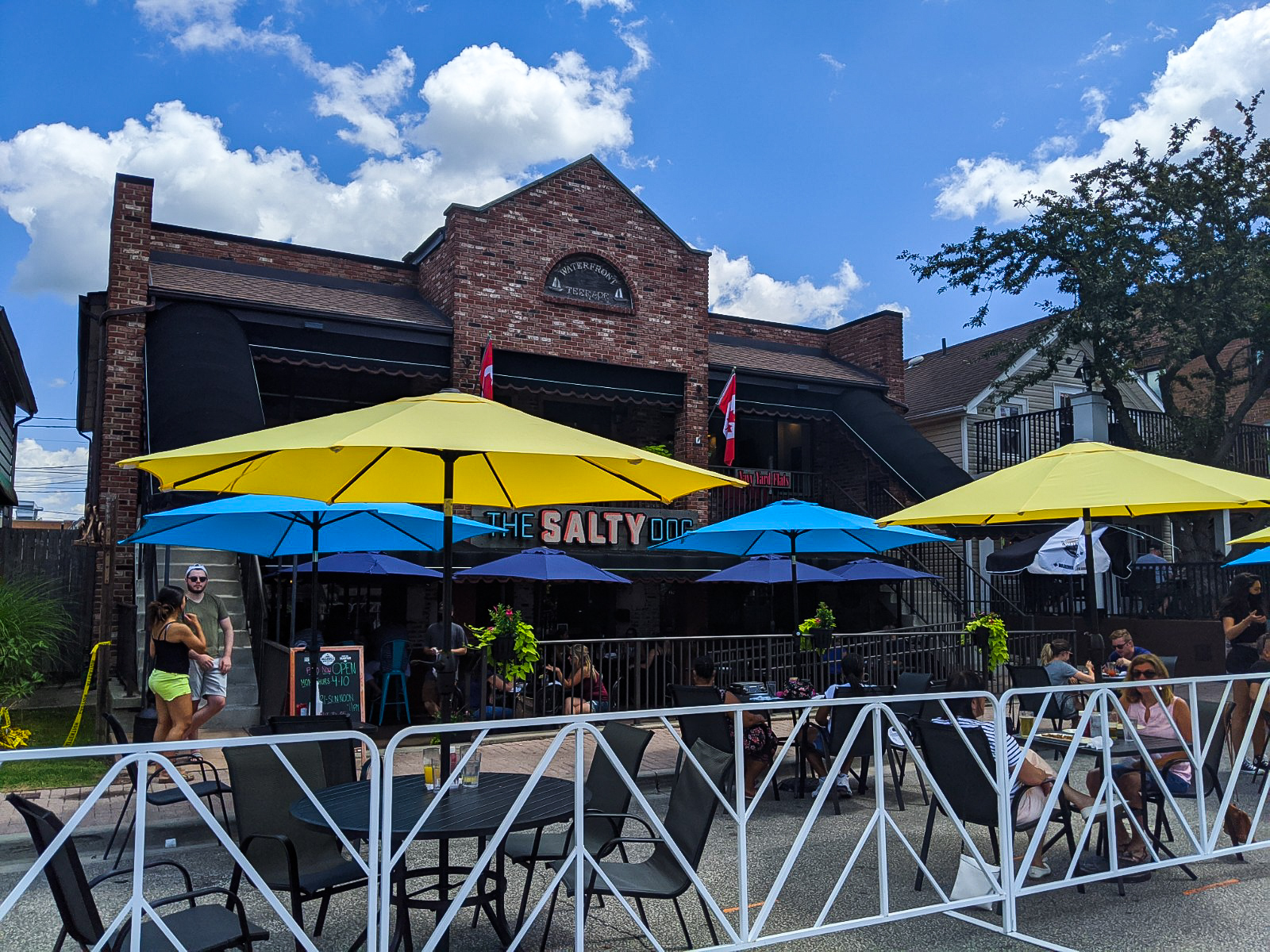 Lot 10 Brewing is also located right on Dalhousie in the heart of the Open Air Weekends and they have – you guessed it – TEN delicious beers on tap. Even better, they have a TEN beer flight so that you can try every single one. You can sit at a shady picnic table and get a taste of each beer and can make a purchase at their retail shop to take home your favorites. I love a fruity refreshing beer in the summer and really enjoyed the Pinky Pledge and the Nuclear Sunset.
When you need a break from all the eating and drinking, you can take a stroll through one of Amherstburg's beautiful waterfront parks. Both Fort Malden and the King's Navy Yard Park offer beautiful waterfront views, manicured gardens, and historical structures and statues that highlight this town's fascinating history.
If you're in the area and looking for a way to safely get your patio fix and enjoy the sunshine – Amherstburg's patios and Open Air Weekends have a little something for everyone. Even if you're a local – I guarantee you'll find something new to try!