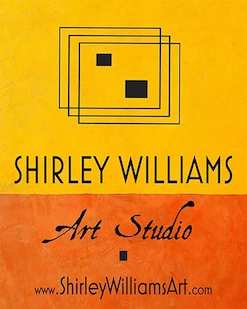 Shirley Williams Art & The Studio Gallery
Drop by The Studio Gallery to see recent paintings by award-winning artist, Shirley Williams. Shirley Williams paintings are inspired by natural textures and the energy buzz of color. Her paintings have been exhibited and collected widely in both Canada and the USA. She was featured in a solo show at the Art Gallery of Windsor.
Everyone is invited to visit to simply take a look, or shop for contemporary abstract paintings, both large and small, perfect for home or office. Custom prints are also available to order, on canvas or paper, in any size.  Interior Designers, Art Consultants and small Group Tours are also welcome. Call ahead for special services.
Hours
Sunday - Closed
Monday - Closed
Tuesday - Closed
Wednesday - 1:00pm - 6:00pm
Thursday - 1:00pm - 6:00pm
Friday - 1:00pm - 6:00pm
Saturday - 1:00pm - 6:00pm
---