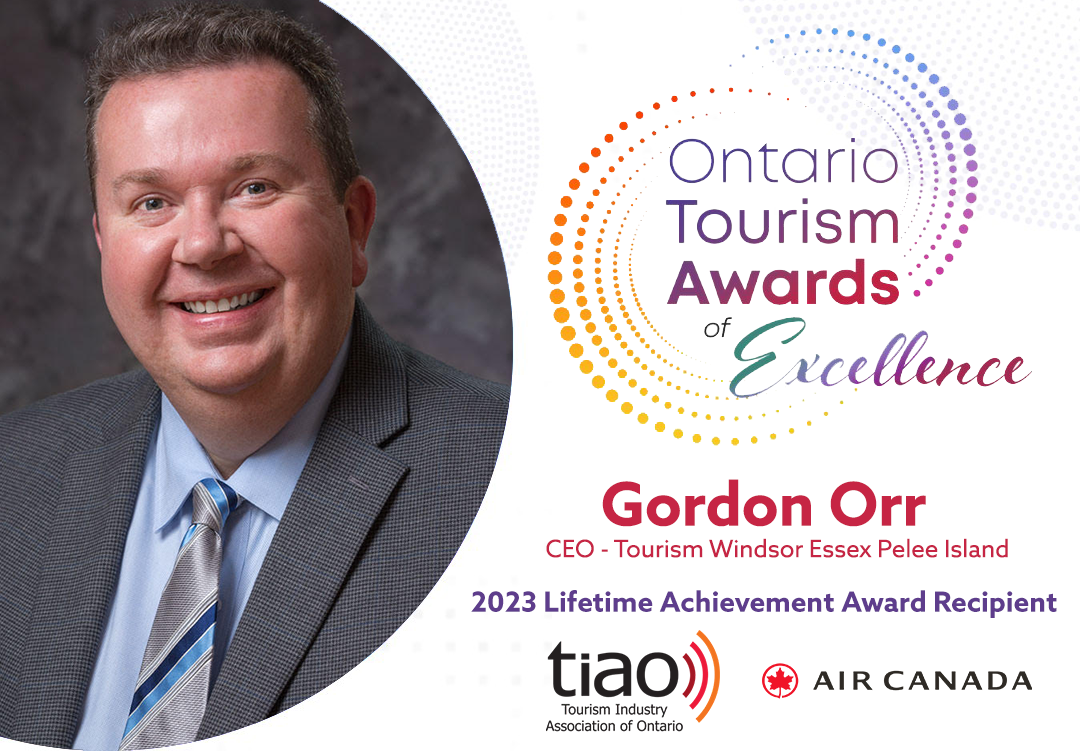 Tourism Windsor Essex CEO Gordon Orr to Receive Lifetime Achievement Award
TOURISM WINDSOR ESSEX PELEE ISLAND CEO GORDON ORR HONOURED AS RECIPIENT OF LIFETIME ACHIEVEMENT AWARD FROM INDUSTRY PEERS
Tourism Windsor Essex Also Honoured As Finalist In Two Awards of Excellence at the 2023 Ontario Tourism Summit
Windsor, ON – Tourism Windsor Essex Pelee Island is excited to announce and honour Chief Executive Officer Gordon Orr for being recognized by the Tourism Industry Association of Ontario (TIAO) as the recipient of the 2023 Tourism Industry Award of Excellence's Lifetime Achievement Award.
The Lifetime Achievement Award is presented to an individual that has made significant contributions to the development and promotion of tourism industry, and established a visible, long-term record of accomplishment that merits special attention.
"In this year's recipient Gordon Orr, we have a recipient who is the living embodiment of someone who has made a profound contribution to the Ontario tourism industry over a prolonged period" said Christopher Bloore, President and CEO of the Tourism Industry Association of Ontario (TIAO). "Throughout a stellar career, including over a decade as the CEO of Tourism Windsor Essex Pelee Island Destination Marketing Organization. Gordon has played a pivotal role in the growth of tourism in Windsor, Essex and Pelee Island to help create the dynamic destination that we see today and loved by domestic and international visitors alike."
"I want to thank the Tourism Industry Association of Ontario for bestowing upon me this honour. I am grateful for the spotlight this recognition shines on my team, our organization and the region I love" said Gordon Orr, CEO of Tourism Windsor Essex Pelee Island. "I appreciate this award beyond measure and I am forever indebted to all those who have a hand, in any level of success, I may have achieved along the way."
Gordon Orr has been in the tourism and hospitality industry for over 30 years including his appointment at the young age of 23 at the Best Western Rose City Inn, now known as the Four Points by Sheraton. His career grew as rose the through the industry as first the Director of Convention Marketing (1996) then Managing Director (2003) of the Convention & Visitors Bureau of Windsor, Essex County & Pelee Island, which then solidified him as the lead position as Chief Executive Officer (2011) as administration saw him as the transformative leader for the newly formed Destination Marketing Organization (DMO) Tourism Windsor Essex Pelee Island, a position he still holds. During his tenure, Gordon has served 3 Mayors for the City of Windsor, 5 Wardens for the County of Essex, and 4 Mayors for the Township of Pelee.
As the CEO of Tourism Windsor Essex, Orr has been recognized as leading the tourism collaborative for the region, having earned accreditation through Destinations International's Destination Marketing Accreditation Program (DMAP) attesting to attaining a significant measure of excellence, and he currently serves on the newly established Canadian Destination Leadership Council.
During the pandemic former Minister of Heritage, Sport, Tourism and Culture Industries Lisa MacLeod appointed Gordon to the 21-member Tourism Economic Recovery Ministerial Task Force responsible for developing 10 recommendations to help the tourism rebuild and recover. Orr has earned both his Destination Management Certification through Destinations International (2005) and his Masters in Municipal Leadership (2012) through York University's Schulich School of Business.
Orr also contributes significant effort to his community including his involvement as the founding President of the Windsor International Film Festival, his involvement with Rotary International since 1997 including past president (2002/2003) and past president of the Maryvale Adolescence and Family Services Board of Directors (2019-2021). Orr is a proud graduate of the University of Windsor (Hons. BA in Communications) and is currently the elected President of the UWindsor Alumni Association.
"On behalf of the board of directors for Tourism Windsor Essex Pelee Island, I would like to congratulate Gordon on receiving this monumental award from an industry that he tirelessly serves" said Crystal Meloche, Chair of the Tourism Windsor Essex Pelee Island Board of Directors and Mayor, Town of LaSalle. "Receiving a recognition from his peers at this stage in his career showcases how well he represents the industry, and his dedication to showcasing our region as a top-tier travel destination. It's not what you achieve in life, but who you become as a person due to those achievements, and we applaud Gordon for his leadership, collaboration, and continued passion."
Orr will be honoured at a special Lifetime Achievement Award lunch during the 2023 Ontario Tourism Summit at Hilton Toronto Airport & Suites on Tuesday October 24th.
In addition to Orr being honoured with the Lifetime Achievement Award, Tourism Windsor Essex was also honoured with nominations in several award categories to be presented at the Awards of Excellence during the Ontario Tourism Summit on Wednesday October 25th, including:
Tourism Marketing & Travel Media Awards of Excellence
Tourism Digital Marketing Award for the My Happy Place Campaign
Travel Media Story Award for the BlackTipH Fishing Video Series
Additional Quotes:
"I add my voice to all those offering congratulations to Gordon Orr, CEO of Tourism Windsor Essex Pelee Island, on this incredible recognition from his industry peers in the Tourism Industry Association of Ontario. Gordon is a tireless champion of every individual, business, organization, place and experience that makes Windsor and Essex shine locally, and on the world stage. For over three decades, his leadership, vision, commitment and follow-through has helped to grow and sustain a thriving tourism and hospitality sector in our region. Gordon's knowledge and experience saw him appointed to a task force that helped small businesses, entrepreneurs and many individuals and families in the tourism sector recover and rebuild during and after the pandemic. He not only oversaw his team's innovative programs from our local tourism office, but liaised with stakeholders from across the province to ensure Windsor-Essex was part of every solution that came forward during a truly challenging time. As a community champion in Windsor, Gordon has and continues to work with cultural institutions like the Windsor International Film Festival (WIFF), educational institutions like the University of Windsor, and community organizations like Rotary International and Maryvale. He also serves as emcee for countless charitable events each year, lending his considerable talents to causes that go above and beyond the scope of his work in tourism. He has made a good name for himself, and it's an honour to work with him. Through his work, Gordon has an impact on our community's economy, creators, its youth, and even some of its vulnerable residents. And he does it all with an eye towards what builds and strengthens a community, so that he can help to make it better. Congratulations, Gordon!" – Mayor Drew Dilkens, City of Windsor
"I am delighted to extend my heartfelt congratulations to Gordon on receiving the prestigious TIAO Lifetime Achievement Award. As the Chief Executive Officer for Tourism Windsor Essex Pelee Island, Gordon has not only played a pivotal role in the growth and development of our region's tourism industry but has also demonstrated an unwavering commitment to showcasing the beauty and attractions of Windsor-Essex to the world. We are fortunate to have Gordon as a champion for our region, and I have no doubt that his journey will continue to inspire and elevate our tourism industry for years to come." – Warden Hilda MacDonald, County of Essex and Mayor, Municipality of Leamington
"I am pleased to recognize the well earned recognition of Gordon Orr for a full career spent on shaping and growing tourism as an industry and source of pride in Windsor, Essex County and Pelee Island. He leads with integrity, has assembled a strong team and has always found a way to champion our region with heart. On behalf of The Township of Pelee, congratulations Gordon and thank you!" – Mayor Cathy Miller, Township of Pelee
"Gordon's enthusiasm and commitment to the visitor economy, unparalleled willingness to assist others and infectious sense of humor, have made him a true tourism champion across Ontario and beyond. This esteemed recognition is a testament to his outstanding leadership, remarkable accomplishments, and his invaluable impact on the tourism industry. Congratulations Gordon!" Joanne Wolnik, Executive Director, Ontario's Southwest (RTO 1)
About TIAO:
The Tourism Industry Association of Ontario (TIAO) is recognized by government as the voice of tourism. They are the principal authority and driver of economic and regulatory policies that are conducive to the sustainable growth and prosperity of the Ontario Tourism Industry, with a mandate to connect the industry with a unified voice on behalf of a diverse, inclusive tourism industry in Ontario.