Wednesday June 7, 2023
Scenes From Windsor: Carrousel of Nations
Original Blog Written June 2019
NOTE: Carrousel of the Nations 2023 will take place June 16-18 and June 23-25, 2023. Visit carrouselofnations.com for updated event info!
Windsor is Canada's fifth most diverse city and it has the ability to effectively celebrate diversity by showcasing many cultures in the community.
On Saturday June 15th, 2019 I visited five of Windsor's Carrousel of Nations Villages. To me, Carrousel is a time to get together with your closet crew, go on a date night or make it a family affair and eat a variety of different foods while looking at some incredible performances. I look forward to this event every year!
St. Dimitrije Serbian Village
The first village stop was at the St. Dimitrije Serbian Orthodox Church on Seminole Street.
You could see how proud everyone was to share the heritage and traditions of Serbia. This village is one of the original Carrousel Villages and most recently celebrated it's 50th anniversary. The Serbian Village served us a variety of delicious traditional dishes. From roasted lamb and pork to cabbages and potato salad, I was in FOODIE HEAVEN!  My favorite menu item was the Cevapcici which are mini sausages with a variety of minced meat and SO much flavour!
Scottish Village
Our second stop of the day was The Scottish Village located at 1340 Tecumseh Road East. This village was certainly one of the most vibrant and popular villages with people packed throughout the room eating and watching the entertainment. I was so impressed with all of the younger generations traditionally dancing and saw all their family look at their performances with pride. The sound of the bag pipes as the Scotsmen entered the room gave me chills.
Our table started off drinking all water, but that quickly changed when the organizers told us to switch to beer immediately! We enjoyed traditional items Bridie and my favorite – the Beer Battered Fish and Chips, I truly didn't want to leave this place!
Romanian Village
Stop number 3! Located at 1960 Tecumseh Road East, we were greeted by a lovely woman named Carmen who was very welcoming. Along with the church's priest, the chef, some volunteers, everyone wanted to make sure we knew about the Romanian cultures and traditions. I haven't been to this village before so it was fascinating to check out the performances and taste traditional Romanian food!
It was moving to sing O Canada in both English as well as Romanian. The Romanian national anthem music cut out towards the end but everyone sang proudly without any music needed. The lines for food were long but were definitely worth it! I really enjoyed the Romanian Style Cabbage rolls, flavourful sausage and most importantly – Fried Feta with Honey and Sesame Seeds. DELISH!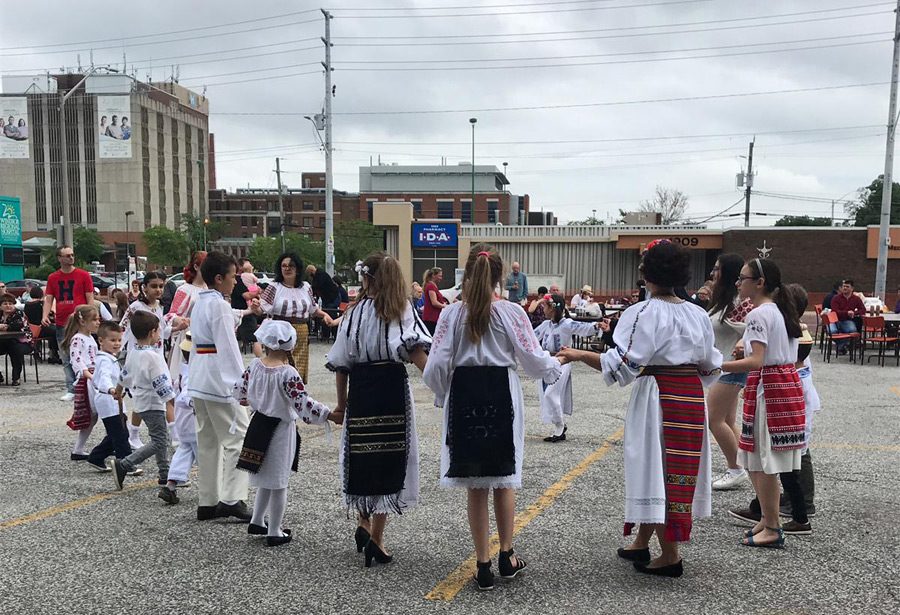 Serbian Gracanica Village
Located at the Serbian Centre, this fourth village I travelled to was ON FIRE! Well, not actually on fire, but I'm saying it was just AWESOME! You can tell the Serbians LOVE to dance and I was blown away by how delicious the meal was here at the Centre. The Cevap dinner, cabbage rolls and shishkabob were all delicious. I had to try a couple of delicious Serbian pastries with my coffee too ;). At the end of the performance, we got a small history lesson on the most popular spots in Serbia!
Greek Village
OPA! Located at the Holy Cross Greek Orthodox Church, the Greek Village is certainly a favourite by all and a MUST to attend. We arrived at the village at around 9:00 pm. Even though it was a bit wet out from raining earlier, people were still dancing to traditional music and eating, LOTS.
Even though this was my last stop and I ate all throughout the day, I still had room to try a Gyro, Greek Salad, Flaming Cheese (Saganaki) and most importantly, the HONEY BALLS, which I look forward to every year! Every year the crowd seems to get bigger and bigger! This is one of the villages that's also taking place this weekend so be sure to check it out!
---
This blog was created in partnership with The Multicultural Council and Tourism Windsor-Essex Pelee Island.