THINGS YOU SHOULD KNOW
Checkout some important info on Windsor Essex (and the province of Ontario) that you should know before travelling here.
Driving
Seat belt use is mandatory in Ontario. Distance is measured in kilometres – 1 kilometre is equal to .62 of a mile. The speed limit for most city driving is 50 km/hr (31 mph), while highway driving ranges from 80 km/hr to 100 km/hr (50-62 mph). Gasoline is sold by the litre (1 U.S. gallon is equal to 3.785 litres). To calculate the U.S. price per gallon, multiply the Canadian price per litre by 3.78. Police radar detectors are illegal in Ontario.
1 kilometre = 0.62 miles / 1 mile = 1.6 kilometres

50 kilometres = 31 miles / 50 miles = 80 kilometres
100 kilometres = 62.1 miles / 100 miles = 160 kilometres
Weather
We enjoy warm summers with temperatures climbing into the high 20s/low 30s Celsius (80s/low 90s Fahrenheit), and winters that are mild by many Canadian standards.
Local Information
For local news – along with weather, traffic, sports and more – tune to AM800 CKLW, The Information Station. For more breaking news, local issues and in-depth coverage, pick up a copy of the region's newspaper, The Windsor Star or visit their website at windsorstar.com.
LGBTQ+
Countless experiences are awaiting you in the southernmost region of Canada! By working proactively with Windsor-Essex Pride Fest, Travel Gay Canada and our various industry partners, we are ensuring our region is destination ready for the LGBTQ+ market through various industry networking events, market-readiness assessments, diversity training and awareness programs, and innovative marketing and promotions. Learn more about our LGBTQ+ offerings here.
Currency
The official currency is the Canadian dollar. The U.S. dollar is widely accepted at par within the region. To get more for your dollar, we recommend that you exchange your US dollars to CDN dollars. This means more fun, more enjoyment, more of everything. Currency exchange is available at banks throughout the region. You'll find cash machines/ATMs in most banks, hotels and shopping centres. Travelers cheques and credit cards are accepted at most (but not all) major retailers. Check today's rate.
Language
English and French are the two official languages of Canada, with English being the primary language spoken by the majority of residents in our region. Signage, documentation and service at any government office is, by law, in both official languages, as are road signs. You will also find package labelling in both English and French.
Age of Majority
By law, you must be 19 years of age and possess valid picture I.D. to enter any drinking or gaming establishment or to purchase alcoholic beverages. You must be 19 years of age to purchase tobacco products.
Smoke-Free Initiative
The province-wide restriction includes all indoor and enclosed work and public places, including bars, restaurants, casinos, bingos, arenas, etc.
Tipping
If pleased with the service you receive, a 15-20% tip on the pre-tax bill is standard for dining, taxi rides, etc.
Taxes
The Harmonized Sales Tax (HST) is a 13% tax that is applied to most purchases of taxable supplies of goods and services in the Province of Ontario. The HST consists of a 5% federal portion and an 8% retail sales tax portion.
As of October 1, 2018, hotels, motels, and bed and breakfasts, as well as other short-term accommodations in the City of Windsor purchased through companies like Airbnb and VRBO will begin collecting a 4% tax on behalf of the municipality. Click here for more details.
Official Holidays
Banks, liquor stores and government offices observe these holidays, as do most stores and business offices. Holidays that occur on weekends are observed the following Monday. Click here for a full upcoming holiday schedule.
---
BY PLANE, TRAIN OR BUS, IT'S EASY TO FIND YOUR WAY TO WINDSOR ESSEX!
TRAIN
VIA Rail Canada Windsor's train station operates out of the historic Hiram Walker Distillery District district and is just a short cab or bus ride from the city centre. There are four daily departures and return trips along the Windsor-Toronto corridor with VIA Rail. For more details or to book tickets now click viarail.ca.

---
AIR
Windsor International Airport Your Quick Gateway (YQG), is conveniently located just 15 minutes from downtown Windsor.
The airport offers frequent service to and from Toronto with easy connection with Porter Airlines and Air Canada Jazz, in addition to seasonal trail with Flair Airlines and WestJet. Upon arrival, transportation to and from the airport is easy with major rental car, taxi and public transit just steps from the luggage terminal.
For more details visit yqg.ca.
---
DRIVING
DRIVING? Windsor is only a four hour drive from Toronto down the 401 and easily accessible from Michigan through our two international border crossings
---
BUS
FlixBus offers a cross-border bus route running from Toronto Union Station to the Detroit Bus Station with a stop in Windsor at 181 Goyeau Street. You can reach Windsor through FlixBus routes from 8 cities. For more details visit flixbus.ca
MegaBus provides two daily trips between Detroit, MI and Toronto, ON.  The cross-border service includes stops in Windsor, Chatham, London and Paris, ON. The pick-up location is at the Windsor International Transit Centre on Chatham St. W in downtown Windsor. Click here for schedules and more details.
Travel Chart
Ontario
190km -> London
285km -> Kitchener 
300km -> Hamilton
United States
95km -> Toledo
175km -> Grand Rapids
275km -> Cleveland
325km -> Columbus
400km -> Buffalo

375km -> Niagara
370km -> Toronto 
750km -> Ottawa
450km -> Chicago
425km -> Cincinnati
460km -> Pittsburgh
500km -> Indianapolis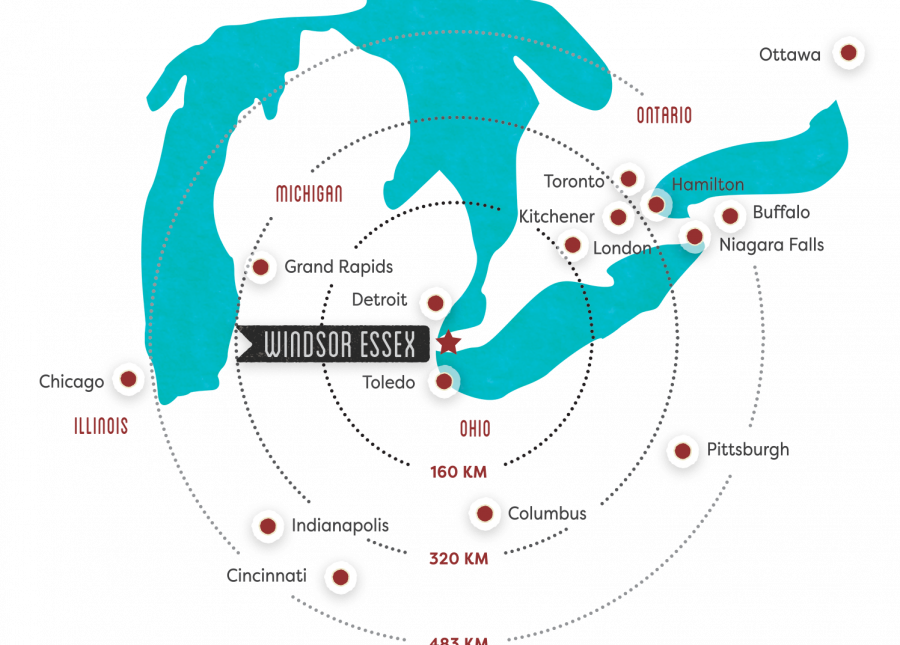 ---
LOCAL TRANSPORTATION
Click one of the links below to check out local transportation options.
* Transit Windsor offers public bus service for the City of Windsor, Town of LaSalle, Municipality of Leamington and the Windsor-Detroit Tunnel Bus.
---
CROSSING THE BORDER
Windsor is home to both the Ambassador Bridge and the Detroit-Windsor Tunnel, giving easy access between Windsor and the City of Detroit. Click 'Crossing Made Easy' for more details on what you need to cross the border.
Are you planning to enter Canada from the U.S.? Click crossingmadeeasy.com for border crossing details into Windsor.
TOURISM INFORMATION CENTRE LOCATIONS
Please feel free to contact any of our Tourism Information Centres listed below where our friendly staff are standing by to share all that our region has to offer.
General Inquiries and Visitor Services
98 Chatham Street East, Windsor, ON N9A 2W1
Office Hours:
Monday through Friday 8:30am – 4:30pm
---
CAESARS WINDSOR KIOSK
Hours and Location
Located across from Caesars Essentials Gift Shop, near the Skybridge to the Parking Garage – 377 Riverside Drive East, Windsor, ON
Contact:
Phone: 519.258.7878 Dial 1 then ext. 22266
Thursday through Sunday, 10am to 5pm
---
AMHERSTBURG WATERFRONT CABIN
Hours and Location
(Seasonal) Located at 116 Sandwich Street North, Amherstburg, ON
Contact:
Phone: 519.736.8320
Office Hours:
CLOSED FOR THE SEASON
---
ONTARIO TOURISM INFORMATION CENTRE
Hours and Location
(Seasonal) Located at 110 Park St E, Windsor
Contact:
Phone: 519.973.1338
Office Hours:
CLOSED FOR THE SEASON
---
SATELLITE LOCATIONS
DEVONSHIRE MALL
3100 Howard Ave. Windsor
Hours: Mon. – Fri. 10am-8pm, Sat. 10am-6pm, Sun. 10am-5pm
Located at Customer Services
JOHN R. PARK HOMESTEAD
9100 County Road 50, Essex
Hours: Thurs. – Sun. 11am-5pm