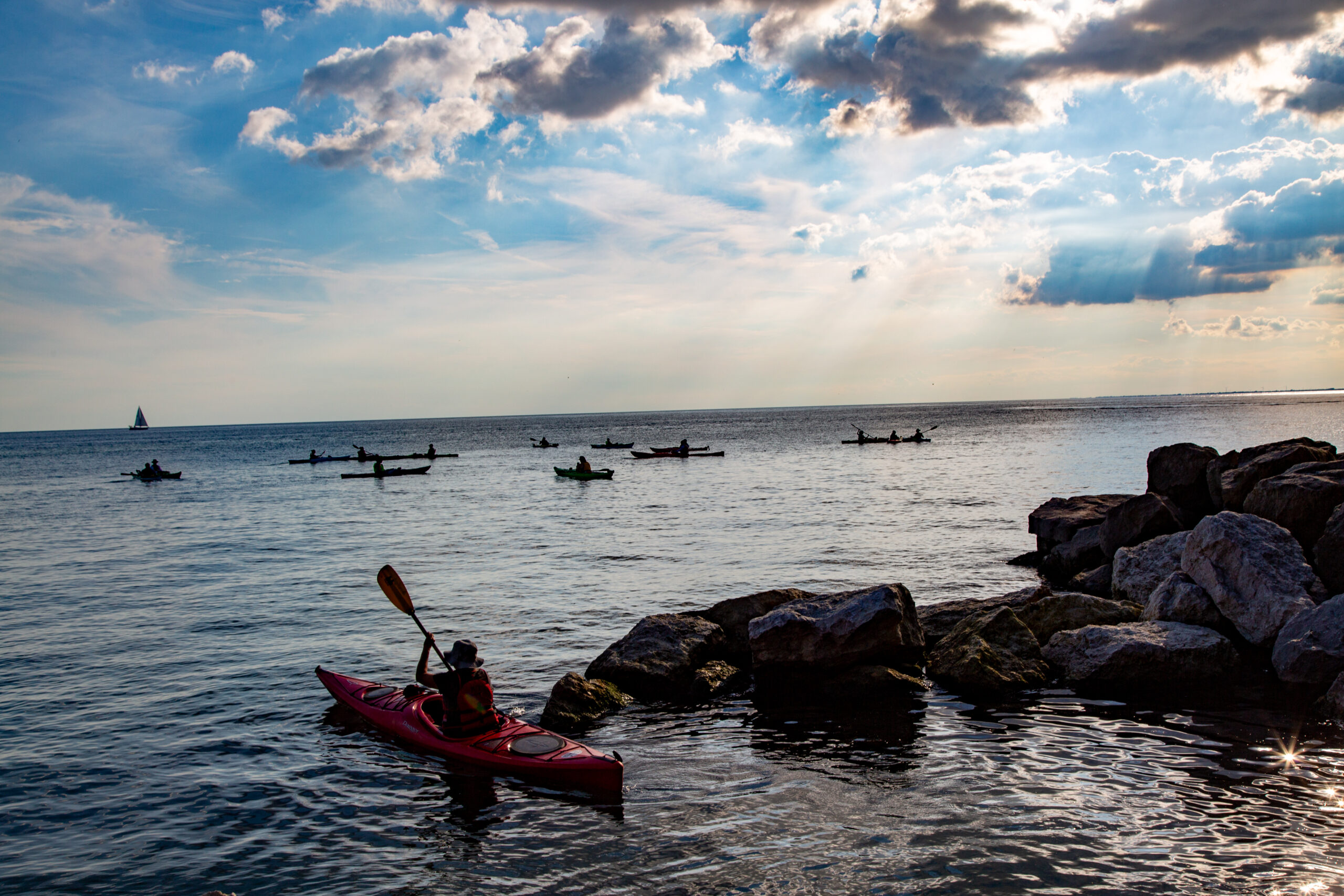 Friday July 7, 2023, 5:30 pm to 8:00 pm
Friday Night Paddle
Event Website
Explore the Waters with Us!
Join us for an unforgettable Friday evening adventure on the stunning waters near Leamington, Ontario! Whether you're an experienced paddler or just starting out, this event is open to people of all skill levels in kayaks or on stand-up paddleboards (SUP). Get ready to immerse yourself in the beauty of nature and enjoy a memorable paddle experience with fellow water enthusiasts.
Event Highlights:
– Suitable for all skill levels in kayaks or on SUPs
– Paddle duration: Approximately 2 hours (We accommodate those who may require shorter paddles)
– Minors must be accompanied by an adult
– The destination will be either the picturesque Lake Erie shoreline near Leamington and Point Pelee National Park, or wildlife packed Sturgeon Creek.
– Cost: $10 if you bring your own kayak or SUP and gear. Alternatively, save the hassle of loading and unloading by renting one of our premium crafts for $30.
Parking Information:
Feel free to park at our store to unload your gear. However, we kindly request that you move your vehicle to the large parking lot 100m south of us to ensure ample space for everyone.
Spread the Word:
Invite your friends, family, and fellow paddling enthusiasts to join this fantastic Friday Night Paddle! It's a perfect opportunity to connect with nature, unwind, and create lasting memories.
To Reserve Your Spot:
Spaces are limited, so we encourage you to call early and reserve your spot. Reach out to us at 1-877-326-5193 to secure your place in this exciting event!
Event Cancellation Policy:
In the event of unfavorable weather or unforeseen circumstances, we may have to cancel the paddle for everyone's safety. If we need to cancel the event, we ask that all participants contact us by 3 PM on the day of the paddle. Your safety is our utmost priority.
Don't miss out on this amazing adventure! Mark your calendars and get ready for an unforgettable paddle experience. See you on the water!
For any further inquiries, feel free to reach out to us at 1-877-326-5193
Venue: Pelee Wings Nature Store
636 Point Pelee Drive
Leamington, ON N8H 3V4 Canada