A Fall Outdoor Adventure
Whether you go by car, by bike, by boat, or on foot, Windsor Essex is the perfect place to take in fall colours. You can take a drive along County Road 50 and experience the wineries on the coast of Lake Erie, cycle the southernmost stretch of the Trans-Canada Trail, or walk to the tip of Point Pelee National Park. No matter what you choose to do, Windsor Essex has a lot to offer this Fall season.
You can explore EPIC Wine Country (Essex Pelee Island Coast) for a memorable experience, consisting of over eighteen wineries that will make you want to stay to try them all. The purchase of the EPIC Passport for only $10 will allow you to redeem different offerings at participating wineries.
If you love the outdoors, our region has some excellent trails to discover, including those at Ojibway Prairie Complex with 15 km of woodland and prairie hiking trails and a nature centre staffed with experts on the more than 247 species found within the park. There's also the Kopegaron Woods, one of the most beautiful forest boardwalk trails in the region, with Sassafras, Black Gum, Sycamore, and Flowering Dogwood trees, as well as wildflowers such as Trillium, Jack-in-the-Pulpit, and Columbine, to mention just a few.
Hike out to the tip at Point Pelee National Park during the fall migration for a chance to see golden eagles, peregrine falcons, red-necked phalaropes, long-billed dowitchers, and other birds that are rare in spring, but can be found regularly during autumn. Or make a stop at Holiday Beach Conservation Area and take advantage of their three-storey observation tower for the best views of the changing foliage and migrating birds of prey.
For cyclists, we have the Ganatchio Trail, which cuts through the City of Windsor and the Town of Tecumseh; the Chrysler Greenway Trail, which stretches over 50 km through Essex County; and the much newer Cypher Systems Greenway, which crosses the county from Essex to Amherstburg as the southernmost link of the Trans Canada Trail.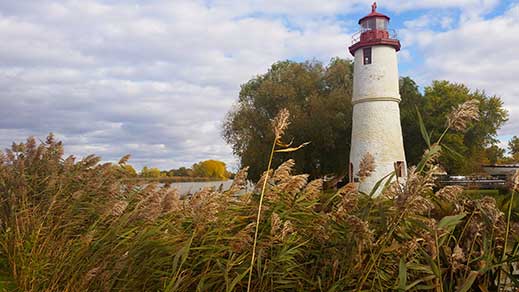 If you want to try something new, the City of Windsor is now offering tours by boat to Peche Island, situated in the Detroit River. Explore the 86-acre island, discover the island's history, and experience the naturalized trails, canals and ruins, all while enjoying views of Windsor and Detroit. Tours operate on Wednesdays, Saturdays, and Sundays until October 3rd at only $5 per seat.
Whether it by foot, bike, car or boat, where can W.E. take you next?
---